Betty Blue's Loungewear
Glamorous lounging robes, pyjamas and lingerie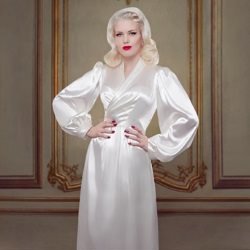 Betty Blue's Loungewear
Categories : Lingerie
Glamorous lounging robes, pyjamas and lingerie
This page may contain affiliate links. If you buy something via these links, Misfit Wedding may earn a small commission at no extra cost to you. This helps keep our site free for you and our hand picked businesses. Read more here
About Betty Blue's Loungewear
---
The aim behind Betty Blue's Loungewear "is to provide gorgeous girlies of all ages and sizes with luxurious, glamorous and most importantly comfortable lounge wear and sleep wear". Us Misfit peeps love the idea that every gal should feel like a Hollywood starlet, especially on her wedding day! The beautiful vintage inspired collections use only the best satin, silks and lace that simply ooze old school glamour.
Owner Betty Hobcraft sources and manufactures as many of the boutique's clothing items as possible exclusively in the UK. She is proud to be "supporting a whole chain of UK businesses, workers and ultimately their families" to ensure that all the clothing is expertly designed and crafted. 
So what are you waiting for? Betty's ship garments worldwide, lovingly wrapped in tissue paper, placed in a giftbox and topped with an elegant satin bow.
More from Betty Blue's Loungewear...
---