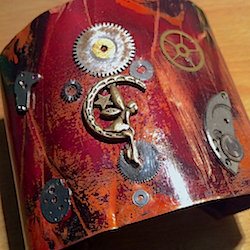 CogsandGemscom
Categories :
About CogsandGemscom
---
CogsandGemscom are a small company from Lowestoft, Suffolk, who specialise in unique handmade pieces of steampunk and silver jewellery for all occasions.
A lot of their items are one-off pieces and if you don't find what you're looking for then drop them a message with your ideas and they'll work with you to create something special just for you!
From rings and necklaces through to leather cuffs and fascinators, CogsandGemscom stock a wide range of interesting and eye-catching jewellery and accessories, all at affordable prices in their Etsy shop.
More from CogsandGemscom...
This page may contain affiliate links. If you buy something via these links, Misfit Wedding may earn a small commission at no extra cost to you. This helps keep our site free for you and our hand picked businesses. Read more here