Brad and Jeff's Super Mario Themed Wedding
This page may contain affiliate links. If you buy something via these links, Misfit Wedding may earn a small commission at no extra cost to you. This helps keep our site free for you and our hand picked businesses. Read more here
For some of us Super Mario has been with us all our lives, we've collected gold together, battled badass bosses and consumed more mushrooms than it's medically advised to touch in 100 lifetimes! He's been there for us, in fact it's quite possible some of us have spent more time with Mario than we have with our partners - "keep playing that game and your eyes will turn square!" - well our eyes didn't turn square and over the years Mario has become family..... we're bros. So it makes perfect sense for the little guy to be with us on our wedding day...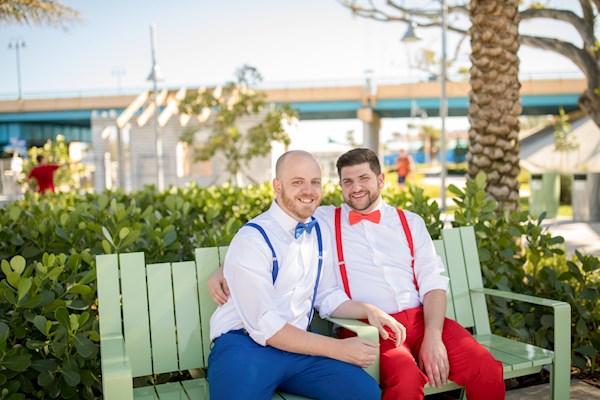 Can you please introduce yourselves?
We are Brad Dunlap and Jeff Sahim and currently we are living in Boynton Beach, Florida. Brad is originally from the small town of Kahoka, MO, and Jeff is from Boca Raton, FL. We got married on March 3, 2018 at the Royal Fiesta Event Center in Deerfield Beach, FL.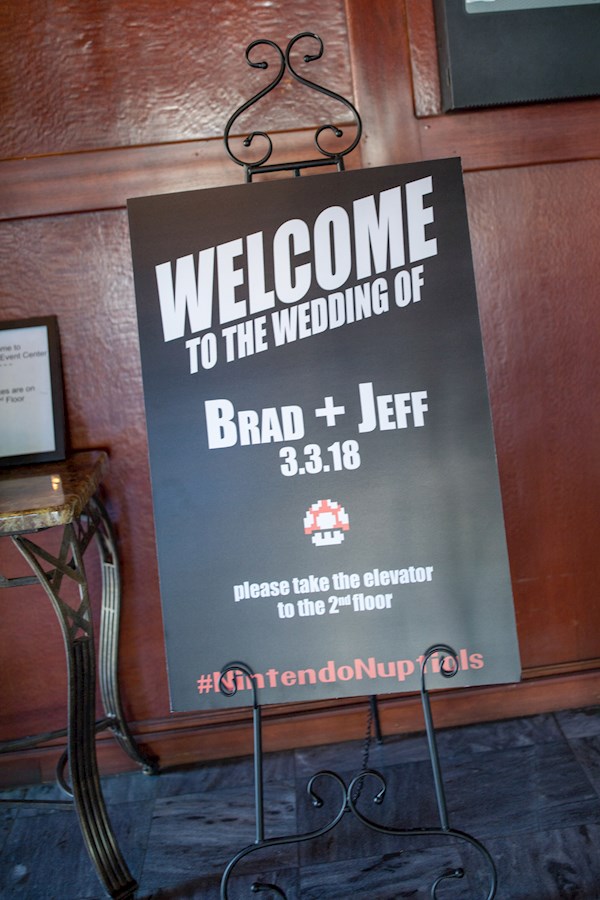 Can you tell us a bit about your interests?
We are both giant nerds. We love video games (especially the OG Nintendo/SNES games), pub trivia, movies, and the DC and Marvel Universes. We are both very quirky and when we first met, we knew that our mutual weirdness just worked with one another.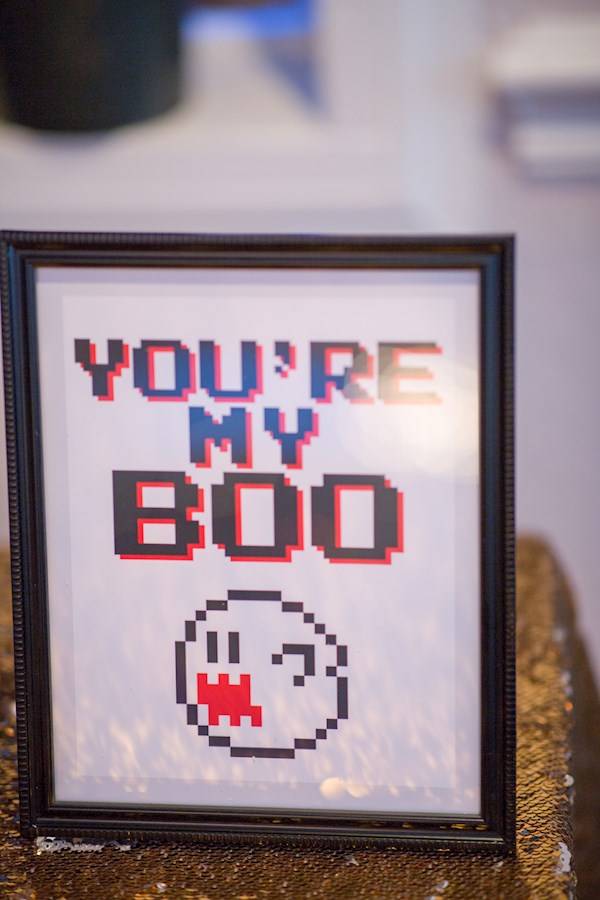 Jeff is a HUGE Batman fan, so Brad actually proposed to Jeff by flying in all of their closest friends, dressing them up as Batman villains, hid them around Chicago (where we were living at the time), and then sent Jeff on a huge scavenger hunt to "capture Gotham's villains" and gave clues throughout video messages from Commissioner Gordon.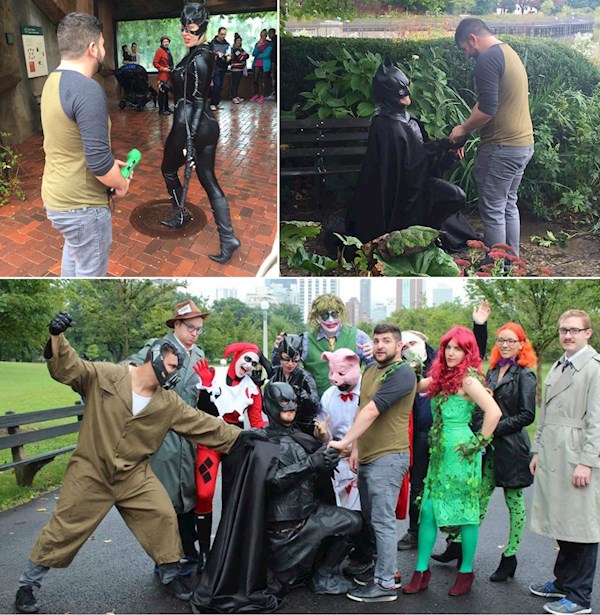 At the end, Brad proposed wearing the Dark Knight Batman costume and even had a Batman ring. It was such an amazing day.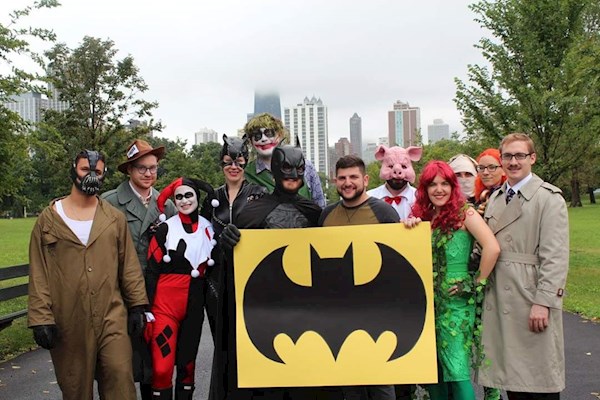 How/Why did you decide on a Super Mario theme?
We knew we definitely wanted a non-traditional wedding with all our of personality in it. It probably didn't help that Super Mario Odyssey came out while we were wedding planning and Brad was devoting way too much time to the game at that time.
We knew we wanted a theme with bright colors, the ability to add lots of personal touches and details, and we wanted something fun.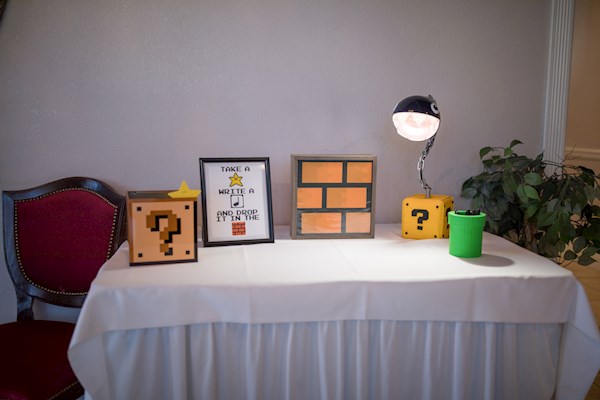 Everyone knows and has played a Super Mario game, so it wasn't something that people wouldn't get. We had thought about doing comics/superheros, Harry Potter, or just nerd culture in general, but we both have a huge mutual love for Mario and it is the original game that kind of brought us both into the nerd/geek world.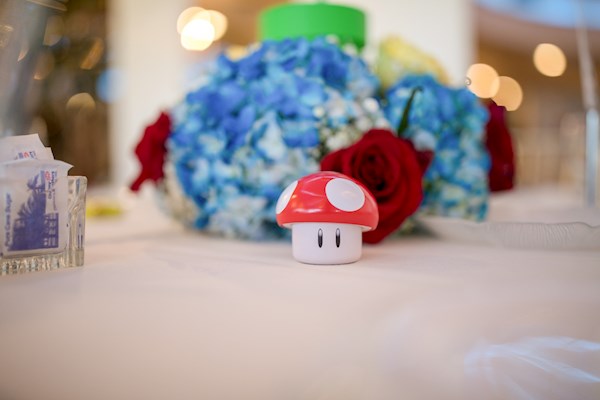 What can you tell us about the decor/props/accessories?
We had SO much fun with the decor. We made almost everything.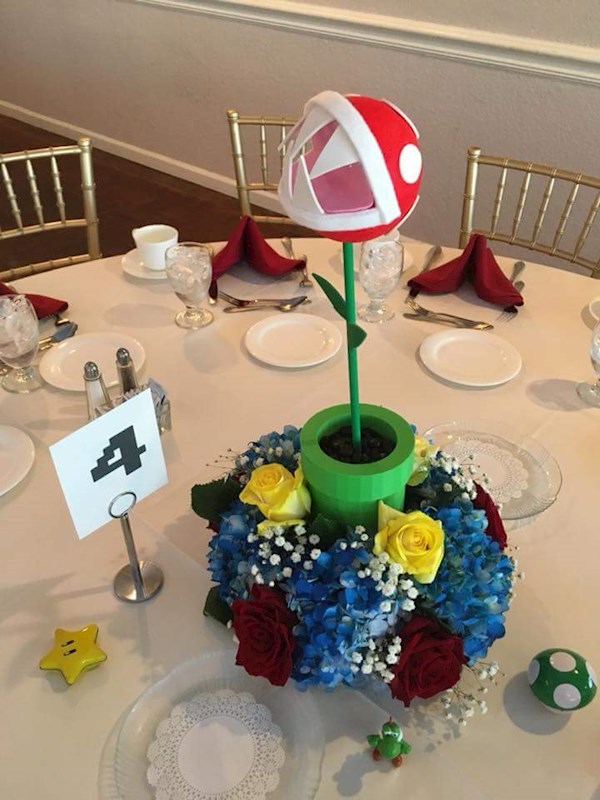 Jeff designed the Save the Dates and the Invitations based off of designs we had seen previously online, but wanted to alter them a bit to personalize them. We made the bouquets (fire/ice flowers) and the boutonnieres.
We had the Mario background printed to set the scene for the ceremony.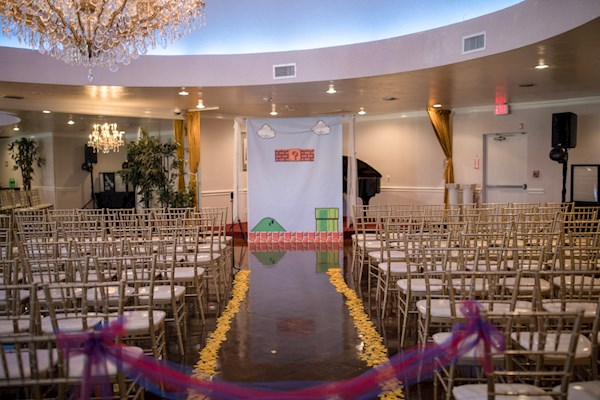 Jeff's mom runs a business she calls the Candy Buffet Lady, so we had a HUGE candy buffet that was super colorful and fit the theme perfectly.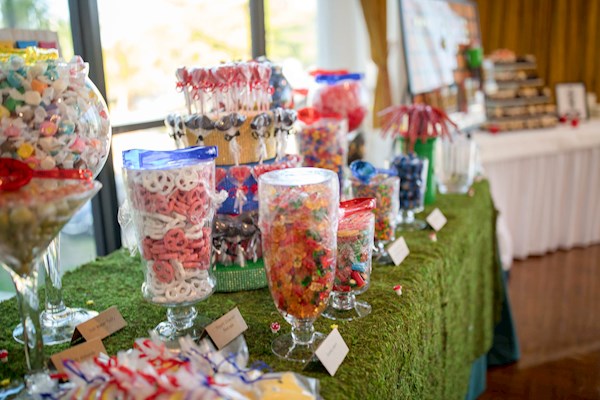 We tried to put something Mario in each aspect of the wedding, but it was very tough to not overdo it because it was a fine line between classy wedding decor and child's birthday party. We definitely had to edit as we went along.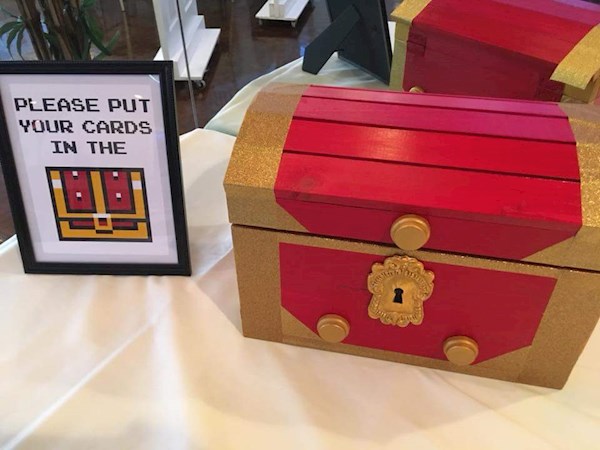 Can you talk us through your outfits? And it has to be asked….. Why not Luigi's colours?
So we wanted our colors to be taken directly from the Super Mario logo (red, blue, green, and gold) and we used those primary colors throughout the wedding.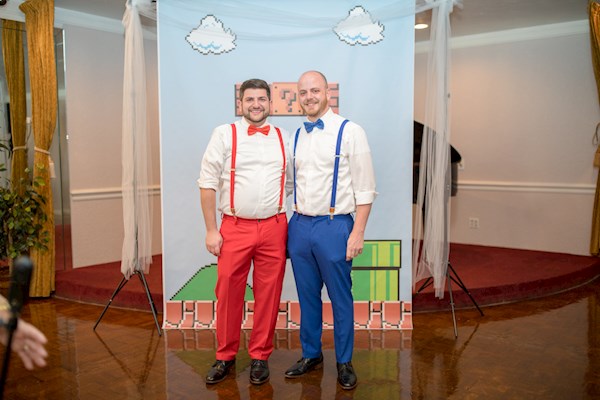 We definitely thought about the red/green combo, but Mario and Luigi are brothers, and we were trying not to cross the line into incest! However, our ring bearers who are twins did wear red and green and our flower girl had the perfect Princess Peach dress on.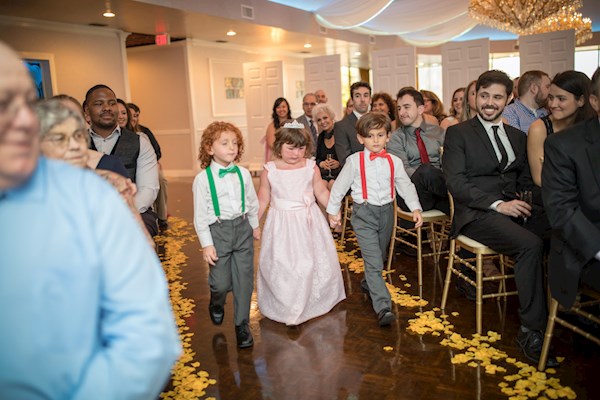 We put our groomsmen in grey so that our colors would pop a bit more, and we tried to match the girl's dresses as close to the color of the gold coins as possible.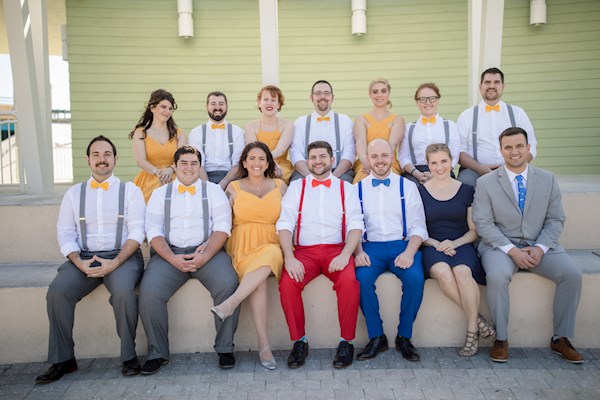 We decided from the very start that we did not want to wear jackets, as Florida is very warm and we didn't want to be sweating all day.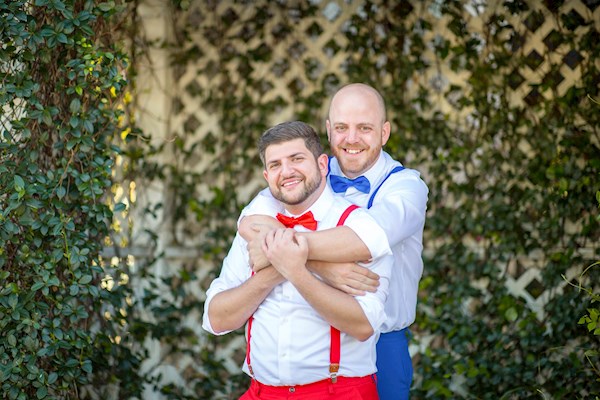 Was the ceremony itself traditional? Did Mario feature in your vows?!
The ceremony had a traditional format, but was very personalized to us. One of our closest mutual friends wrote and performed the ceremony, and it was truly special.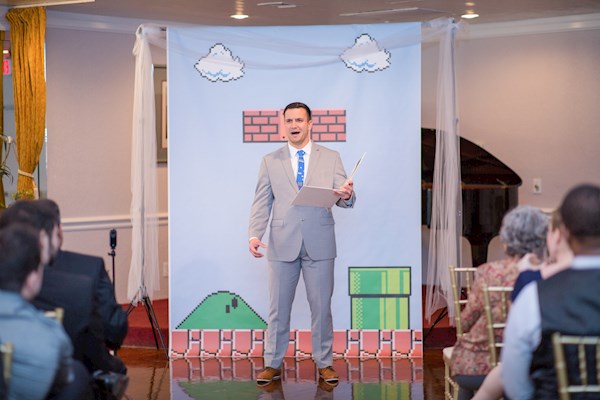 We wrote our own vows and we both cried while the other was reading. At the beginning of the ceremony, our officiant definitely made a few corny Mario jokes. When we exchanged rings, we had the DJ play the sound the game makes when you collect a coin, and at the end of the ceremony when we were pronounced married, we had the original Mario end-level fanfare played. Those small touches were definitely appreciated by our guests.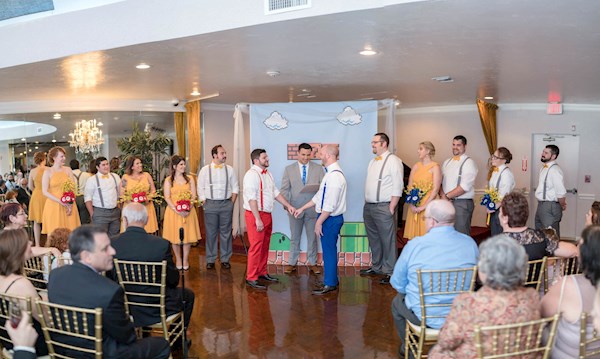 Was it difficult to plan your wedding? What was the most stressful part?
Brad has always been an event planner and we started planning super early, so it wasn't that bad. The most stressful part is people management; making sure everyone knows where to be and when!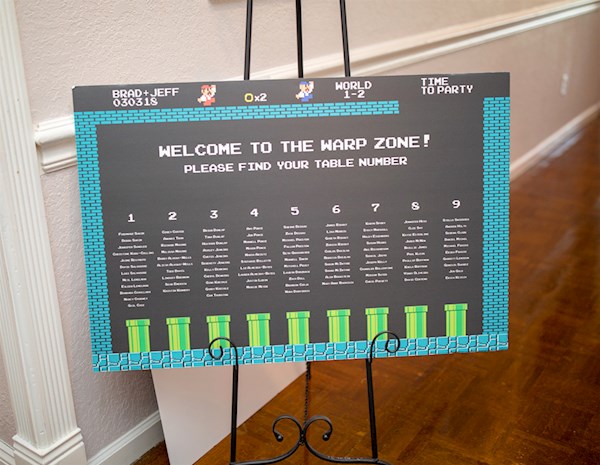 The ring boxes look fantastic, where did they come from?
Those are actually little metal tins that originally contained small hard candies! Jeff's mom found them in a candy supply store, and I've also seen them in places like Spencer's!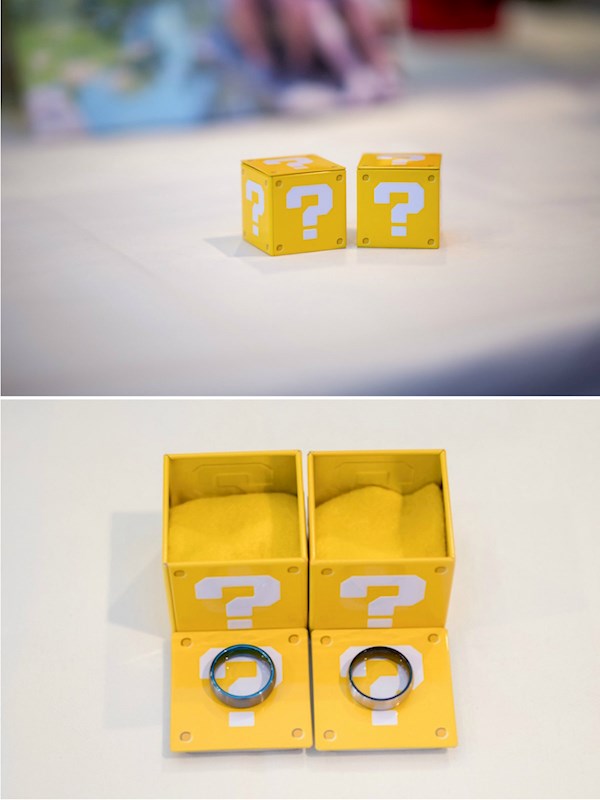 Did your guests get into the theme?
Our guests LOVED our theme from the moment we sent the Save the Dates.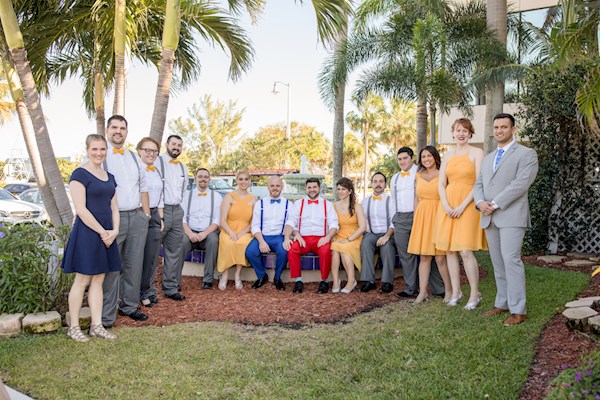 Did any Mario music feature in the wedding?
Yes! The last song before the processional was the Super Mario Bros Theme by the London Philharmonic Orchestra, and then our processional song was the Mario Kart Love Song by Sam Hart.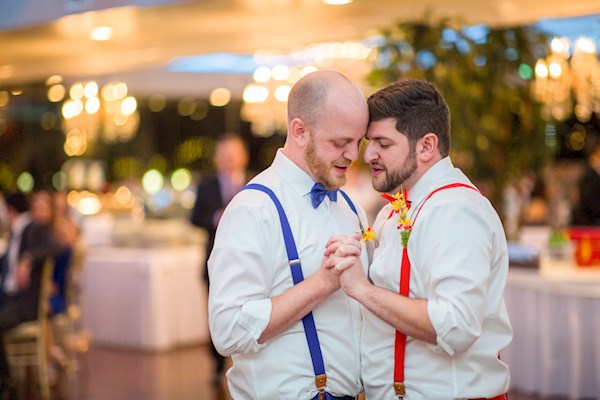 If you did it again, is there anything you would change?
Absolutely not. Everything went EXACTLY how we imagined it and it was a very smooth day. We just wish the day could have lasted longer!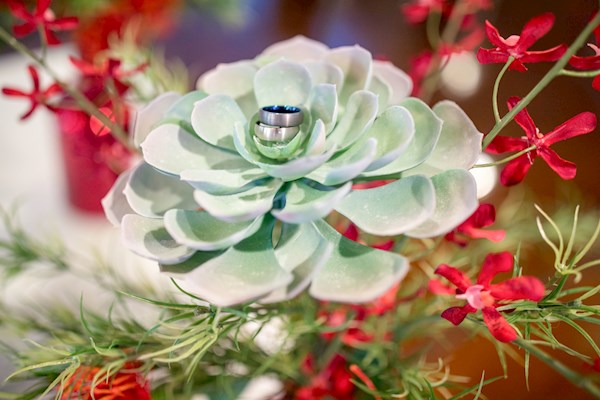 What was your favourite part of your day?
Just being surrounded by all of our closest friends and family. We are very blessed to have amazing friends that are so supportive of everything we do. Also, the mini-cupcake tower was amazing and so delicious.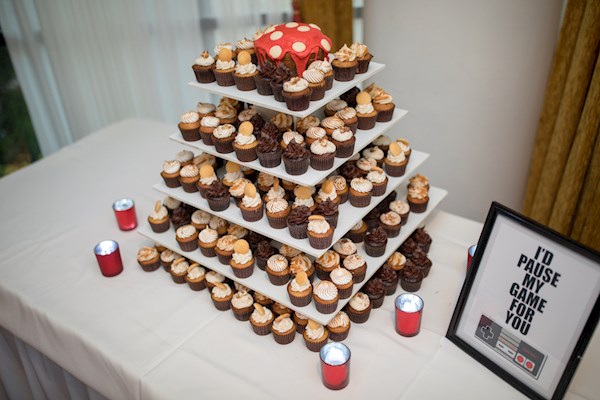 Do you have any advice for couples who are currently planning an 'alternative' wedding?
DO YOU. Don't sacrifice anything because you're afraid of looking "dorky" or weird. If someone is invited to your wedding they should already know that you may not be traditional.
Have fun with it every step of the way, and don't forget to step back and enjoy it. This day is about you and your spouse, so if anyone else has anything critical to say about your day, screw them!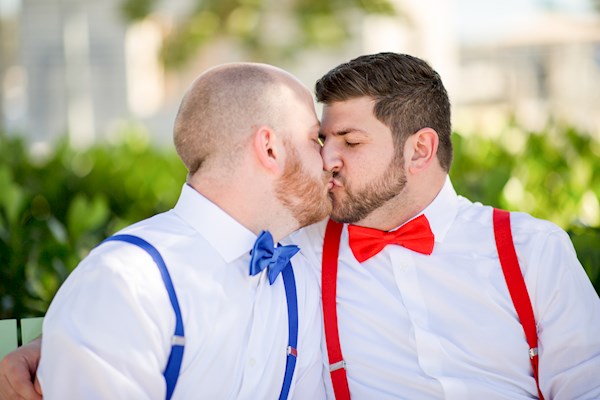 ---
GAME OVER
Thanks for reading and thanks to Brad and Jeff for giving us an insight into their 'Nintendo Nuptials'!
Thanks also to Fiona Image for use of their photographs