Caz and Grant's Red & Black Wedding with Tim Burton Inspired Cake
This page may contain affiliate links. If you buy something via these links, Misfit Wedding may earn a small commission at no extra cost to you. This helps keep our site free for you and our hand picked businesses. Read more here
We absolutely love these wedding photos! The bride and groom drew influences from Tim Burton and the groom's Scottish heritage to put together a stunning day based around a red and black colour scheme. Let's find out a bit more about this awesome couple...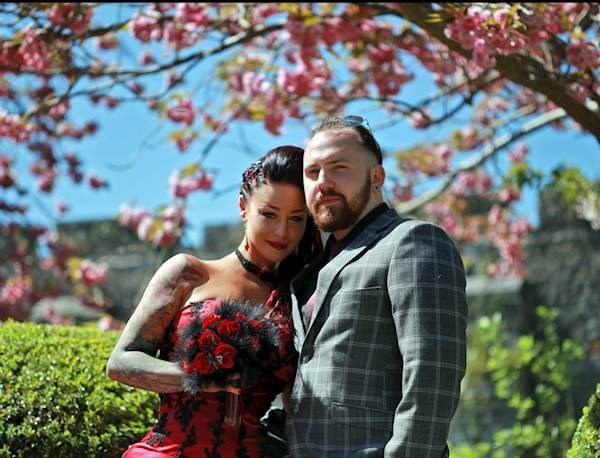 Who are these beautiful people?
We are Caz and Grant Wilson from Chester. Grant works as a customer service adviser and I'm a stay at home mum. Our wedding was at Ruthin Castle in North Wales on the 14th May 2016.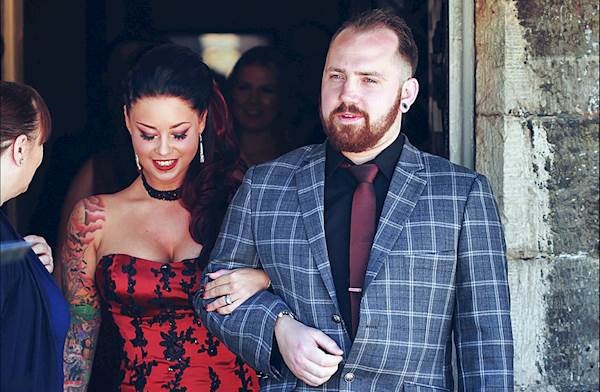 How did you decide on your wedding venue?
We found the venue, Ruthin Castle, online and it catered to all our needs for the wedding, it was the only one within a reasonable distance from us that did a medieval package and as we wanted that kind of theme, with a gothic twist, it suited us just right.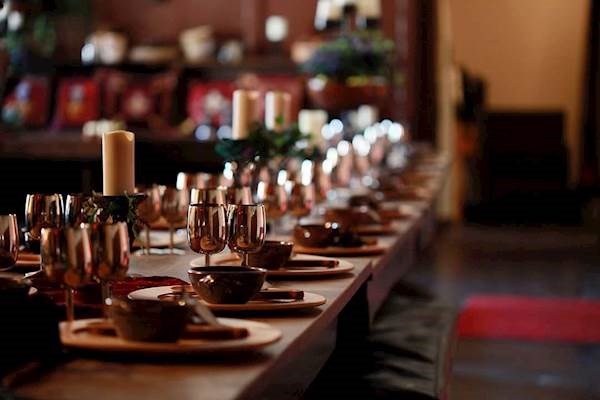 Can you tell us a bit about your fantastic outfits?
All of our outfits came from online shops, including the kids'. Mostly from Ebay! You find so many unusual things on there and for a reasonable price if you are on a strict budget. Grant has Scottish family so liked the idea of a tartan patterned suit. I got my wedding dress from a shop called Devilnight.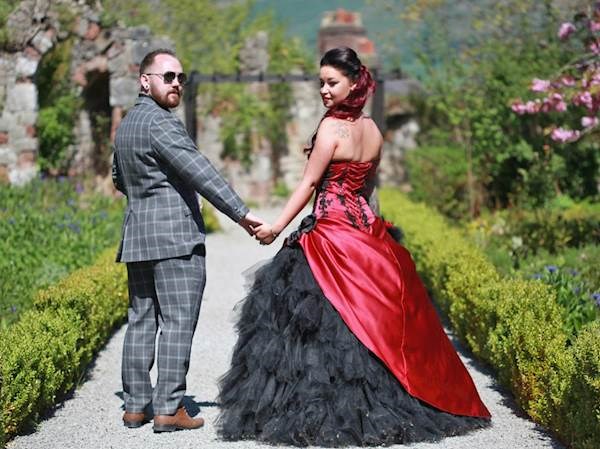 What inspired your choice to wear a red dress?
I always loved the film 'Beetlejuice' and Lydia's dress when she's about to marry Beetlejuice was awesome. I always wanted a red wedding dress after seeing that but mixed with black as we both love red and black together. Then we found that dress and thought it was just perfect.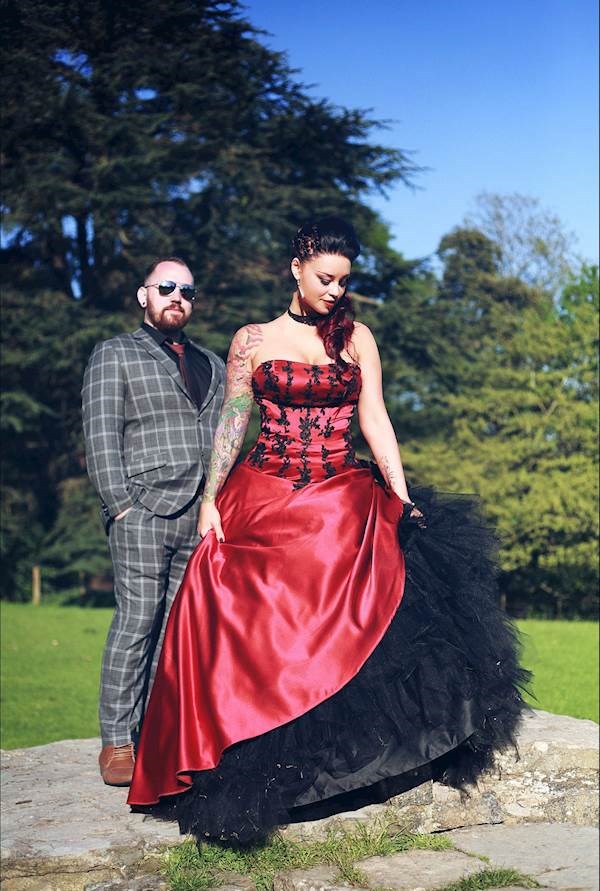 Where did your bridal bouquet come from?
An Ebay shop, we got all artificial flowers as we wanted to keep them afterwards.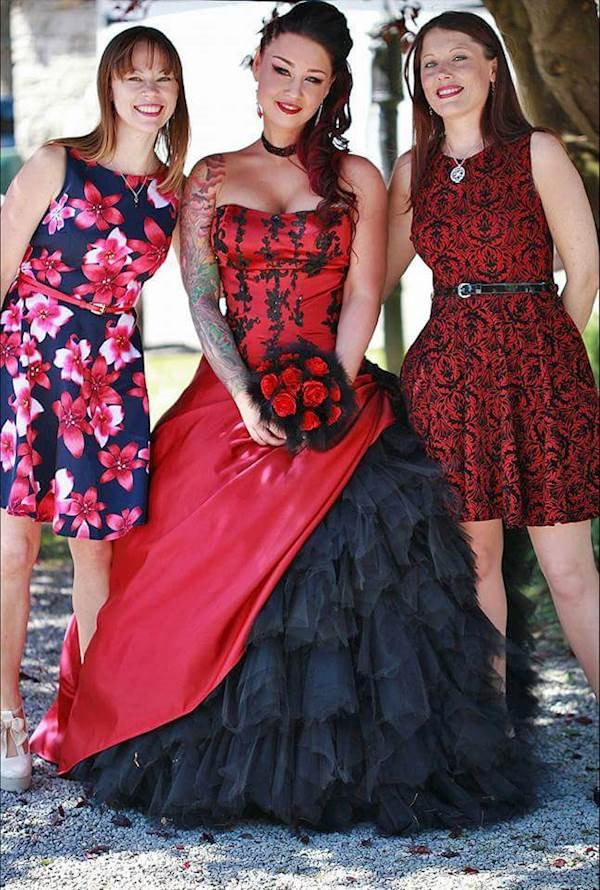 Can you tell us about your wedding theme and what inspired your choices?
We both loved the colours red and black, especially deep blood red, so we wanted those colours right from the start. We love all things old and medieval so a castle was perfect and as we are both lovers of all things gothic and unusual we wanted that twist to it as well. I am a huge fan of Tim Burton so that played a part in choosing our cake.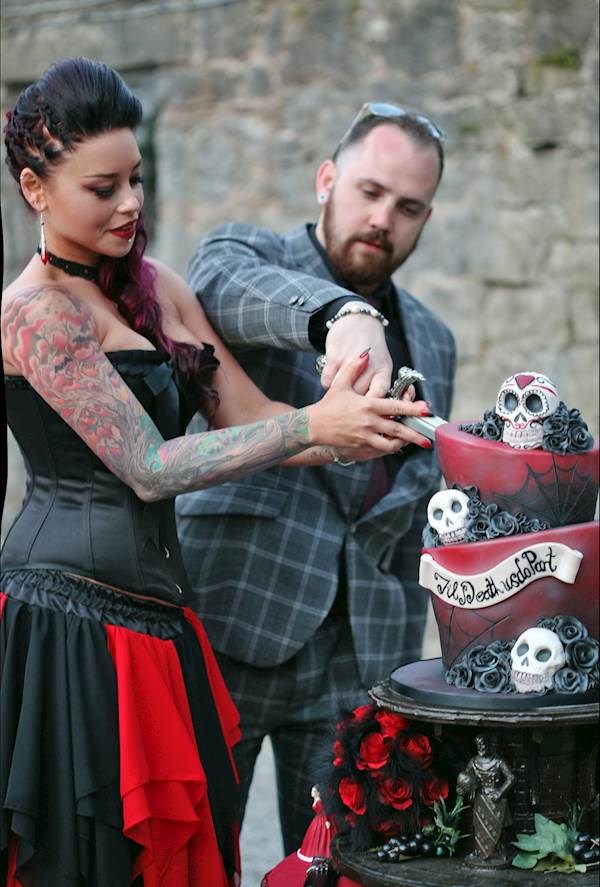 Your wedding cake certainly is a work of art, who came up with the design? Did it taste as good as it looked?
The cake was based on film director Tim Burton's style. We decided on the design by finding other pics of gothic cakes online and chosing the bits we liked best and putting them all together. We wanted the red and black theme and loved the idea of slanted wonky tops. We both love skulls so they had to be on there too!
The cake tasted just as good as it looked. The top tier was carrot cake and the bottom was chocolate. It was made by Evelyn's Cake House.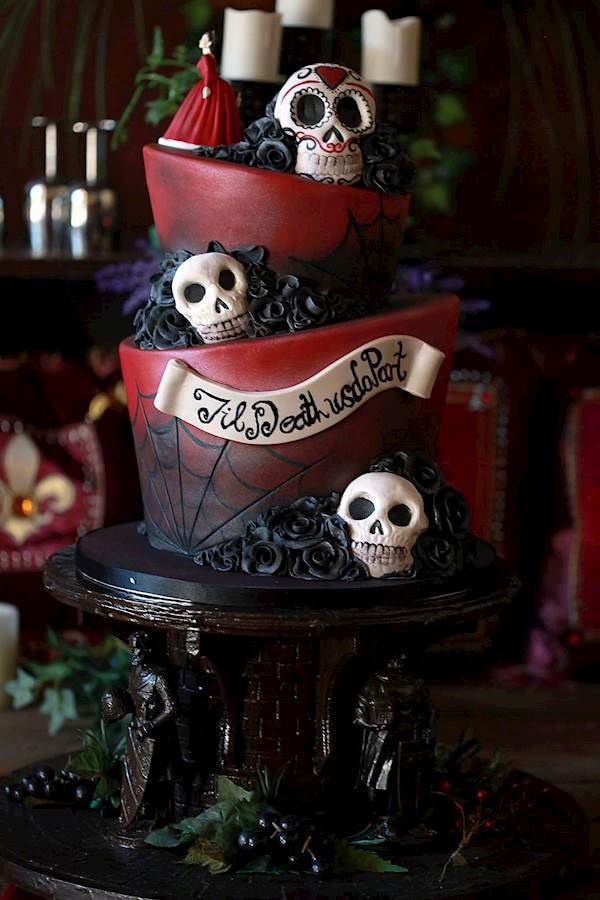 Your rings look unusual, where did they come from?
Our rings were custom made by Sycamoon Jewellery. The runes translate to 'Now and forever'.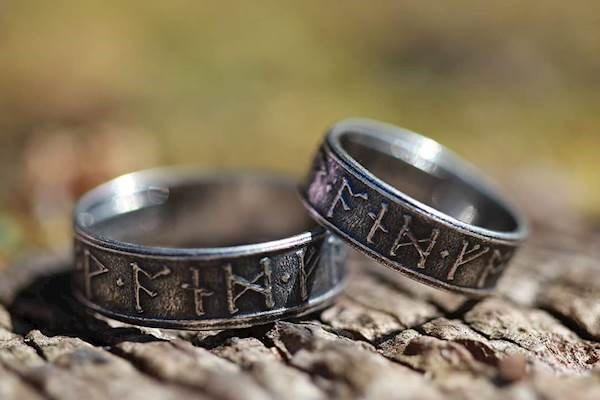 Were your family and friends all into the less traditional aspects of your wedding?
All our family and friends know how much we love to think outside the box, they always knew it would never be a 'traditional' wedding and I would never have worn a white dress as that just isn't me. Although there were a few that weren't into gothic/unusual things every person who came said how brilliant it was and so unique.
Who says it has to be traditional if that's not your thing? Everyone agreed it suited us perfectly.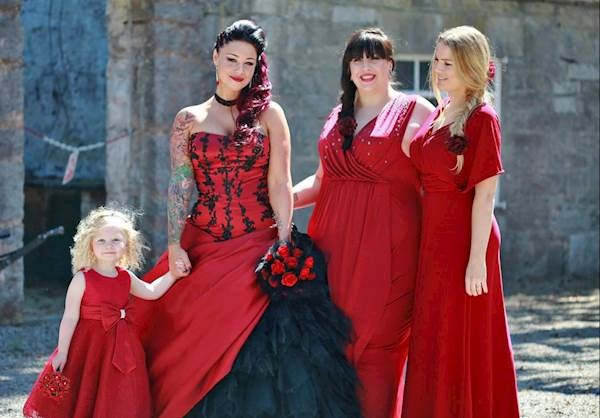 Caz's gorgeous hair was done by her sister in law, Kelly Grant.
Was it hard work planning your wedding? Did you encounter many problems?
We had a wedding co-ordinator who was really helpful and any problems that arose were dealt with and sorted very quickly. So it was reasonably stress free. We were relieved it all went smoothly and the day couldn't have gone better!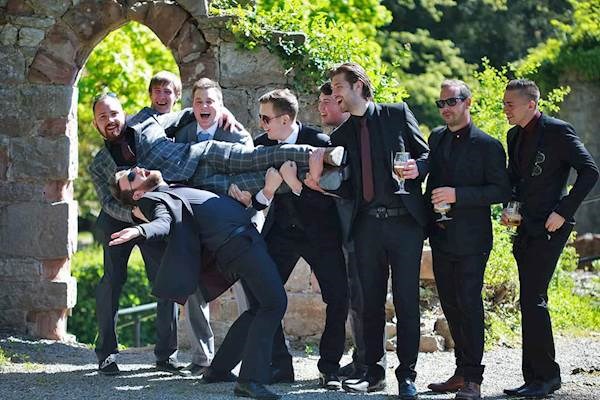 Do you have any advice for couples planning an unconventional wedding?
I would say to anyone wanting an unconventional wedding to have a clear idea of the theme you both want, research into online suppliers as this is the best place to find unusual wedding stuff! It's so hard to find unconventional things in 'mainstream' high street shops unless you know of a specific place.
Just remember it's your special day, it's all about the two of you and you should have it how you want it, don't worry about what anyone else thinks! Wave your freak flag high and be proud to be different!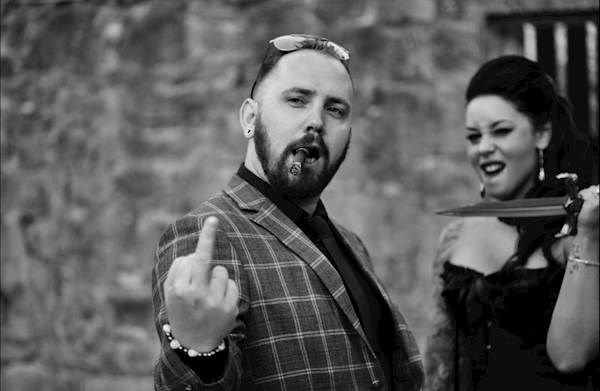 A big thanks to Amanda-Louise Photography for letting us use these brilliant photos!
And, of course, a huge thank you to Caz and Grant for sharing their alternative wedding day with us!