Game Of Thrones Wedding Ideas
This page may contain affiliate links. If you buy something via these links, Misfit Wedding may earn a small commission at no extra cost to you. This helps keep our site free for you and our hand picked businesses. Read more here
The wait is very nearly over, in a couple of days Game Of Thrones will be bursting back on to our screens and if you're not excited about that then you should probably consider committing yourself to the local psychiatric hospital. Just saying.
We've seen a few Game Of Thrones themed weddings in the past couple of years and we're hoping to see plenty more. The BBC even covered this GoT wedding in Herefordshire last year.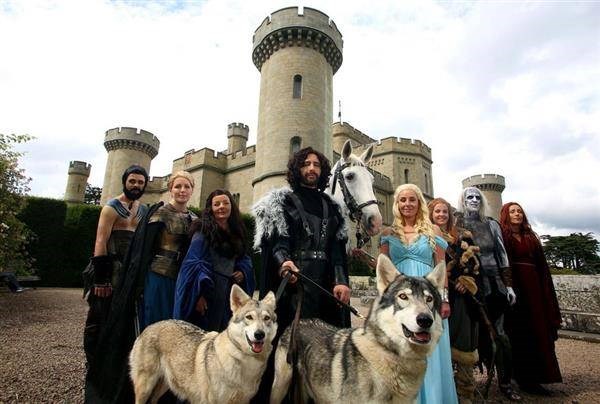 Darren Prew & Kerry Ford as characters Jon Snow & Daenerys Targaryen. Photo by Geoff Caddick.
We've been sniffing around the internet to see what we can find for couples thinking about incorporating some Game Of Thrones elements into their day. Beware though, for as we all know, when you play the game of thrones, you either win.... or you die. So between us we'd better get it right!
Let's kick things off with these killer Iron Shoes by Nixxi Rose. They caused quite a stir on our social pages when we shared them recently and it's easy to see why...
While we're on the subject of Iron Throne inspired items, if you have a wedding budget of £20,000 you could blow the whole lot on this full size 160kg replica throne. Yes, we did just say twenty thousand pounds!
Let's look at some more realistic touches you can add to your day. Etsy is always a fantastic place to start your hunt for interesting, unusual and affordable items. How about a Dragon Claw necklace, fit for a Khaleesi...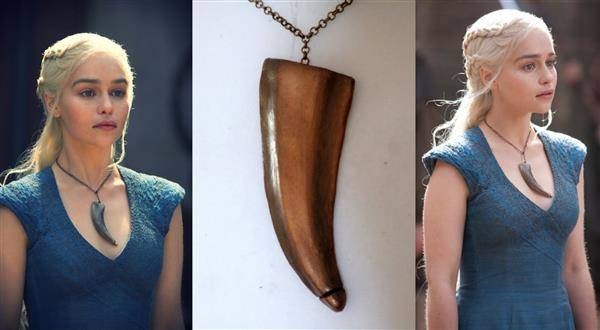 These GoT table placement cards look the business, each bears the sigil from one of the houses in the TV show. People you like on the Stark table, people you don't like on the Lannister table? You decide!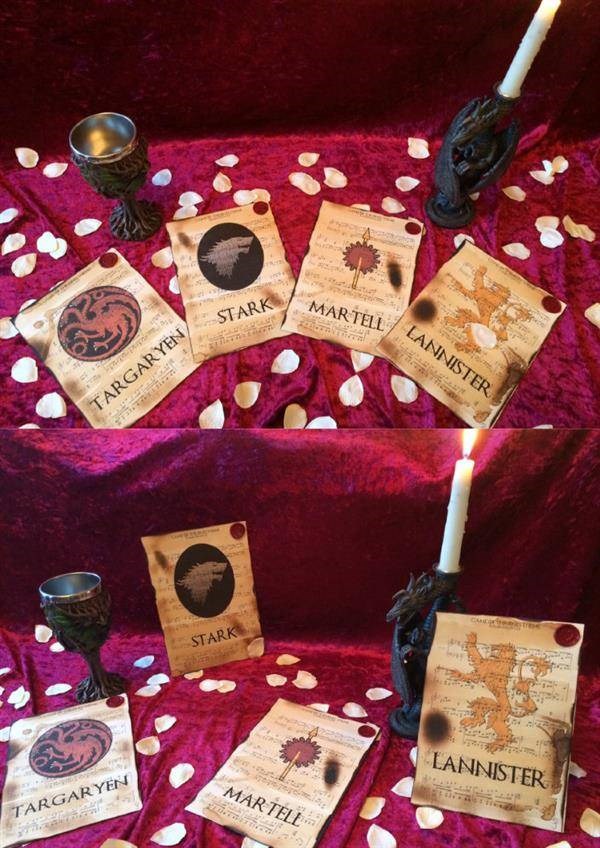 For the groom, best man, ushers, father of the bride and other shirt-wearing guests you can find such things as silver plated House Lannister cufflinks.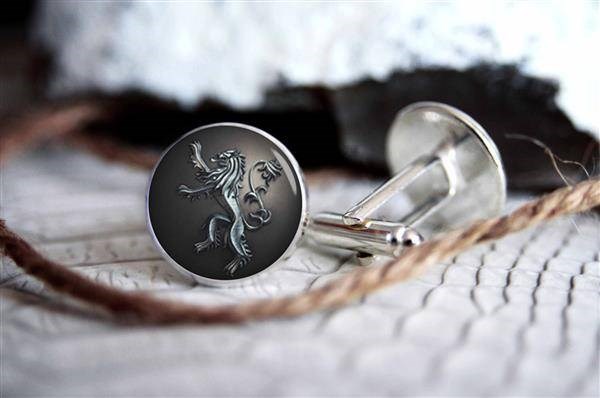 Or maybe one of the boys fancies them self as a member of the Night's Watch, in which case this etched sterling silver ring by Laura B Jewelry is the thing for them!
Who wouldn't want Daenerys Targaryen as their bride on their wedding day? How can you go about achieving that look though, how about this dress from Pungo Pungo?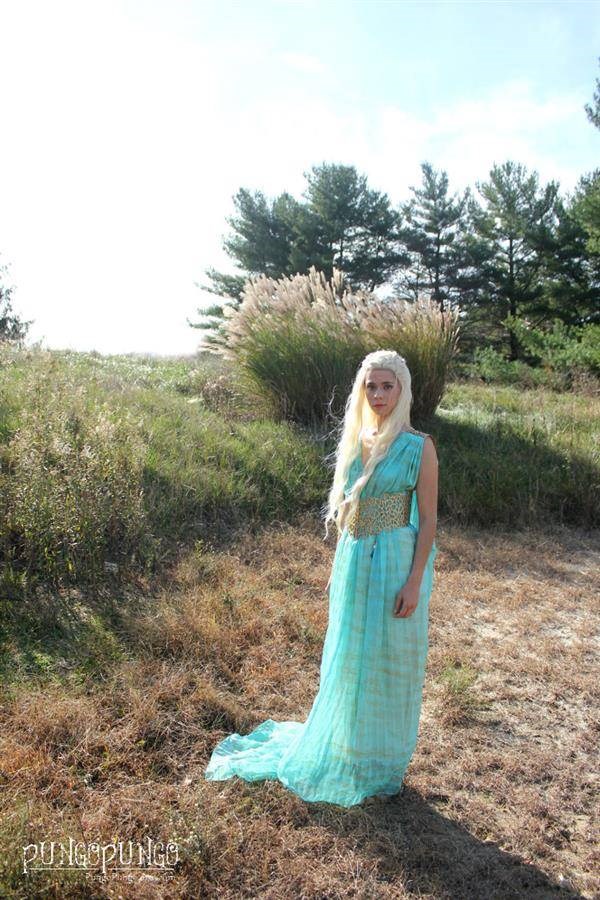 Rocking up with a dragon on your shoulder is another way to ensure everyone understands you are in fact the Mother of Dragons...
It's best to be prepared at weddings, if it's all getting a bit much and somebody's driving you bonkers you need a plan, that's where a Sansa Stark inspired poison necklace comes in very handy! You'll soon have your Joffrey wannabe writhing around on the floor, leaving you to enjoy the rest of the day ;)
Another site worth checking out for unique items is Not On The Highstreet, we must have done half of our Christmas shopping there last year! This cute little brooch is made by Kate Rowland Illustration.
For the wedding cake we suggest you go big or go home. Well come on, if you're having a Game Of Thrones wedding then you obviously don't do subtle. The example below features swords, dragon scales and even a map of Westeros.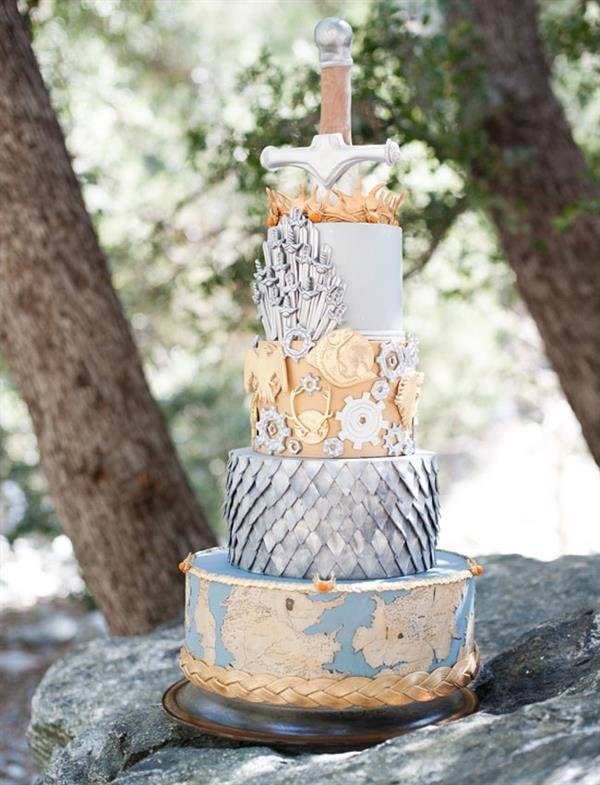 Or you could opt for something more rustic if you're striving for authenticity, like a naked cake by French Made.
We're thinking perhaps a woodland setting for the ceremony? Arnos Vale have a great outdoor venue for a twilight wedding.
Or, of course, there's the aforementioned castle idea as a venue or another fitting location would be by the sea, like this venue in Devon which is accessible via a tunnel cut through the rock.
Well, that should have given you a few things to think about. We'll leave you to it for now, but be sure to follow us on Facebook for more Game Of Thrones finds!
No need to thank us for giving you a hand...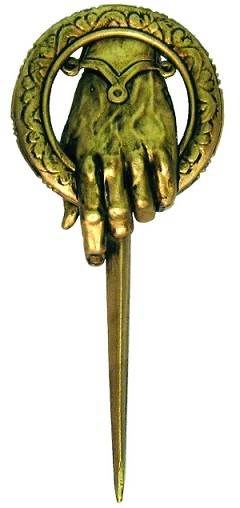 ....it's been our pleasure. We're off to watch series 4 as a bit of a refresher to get us in the zone for series 5 which kicks off here on Monday!
"Never forget who you are, for surely the world won't. Make it your strength. Then it can never be your weakness. Armour yourself in it, and it will never be used to hurt you." - Tyrion Lannister