Goth Couple Talk Alternative Ceremonies & Wedding Photography
This page may contain affiliate links. If you buy something via these links, Misfit Wedding may earn a small commission at no extra cost to you. This helps keep our site free for you and our hand picked businesses. Read more here
We'd like to introduce you to a seriously cool goth couple who know a thing or two about weddings...
Hi guys, could you please introduce yourselves?
Hi, we are Rob and Ellie Farrell and we live in Birmingham, West Midlands. We have been married nearly six years and love every minute of it. We both work in the wedding industry. Rob is a photographer and I (Ellie) am an alternative Celebrant.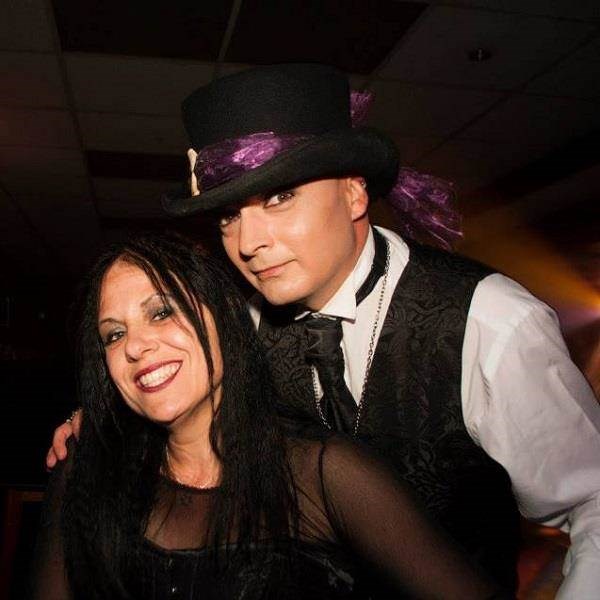 How did you two meet?
Ellie: We met through a mutual friend who suggested to me to request a spoof Facebook profile as a friend. At the time, I had heard about Rob through friends, but hadn't met or seen a picture of him. His sense of humour really appealed to me as we all like a great sense of humour. I soon found out it was Rob and added him on his real account. He looked familiar and when we met it turned out we went to the same gigs and clubs twenty five years earlier. We became a couple exactly a year after first meeting and being close friends. After five days of being a couple, we decided to get married, and eight weeks later, we were.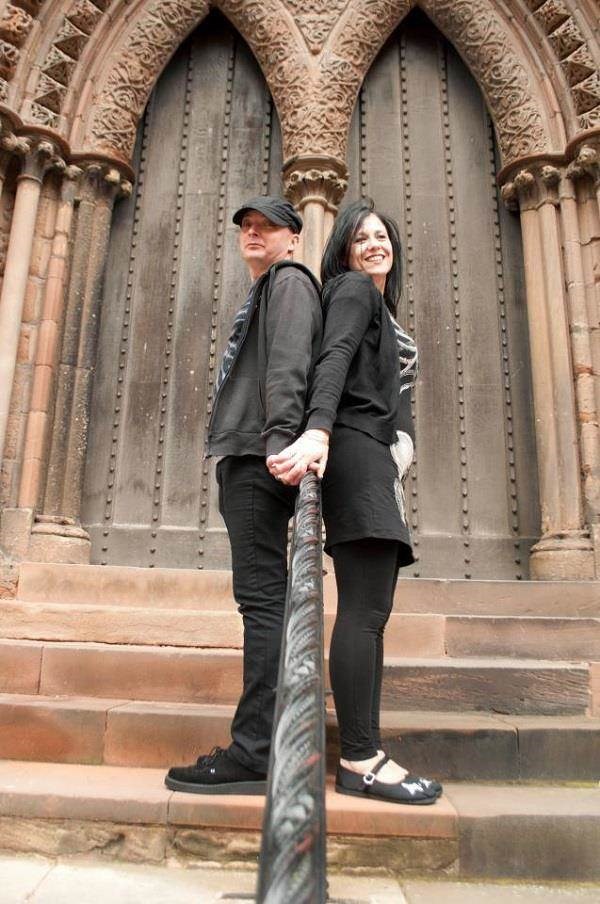 Can you tell us what your wedding was like?
Ellie: We only had eight weeks to plan our wedding, but everything just fell into place. We were both involved with the arrangements, and knew exactly what we wanted. Two weeks into the arrangements, the television programme 'Four Weddings' contacted us to ask us to take part. Neither of us had seen it and we declined to take part after watching it. It was important to us that our wedding was about us as a couple, and us as a family with Rob becoming a Father to my two sons, then aged fifteen and twelve, and my eight year old daughter, all from my previous marriage.
Rob: We had a basic, production line ceremony in a local register office. It was the same ceremony everybody has who marries there. We wanted certain music, but due to the strict laws register offices have to follow, we were unable to. At the time, neither of us had heard of Celebrants and due to different beliefs, a register office was the only available option. We have both been Goths since we discovered it in our teenage years, and we wanted our wedding to reflect our lifestyle. Ellie wore a black dress and I wore a frock coat and a top hat. We asked our guests to dress in black or purple and received a lot of attention by the staff at the register office who came out, intrigued by our guests clothing.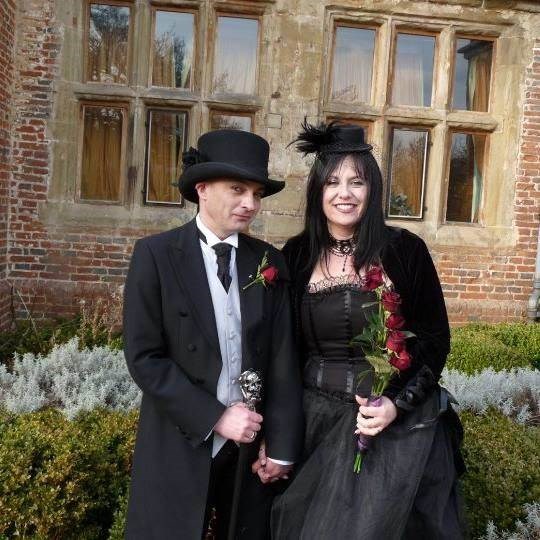 Ellie: We chose a local pub, which was originally a sixteenth century manor house, for our reception venue; and we stayed long enough to have a meal, a few drinks and have photographs taken. It was a small gathering of immediate family and close friends and we wanted this part of the day to be spent wit the people who meant the most to us. Not everyone was able to make the evening celebration which was at an alternative club night we regularly attended; so spending time with important people meant a lot to us.
So have you always been into the goth scene? What specifically attracts you to it?
Ellie: We have both been into the Goth scene for what seems like forever. We love everything about it! The music, the clothing, the people and for me, the literature associated with it. The Goth scene is far from the doom and gloom ideology which most people think it is. It is full of creative and artistic people who are accepting of other people's lifestyle choices.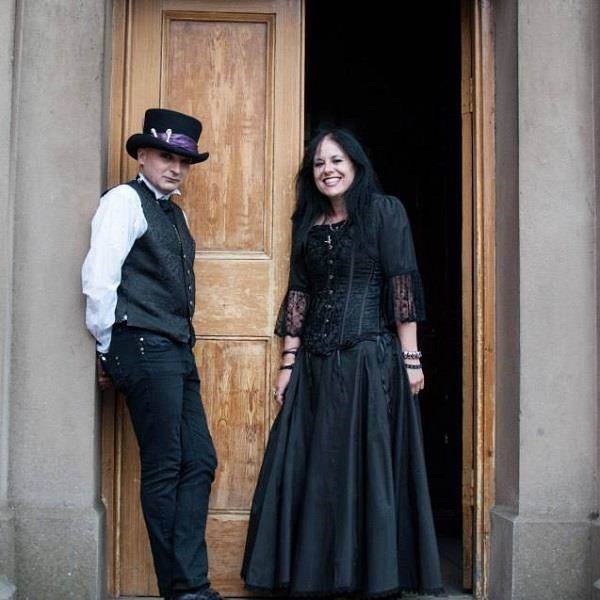 Rob: The music is what attracted me to the Goth scene initially, and the whole Goth look. In my younger days I had a big black Mohican and spent most of my Saturday afternoon's buying records and clothes in Oasis (an alternative fashion store in Birmingham). I was always at gigs or Goth/alternative clubs.
Ellie: The music is also what attracted me to the Goth scene first, but I was also drawn to the clothes. In my younger days, the Trad Goth OR Batcave look appealed to me. Now though, I dress in a more Victorian Goth way and favour corsets, lace and velvet clothing.
Moving on to your work, what exactly do you both do?
Rob: I am a photographer and take creative and journalistic images for couples wanting their pictures to differ from the standard, traditional wedding photographs. I love working with couples who want a set of images reflecting their personality, lifestyle, sense of humour and relationship. I encourage couples to be themselves in front of the camera and soon, they forget it's there and this gives them a unique set of pictures.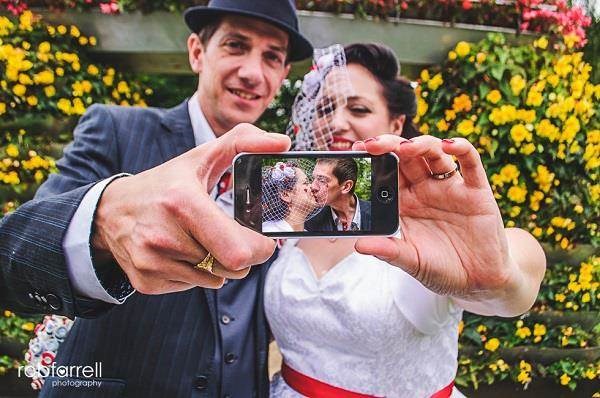 My job starts with taking the couple to a place important to them for a pre wedding shoot a few months before the wedding. We get to know each other and chat about styles and shots they like or dislike. Most people start off being nervous in front of the camera, but these nerves are soon replaced by laughter and natural looking shots reflecting their love for each other. On the wedding day, they hardly notice I am there until after the ceremony has finished, when I gather them together for photo taking time. I offer a full day's coverage and it usually starts with pictures of the Bride getting ready and continues to the end of the evening celebrations.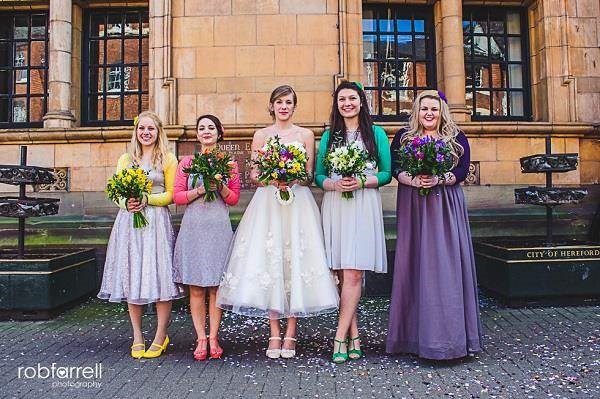 Couples want more from their wedding photographer than just capturing line ups of relatives circling the Bride and Groom. I capture the day as it happens and if this includes the Groom and his Groomsmen arriving on skateboards, or the Bride on a playground swing, or photographing the first dance with a cuddly frog included; so be it. It's your wedding day, do what matters to you.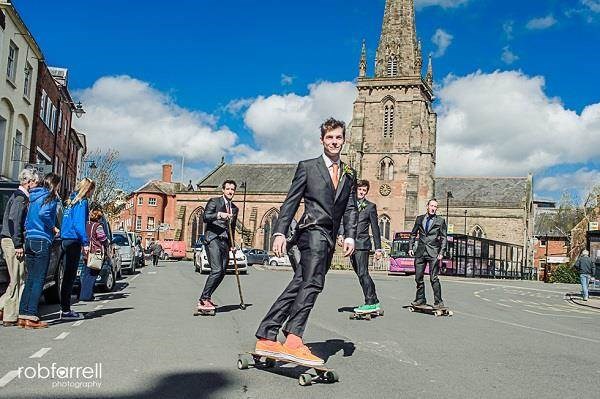 Ellie: I am an alternative Celebrant, specialising in writing and performing weddings, renewal of vows, hand fastings and various other ceremonies. Our own wedding, led me to think about helping other couples have a personalised wedding ceremony, so I trained as a Celebrant to do that.
When planning a wedding, so much time is spent planning the clothing, flowers, transport, cake, food and venue; yet most couples are unaware the most important part of the day, the actual ceremony can be personalised too. I work along side couples to help them create a ceremony centred around them. Children, family and friends are important to us all, and I help couples include important people into their ceremony rather than just sit back and watch it happen. Couples can marry anywhere they want to with a Celebrant wedding, and I have performed weddings in numerous locations chosen by each couple.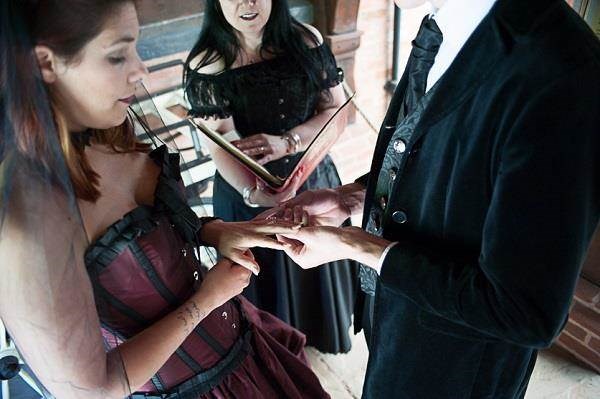 I offer couples a ceremony about them, in a venue of their choice, at a time to suit them, with their choice of music or readings. I also dress accordingly to suit the style of their wedding whether it is Goth, Steampunk, Rockabilly, Harry Potter, Sci-Fi or any other theme. Couples can also choose various unity ceremonies, including sand, unity candles, wine ceremonies, witness parchments, handfasting and time capsules. I use so many different ones and choose the objects used to match the theme or style of the day.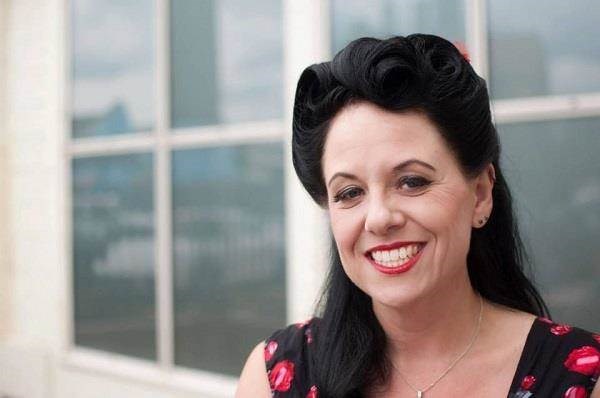 Ellie can rock the rockabilly look if required!
Do you get to work together much? Can you be booked together?
Rob: We have worked together a few times, and can be booked together yes. Both of us will travel if required.
What kind of reactions and feedback do you get from your clients?
Rob: I am humbled by the reactions I get from my clients at times, particularly when they choose a picture of them with me to be included in their album. I love their reactions when they see I have captured a particular moment, person or object they weren't expecting to see captured. Amazed and thankful feedback makes me happy that a couple chose me with the honour of photographing their special day.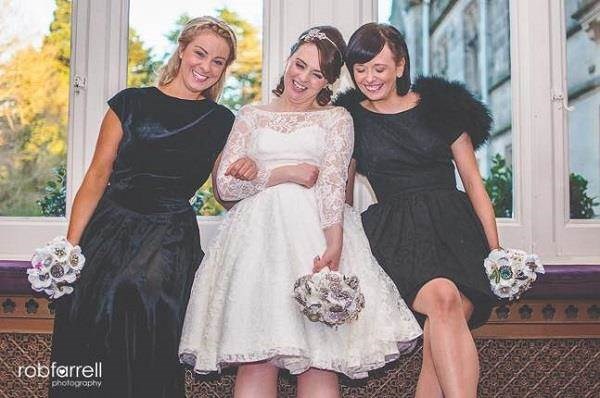 Ellie: The usual reaction I get is 'I didn't know we could do that', when I meet up with a couple for the initial interview. The best feedback is when a couple tell me the ceremony is so personal. The best reaction I get is seeing them happy knowing they can include anyone or anything into their ceremony.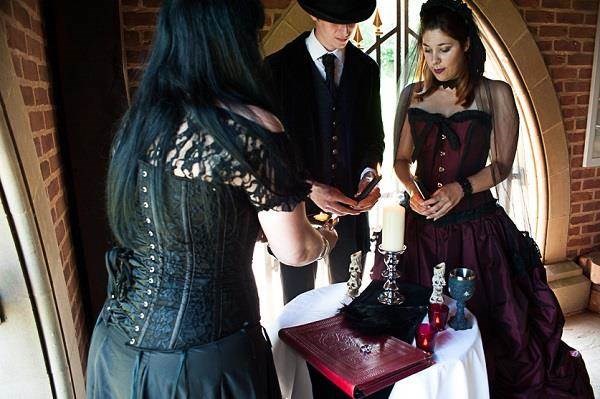 Would you say it's becoming more popular to have an 'alternative' wedding?
Ellie: I think alternative weddings are definitely becoming more popular. Television programmes, internet blogs and media publications are responsible for informing couples about alternatives to traditional wedding ceremonies. Alternative weddings aren't just for couples belonging to subcultures, they are for any couple looking to have a unique wedding about them.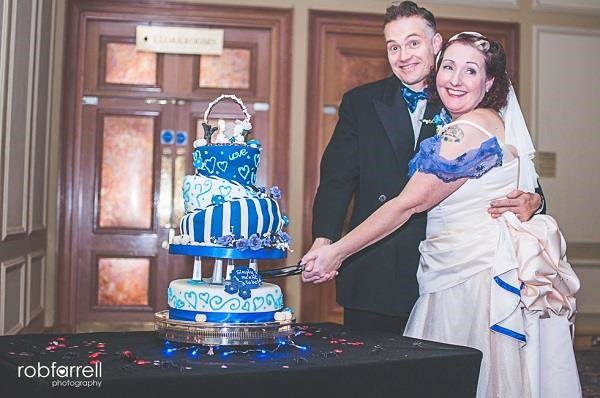 Do your clients come from all walks of life or are there particular subcultures that you attract?
Rob: My clients definitely come from all walks of life. One week I could be photographing a Steampunk couple getting married at an Edwardian museum, the following week I can be capturing the wedding of a couple in their late sixties at a golf course hotel. I'm lucky that my style of photography appeals to different subcultures, ages and wedding themes.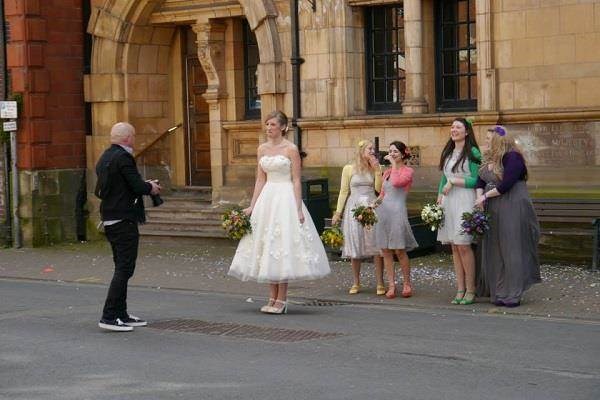 Ellie: My clients also come from different walks of life. I am an alternative Celebrant, so I get bookings from Goths, Steampunks, Pagan, fetish, Rockabilly, tattoo enthusiasts, Cosplayers, and couples who want to add a handfasting or a unity ceremony to their otherwise traditional wedding.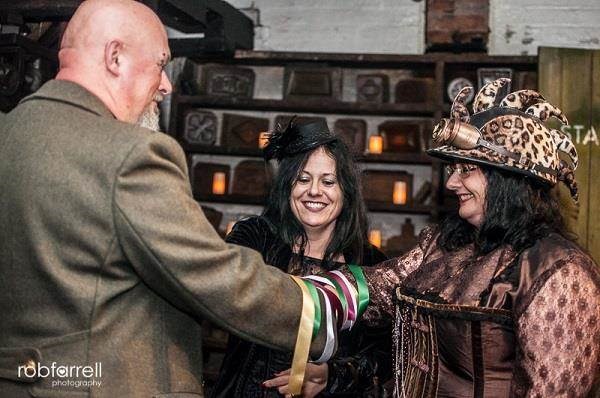 Can you tell us about some of the more unusual weddings you've worked at?
Rob: I would say the most unusual wedding I have worked at is a fetish wedding which we were both involved with. The Bride and Groom had a strict list of photographs they wanted, as well as wanting some semi traditional pictures too, the couple also asked me to sign a privacy contract which I happily did.
Ellie: I would say the fetish wedding was unusual too, but also it was a great ceremony to be involved with. There was a collaring ceremony as well as exchanging wedding rings and a contract between the couple was signed too.
Do you have any advice for couples planning a non-traditional wedding?
Rob: Yes, my advice would be not to take advice from anyone but each other. Friends and family will be offering advice, but all decisions and choices should be between the couple getting married. Obviously as a photographer, my advice is book a good photographer. Research their work, talk to them and make sure their style is right for you.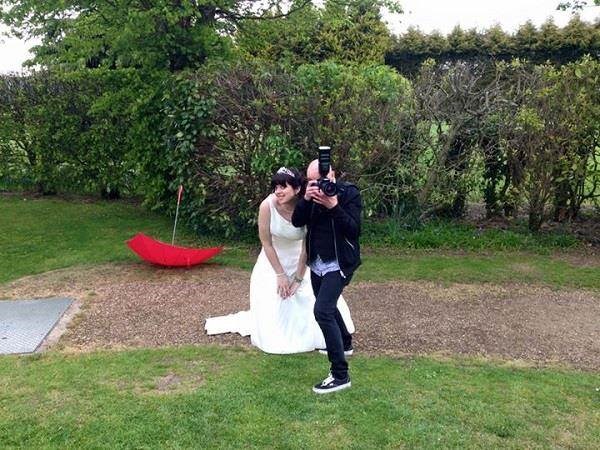 If you're looking for a photographer, we hear this guy's pretty good.
Ellie: My advice is to do whatever you want that appeals to you both. It is your special day so define it your way. Black wedding gowns, candlelit ceremonies, skull wedding cakes, themed weddings or breaking with what is considered a traditional wedding isn't for everyone. Some family members may not understand or agree with your choices so explain to them why you are doing it this way if you think it will help them understand.
Is there anything else you'd like to add?
Rob: Decide if you want an unplugged wedding and inform your guests of your wishes. Make people aware you don't want to see any pictures of your wedding seconds later on social media by telling guests not to upload any pictures to Facebook, Twitter or Instagram.
Ellie: Plan your day together, include each other in the plans and remember it's a day for the Groom too. Don't be tempted to spend money on items you don't really need, but others may suggest you do. It's your day, define it your way.
---
Thanks for taking the time to talk to us, we've thouroughly enjoyed getting a little glimpse into your world!
Hit these links for more info:
Ellie Farrell - Alternative Ceremonies UK
Rob Farrell - Rob Farrell Photography