Paul & Lydia's Wedding, With Alternative 80s Music and Tattoos
This page may contain affiliate links. If you buy something via these links, Misfit Wedding may earn a small commission at no extra cost to you. This helps keep our site free for you and our hand picked businesses. Read more here
You may remember last year we spoke to Rob and Ellie Farrell, a goth couple working in the wedding industry, well now we get to see a bit more of their work because they both played a significant part in the following wedding. We zapped the couple a few questions, to find out more about their day...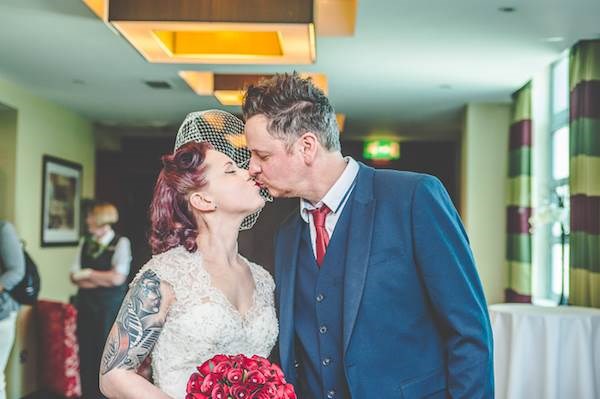 Can you please introduce yourselves?
We are Paul and Lydia. We met at a Bowie night in Birmingham called Only After Dark. So you can guess we share a love of Glam/ New Wave/ Post Punk/ Gothic and Alternative 80s music. I (Paul) work for Tesco, Lydia is a Fitness Instructor with Aston University. We got married on the 8th of May 2016 at The Holiday Inn Birmingham Airport. Honeymooning 2 days later in Cape Verde.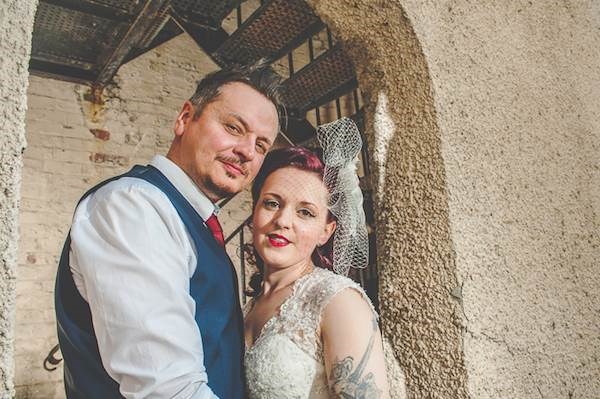 Can you tell us a bit about your interests? Especially those that may have snuck into your wedding day.
Tattoos and music being a big influence on our day, Lydia spoke to tattoo artist Frances Anne Faith at Modern Body Art in Birmingham City Centre (where we both frequent) about drawing up some designs for artwork to be displayed on each table for the meal. Which look fantastic on the wedding photos.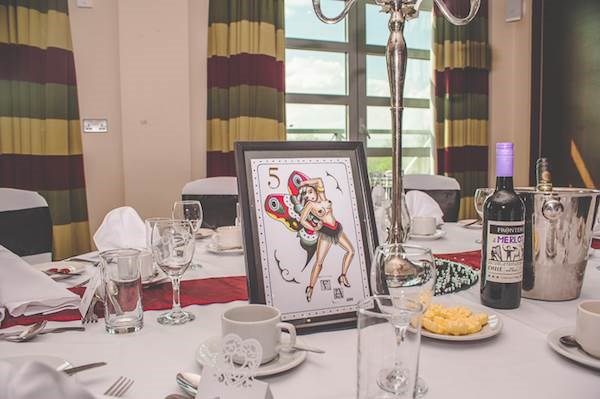 Our wedding certificate has a strong music influence in it, incorporating David Bowie's "Black Star" album, The Cure's "Disintegration" lettering , and also having Depeche Mode's "Violator" rose running through the certificate. The certificate was designed by our dear friends Rob Farrell (Photographer) and Ellie Farrell (Wedding Celebrant).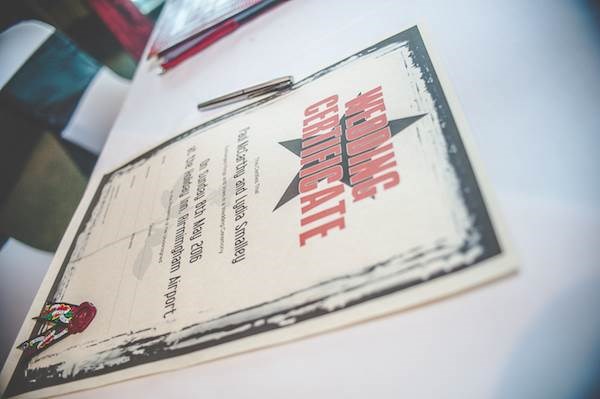 How did you decide on your outfits? Can you tell us where the bridal dress, bouquet and shoes came from?
We wanted traditional with a twist when it came to our outfits. Lydia chose a traditional dress from Berketex Birmingham, and teamed it with a vintage birdcage veil (again from Berketex) and ruby red shoes from Irregular Choice. Lydia didn't want the faff of real flowers, so we ordered silk bouquet from Petals Polly on Amazon. They were bargain price and looked fab!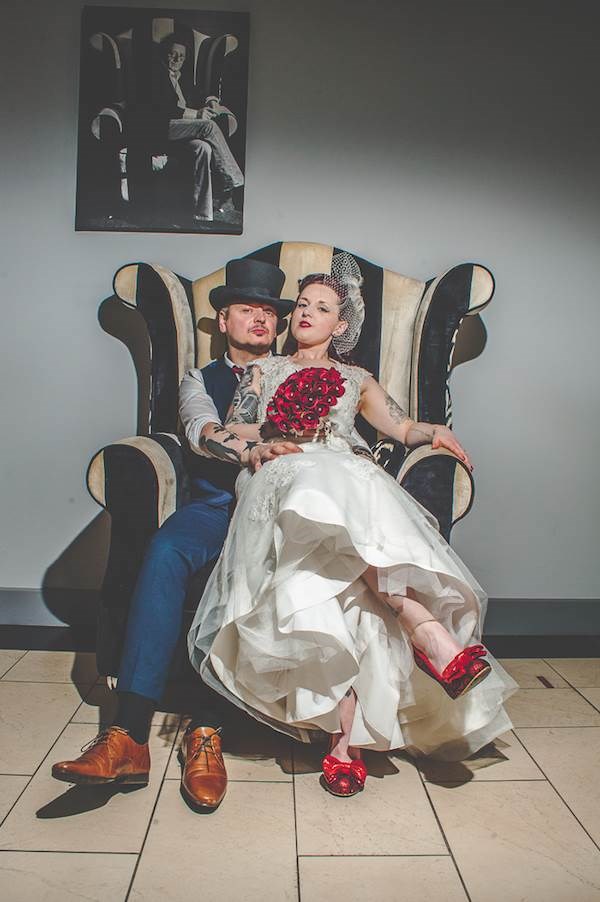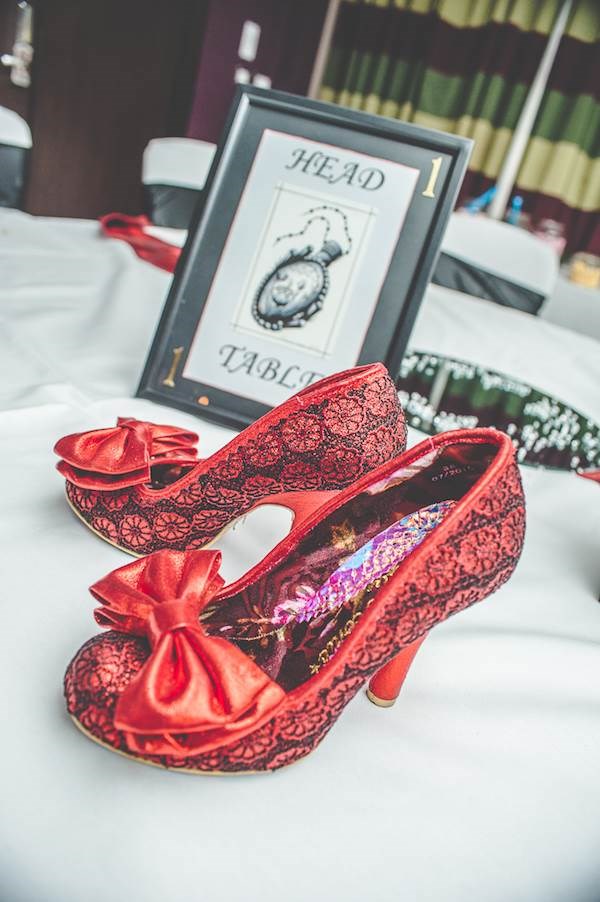 I had my heart set on a skinny grey suit, and changed my mind going for a blue skinny suit with brown pointed shoes (all from Topman). On our special day, about 5 guests turned up in the very same colours ...... no one turned up in grey!!!! haha.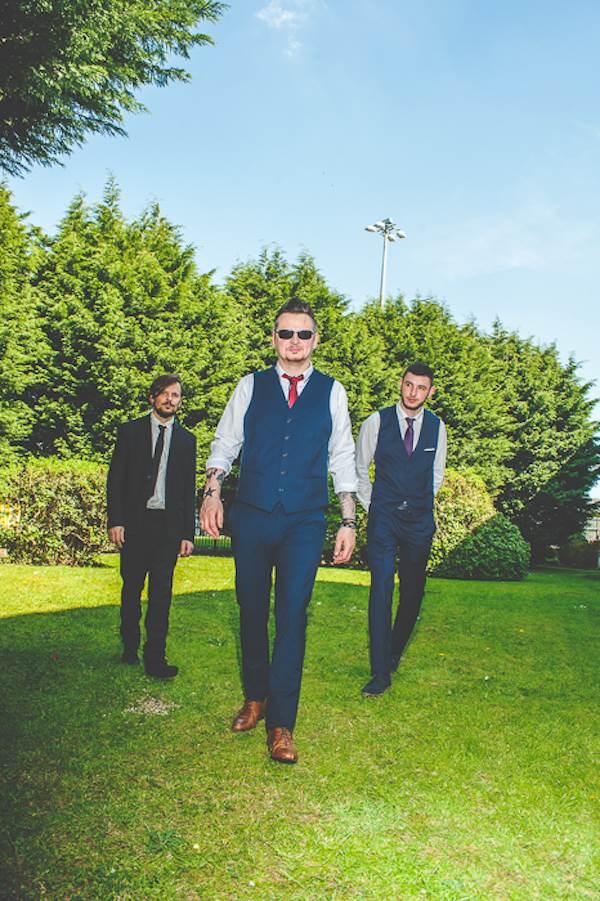 It's great to see some ink on display, was it a conscious decision to have your tattoos showing? (Loving the Robert Smith one!)
Thank you. Not really a conscious decision really. Lydia's dress fitted perfectly to show the tattoos on her arms, she has quite a few on her legs which were covered by the length of her dress.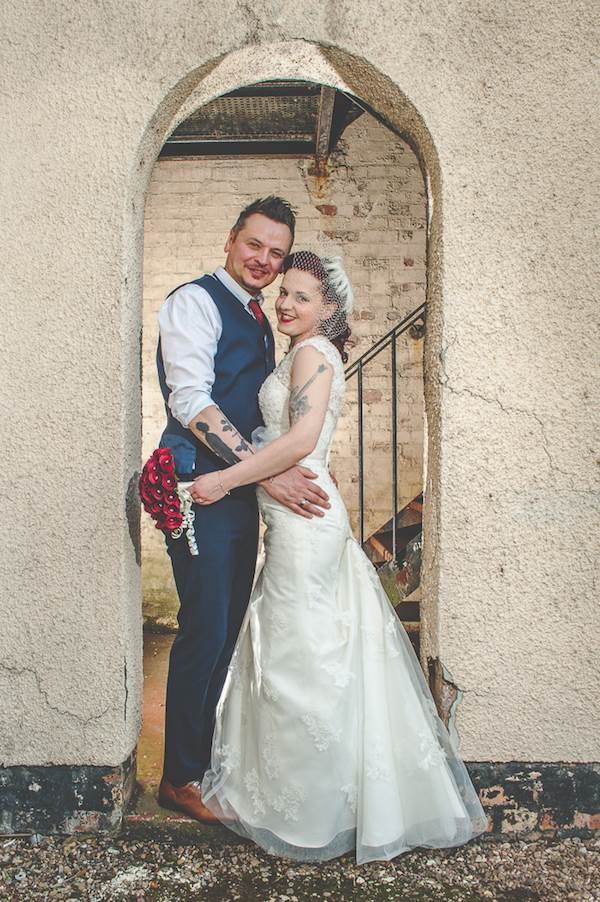 Can you tell us a bit more about the tattoo inspired table numbers and some of the other touches like the cake, the image on the candle etc
As above, Lydia got in touch with Frances Anne Faith, a tattoo artist at Modern Body Art on Corporation Street Birmingham. The head table tattoo image was a commission piece Fran did especially for us. The rest were prints that Fran had previously had for sale that we loved the look of.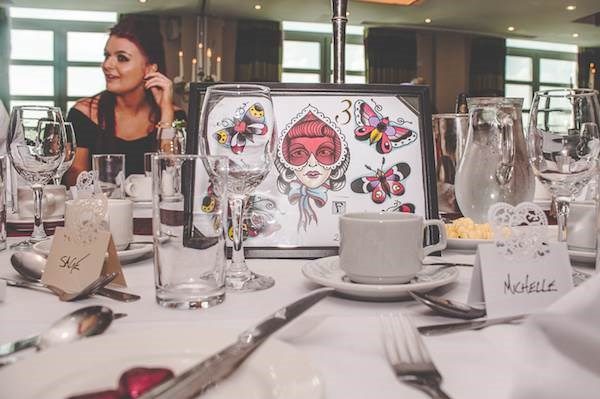 My Daughters Sophie and Sadie had our wedding cake designed by Sugar Mama's Cupcakes, Birmingham. My Daughters have a love of Tim Burton (as do we), so they knew exactly what to ask for as a theme (as you can see, it was perfection).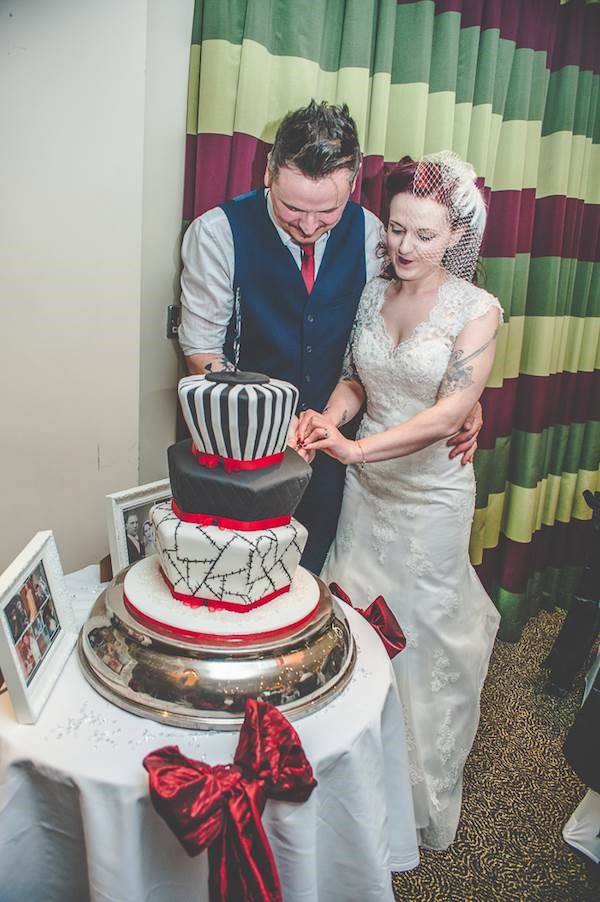 The image on the Unity Candle was the artwork for The Cure's "Lovesong". A song that we both love, and suits us perfectly.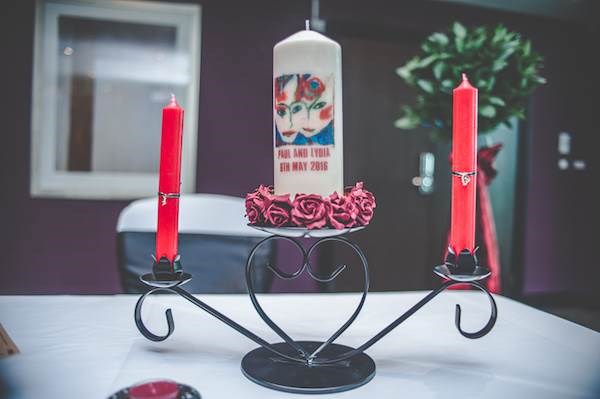 Would you care to tell us about your chosen celebrant, Ellie Farrell, and the use of candles in your ceremony?
Ellie is a very good friend of ours, so much so, that she offered to marry us. Her company is called Alternative Ceremonies, so I think you can guess that her ceremonies are a little bit different. We loved all the different types of ceremony she offered to do for us, but the main one that stood out for us was the 'Unity Candle' ceremony. This ceremony involves 2 slim church candles - one representing the bride's family (which was lit by the bride's mother), and the other representing the groom's family (lit by the groom's mother), these 2 candles stand either side of the main Unity Candle.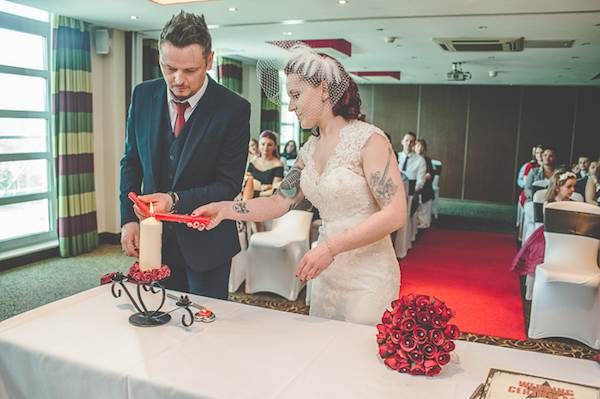 The bride and groom then pick up their respective candles, and together they light the main Unity Candle to represent the unity of the two families. Ellie helped us so much with planning our big day, and making sure everything went smoothly for us. We thoroughly recommend Ellie to anyone wanting something a bit different on their special day. She's a gem!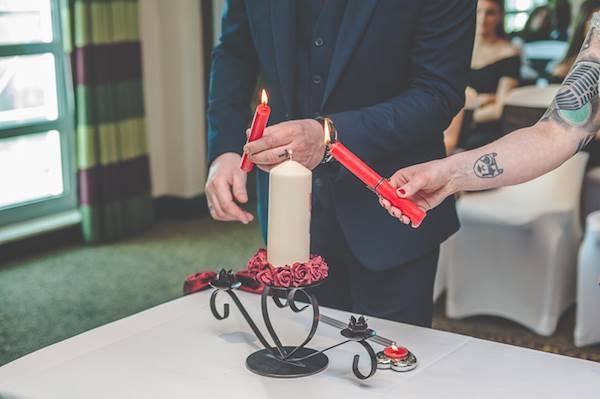 Were your vows traditional?
No, we didn't have traditional vows. We wanted something different and Ellie knew exactly what to do for us. We had a few readings during the ceremony (all read by Ellie) one was part of the lyrics to 'Lovesong' by The Cure, and the other was the lyrics to the Nightmare Before Christmas song 'Simply Meant to Be' as we love that film!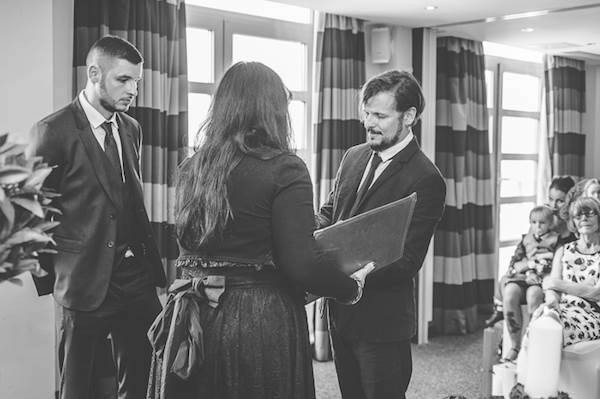 We're curious to know what your playlist was like at the reception, suitably alternative? Did you have a 'first dance'?
Well we had a resident DJ provided by The Holiday Inn. We were adamant to what music we wanted for the reception, and sent emails detailing our musical preferences to him. We tried to incorporate our love also of Classic 70s/80s Rock and Disco (to find a happy medium with our guests for the reception, I guess). The whole day had an alternative music theme running through it. Lydia walked down the aisle to "Blue Dress" by Depeche Mode. The signing of the wedding certificate was "You'll Never See Me On A Sunday" by Marc And The Mambas.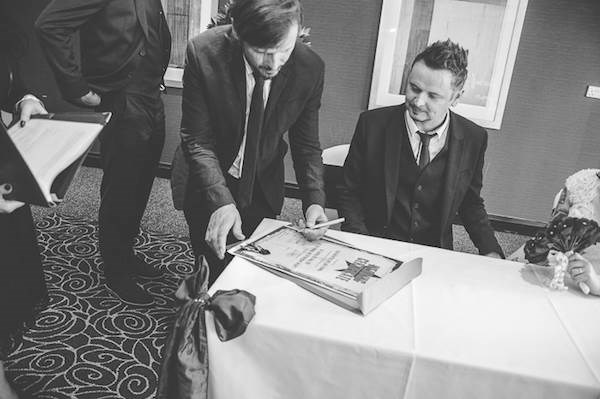 Our first dance was the Beach Boys song "God Only Knows" covered By David Bowie.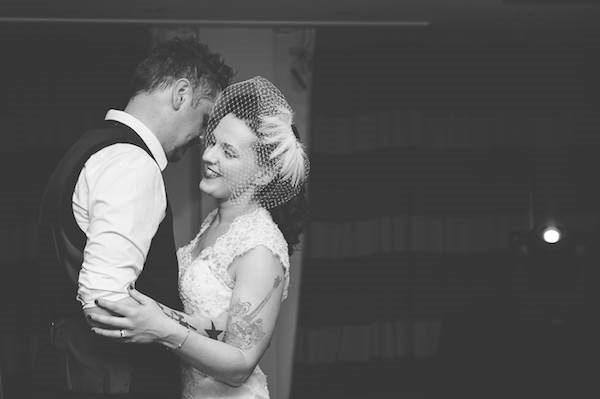 You have some excellent photos, would you like to say anything about your photographer, Rob Farrell?
I've known Rob and Ellie for about 7 years now, and they are dear friends. So we and Rob bounced off each other perfectly (ideas wise) with a love of music and tattoos, and the 'Gothic' image of the 80s (which we were a part of). Pretty much everything Rob suggested, we loved.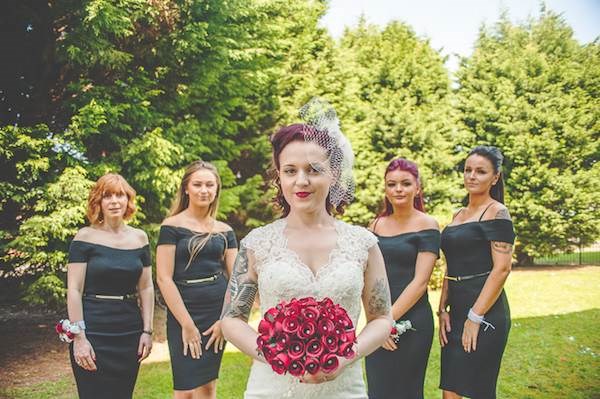 We also did a pre-wedding photo shoot with Rob around Digbeth in Birmingham, which has a lot of graffitti art around the area. And the photos are superb. Rob makes you feel relaxed (something we thought wouldn't happen with a camera pointing at you) and would absolutely recommend him to anyone who wants something different.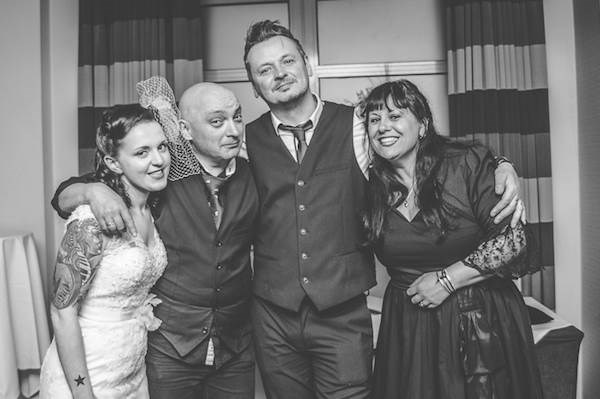 Did you find planning your wedding hard work?
To be honest, this is my wife's forte!!! Lol. She is the organiser in our relationship, and she took to organising our special day head on. Our marriage was a natural progression (Lydia's words). It was done on a budget. We wanted a very relaxed day, where people could wear what they wanted, but also wanting them to feel part of the day. For example we didn't have a head table for the wedding meal. Meaning everyone was just as important as everyone else.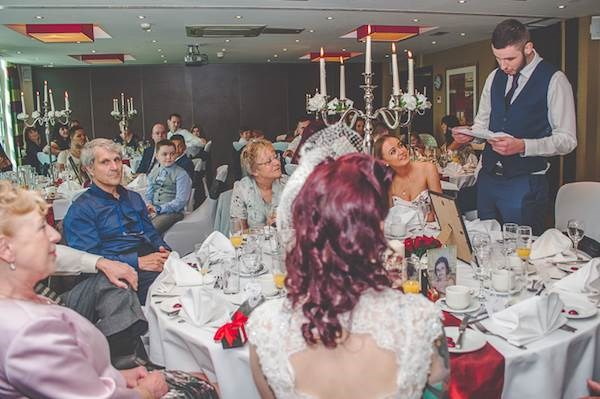 If you did it again, is there anything you would change?
Maybe use one of our friends to DJ the evening. As the resident DJ was limited in the knowledge of the music that we requested.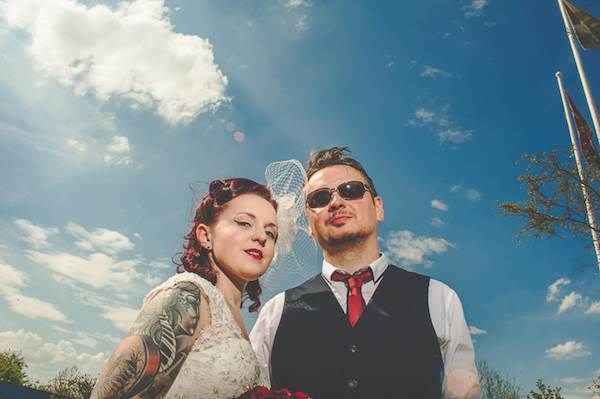 Do you have any advice for couples planning an alternative wedding?
Yes ....... Go for it!!!!!!. It's your special day, Do what you want. Even if it sounds like the most crazy of ideas.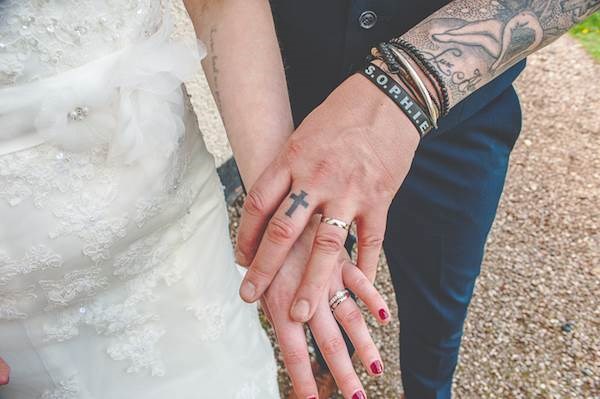 You two are utterly beautiful together! Thank you for sharing your day with us :)
Thanks also to Rob Farrell for the superb photos, visit Rob's website for loads more images from this fantastic wedding!