Alice Corsets
Haute goth and dark fashion custom corsetry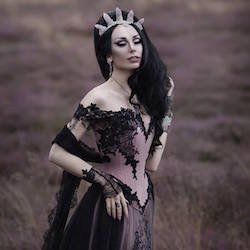 Alice Corsets
Categories : Clothing & Shoes Dresses
Haute goth and dark fashion custom corsetry
This page may contain affiliate links. If you buy something via these links, Misfit Wedding may earn a small commission at no extra cost to you. This helps keep our site free for you and our hand picked businesses. Read more here
About Alice Corsets
---
Based in the Ukraine, Alice Corsets create dramatic Victorian inspired gothic masterpieces using feathers, real skulls, sequins and beading.
This custom designer produces bustles and trains in a fabulous array of crepuscular colours (and the odd cupcake!) and ensembles that could have stepped out of the set of 'Snow White & the Huntsman' (terrible movie, incredible costuming).
With creations such as the Black Swan dress, complete with real bird skull, these dresses and corsets are sure to wow your wedding guests.
Owner Alisa is happy to work with brides to create the perfect costume and usually accepts orders around 6 months in advance.
More from Alice Corsets...
---