Blackpin
Victorian Mad Hatters Emporium & Imaginarium.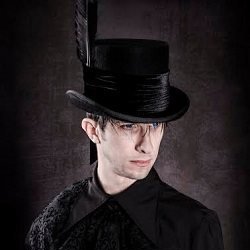 Blackpin
Categories : Accessories
Victorian Mad Hatters Emporium & Imaginarium.
This page may contain affiliate links. If you buy something via these links, Misfit Wedding may earn a small commission at no extra cost to you. This helps keep our site free for you and our hand picked businesses. Read more here
About Blackpin
---
Items available from Blackpin AKA The Victorian Hatter include Gothic top hats, Steampunk tricorns and Burlesque mini hats and headpieces. Specialising in custom designed wedding hats for both men and women.
These unique designs incorporate silks, taffeta, velvet, tulle, organza, ribbons, feathers etc Fittings can be of silver, gunmetal, brass, copper or black metal, and in shapes such as keys, findings, chains, centre-pieces and pocket watches amongst other things.
All items are made in The Victorian Hatter's workshop in Scotland.