Boxed by Clare
Handmade marzipan gifts & treats.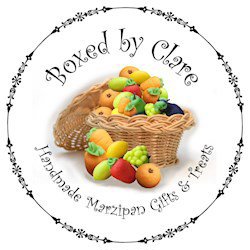 Boxed by Clare
Categories : Favours Food & Drink Gifts
Handmade marzipan gifts & treats.
This page may contain affiliate links. If you buy something via these links, Misfit Wedding may earn a small commission at no extra cost to you. This helps keep our site free for you and our hand picked businesses. Read more here
About Boxed by Clare
---
Boxed by Clare is the place to go for mouthwatering marzipan treats. Just take a look at the cute little fruit and veg gift boxes!
We stumbled upon Boxed by Clare while on the look out for some Gothic wedding favours. The coffin shaped boxes are a fantastic idea. You can fill up the smaller coffin boxes with marzipan skulls, mice, hearts and pumpkins as sugary gifts for your guests and use the larger boxes as centre pieces at your Gothic or Halloween wedding!
Aside from the coffin favour boxes, there are other gift box options and you can request colour changes (to both the box and, in some cases, the marzipan) to fit in with your wedding theme.
More from Boxed by Clare...
---