Conjurer's Kitchen
Nobody ever takes photos of the salad...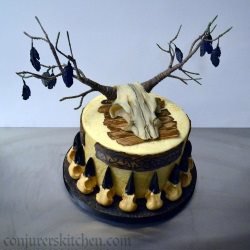 Conjurer's Kitchen
Categories : Cakes Food & Drink
Nobody ever takes photos of the salad...
This page may contain affiliate links. If you buy something via these links, Misfit Wedding may earn a small commission at no extra cost to you. This helps keep our site free for you and our hand picked businesses. Read more here
About Conjurer's Kitchen
---
BE WARNED: THESE CREATIONS ARE NOT FOR THE FAINT OF HEART!
Conjurer's Kitchen make what can only be descibed as edible art. From incredibly detailed anatomical structures to animal skull chocolates, the creations of Annabel de Vetten, also known as Annabel Lecter, have quickly gained in popularity. Features in Ripley's 'Believe It Or Not' Annual 2014 and the Huffington Post as well as features on several television programmes have helped to raise the profile of these beautifully weird cakes.
Originally a trained sculptor, Annabel takes commissions for all types of cakes and occasions, and each cake is individually designed for the customer and event. There are a variety of flavours to choose from, ranging from traditional to adventurous. As she says "We are always happy to take on a challenge or accommodate unusual requests. The more unusual the request, the happier we are. Nothing is too weird for the Conjurer's Kitchen! Seriously...."
As well as cakes, Conjurer's Kitchen can supply popcorn in a variety of unusual flavours, delightfully decorated biscuits, and creations in chocolate to name but a few. 
We shall leave you with one last thought from her kitchen: "Cake is more than just a dessert. It's a feature at an event, something people will remember. Nobody ever takes photos of the salad..."