Debbie Carlisle
Unique ethereal handmade bridal accessories mixing elegant vintage style with a bohemian contemporary edge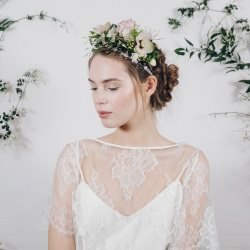 Debbie Carlisle
Categories : Accessories
Unique ethereal handmade bridal accessories mixing elegant vintage style with a bohemian contemporary edge
This page may contain affiliate links. If you buy something via these links, Misfit Wedding may earn a small commission at no extra cost to you. This helps keep our site free for you and our hand picked businesses. Read more here
About Debbie Carlisle
---
Debbie creates unique wedding accessories for brides looking to add a touch of vintage glamour to their day.
Since 2009 Debbie has been making beautifully individual pieces ranging from bridal bouquets through to headbands, hairclips, veils, sashes and bracelets. If you don't find exactly what you want in the online shop, then Debbie encourages you to contact her to discuss bespoke design tweaks.
These gorgeous designs are especially suited to boho, vintage and woodland weddings. Hit the links below to see more of Debbie's work!
More from Debbie Carlisle...
---