Ed's Neckties
Stylish unusual neckties and bow ties.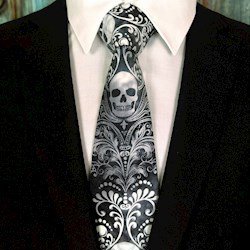 Ed's Neckties
Categories : Accessories Clothing & Shoes
Stylish unusual neckties and bow ties.
This page may contain affiliate links. If you buy something via these links, Misfit Wedding may earn a small commission at no extra cost to you. This helps keep our site free for you and our hand picked businesses. Read more here
About Ed's Neckties
---
Fed up of wearing boring ties, owner Ed decided to make himself some more unusual ties out of interesting fabrics, his snazzy new designs attracted such a lot of attention Ed did the world a favour and started creating a whole load more ties for other people to enjoy. So now we can all get our hands on one these little beauties!
Ed's Neckties now stock a wide range of designs, in their own words - "something for every occasion and every interest". Perfect for alternative grooms and their groomsmen to express themselves while still looking suitably stylish!
Unique styles available include designs based around skulls, animals, sports, skulls, music, Halloween, sugar skulls, flowers...... and did we mention skulls? Definitely skulls. They are our pick of the bunch for your alternative wedding look.
More from Ed's Neckties...
---