Elegant Darkness
Gothic, Steampunk & Victorian designs.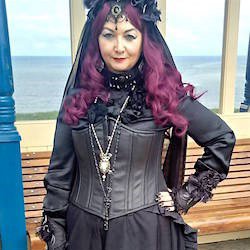 Elegant Darkness
Categories : Accessories
Gothic, Steampunk & Victorian designs.
This page may contain affiliate links. If you buy something via these links, Misfit Wedding may earn a small commission at no extra cost to you. This helps keep our site free for you and our hand picked businesses. Read more here
About Elegant Darkness
---
"I learnt to sew when I was 3 years old and have never looked back. Eventually I was developing my own ideas using different textures and colours. I loved looking at Gothic, Victorian and Steampunk clothing and it just grew from there until Elegant Darkness was born.
Everything is totally hand stitched from start to finish. I never use glue as I couldn't think of anything worse. These are beautiful designs, hand finished using lace, embroidery and beadwork and mainly worked in taffeta and soft faux leather for a luxurious feel.
I want everyone to feel that they have a one-off bespoke design which will definitely turn heads. I want them to say "WOW" when they open the box for the first time and I want them to come back to me time and time again and introduce their friends and family to Elegant Darkness. There are always new designs and new ideas so keep on looking!"