Frockasaurus
Made to measure alternative clothing.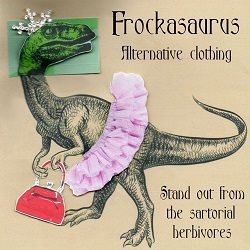 Frockasaurus
Categories : Clothing & Shoes Dresses
Made to measure alternative clothing.
This page may contain affiliate links. If you buy something via these links, Misfit Wedding may earn a small commission at no extra cost to you. This helps keep our site free for you and our hand picked businesses. Read more here
About Frockasaurus
---
Have you been searching for that perfect geeky dress to wear to a themed wedding? Then look no further!
Frockasaurus make skirts & dresses (with a choice of necklines no less) in such fabulous shades as Doctor Who, Disney, Marvel and Nintendo to name just a few. With a varied range of stocked fabric or the option to create an extra-special custom piece, such as the uber-cool Steampunk Beetlejuice dress, you can find something to fulfil your wildest cosplay dreams.
They are based in Maidstone and run by Kaz, who in her "very distant past" created costumes and accessories for Santa Claus the Movie, Indiana Jones and Young Sherlock Holmes and worked with renowned fashion designer John Galliano. She welcomes new ideas for custom clothing; as she says, "normal clothing is just no fun at all!"
More from Frockasaurus...
---