Greeners Weddings
For all your geek, gamer and superhero needs.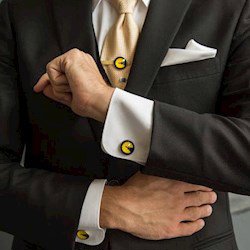 Greeners Weddings
Categories : Accessories Jewellery
For all your geek, gamer and superhero needs.
This page may contain affiliate links. If you buy something via these links, Misfit Wedding may earn a small commission at no extra cost to you. This helps keep our site free for you and our hand picked businesses. Read more here
About Greeners Weddings
---
Planning a superhero themed wedding? Greeners Weddings have more superhero accessories than you can shake a rolled up comicbook at! You can kit your whole wedding party out - cufflinks and tie clips for the groom and his groomsmen and earrings and bracelets for the bride and her bridesmaids.
If you're more of a gamer then grab yourself some cufflinks and accessories featuring your favourite video games. Or perhaps Star Wars is more your kind of thing.... imagine having Yoda peaking for under your jacket cuffs as you say your wedding vows.
Geeks, gamers, nerds..... go fill your boots!
More from Greeners Weddings...
---