I Heart Buttons
It's your special day. It's your bouquet. Let us make it perfect!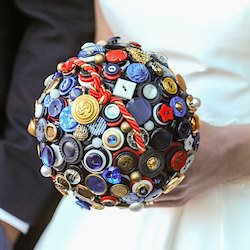 I Heart Buttons
Categories : Accessories Flowers
It's your special day. It's your bouquet. Let us make it perfect!
This page may contain affiliate links. If you buy something via these links, Misfit Wedding may earn a small commission at no extra cost to you. This helps keep our site free for you and our hand picked businesses. Read more here
About I Heart Buttons
---
At I Heart Buttons, we work with brides to create bespoke button bouquets and buttonholes made from the finest new and vintage buttons and precious jewellery.
All our bouquets are hand shaped using just wire and buttons so even after your last guest has gone home and the final piece of wedding cake eaten, you still have a keepsake to remind you of your special day forever.
We search the country to source striking vintage buttons and jewellery including designer brooches from Butler & Wilson so that your bouquet is special, beautiful and individually themed and colour-coordinated for your wedding.
We invite you to visit our boutique to see your bouquet being created. We welcome your ideas and feedback and, if there are any buttons or brooches which have sentimental value to you, these can be incorporated into your bouquet.
More from I Heart Buttons...
---