Inner Geek Occasions
Handmade LEGO accessories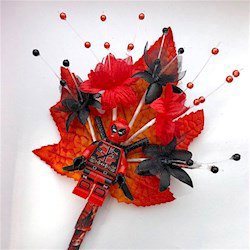 Inner Geek Occasions
Categories : Accessories
Handmade LEGO accessories
This page may contain affiliate links. If you buy something via these links, Misfit Wedding may earn a small commission at no extra cost to you. This helps keep our site free for you and our hand picked businesses. Read more here
About Inner Geek Occasions
---
Handmade buttonholes featuring a selection of LEGO Mini figures, ribbon & fake leaves and/or flowers which can be customised to suit your wedding theme.
Geek favourites like Harry Potter, Star Wars, Game of Thrones, Dr Who and Lord of the Rings are all available, as well as Walking Dead for the zombie lovers and Buffy the Vampire Slayer for the...... vampire slayers?
You'll also find a bunch of Superhero and comicbook options, like Deadpool, Thor, Guardians of the Galaxy etc
Want different characters/colours/themes? Just ask!
More from Inner Geek Occasions...
---