Kiss Me Deadly
Elegant lingerie for femme fatales!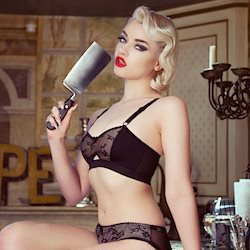 Kiss Me Deadly
Categories : Clothing & Shoes Lingerie
Elegant lingerie for femme fatales!
This page may contain affiliate links. If you buy something via these links, Misfit Wedding may earn a small commission at no extra cost to you. This helps keep our site free for you and our hand picked businesses. Read more here
About Kiss Me Deadly
---
We love their name and we love their style! Kiss Me Deadly offer a unique and insanely sexy selection of vintage inspired retro lingerie. 
On their website you'll find beautifully photographed girdles, basques, cinchers, corselettes, stockings, bras and retro swimwear. This is the home of the seductively named Emerald DeVille Suspender Skirt, Blue Divine Corselette and Pink Alouette Bra.
These collections will ensure you look stunning on your wedding night and honeymoon. Or any other night for that matter!