Kushi Cars
Vintage Indian Ambassador wedding car hire.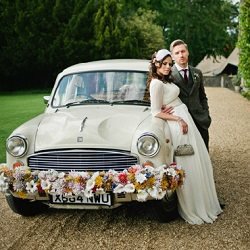 Kushi Cars
Categories : Cars & Vehicles
Vintage Indian Ambassador wedding car hire.
This page may contain affiliate links. If you buy something via these links, Misfit Wedding may earn a small commission at no extra cost to you. This helps keep our site free for you and our hand picked businesses. Read more here
About Kushi Cars
---
Kushi Cars are on a mission to make you even happier on your wedding day. The word Kushi means happiness in Hindi, and with their superb vintage Indian Ambassador Classic car this is exactly what Kushi Cars are bringing to couples across the Cotswolds and beyond!
This beautiful car, reminiscent of a British Morris Minor on the outside, comes adorned with flowers front and back and the interior is lavishly decorated in red and gold fabrics.
Before Kushi Cars existed, owner Suzie Goodman had this very car at her own wedding, she fell in love with it and when the opportunity to purchase the car presented itself she snapped it up! It would be hard not to fall in love with such a gorgeous vehicle, although we doubt Suzie will be letting you drive it home for keeps! However, if you'd like to hire the Ambassador for your special day, you can do so by contacting Kushi Cars on the links above.