Ms Formaldehyde
Couture horns and millinery.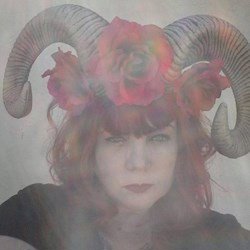 Ms Formaldehyde
Categories : Accessories
Couture horns and millinery.
This page may contain affiliate links. If you buy something via these links, Misfit Wedding may earn a small commission at no extra cost to you. This helps keep our site free for you and our hand picked businesses. Read more here
About Ms Formaldehyde
---
This is the place for horns, headresses, antlers, fascinators and all sorts of other weird and wonderful accessories for your unconventional wedding.
There's so much to look at in Ms Formaldehyde's shop that you really need to go and browse through her wares for yourself, below you'll find a selection of some of our favourite hair and head adornments - like Maleficent and Krampus inspired horns for Gothic brides; mermaid, ocean and octopus themed hair accessories for beach or fantasy weddings; skulls and Day of the Dead floral crowns perfect for Halloween weddings.
There's also a whole range of unique jewellery and other unusual items that we haven't even touched on!
More from Ms Formaldehyde...
---