Peggie-Lane
Little peeps with BIG personalities.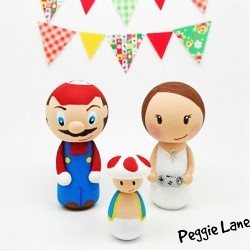 Peggie-Lane
Categories : Cakes
Little peeps with BIG personalities.
This page may contain affiliate links. If you buy something via these links, Misfit Wedding may earn a small commission at no extra cost to you. This helps keep our site free for you and our hand picked businesses. Read more here
About Peggie-Lane
---
Are you looking for something a bit quirky and geeky to sit on top of your wedding cake? These cake toppers are ideal for a non-traditional wedding, but also a good way to sneak some personality into a more conventional wedding. Either way, your guests are bound to enjoy seeing these cute little peg dolls watching on on your wedding day!
Peggie Lane has plenty of options for geeks and gamers, including Star Wars and Super Mario inspired designs. The sugar skull Day of the Dead characters look particularly cool too.
And the best bit, when your big day's over, you still have some awesome little keepsakes to display in your home forever!