Pirate's Wife
Leather tricorn & bicorn pirate hats.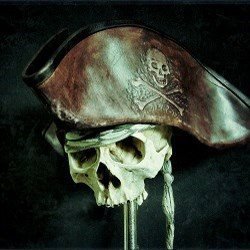 Pirate's Wife
Categories : Accessories
Leather tricorn & bicorn pirate hats.
This page may contain affiliate links. If you buy something via these links, Misfit Wedding may earn a small commission at no extra cost to you. This helps keep our site free for you and our hand picked businesses. Read more here
About Pirate's Wife
---
We're told these awesome hats are "made in England by me, a pirate's wife...yes my husband is a pirate..". How intriguing! 
So, the hats, made from quality leather, they're often dyed, waxed and 'aged' to give them that authentic look. Hand embossed with a skull & crossbones just to finish the look.
As well as being suitable for nautical and pirate themed weddings, fans of steampunk cosplay will also enjoy these hats. Steampunkers may also be interested in the striking and utterly magnificent Dr Death Leather Plague Doctors Mask & Hood. It's certainly one of our favourites!
More from Pirate's Wife...
---