Rock 'N' Custom Designs
Alternative bridal flowers and accessories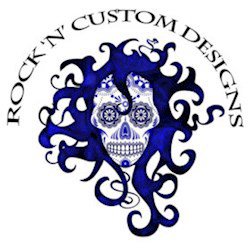 Rock 'N' Custom Designs
Categories : Accessories Flowers Gifts
Alternative bridal flowers and accessories
This page may contain affiliate links. If you buy something via these links, Misfit Wedding may earn a small commission at no extra cost to you. This helps keep our site free for you and our hand picked businesses. Read more here
About Rock 'N' Custom Designs
---
Rock 'N' Custom Designs create some really unusual bridal bouquets and other accessories for alternative weddings.
If you have a penchant for skulls, you're in the right place! How about some quirky wedding flowers with little skulls nestled in amongst the hand sculpted roses? Ideal for both a full blown Gothic themed wedding or a more subtle wedding where you'd just like a cheeky nod to your goth interests.
Browsing around the Rock 'N' Custom Designs shop, you'll also find Butterfly Bouquets, Mermaid Crowns and a selection of suitably alternative wedding gifts.