Shimmering Ceremony
Unique laser cut wedding stationery.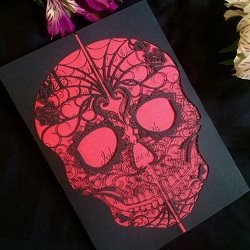 Shimmering Ceremony
Categories : Stationery
Unique laser cut wedding stationery.
This page may contain affiliate links. If you buy something via these links, Misfit Wedding may earn a small commission at no extra cost to you. This helps keep our site free for you and our hand picked businesses. Read more here
About Shimmering Ceremony
---
"With Shimmering Ceremony, we put our full attention to providing high quality invitations that are like no other, with utmost precision and attention to detail.
We prioritize ourselves with the creation of wedding and party invitations, although we do some work with designing other accessories such as signs and table numbers. We use the best papers we can find and use the precision of a laser cutter and engraver as our main tool.
We are a full service laser studio. We focus on the exterior of the invitations the most for the best and most unique first impression possible. It is our upmost priority and we put everything we have into our designs for our laser cut gatefolds for our invitations. We make all of our designs ourselves to guarantee that your invitation is truly one of a kind. We can even do completely custom designs tailored to your imagination and desires."
Please ask about discounts for large orders.
Misfit of the Month
---
Read our feature on Shimmering Ceremony here.
More from Shimmering Ceremony...
---