Black Cherry Cake Company
Misfit of the Month August 2014
This page may contain affiliate links. If you buy something via these links, Misfit Wedding may earn a small commission at no extra cost to you. This helps keep our site free for you and our hand picked businesses. Read more here
For our very first feature we're lucky enough to have Tracey Rothwell of Black Cherry Cake Company squeeze us into her busy schedule to give us an insight into her mind blowing work.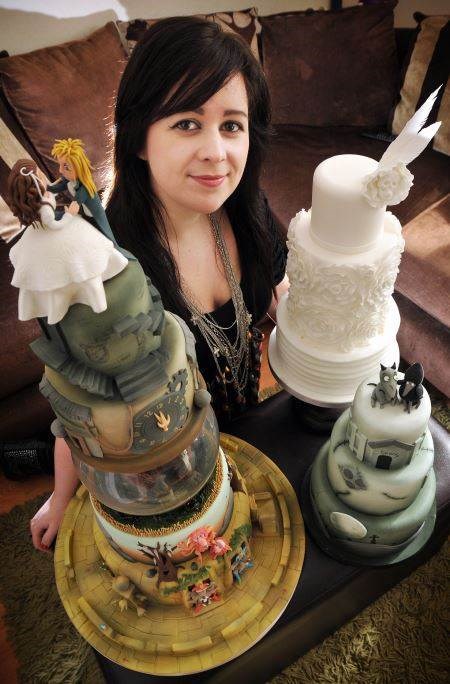 Black Cherry Cake Company is the twisted younger sister of the more conventional Little Cherry Cake Company.
Based in Rossendale, Lancashire, Tracey is a self confessed "geeky cake designer, with an unhealthy addiction to pizza". Fortunately for us, pizza is not her first love. You only need to look at one of her meticulously created cakes to see how passionate Tracey is about what she does.
In fact, she believes this artistic, cake making genius is ingrained in her.
"I don't think I got attracted to it, it was just always a part of me! I've always been very arty - not always good at it! but as a kid I was glued to Art Attack (and sometimes glued literally too!). So once I made my first cake and got to decorate it I was bitten by a bug, I could be creative AND you could eat it! You could make a cake look different every time, with different colours and patterns, and with each client comes a different theme."
The range of themes Black/Little Cherry Cake Company have covered is astounding. From Ghostbusters to Lord Of The Rings, from zombies to Super Mario!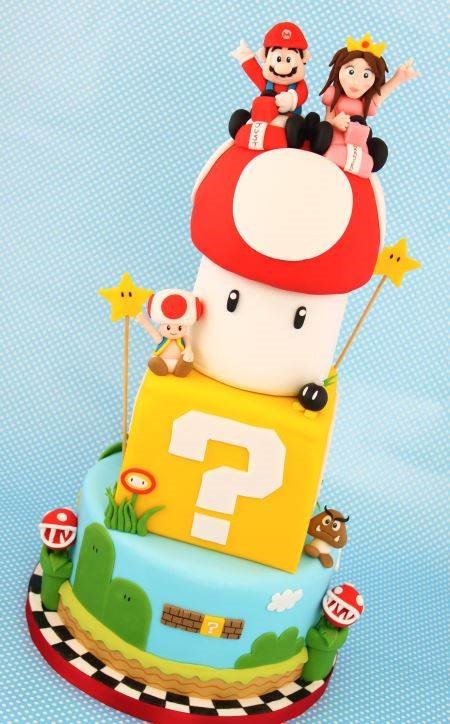 Whatever you want for your special day, whatever you're interested in, there's a tailor made, jaw dropping cake just waiting to be made!
"The brides and grooms inspire me, I ask them what their wedding is like, what their favourite movies, programmes, food is etc and come up with ideas from there. When they want something a little less themed I can pull ideas from cushions, t-shirts, drawings, and even the floor I'm walking on!"
When asked what her favourite themes are, Tracey reveals that movie themed cakes excite her the most with gaming cakes coming a close second.
"In particular Horror movies where I am free to splatter a little blood on it!
There's nothing more exciting than taking your favourite film, capturing it in an edible form and including it in the biggest day of your life."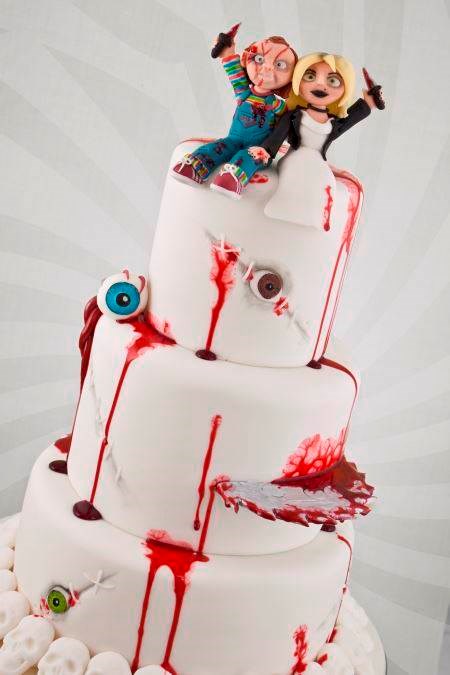 This love of movies was evident at Tracey's own wedding too.
"We got married in a zoo, I wore Freddy Krueger shoes and signed the register to film tunes such as the Goonies and Back to the Future. Half of my family didn't have a clue what was going on but they all admitted they LOVED it. Something different isn't always a bad thing!"
Well said that lady! Something different is certainly not a bad thing when it comes to your wedding day. So if you're considering something a little bit wild for your wedding cake and you drop Tracey a message, what can you expect? She told us she strives for perfection...
"...or at least as close as I can bloody well get to it! I will not let a cake go out of my door if I am not happy with it. I work hard to research each theme the couple gives me to try and capture it perfectly. This is also a huge bonus because if they give me a film I haven't seen before I pull out my sketch pad, my DVD player and a bucket of popcorn and that's me happy for the night :)"
We think you're in safe hands here! Just browse the galleries on her website and you'll be mesmerised by the attention to detail Tracey brings to her work.
Black Cherry Cake Company quite clearly stands out from the crowd, in terms of both subject matter and quality. To sum up what sets her apart Tracey points us in the direction of her Alien vs Predator cake.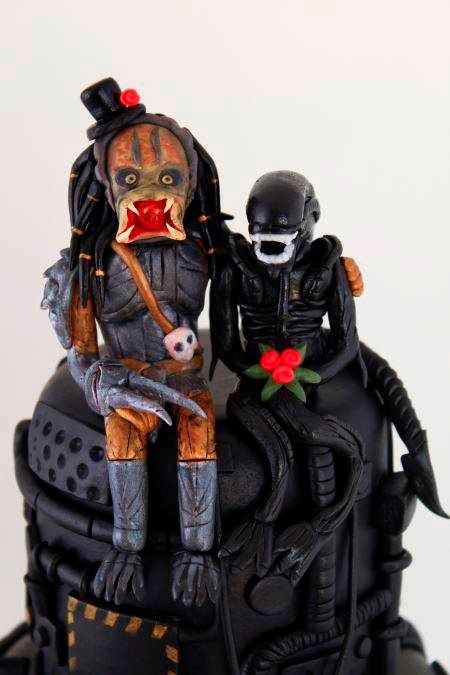 "It's not your 'average' wedding cake, and that's just the way I like it :)
I once heard someone say that they wouldn't ever make a themed cake because they are tacky. Wow. Just wow. There is nothing wrong with 'pretty' cakes, if that's your thing then great, I even make those too! But to call a themed cake tacky? Screw you honey, I am going to be the one to make all these cakes for all the bad-ass couples who want one, and there's one thing I am sure of - no-one is going to remember that white cake in the corner with flowers on, they are going to remember the Super Mario cake you had! YES!!"
Let the masses keep their pretty white cakes, you just keep doing what you're doing, because us misfits love it!
Having taken up far too much of Tracey's valuable time already we asked what she had in the pipeline before letting her return to making wonderful works of art and putting more smiles on faces.
"I have just finished a Game of Thrones cake for the stunt co-ordinator on the show, and I'm making another throne this week with a slight twist ;)
You'll have to keep an eye on my Facebook page to see what that is :D
My orders for the next few months are certainly varied and I cannot WAIT to get started!"
We're certainly looking forward to seeing more cake wizardry from this uber-talented soul.
Thanks Tracey!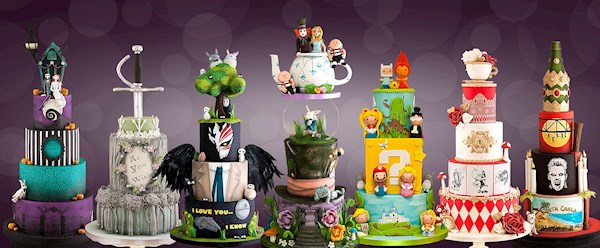 ---
Black Cherry Cake Company work "within a 100 mile radius of Rossendale, however lots of the cakes have been on further journeys, it depends how badly you want one ;)"
View more from Black Cherry Cake Company