Ed's Neckties
Misfit of the Month August 2019
This page may contain affiliate links. If you buy something via these links, Misfit Wedding may earn a small commission at no extra cost to you. This helps keep our site free for you and our hand picked businesses. Read more here
It's Misfit of the Month time and after scanning through our alternative wedding suppliers directory we've plucked out Ed's Neckties as our featured supplier this month! If you're in the market for a super-groovy-kickass tie, you're going to be a very happy bunny :)
Can you please introduce yourself?
I'm Ed Ballesteros I'm a military Brat. My father spent 22 years in the US Army. I was born in Alaska and have lived in Germany, Washington State, Florida, North Carolina, Alabama, and now Tulsa Oklahoma. I'm an expert in Persian Rugs and manage the rug gallery for Bob Mills Furniture. I have been in the rug business for 26 years.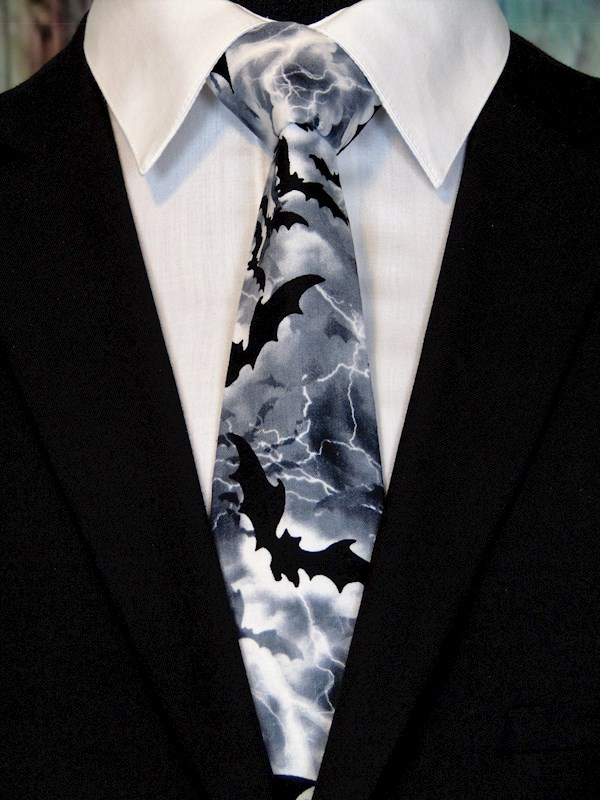 How long have you been doing this, where did it all begin?
I wear a tie everyday and always look for new and unique ones to wear. One day while shopping at hobby Lobby I noticed a fabric that caught my eye. I thought it would make a unique tie. My wife told me to buy it and try to make a tie.
I went home that night and took apart an old tie to make a template. I made a tie that was very rough but looked ok. It was not perfect. I wore it to work and immediately the people I worked with started commenting on it and they liked it. I told everyone I make it but no one believed me. So during lunch I went to the fabric store and purchased one yard of fabric. I took the fabric to work to show everyone that I was going to take the fabric home and make a tie out of it tonight. So I did and wore it the next day.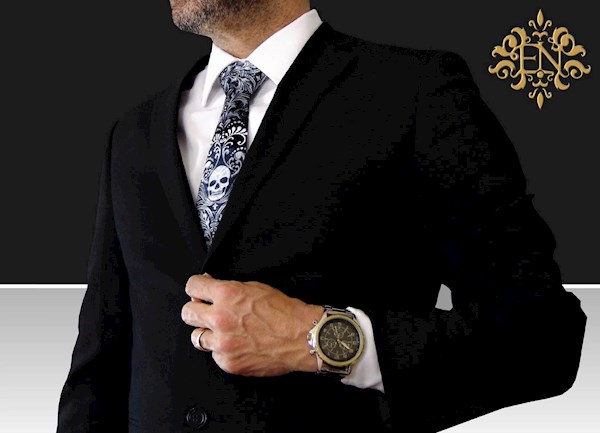 The next thing I know people at work were asking me to make them ties. It took me about 6 months to perfect it. One of my coworkers said I should sell them on Etsy. I didn't know what Etsy was. I did some research and made 10 different ties and opened an Etsy shop. We now have the Etsy shop, our Edsneckties.com site, we have a boutique in South Carolina, and other websites that sells our ties. We have also made a tie that has made it to the red carpet for the movie premier of Disney Pixar's Coco and also worn on the Hispanic awards show. We have been making ties for three years now. My wife and son do it full time.
Which of your creations are most popular at the moment?
The skull ties are my best sellers all year round. I got the idea for this tie as I saw a coworker wearing a skull tie. This black with white skulls is me best seller.
We now custom hand dye this fabric to have more options. Here is an example:
Do you have a favourite style/material/design?
I would have to say the Animal Prints are my favorites.
Are there any subcultures or wedding themes you feel your work is particularly suited to?
We do a lot of Steampunk & Goth. I love doing these and I thing they make unique and interesting wedding themes.
What do you enjoy most about what you do?
I enjoy hearing back from my happy customers especially ones we spent time with on custom designs.
Can you talk us through what you feel makes Ed's Neckties stand out from the crowd?
I think what makes us stand out is we do make are cotton ties 100% in house. This gives me the options to do custom sizes, styles and colors. I make sure all the ties are top quality before they leave my shop. We also wrap with tissue paper in a shiny gift box.
I am also very customer service oriented, my reviews show that. We also give customer the option to send their own fabric or select a fabric from an online store for us to purchase and make a tie for them. I have also made ties from people old shirts. One young man brought me the shirt he wore when he proposed to his fiancé and I turned it into a tie. We have also made by request; women's head-bands, zipper bags, neck coolers. We can make just about anything. I have had people ask me if they could purchase fabric from me, so I opened another site www.BAfabrics.com where we sell some of the fabric we use to make out ties.
What can customers expect from you and your work?
 Customers can expect quality, friendly service and timely turnaround.
Is there anything else you'd like to add?
 If planning a wedding please contact us ahead of time especially if you have a custom request.
---
Thanks Ed, we'll tie things up there ;)
View more from Ed's Neckties