Lorna Lovecraft
Misfit of the Month February 2017
This page may contain affiliate links. If you buy something via these links, Misfit Wedding may earn a small commission at no extra cost to you. This helps keep our site free for you and our hand picked businesses. Read more here
This month we're joined by Lorna Lovecraft to talk about alternative wedding photography. Choosing a wedding photographer can be a bit of a headache, but you're in safe hands with Lorna. Read on to find out more about what Lorna does and get some tips on finding the right photographer for you!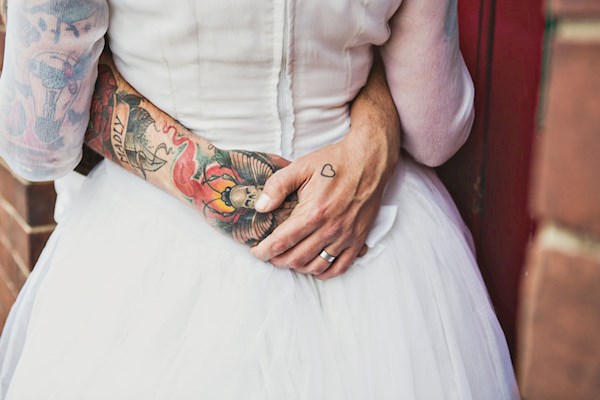 Can you please introduce yourself?
Hello! I'm Lorna Lovecraft and I live in the deepest darkest corner of East Yorkshire (way out in the countryside, in the peace and isolation of mother nature). I gatecrash weddings with my camera for a living and it rocks!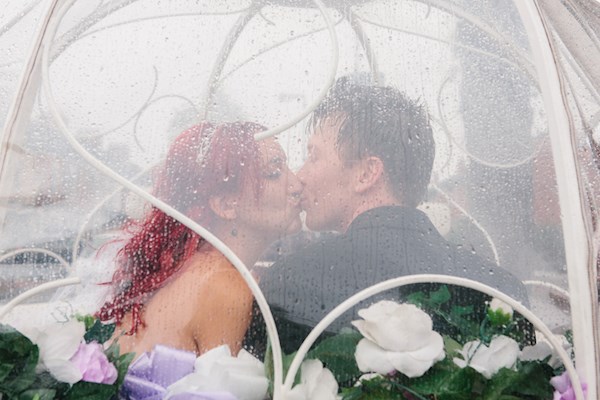 What makes you an 'alternative' wedding photographer?
I like people who do things differently. I completely hate 'normal' and I strive to find couples who feel the same. I love people who break tradition, or who make their own new traditions, or question how and why things are done a certain way and then turn them on their head. My couples have a wedding day that is all of their own, not someone else's preconceived idea or design, and I love that.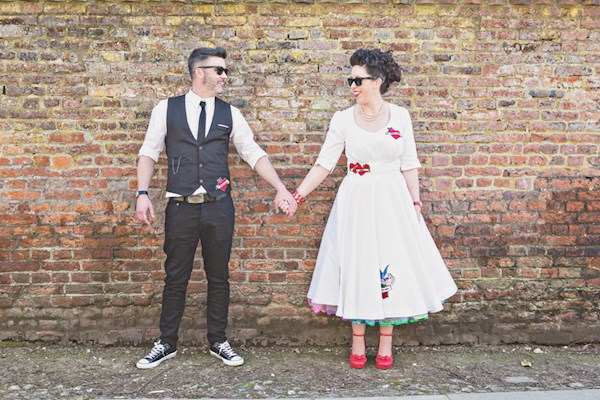 Who or what inspires you and your work?
My couples themselves mostly! I get very fired up when they tell me their plans.
Apart from that I love films and the imagery that goes with that: things like Tim Burton, Harry Potter, Star Wars, Back to the Future etc. I'm also massively into music (I was in a band myself in the past!) and I love discovering new music and just listening and enjoying the images that pop into my head.
I'm always curious, forever 'playing' just to try and find a different effect or technique or way of doing something. I'm a mad scientist with a camera, basically.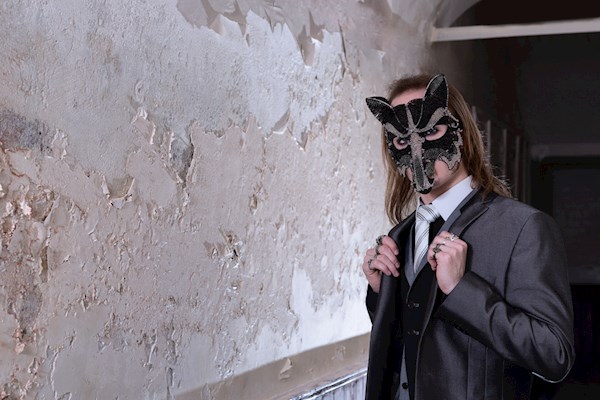 Towards the end of 2015 we hosted a competition where one lucky couple won a Lorna Lovecraft wedding photography package, can you tell us how that went?
Kayleigh and Howard are super lovely, and as it turned out I actually knew Kayleigh but had not seen or spoke to her for a number of years! Their wedding day reflected them perfectly - one big party essentially! I loved their Mexican day of the dead theme mixed up with a bunch of other stuff they loved like camper vans, bright multiple colours etc.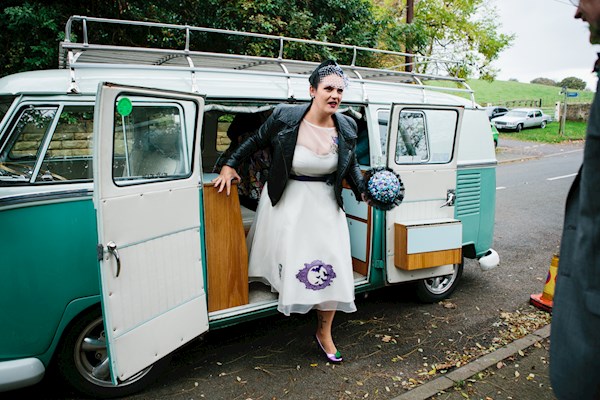 I see a lot of couples getting worried about if this or that "goes" with their theme but Kayleigh and Howard proved beautifully that if you both like it, it will absolutely go together and work. The church ceremony was brilliant - they had a vicar who did stand up comedy as a hobby and I honestly don't think I've ever laughed so much in a church wedding before!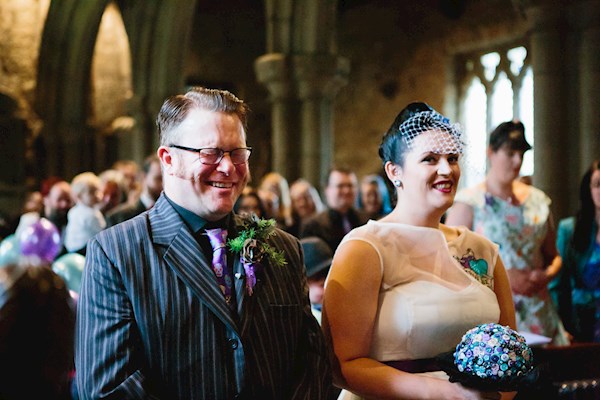 Kayleigh looked amazing in her 50s style tattoo dress and I loved all the little superhero figures in the gents button holes.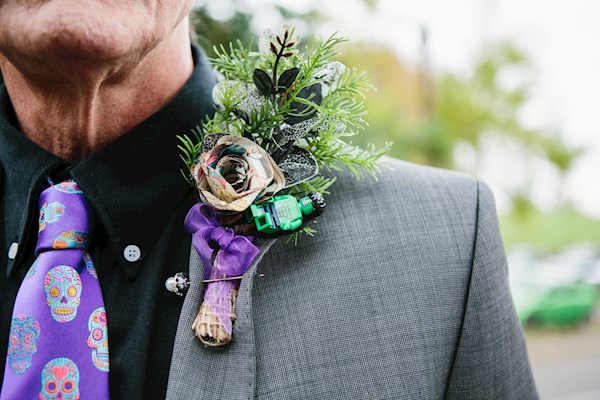 Do you have an all time favourite wedding photo that you've taken?
I could never ever pick a favourite, all my couples have been so amazing and different. It's very hard to choose when everyone's day and therefore photos have been so varied, but I love that as it reflects them as unique people (just how it should be!).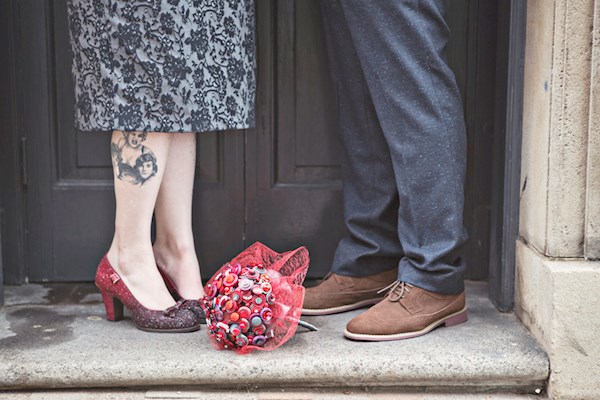 Are there any particular themes/styles/settings that really appeal to you as a photographer?
Oh that's tough! I think I just love it when there is a theme or style to the wedding that has been chosen and just ran with: if you're going to have a theme GO FOR IT! Don't just have one or two touches, really push it and go all out, it looks way better on your photos.
I'm still yet to shoot a steampunk wedding and I'm a steam train NUT so if anyone out there is getting married on a train please get in touch! I'll love you forever!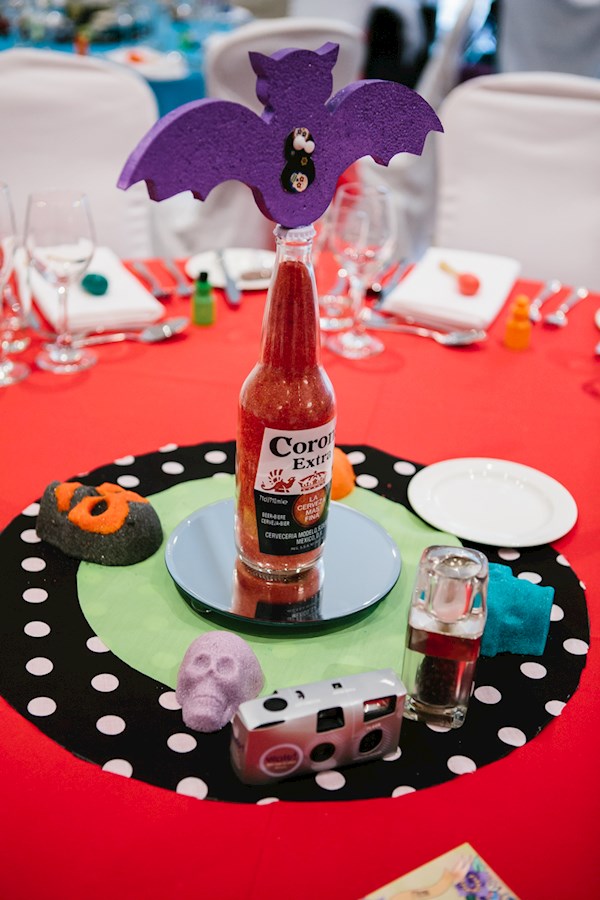 What do you enjoy most about your work?
The creativity, the thinking on your feet, the having a plan but then it all going to pot on the day, the smiles, the tears, the memories, the love.... I think the fact I'm capturing memories but also making art. And making art with people that may never have seen themselves in that way before.
Mostly, making people feel like rockstars on their big day, giving them a day to truly shine and truly be themselves and make imagery which is 1000% THEM.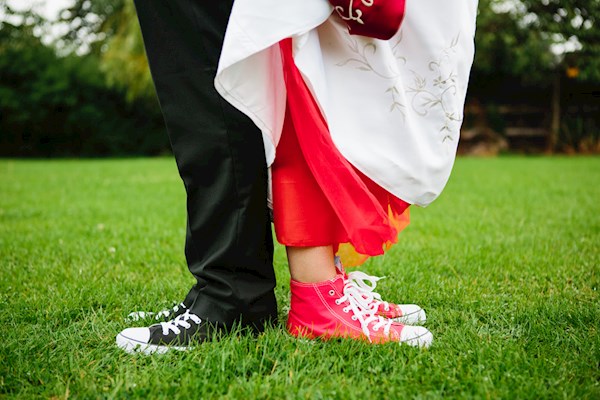 In this modern age, where all the wedding guests have smartphones, why do couples need a professional photographer?
Because your guests are most likely going to get drunk, miss important moments, or capture them in a blurry low quality image. Let your guests enjoy themselves and hire a professional for goodness sake! It's no good putting all this effort (not to mention hard earned cash) into this wonderful celebration if it's not recorded properly. You want to look back at your images in 50 years time and say "I wish we could do it all over again!" not "I wish the photos were better".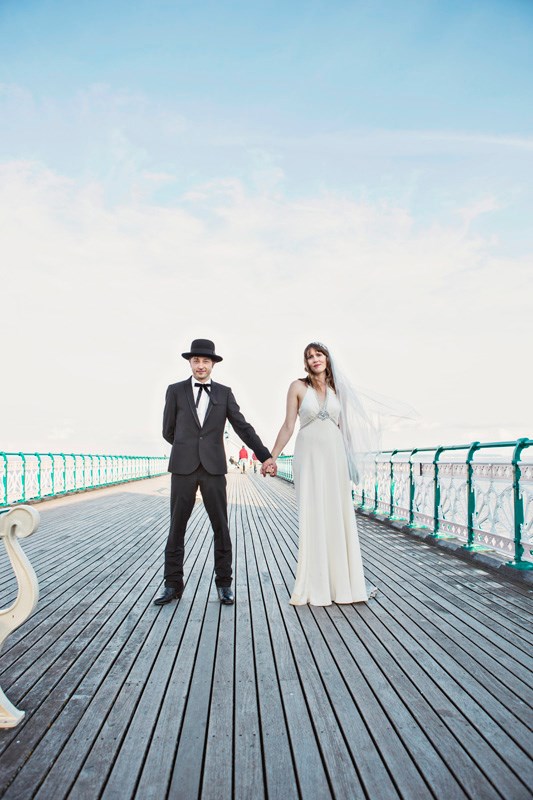 Time is fleeting and it's rare you're going to have all your family and friends all together and/or look as lovely as you do on your big day again. In my opinion, your photographer needs to be chosen carefully – after all, your photos are the only thing you keep after the big day and are the thing that your children, grandchildren, and beyond will treasure.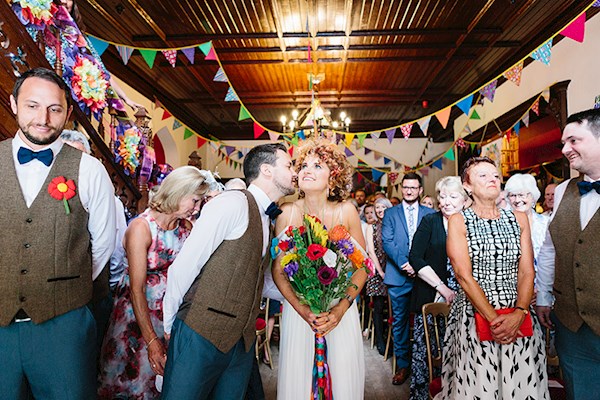 I guess it could be argued that you always keep your rings too, but the difference is that you could get cheap rings now and replace them with nicer versions sometime in the future, but you can NEVER replace your wedding images. There is no going back and shooting again. In fact the no.1 thing that brides report as a regret at their wedding is that they didn't book a better photographer (Wedding Ideas Magazine, Bridal Guide Magazine and 'The Knot' all have done separate surveys on post-wedding regrets; booking a better photographer came up as a top regret on ALL of them).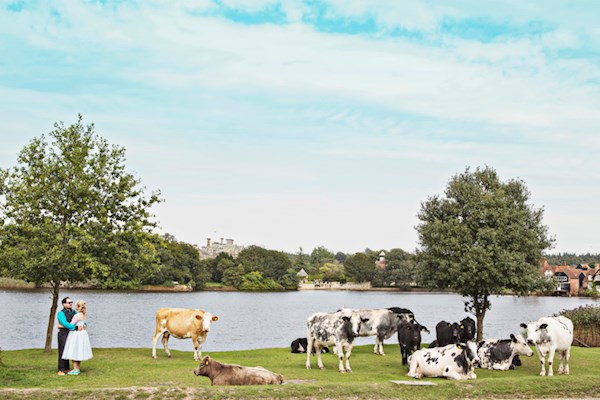 Having 'a nice camera' is no guarantee of good photographs. You need someone who knows how to use that nice camera!
When I take any shot I need to balance many different settings, and I need to know exactly where those settings are to be found on my camera, how each will effect each other and how they will impact on the image I'm capturing – all within a split second in the case of a wedding day. AND thinking on your feet AND being creative AND capturing images that reflect you. It's a big ask for a wedding guest with a phone and quite frankly, not worth the gamble.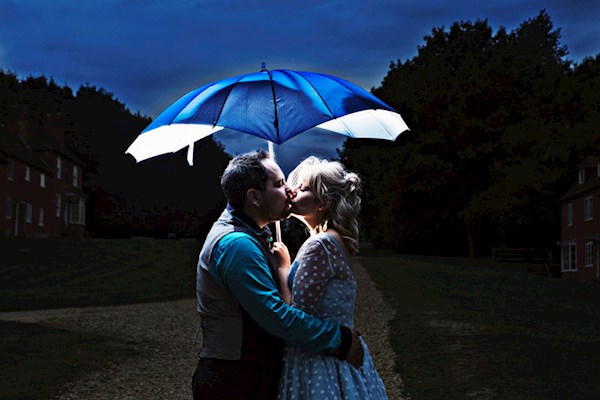 What are the important things to consider when choosing a wedding photographer?
I could go into all the usual spiel about insurances, equipment, professionalism, qualifications…but in all honesty, you should just LOVE their images, they should make your heart sing. Any less and you are cheating yourself. In the same way that some people find the Mona Lisa breathtakingly beautiful while others can't get enough of Picasso's work, there is a photographer out there who's work will appeal to you and we are all artists and therefore different.
My only other advice would be to look at if the photographer has dealt with people / wedding days similar to yours before and ask to look at full weddings - not just a 'greatest hits' of shots.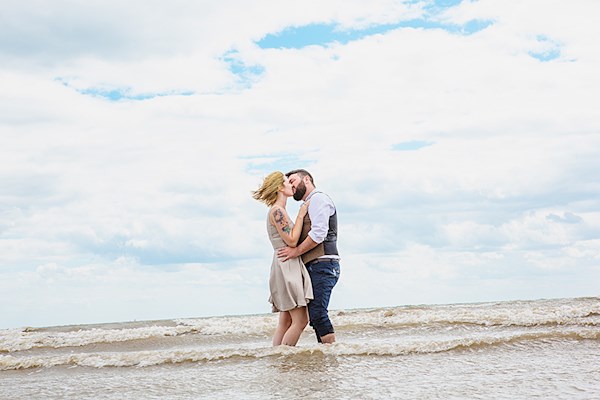 We've seen it mentioned that you "hate weddings", should we be worried?!
I grew up completely hating them. The 'traditional' wedding just always seemed so pretentious to me. I couldn't see the point at all. I always attended weddings that were basically a performance that had nothing to do with how the couple felt about each other and everything to do with a fantasy the bride had been playing out in her head since she was a little girl. I never dreamed about being a bride as a child, I dreamt about being a rock star!
Also, I felt that all those weddings were exactly the same.Traditional at best, generic at worst. In other words, if you've been to one, you've been to them all.
It wasn't until I attended and photographed a friend's wedding (both massive punks with a really unique punk day to boot) that I started to see there were people out there, people like me, who also hated the traditional day and wanted a celebration that was uniquely theirs, and it's these days I want to photograph. Wedding misfits are my cup of tea!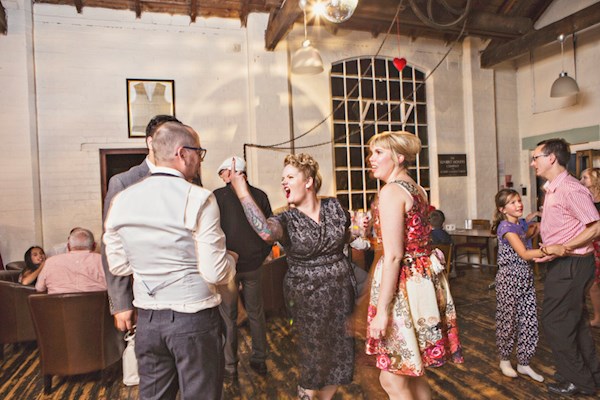 What can customers expect from you and your work?
Images that are as unique as they are is what I aim for! :) I really like to spend time getting to know my couples so they are relaxed in front of the camera on the big day, and normally we stay friends for life - not sure if that's a good or a bad thing, maybe that should be a warning! :P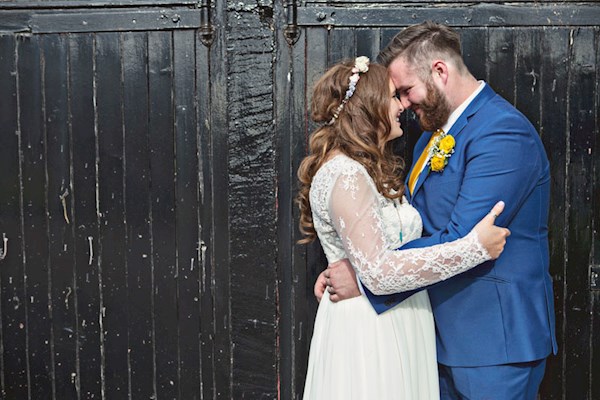 Is there anything else you'd like to add?
If you're currently planning your wedding please just go for it, create something that is all about yourselves and your love for each other. Don't worry about what your mum will say! This is YOUR day have it YOUR way :)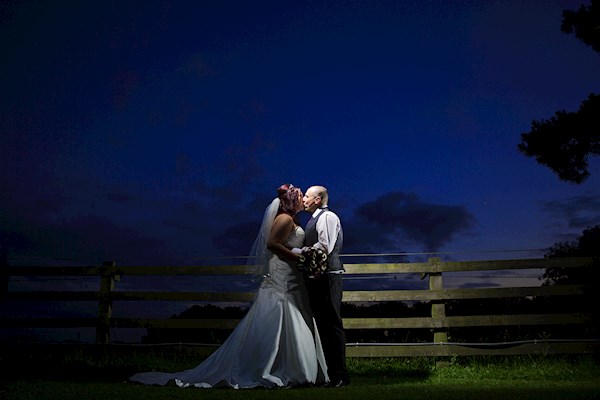 Thanks Lorna!
Keep your eyes peeled for another competion to win your wedding photography with Lorna Lovecraft coming very soon!
Visit Lorna's website here
View more from Lorna Lovecraft Photography