We'd like to introduce our 'Misfit of the Month' for July, please welcome The Artful Doodler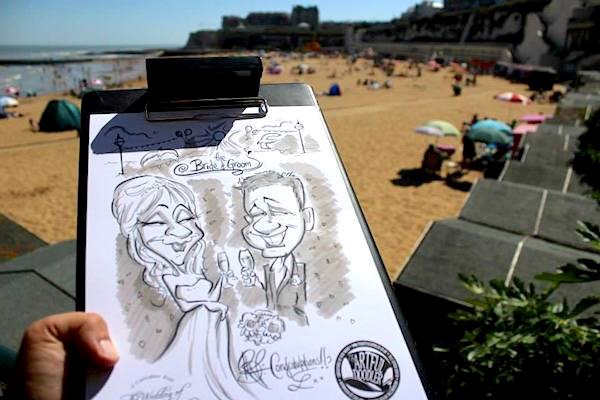 Can you please introduce yourself, good sir...
I'm Rich Nairn, more commonly known as The Artful Doodler. I'm based in Kent, England and I work as a cartoonist/caricaturist, possibly the most enjoyable occupation a person can have. It's a great job that is surprisingly varied, from illustrations to digital coloured work to Youtube videos and of course, the largest part of my job, live wedding and event caricatures.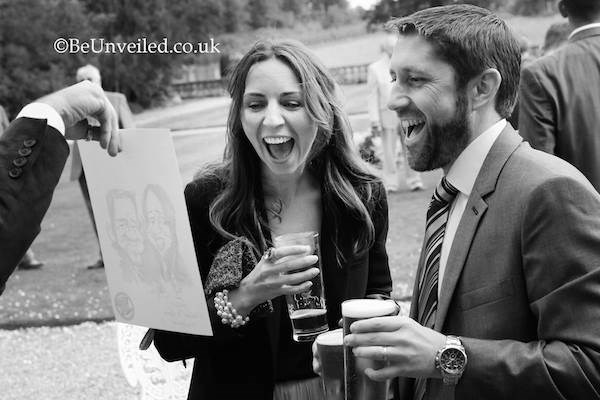 How did you become The Artful Doodler?
I've always drawn cartoons since an early age obsessed with Disney, Warner Bros cartoons and movies like Who Framed Roger Rabbit. I used to draw my teachers and get in trouble for it (they weren't so tasteful in those days) and I think the caricatures came as a rebellion against the approved art curriculum that was being taught at the time.
I first started earning money drawing caricatures at The Dickens Festival in Rochester when I was 21 and although it started as a hobby it soon took over my life.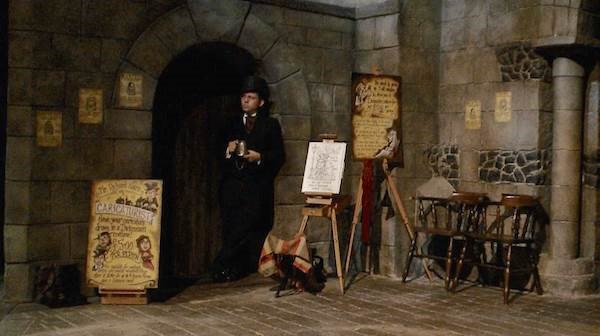 The Artful Doodler started simply as an appropriate website name as I drew a lot of victorian caricatures, but a friend in the wedding industry suggested I go with the name as it would be easy to remember... it certainly worked, I now receive more calls asking for "The Artful Doodler" than "Rich"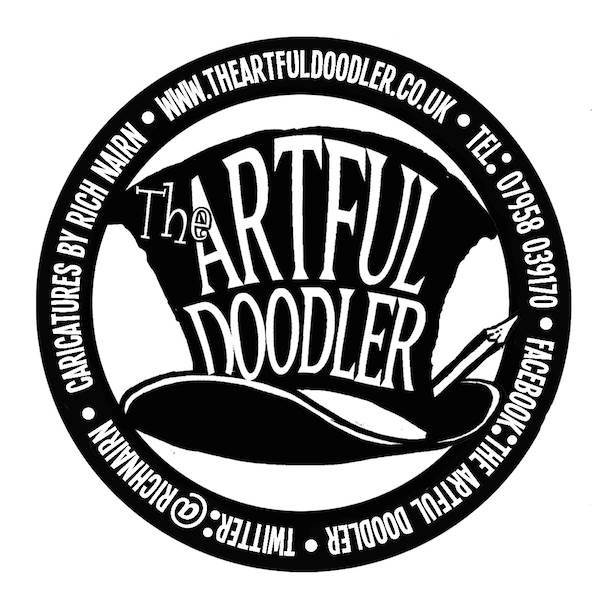 Do you work at many weddings?
I work tons. I always say I attend around 60 a year drawing caricatures but that number may have increased. I know that I average between 4 and 6 weddings a week in the summer months.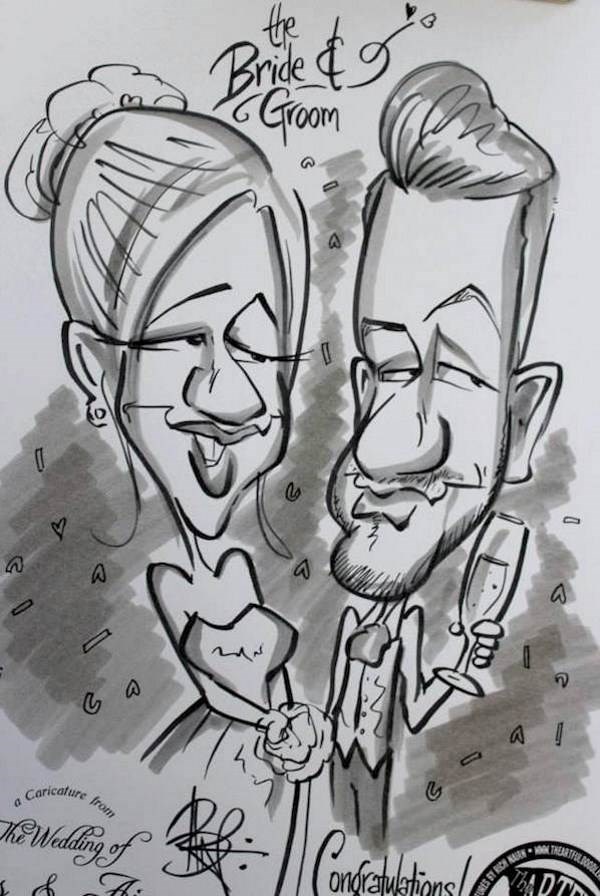 What exactly do you get up to at these weddings?
At the average wedding I turn up with my clipboard holding paper personalised for the event. I work with two pens, a black and grey brush pen and I wander among the guests drawing as many as I can in the time I am booked. As an extra I often take photos of the guests with their caricatures and create an album they can visit later on my facebook page.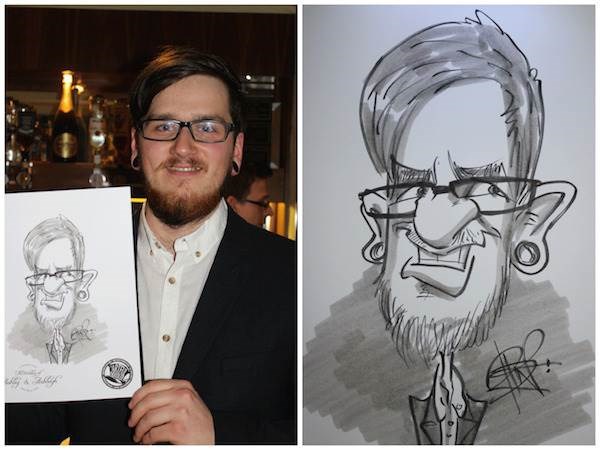 Have you attended any themed weddings?
Occasionally yes, I've drawn at steampunk events (for which I have the costume if needed) Hollywood events and also once a Halloween themed wedding. I believe I also have a french themed wedding coming up next year so I need to equip myself with a striped top and a french flag to pop in my top hat.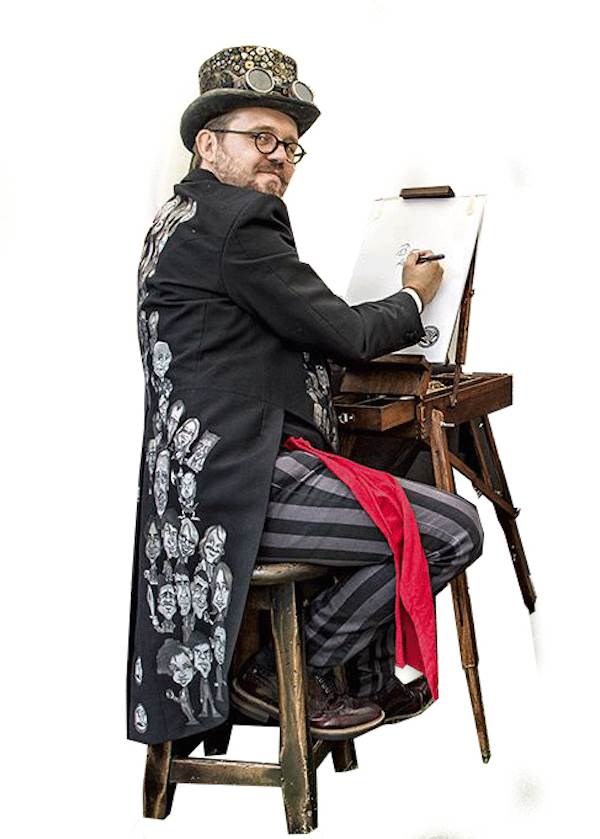 What sort of reactions do you get from the people you draw?
Most often laughter, and occasionally looks of horror. It's lovely when you draw someone who claims to hate caricatures and the picture changes their mind.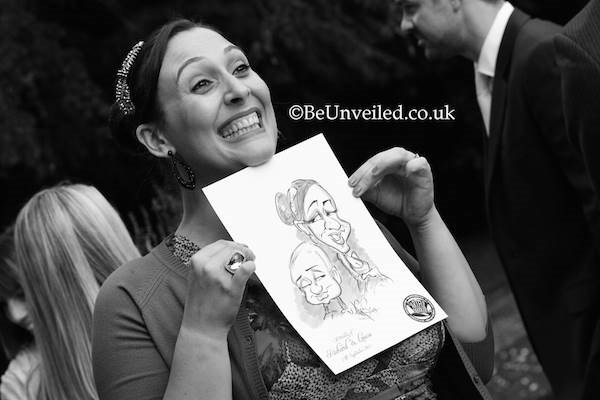 May we see one of your favourite wedding caricatures?
Yes, my favourite has to be a recent one. The last caricature of the night was a really fun and quirky couple, just the type I love.. she had wild crazy hair and he has this amazing beard. It's hard to draw a caricature that justifies people this cool but I was pleased with the result and they seemed to be too.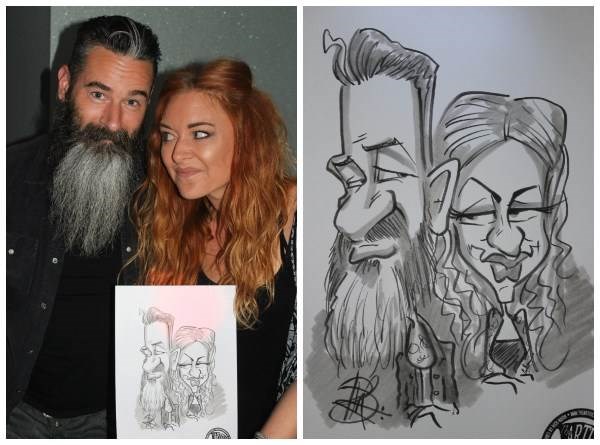 A look at your website reveals that you've done a lot of celebrity caricatures, can you tell us a bit about that?
Yeah, I suppose I can be a bit of a celebrity stalker (in a non-hide-in-their-garden kinda way) If I get a chance to draw a celebrity who's work I enjoy I jump at the chance. I've met a few at events and on film sets and the others I've contacted online. Twitter can be handy for this as you get reactions more often than not and invariably they are charming, lovely people. It gives me a personal buzz when a celeb reacts positively and getting a photo of them holding my work is a real honour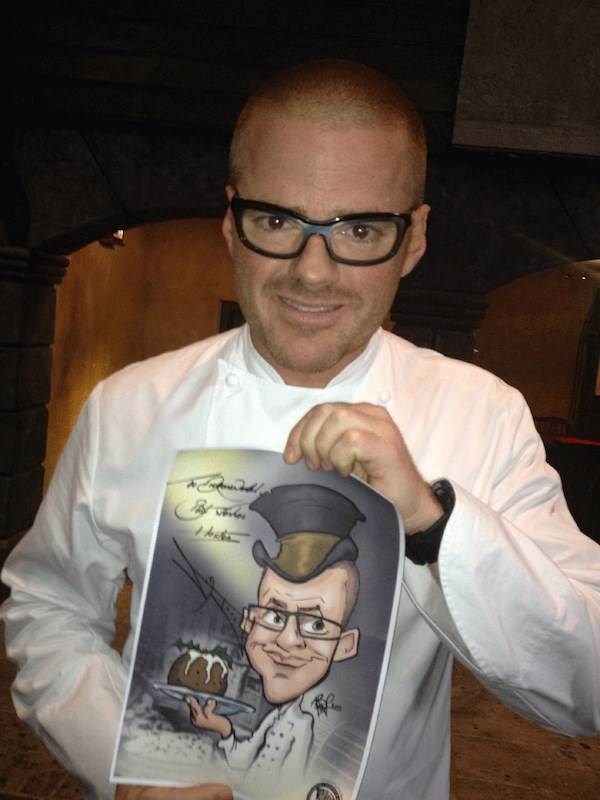 Do you have a favourite?
I've drawn several pics of Ricky Gervais and his co-stars as he has helped promote my work with several retweets for which I am eternally grateful. My last one of his characters was a huge group pic of the Derek cast which was a joy to create and I posted the whole process on my Youtube channel - watch it here.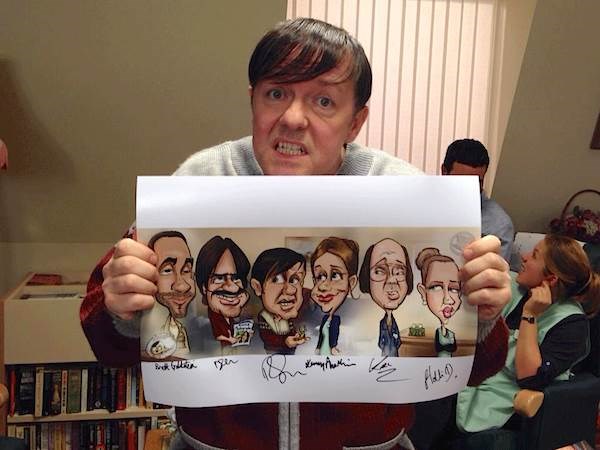 How long does one caricature take you, on average?
A live caricature takes between 3 to 5 minutes per person, so a group pic may take 10 minutes if there are several people.
Have you ever done a self portrait?
Yes, I have. I used to write a comic book about my life so I'm quite used to doodling this ugly mug! There's a small cartoon on me on the shop page of my website too.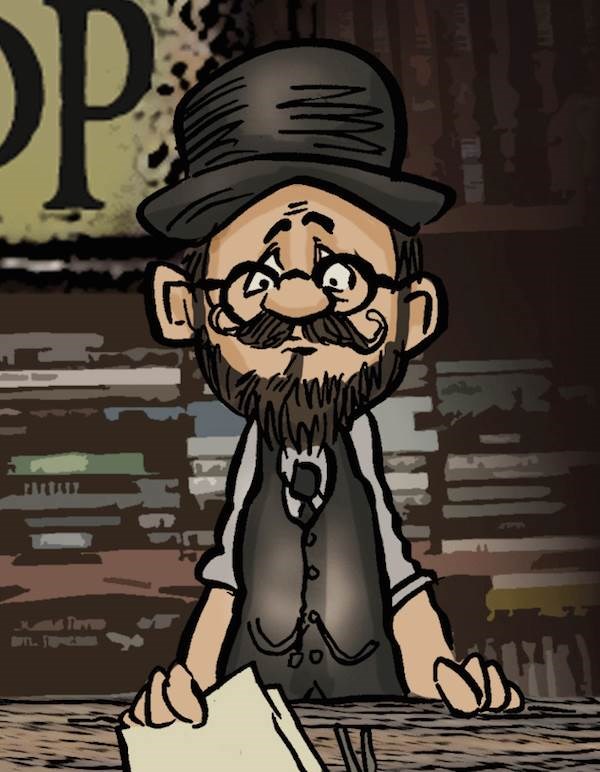 What's the weirdest piece of work you've produced?
At a big event in London about ten years ago a drunk guy came over and asked me to draw him like Titanic. I said to him, "What, like on the front of the boat, arms outstretched?" He said, "No like, naked on a couch." I said I couldn't as I didn't have the Heart of the Ocean necklace. "Ok" he said, "draw me in my football outfit!" Surprised that he'd brought a football outfit to this event I agreed to do the pic but then found that what his football outfit consisted of was him standing naked holding a football in front of his dignity. He chose to pose nude so I drew away while his friends laughed at the whole embarrassing situation. I don't think he was too happy with the result though as I drew the ball as a golf ball.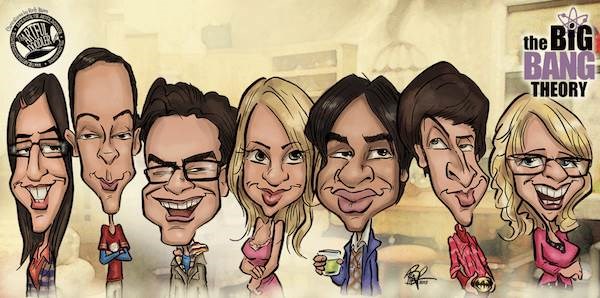 Can you talk us through what you feel makes your business stand out from the crowd?
Generally a caricaturist is such a unique bit of entertainment for three reasons, every artist has his own unique style of doodle, every person drawn has their own personal look captured in a doodle and what's better than entertainment you can take home with you?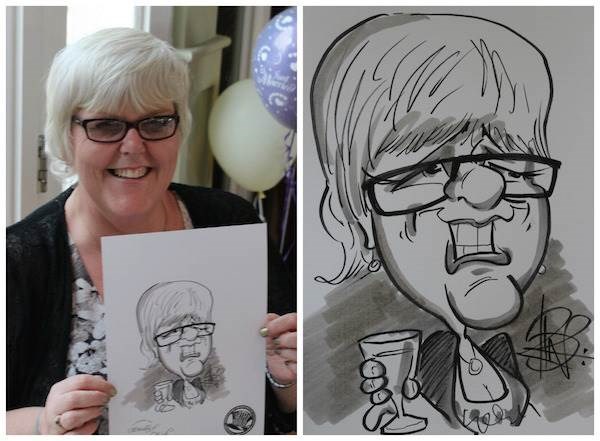 What can customers expect from you and your work?
Fun! I love my job and I think it reflects when I turn up at an event as people always seem to be laughing and having a good time when I hand out their doodles.. let's just hope it's not my face they're laughing at!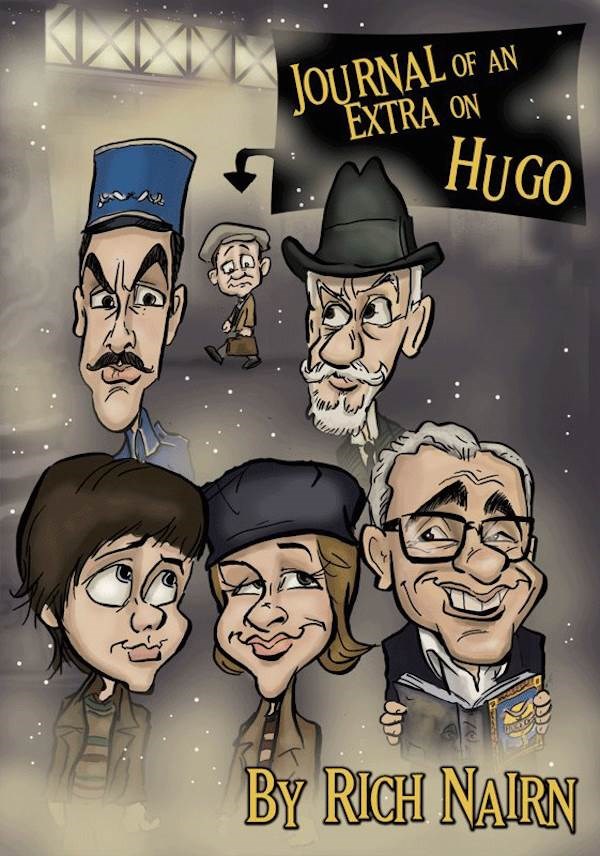 Is there anything else you'd like to add?
Yes, I'd love people to go check out my Youtube channel, it's full of fun and silliness and it gives you an idea of every aspect of what I do. It's not one of these millions-of-hits channels but I think/hope you'll all enjoy my films.
And also, thanks for the interview... it's been a pleasure!
Thank YOU too, that was a fascinating insight into the life and work of The Artful Doodler!
Find out more about Rich's work using the links below.