This month we're going on a tribal steampunk adventure with Sally-Ann, owner of The Navigatrix. So if you're planning a steampunk themed wedding or you're curious to find out more about this fascinating subculture, read on!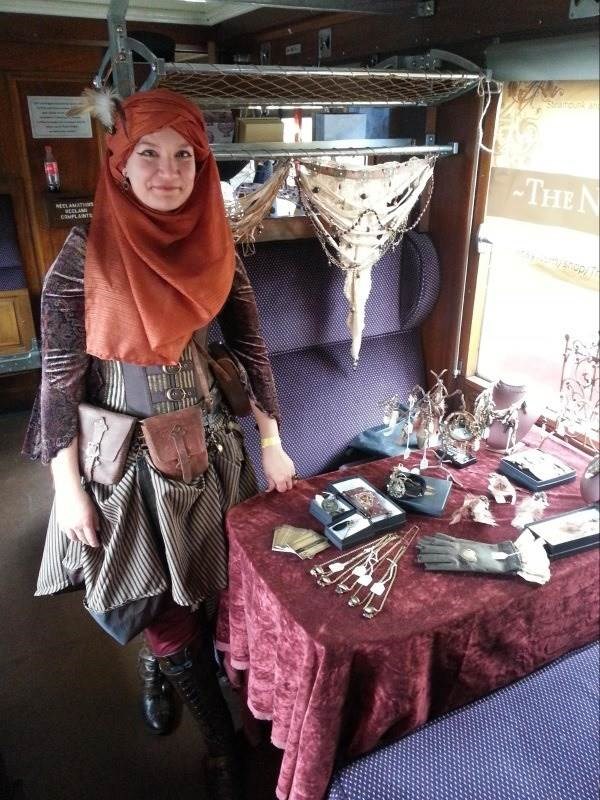 Hi Sally-Ann, can you tell us a little bit about yourself?
I'm a Lincolnshire lass who has had adventures in professional modelmaking, Montessori pre-school teaching and Reiki (Japanese holistic therapy). I have been a Live Roleplayer for half my life and am now a 40 year old, married mum of one (aka The Scamp). Our wedding was quite a magical event. I had two dresses! We attended the registry office the first day and I wore a purple off the shoulder Monsoon dress. We held our special handfasting ceremony the following day in Bourne Woods - the only wedding they've hosted - and for that, I wore an ivory silk medieval style dress made by my Mum. She encouraged me to use it for LRP afterwards, so I did!
What is steampunk and what does it mean to you?
It has roots in Victorian science-fiction and was originally an offshoot of Cyberpunk. Some call it the Future that Never Was. I see it as an aesthetic based on 19th Century technology and science-fantasy with a healthy dollop of current day inclusiveness, open-mindedness and social tolerance.
Steampunk seems to becoming more popular as a theme for weddings. Do you have any experience of this?
I got married a few years before I knew that Steampunk was a genre. When my shop had begun to find its heading, I did notice that several pieces were being bought for weddings, by customers as far away as Australia! I've not yet attended a Steampunk wedding but love to find images of them to add to my Pinterest or Tumblr.
Do you make items specifically geared towards weddings?
Funnily enough, I don't tend to create pieces with 'Wedding Jewellery' in mind, as most of my materials are upcycled from charity shop finds and I let them inform what they eventually become. Some pieces, when I list them on Etsy, easily suggest the 'wedding' tag but some have been bought that I would never have imagined being used for a wedding. I am learning to think beyond the stereotypical white/cream/ivory/silver colours for these items.
What inspires you?
Currently, I'm very inspired by the idea of Tribal Steampunk and have set up a co-creative international art project that grew out of one of my ranges - The Aether Nomad Project. Aside from that, I sometimes work with my brother Matt of ArcaneArmoury. His beautifully machined wood and brass pieces are inspiring and we both love those rich colours. I tend to avoid using silver and steel, preferring the warmer shades of antique gold, brass and copper. There is such an abundance of appropriate imagery available and I look to create things that are a little different.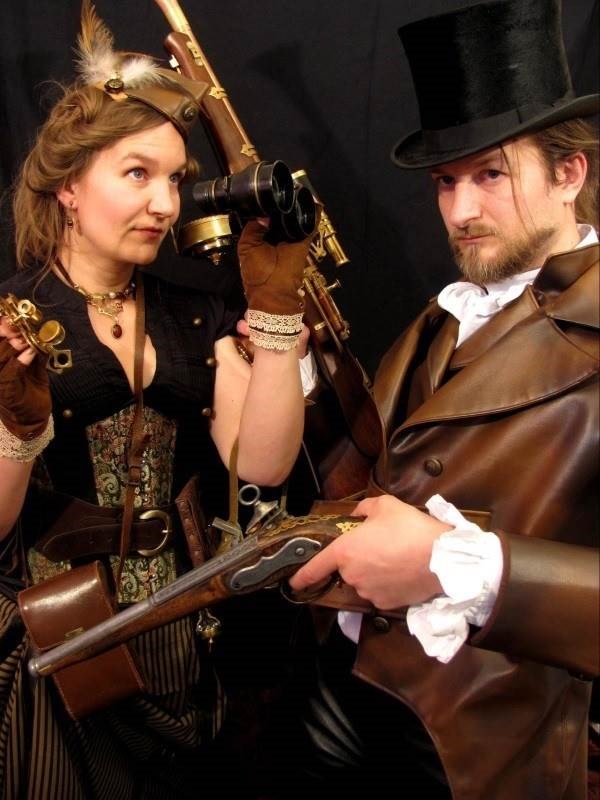 Storytelling inspires me. I often find that when making a piece, a snippet of story pops into my head. I daydream about what sort of person might wear this, or if the item might have a hidden function such as being an essential part of an eccentric creation or mechanical device. That is how the AN Project began, with fragments of story. I would like to think that my customers can create their own fictitious uses for items such as the Scientifica test tube keyrings.
Can you tell us about some of the more unusual projects you've worked on?
I have had some jewellery featured in the Steampunk Amazones photoshoot for Prior Attire, who provide historical costuming and have a wedding branch - Prior Engagement. I have also made a special creation for the Netherlands based model, Catherine Moon - an Aether Nomad piece. This is one of my newer ideas that I hope to create many more of. It is called a 'tattybustle' and is essentially a lace and chain decoration to hang from hip to hip at the back. I made one for myself and it proved useful to have a slim 'bustle' to wear on board a vintage train carriage, during the local event at Nene Valley Railway, 'Steampunk Stamford on a Train' (aka STOAT).
What makes The Navigatrix stand out from the crowd?
All of my pieces are one of a kind creations, due to the nature of the materials and my own incessant need to make different items. I do have a few lines of items that have a common theme, such as the Zeppelin Bead necklaces, the Scientifica test tube keyrings and earrings and the few cards that I produce with the wonderful graphics from Vectoria Designs.
What's in the pipeline for The Navigatrix?
Matt has created some etched brass pieces for me that I will be creating some more modern looking jewellery from for my Steampunk Catwalk range. I will also be adding to the Aether Nomad range with more elaborate cuffs, bangles and other ideas. I've so many sketches in my notebook, of ideas waiting to be made!
What can customers expect from your work?
The best craftswomanship that I can muster, individuality and every piece Steamed in my creative passion! Excellent customer service is important to me, so each order is dealt with as soon as possible and shipped out within a couple of days. Everything is giftwrapped as standard and you can request a special note to be included. I love feedback, so conversation with my customers is welcomed.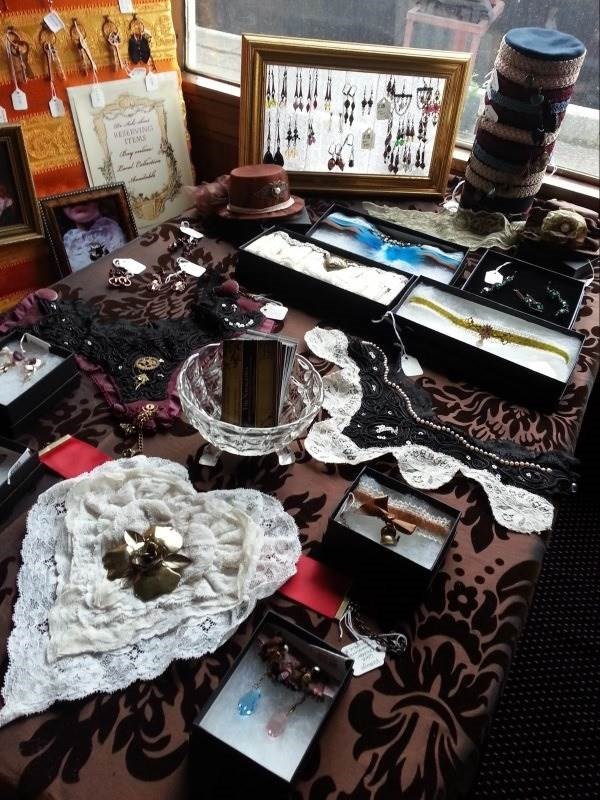 Do you exhibit at any fairs/markets/conventions etc?
Yes, but not often. Matt and I are intending to trade at STOAT and Asylum this year.
Is there anything else you'd like to add?
Requests for custom orders sometimes come in. I would love to be able to accept them but at the moment, I am busy with motherhood and dealing with a health condition called Functional Neurological Disorder, which causes various symptoms such as chronic fatigue. Being able to work from home and at my own pace is a blessing and I've found quite a few other Steampunks who understand where I'm coming from. Steam Spoonies, now there's an idea...
I feel so grateful for all the support I've had so far, the follows, hearts, newsletter and blog subscribers. I love it when people talk to me, giving me feedback or suggestions. This keeps me going, uplifted and inspired. May The Navigatrix be able to bring some of that wonderful energy to your special day!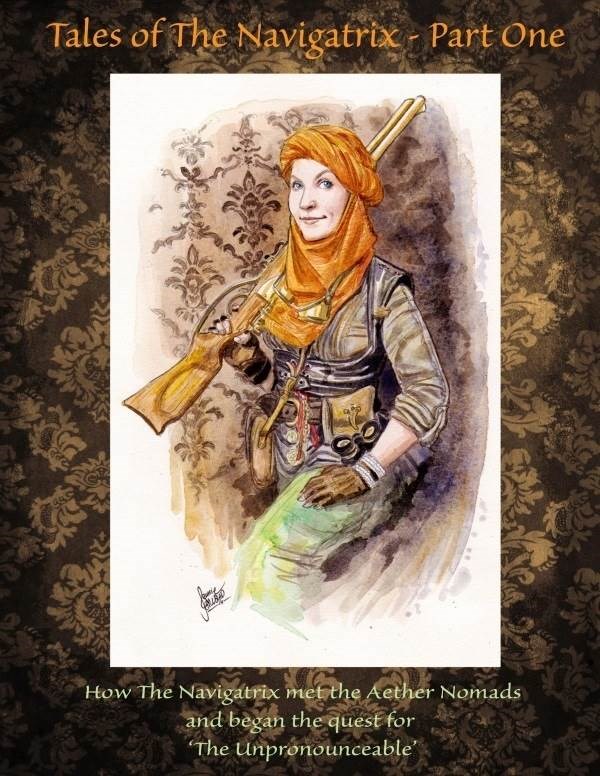 Thanks for talking to us Sally-Ann!