For May's instalment of our regular Misfit Of The Month feature we're taking a closer look at Jackdaw Decor, we quizzed owner Ali on her wonderfully unique business, keep reading to find out what she had to say.
Can you tell us a little bit about Jackdaw Decor?
Jackdaw Decor offers a bespoke service providing alternative bridal flowers, party supplies & gifts. I specialise in products made with paper but as the name suggests I never rule out offering items that catch my Jackdaw eye & imagination. I'm Ali, owner/designer/maker of Jackdaw Decor. We are based just outside Leeds but our products ship internationally.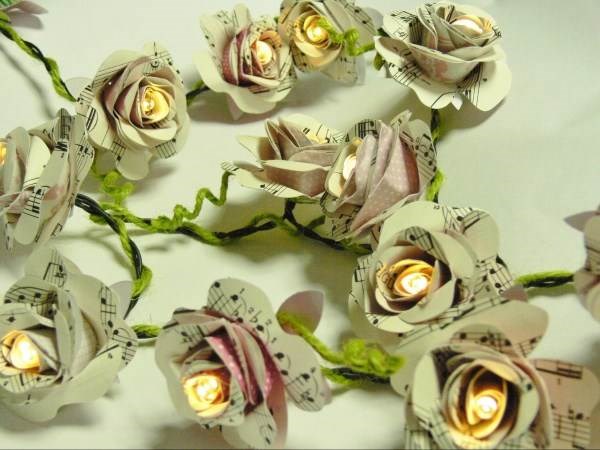 Beautiful sheet music fairy lights.
When and why did you start Jackdaw Decor?
I started Jackdaw Decor in October 2012. I had toyed with the idea for some years, but circumstance conspired to make me brave & step into the world without training wheels!
I have always loved making things; textural, tactile, 3D items of loveliness, whether for me, as a gift or for the sheer joy of creating something new from old. Re-using or re-purposing items rather than throwing them away. I hoard -in the true nature of a jackdaw- shiny, bright, pretty things, paper, ribbon and beads that I will keep until I discover what it was destined to become.
Where do you get your inspiration from?
In short, life inspires me. Inspiration is an elusive quality & the more you examine it the less it becomes. I'm like a mad sponge taking in lots of different things: a quote from a book; the colour of flowers in the garden; a chance remark in a conversation. I have such eclectic taste and I love learning new skills and techniques; that then inspire whole new trains of thought, "I wonder what it would look like made out of paper…"
I find the creative process is so inspiring, I love it when I receive a commission full of "I like the idea of…" I want to take that & run with it, make the design a unique collaboration of my skill set & the client's imagination, creating a finished design that exceeds my client's ideas & expectations.
What are the most satisfying things to make?
Truly bespoke items, funnily whether I'm making cake flags or a one of a kind bridal bouquet, that special twist you've added to make it truly unique to the couple getting married makes me happy. I smile every time I remember making cupcakes flags with the words 'Best day ever!', for a bride getting married at Bestival I added custom made old fashioned tickets to go into her bouquet with the date, venue, the wording 'wedded bliss admit 2' & 'happily ever after family pass'. Doesn't get better than that.
What items do you sell specifically for weddings?
Cute tiny cupcake flags, cake bunting, buttonholes, headdresses, corsages, bridal bouquets even table flowers.
What are your most popular items?
By volume it has to be personalised flags, bunting & my little 'forevermore' raven cake topper
How much time goes into making something like your Dracula bouquet?
How long is a piece of string? A bridal bouquet the size of Dracula takes over a week to make but it is a stretched out process so a fortnight in real time. It includes cutting the petals by hand to ensure you can clearly read specific lines & lots of drying time. The bouquets are constructed in the traditional Victorian manner it makes the finished product incredibly robust & beautifully light.
We bumped into you at Whitby Goth Weekend, are you regulars there? What were the highlights of the weekend for you? (apart from meeting us!)
We've traded at Whitby since the Brunswick centre was opened as a bizarre bazaar venue in Oct 2013. There is always a lovely buzz at the festival, you meet such warm, fun, kind people, each one has a different feel to it but they are always great. Oh highlights, hmmm so difficult, the best moments of the weekend, firstly I delivered a bridal bouquet to Sarah from Amy's Steampunk Emporium - smiles, tears & hugs – awesome can't wait to see the wedding pictures.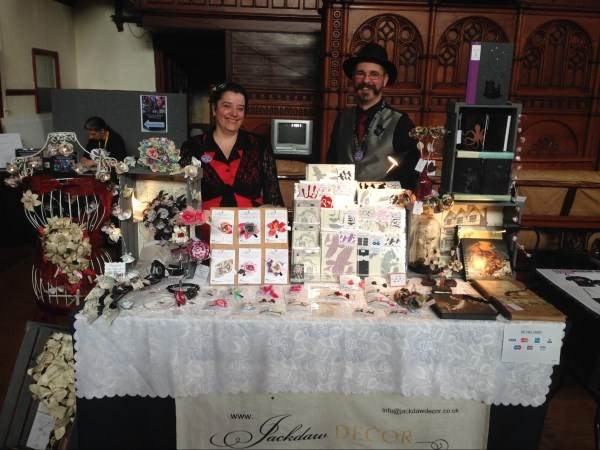 Jackdaw Decor's stall in the Bizarre Bazaar at Whitby Goth Weekend, April 2015.
Secondly one lady always comes to look for my work, she purchased a paper flower brooch from my first foray at WGW and loves it, still wears it & chooses a new addition for her growing collection. Then the festival itself was fantastic we managed to see nearly all of the bands some brilliant acts Ashes to Angels, Bella Morte & my absolute favourite was Dr & the Medics (They threw their heart & soul into that performance & covered 'Ace of Spades' :D) Loved it!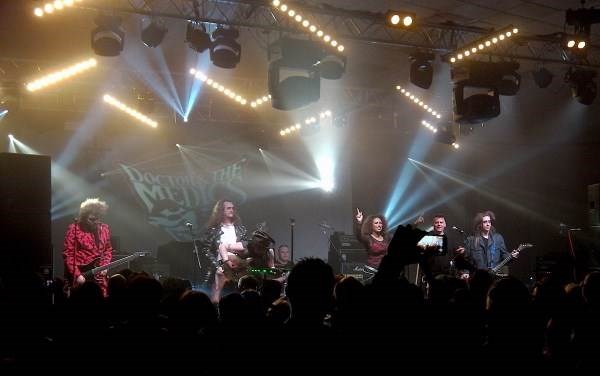 Ali's favourite, Dr & the Medics putting on a great show at Whitby Goth Weekend.
Can we expect to see you at WGW next time?
Definitely, our accommodation is booked, as is our trade pitch just waiting for the line-up & tickets to be released.
Can you tell us about some of the more unusual projects you've worked on?
To date it is probably Sarah's bouquet which I can't share with you as they haven't yet wed. I will forward pictures once they have. Suffice to say it is a mix of music, steampunk & flowers.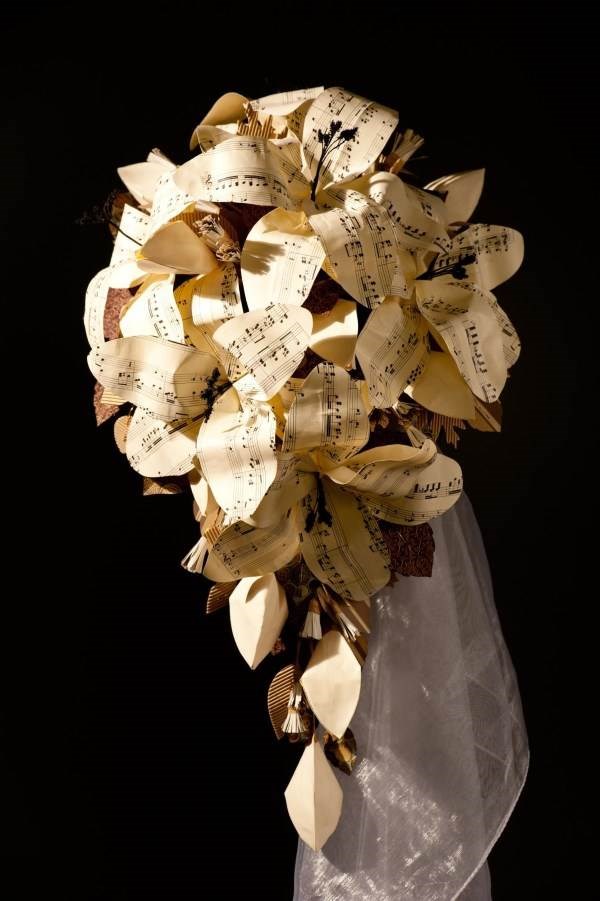 Can you talk us through what you feel makes Jackdaw Decor stand out from the crowd?
I offer a truly bespoke service, working with the client to achieve their vision - it is a truly collaborative process.
The flowers in my work are my own designs, I've made them so I can remake them to suit the client & their occasion. I can create from almost any paper & I am more than happy to include memorabilia, artwork etc. to make it personal & special (in fact I relish the challenge of working with different materials)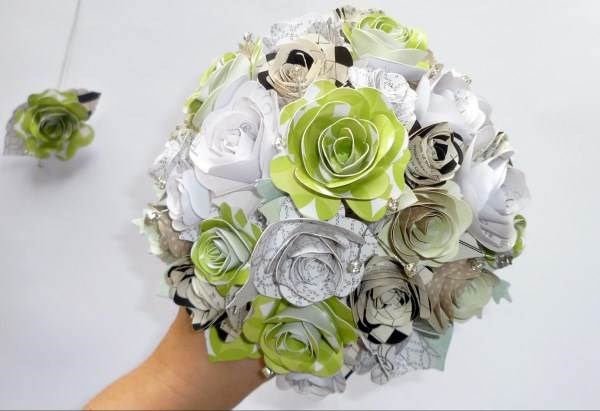 Unique paper rose bridal bouquet.
What can customers expect from you and your work?
Personal & professional service, a high quality, lasting product.
Why paper flowers?
Because the possibilities are limitless; the medium of paper gives you immense scope to capture some special personal touches to your day. How fantastic would it be to have your bouquet created from the music of your first married dance together; your favourite book; a map of the town where you got engaged; paper in a fabulous array of colours that aren't available in fresh or silk flowers?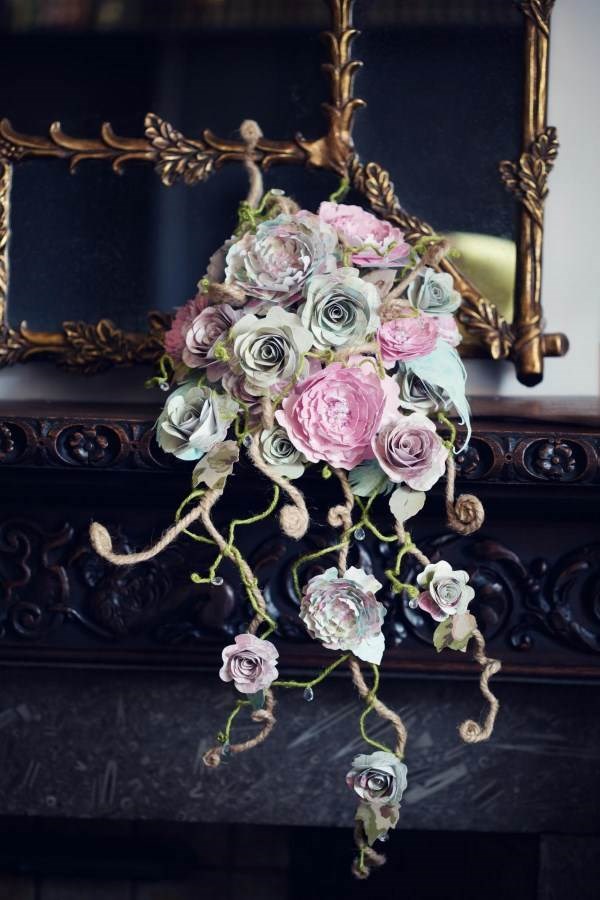 What I really love about paper bouquets is they are as practical as they are beautiful; so lightweight (the peony & rose bouquet pictured above weighs less than 300g) and resilient -all of my bouquets are specially coated to make them weather resistant, they don't wilt in the heat and are transportable -perfect for a wedding abroad. And you have a lovely keepsake for years to come.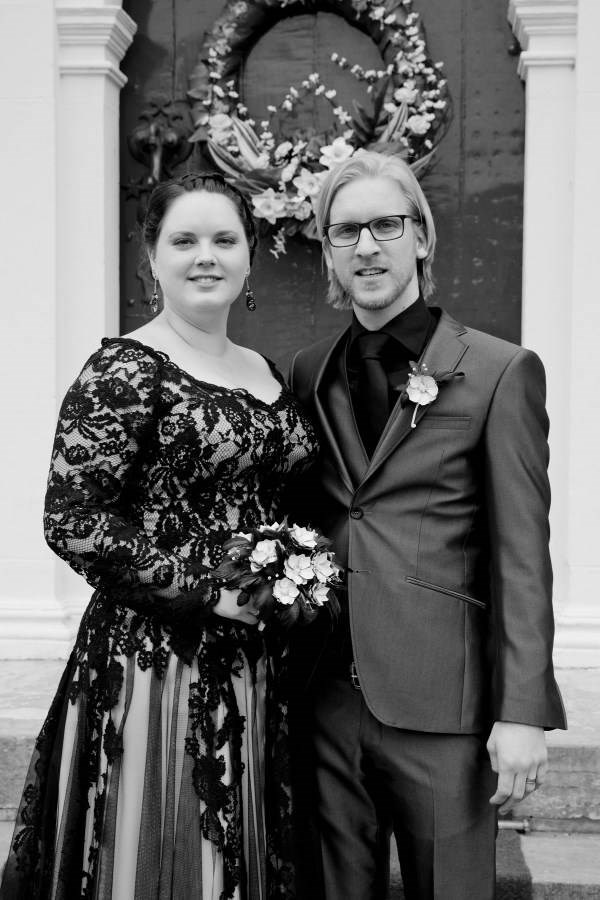 Danielle & Jeroen with their beautiful Jackdaw Decor bouquet.
What do you think would make the ultimate alternative wedding?
I don't think there is such a thing, it's about what's right for the couple getting married. I loved my wedding it suited Mr Jackdaw & I to the ground but if we remarried tomorrow it would be completely different because we aren't the same people now.
P.S. If we do get remarried you know my only source of suppliers is coming from Misfit Wedding's directory!
Aww, thanks Ali, you're too kind!
Please go and check out Jackdaw Decor via the links below.