For this month's Misfit of the Month we're featuring a company whose work fascinates us and we're stoked that mask makers extraordinaire Grin, Grimace and Squeak (update- GGS ceased trading in 2017), have been kind enough to answer a few of our questions.
Who are Grin, Grimace and Squeak and where are you from?
We're Karen and Rich, currently living in Whitby - yes, Whitby as in Dracula! We work from home full time designing and creating our masks. When we're not knee deep in wire and beads we're usually out walking - Saltwick Bay is our favourite spot as it has fossils, black rocks and a shipwreck - much more interesting for goths than golden sands :)
What first attracted you to this fascinating line of work?
When we met, we knew we wanted to work together. Rich had apprenticed as an armourer and I had worked as a self employed artist so we had complimentary but different skills. We shared a love of costume so masks seemed a natural choice. It started very simply, making up traditional style masks in some wire we had but we quickly realised the materials had so much more potential. We're still learning - the more we work with wire the more we see new things to do with it which keeps us interested.
Where do you get your inspiration from?
Most of our pieces are the result of a random thought - 'I wonder if...' sort of thing, though we also have our customers to thank for pushing us to do things we wouldn't otherwise have considered. We do a lot of custom work and we have often been able to take the knowledge and techniques from that project on to a new level in the work we do ourselves.
What do you strive to achieve with your final product? What can your customers expect from your work?
We apply the same high standards to all our work, from our little masquerade pieces up to the most elaborate carnival masks. It's taken us five years to develop our wirework techniques and our work stands out as a result. It's especially gratifying when someone approaches us at an event because they've seen photographs of our work online and recognise our style. Each piece needs to be comfortable to wear so the customer can get on with the important job of having fun in it.
Your masks look extremely complicated, do they take a long time to make?
Some of our masks have taken weeks because of the amount of wirework or beading involved. The two we most regretted starting but were delighted to finish are our ram mask (now sold) and our raven :) The ram has huge curved horns which were made with hundreds of metres of woven copper wire. The raven had to have a sub frame built in as well as the external structure and has two layers of individually beaded feathers.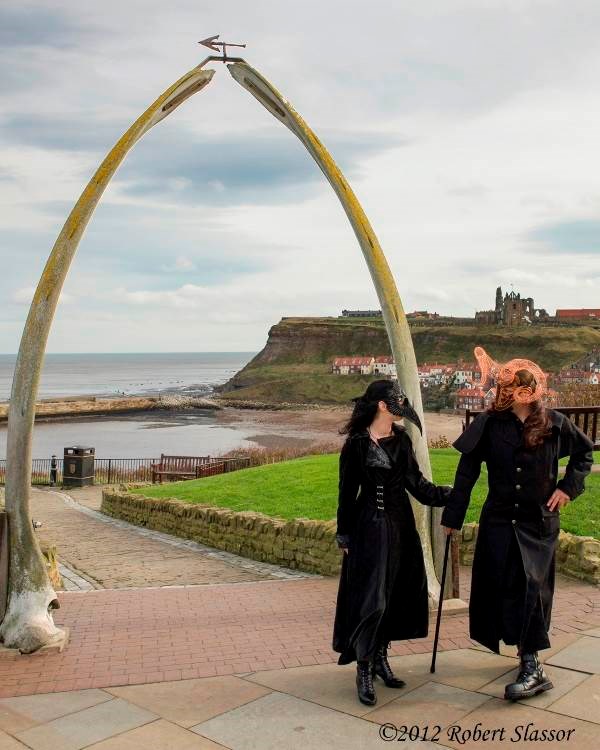 Karen & Rich sporting the raven and ram masks at the whalebone arch in Whitby.
Can you tell us about some of the more elaborate pieces you've worked on?
We're just about finished on a custom steampunk mask with working clockwork for a lovely customer. It started out as a wirework project but now has a sheet brass frame, motorised cogs and even flashing lights. That's been a real departure from our usual style - it still features elegant wirework as decoration but has encouraged us to start making sheet metal masks which is something we've been talking about for years.
Do you have a favourite genre/style to work in?
We naturally gravitate towards the dark fantasy/ fairytale side of things - which seems to be a passion we share with our customers as our animal and horned masks have gone down a storm.
Do Grin, Grimace & Squeak have any plans for Halloween?
Oh, yes :) Halloween is very special for us this year - now we live in Whitby, we have Whitby Goth Weekend literally on our doorstep which runs from October 31st to November 2nd! We also have two shop windows in town for the event so will be out in full regalia. Of course, choosing which masks to wear can take some doing...
Have you attended any 'alternative' weddings recently?
We've not attended any recently but it's become increasingly clear over the last few years that more people are choosing to do things their way. You can't get much more personal an event than a wedding and we believe it should be whatever the couple want for themselves. Most of our work these days is custom orders and the majority of those are for weddings. It's a great feeling knowing you've been able to help someone make their dream come true. That's got to be the best thing about our work - it's all about the good times and people having fun.
What makes Grin, Grimace and Squeak stand out from the crowd?
We do absolutely everything in-house, from designing a piece to sewing on the final ribbons. We wouldn't have it any other way - it gives us full control over the quality of our pieces and also allows us to be flexible. We offer custom services which can be as simple as colour matching an existing design or a completely new creation to make a customers fantasy a reality.
Are you working on anything exciting at the moment?
We're part way through our biggest order to date - 72 masks for an Indian wedding after party, including one elephant, one bengal tigers and 70 assorted peacocks, leopards, cobras and monkeys. We have been promised photos as the party is being held on an island, we can't wait to see them being worn.
Is there anything else you'd like to add?
We have a couple of tips for anyone considering ordering a custom made item for their wedding. If you're looking to match colours, a simple and cheap way to ensure a good match is to post a small piece of ribbon in the appropriate shade to the designer. It costs pennies and is much better than relying on photographs online, since monitors do vary. Also, don't be shy about your budget. Telling a designer your upper limit doesn't mean they will immediately spend all of your money, it just makes it easier for them to see up front what is possible and to give you all the options.
Thank you so much for talking to us, you two utterly rock and your work messes with our heads, it's so good!
---
Follow Grin, Grimace and Squeak's latest antics on facebook.
for loads more amazing masks check out what's available in the grin, grimace and squeak shop.
Find out more about Whitby Goth Weekend.