Our September Misfit of the Month is Uptight Clothing, a small, independent, alternative wedding dress maker who specialise in coloured, corset, period inspired, fantasy style gowns.
Owner and designer Janice Whitehorn tells us that she designs all the dresses herself and they're made to order "which allows there to be no restrictions or limits on shape, size and uniqueness of the dress."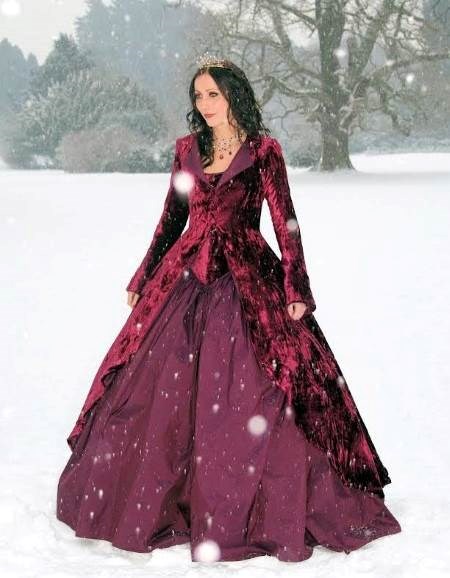 The dresses we've seen are simply stunning, utilising a broad colour palette from beautiful natural shades and perfect pastels through to more funereal shades. You can see how much work and care has gone into making each and every dress in the collection. We especially like the Snow Queen style 'Purple Berry Crush' (above)
There appears to be a motif running through Janice's work with the shape of the dresses. When asked about her inspiration, Janice reveals:
"My main influences are the wearers themselves, making it about what suits them, rather than making them try to suit something off the shelf. I base this on classic period shapes, and hour glass corsets, which when made to measure will flatter any shape. The general style I work to is a colourful nature/pagan inspired theme, but I do like a challenge and am happy to to be given a brief from the customer of what they would like. This could either be more specifically period or anything they can think of they would like made that I don't normally do, I will do my best to make it perfect for them."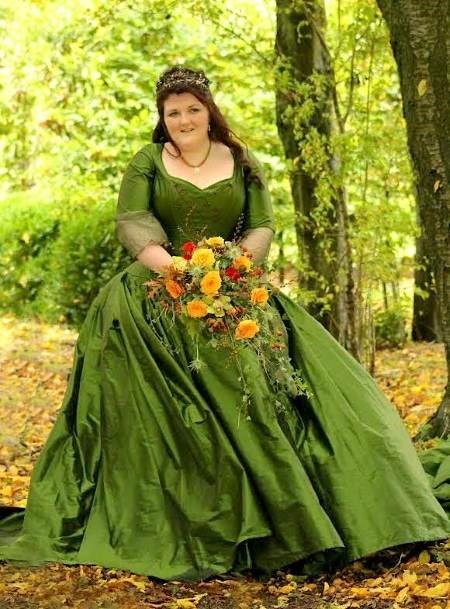 Never shirking from a challenge is an admirable trait and we salute you for pushing the boat out and welcoming weird and wonderful suggestions from your clients.
How did you get into this fascinating world of creating works-of-art wedding gowns?
"I trained in fashion and theatrical costume, with the aim to learn how to make corsets. After graduating I worked in theatre for a few years whilst making corsets and wedding dresses alongside, until I could finally do it full time. That was nearly 15 years ago and I still love it!"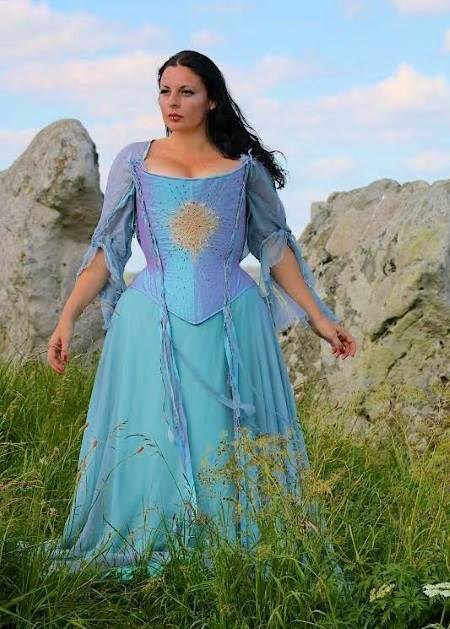 It's great to hear you're still so passionate about what you do! Have you seen many changes in the last 15 years?
"When I started there weren't many, if any, others doing this kind of thing, as people didn't think there was a market for it, but I knew I wanted stuff like this. I knew there were others like me out there, so it was just a case of finding these others, which the internet was brilliant for.
In the early days I stood out because my dresses stood out, but now the alternative style has all become very popular, and much more acceptable, which is great, but it does mean that there are a lot more people doing it. So now I believe my main stand out point is my personal one to one service. I will be with you for every step of the way, from designing, fitting and making, to dressing you on the day, and for anything else you might need! I can't compete with cheaper off-the-internet dresses, but can give you excellent service which you wont get on the internet!"
For us, Uptight Clothing's dresses still stand out. They must do otherwise we would never have found them! The range of gorgeous colours and unique styles in the photos on the website is a beautiful sight to see.
You obviously still enjoy your work, what is it that you find so appealing?
"I like working alongside brides, bringing their dream dress to life, not only in a flattering style and fit, but also in incorporating their own personal details in the embroidery and making the dress 'very them'."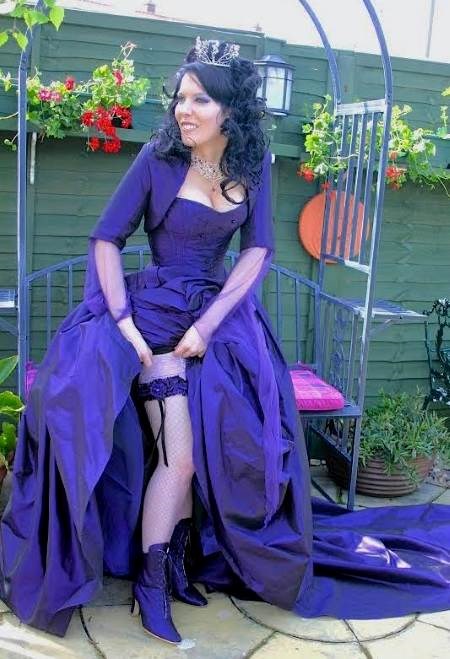 ---
Although based in Houghton Regis, Bedfordshire, most of Uptight Clothing's customers are not local, and travel from all over the UK and further afield to get what they want! Their purpose built showroom in Bedfordshire is a peaceful and dedicated space filled with sample gowns from the collection. All consultations are by appointment only, allowing you to try on the beautiful gowns and corsets in complete privacy with no time constraints.