Aimee and David's Gothic Wedding at Thornbury Castle
This page may contain affiliate links. If you buy something via these links, Misfit Wedding may earn a small commission at no extra cost to you. This helps keep our site free for you and our hand picked businesses. Read more here
A Gothic wedding in a castle is surely what fairytales are made of, and the couple you're about to meet certainly did it in style. From the bride's red corset dress to the groom's exceptional Mad Hatter-esque top hat, there are lots of things to love about this wedding!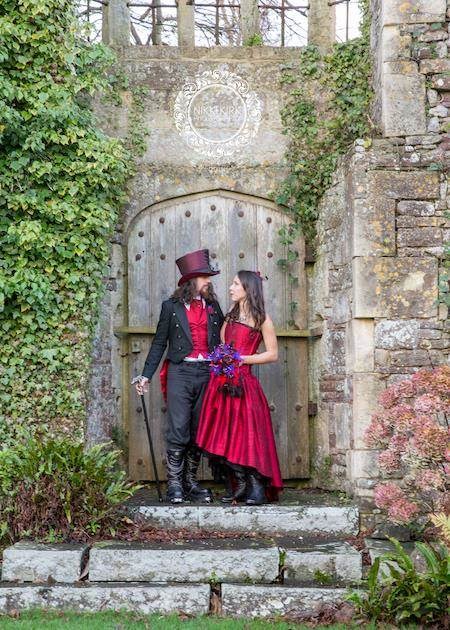 So who are the gorgeous bride and groom?
David Caress. I'm from Leeds, West Yorkshire and I'm a (reluctant) chef working for Pizza Hut.
Aimee (previously Andrews). From Solihull, West Midlands. I'm currently a stay at home mum for our two children, Isaac who turns 4 soon and Dante who is nearly 1.
We got married on 20th December 2015 at Thornbury Castle (we met through mutual friends when Aimee was at university in Leeds).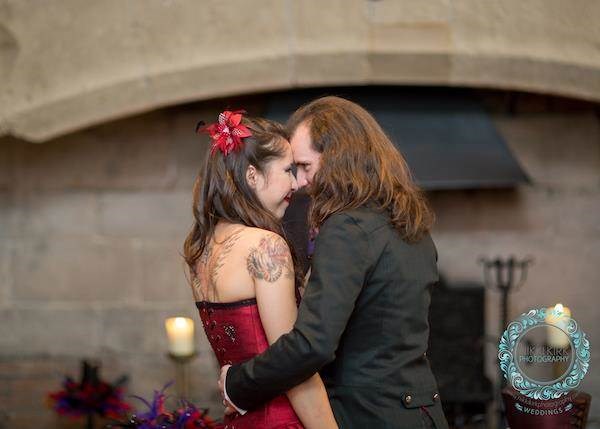 Can you tell us a bit about your interests and how they may have shaped your day?
We are both lovers of rock music and have been part of the alternative scene as a result of this, so a conventional wedding was never on the cards. This was one inspiration for our wedding outfits (ie corset and tailcoats).
Aimee has done medieval re-enactment for many years, learning many skills such as using a Longbow and sword fighting. I practise martial arts and learned to use a Japanese katana, hence the cutting of the cake with a longsword.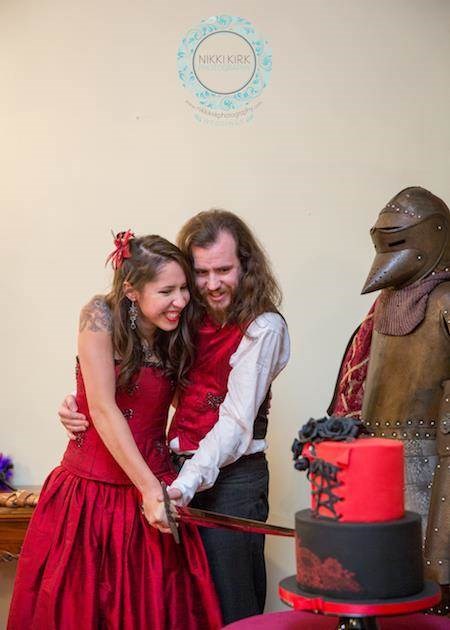 What can you tell us about the impressive looking venue?
The venue, Aimee found by chance online. Our original option we considered was Wookey Hole caves, however given that there would be children and the date of the wedding was in December, we agreed it wouldn't be the best venue.
So while browsing venues local to us, Aimee found images of Thornbury Castle and made some initial enquiries. We visited the venue when meeting the event organiser, it looked amazing and we decided there and then that this is what we wanted.
On the day, and leading up to it, the staff were amazingly helpful and the venue was beautiful, exceeding our expectations!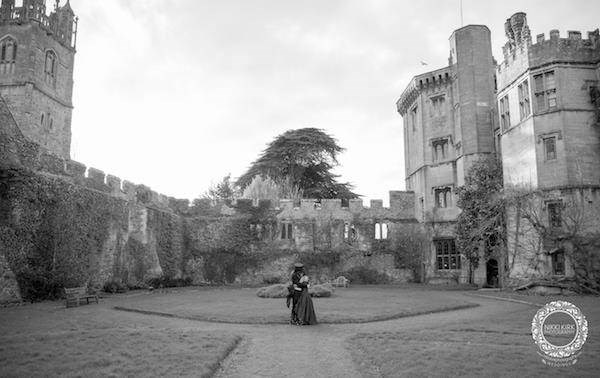 How did you put together your amazing outfits?
Cufflinks, earrings etc, Aimee kind of had an idea of how it would all look, and given how intensive my old job was, I trusted her and let her order all the clothing and on the day it all came together perfectly!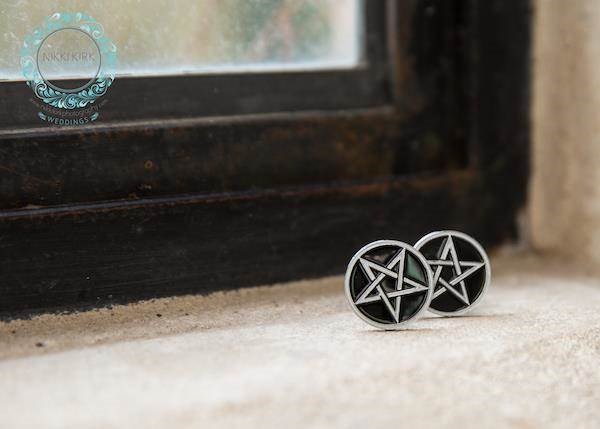 The hat, cane and hair clip were bought from Angel Clothing (they looked awesome).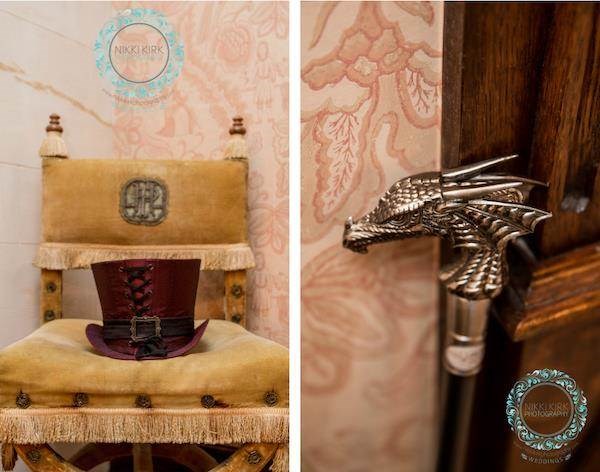 The tailcoat was from Dracula Clothing and the New Rock boots were custom ordered off their website.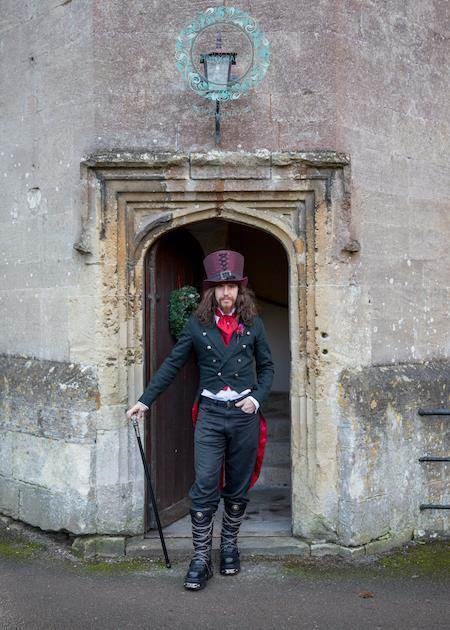 Aimee's jewellery was ordered last minute from Restyle.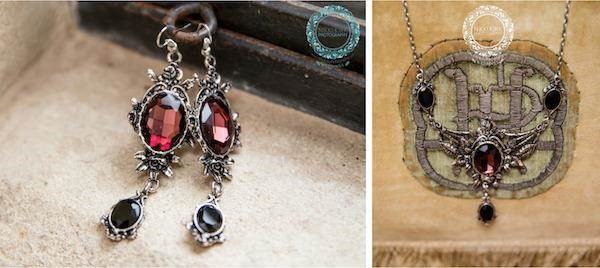 What inspired the decision to wear a red dress?
Aimee never wanted to wear a white dress (bleugh).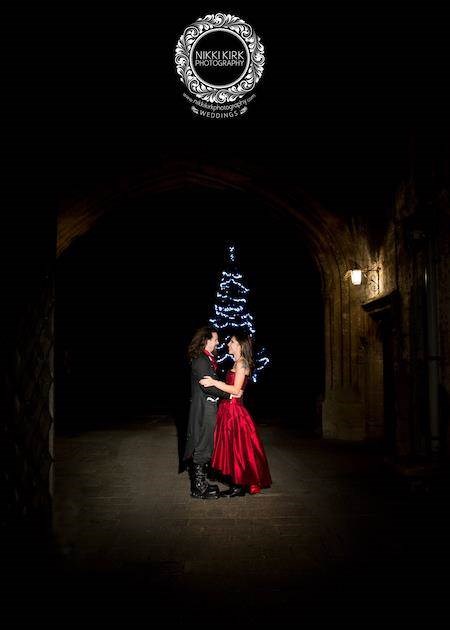 And what about your rings?
Aimee knew about the diamond scam (De Beers monopoly on them) and as such, did not want a diamond ring (of any kind). So knowing this, I got her an emerald ring from a local independent jeweller, A&P Jewellery. He is also the same Jeweller who sourced our wedding rings (white gold for Aimee and white & yellow gold for mine).

We love the colourful bridal bouquet, buttonholes and flowers where did they come from?
The flowers for the Bridal bouquet and button holes were all made by hand by both Aimee and her mum.
This came about from when we sent out the invitations and Aimee used black origami roses with red glitter on, red and purple feathers to match the outfits and a black background. This was also as a result of it being a winter wedding and Aimee not liking artificially grown flowers, so finding alternatives was fun!
So were there many DIY elements to your wedding?
Yes! Lots. From the invitations which Aimee made by herself, to the bouquets, the buttonholes. These all matched the table decorations, which were black gothic candlesticks with weeping rose candles (a favourite of David's) and a collar of feathers and roses.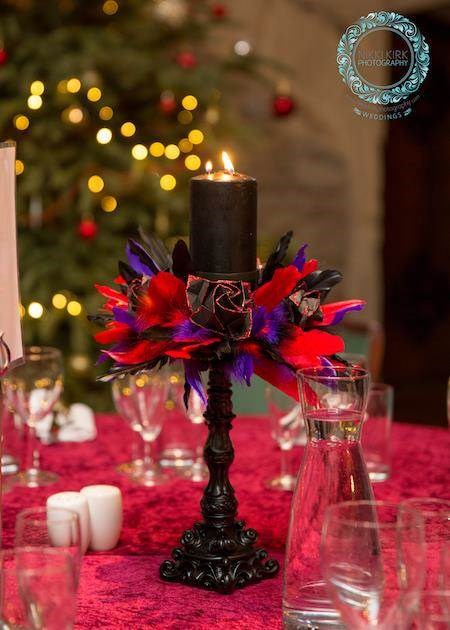 Can you tell us a bit about your wedding theme?
The theme (as you can probably see) is Gothic. We had the colours and theme all naturally blend together when we were making the invitations and table decorations.
Being in the alternative scene we have both loved gothic clothing and darker colours. So this seemed a natural progression for us in what we wanted.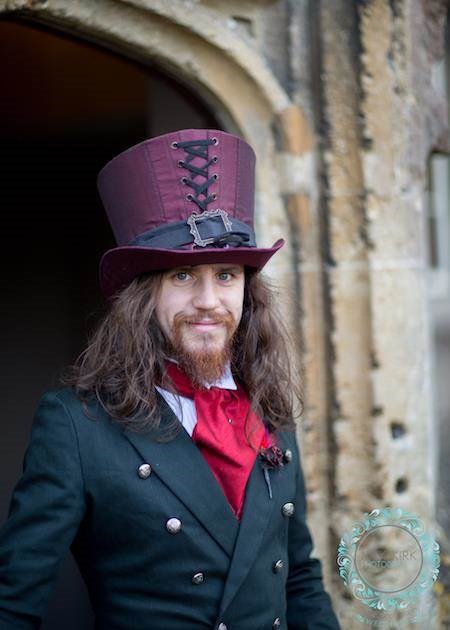 The wedding cake fits in perfectly, who made it?
The cake was made by a local cake maker, who runs a home-run business, called Scrummy Mummy's Cakes.
After a meeting where we sampled flavours, we gave details on the theme and colours of the wedding, and she designed the cake based off of that. She designed the cake icing to reflect Aimee's corset and my waistcoat, using our 2 primary colours red & black.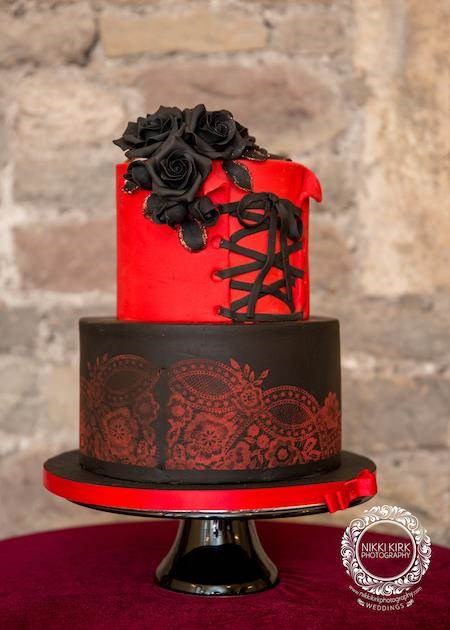 Were family and friends all into the less traditional aspects of your wedding?
Mostly, but everyone was happy that we were doing something we wanted, regardless of 'normal conventions'.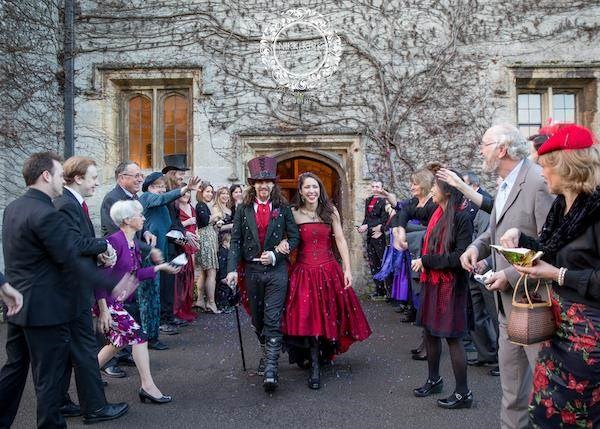 Were your vows traditional?
In a sense…..They were traditional Celtic Pagan wedding vows:
"You are the Blood of my Blood, and Bone of my Bone.
I give you my Body, that we Two might be One.
I give you my Heart, that we may share this Life together.
I give you my Spirit, `til our Life shall be Done."
We were slightly shocked the registrar accepted the vows, but as there was no direct religious connotations, we got the vows we wanted!
How did you choose your wedding photographer?
Through the recommended supplier list for Thornbury Castle. We were getting desperate and Nikki (of Nikki Kirk Photography) was lovely and very prompt in helping get everything sorted. She has been nothing but fantastic and supportive about all of our choices and the pictures are fabulous! We ordered several prints for our home, they encapsulate the most memorable of days.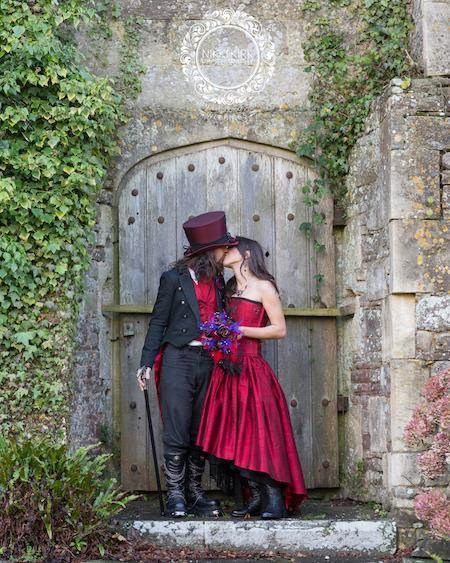 Was it difficult to plan your wedding and did you encounter many problems?
We had a few obstacles while planning the wedding.
Firstly, Aimee was pregnant for all of the planning process (with a new born baby for the last 6 months before the wedding itself). We moved house the month before the wedding. We also had several prospective people fail to respond to us (photographers, DJs, cake makers) and a major issue with a seamstress making the corset and waistcoat.
We had our 1st cake maker have to withdraw services due to a family bereavement. 2 different photographers agreed to do the wedding but then failed to respond to any further messages, as did 1 DJ and a seamstress (after the 1st one failed to make the corset correctly, and spent 6 months 'repairing' it).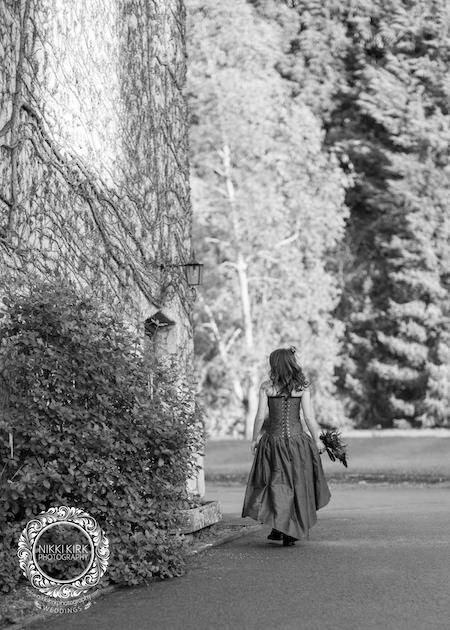 If you were to do it all again, is there anything you would change?
Despite the setbacks/issues, it was all worth it. So we probably wouldn't change anything :)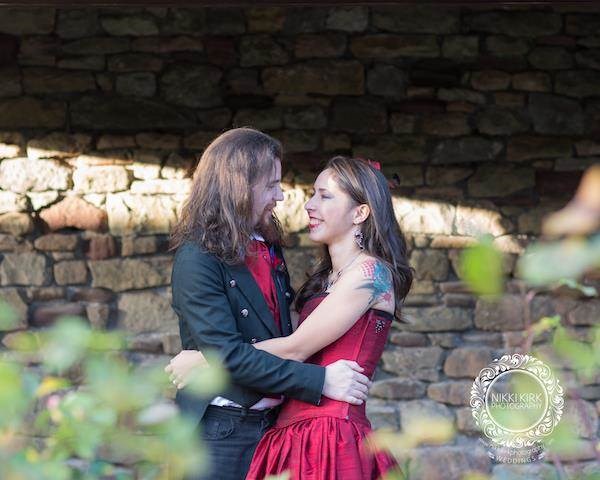 Do you have any advice for couples planning an unconventional wedding?
Do what you want, that makes you happy, and stick with it! Don't let people try to influence your decisions away from what you want to get out of your day.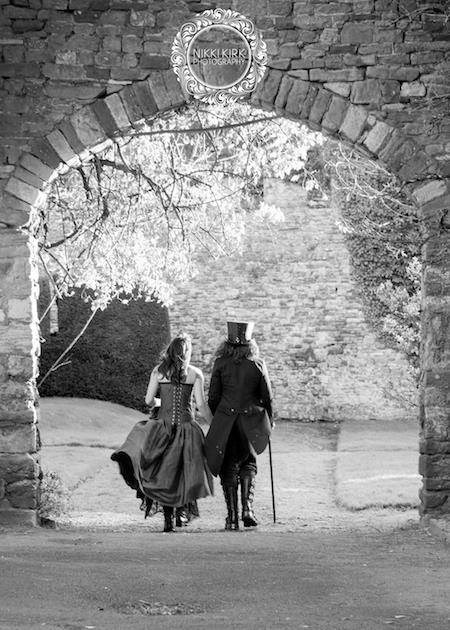 ---
Absolutely breathtaking! A huge thanks to Aimee and David for telling us about their day :)
Another big thank you to Nikki Kirk Photography, who provided all of the stunning photos. We salute you!
To see more photos from this wedding and lots of others, visit Nikki's website: www.nikkikirkphotography.com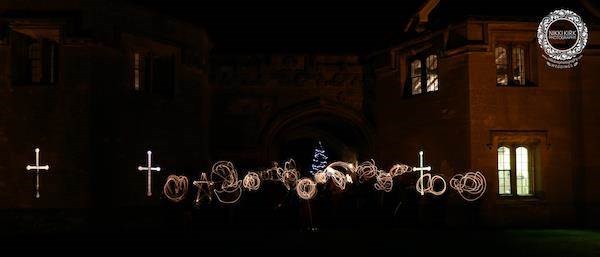 Thanks, and goodnight!