We're thrilled and privileged to bring you some photos from one of the most colourful and dramatic weddings we've seen here at Misfit Wedding. Lyssa and Leo wanted something very different and unique for their big day and the gorgeous bride has been kind enough to tell us the story behind their fantastic wedding and how they went about acheiving what they wanted, over to you Lyssa...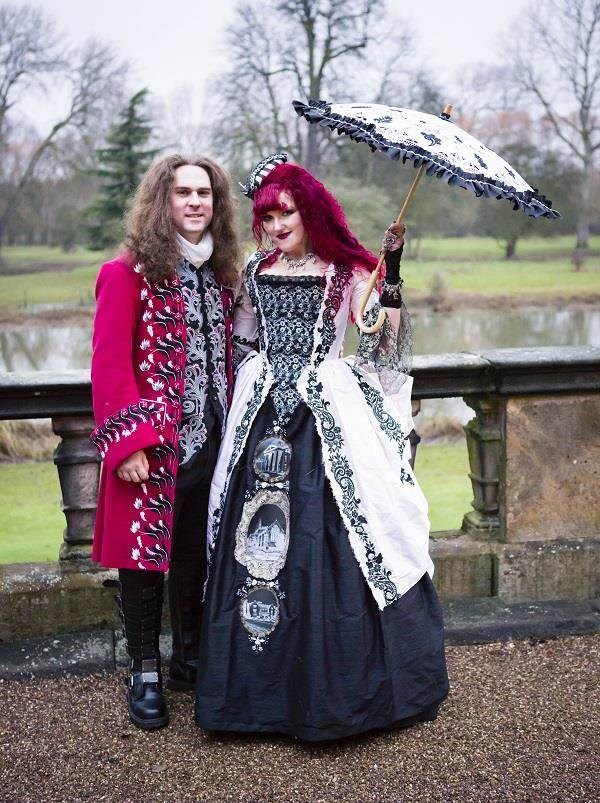 Hi, we're Lyssa and Leonardo Lopez Wain, we live in Nottingham. We got married at our regular church, St Mary's in East Leake in Nottinghamshire, and held our wedding reception at Thrumpton Hall, also in Nottinghamshire, and very close by. Thrumpton Hall is an amazing venue – the house isn't huge - 70ish people for informal seating – but it is filled with the family's beautiful possessions.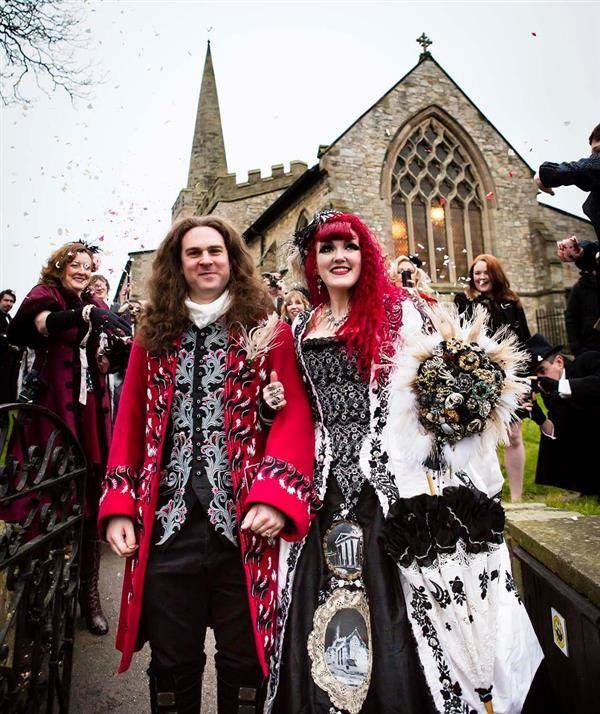 It looks museum-like, but you get the use of a lot of rooms, so you can hang out in the library or play the piano upstairs! This was perfect for us - we wanted it to feel glamourous, but informal, like being at an amazing house party. To add to this, I asked my friend Ian, aka Steampunk artist Herr Doktor, to bring some of his fantastic models with him, and set them up in the house. They fitted in perfectly, and it gave guests additional talking points and things to explore.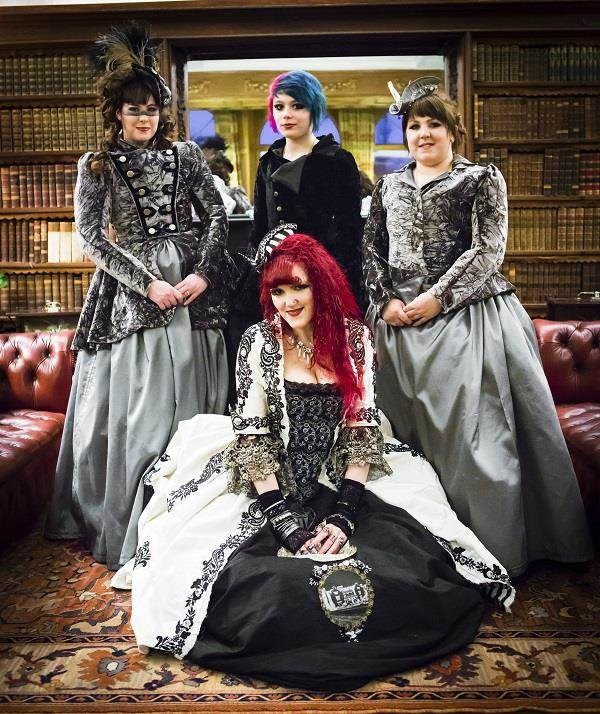 Leo and I both have an extensive background in dressing up – we met through live-action roleplaying, and I previously worked as a designer and creator of wedding dresses, corsets and custom historical and historically inspired clothing and costume, amongst other things. We're also part of the Steampunk community and got engaged at the second international UK Steampunk event The Asylum, in Lincoln. So there was never a chance that we would have a wedding that would be in any way ordinary!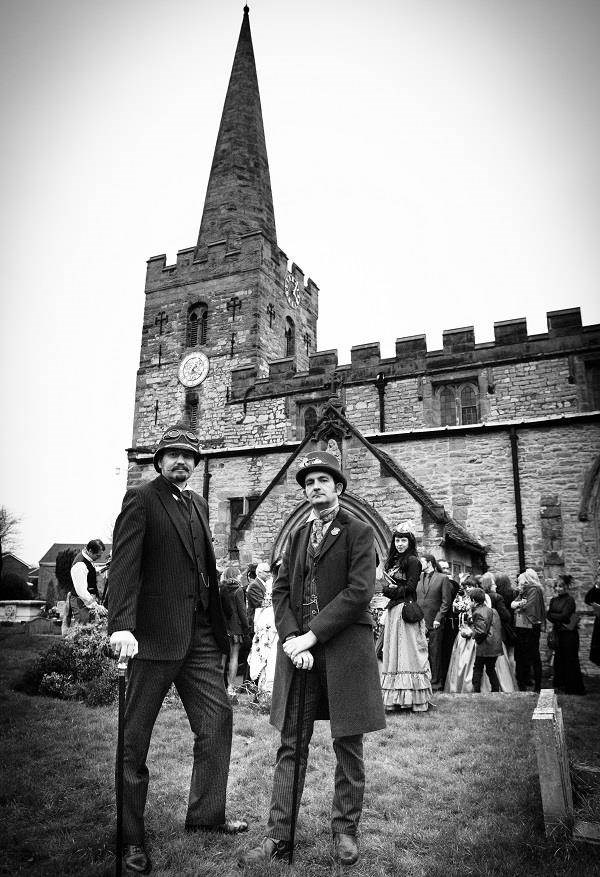 We wanted to incorporate things that inspire us into our wedding. We both love Steampunk so that was our starting point, incorporating historical elements with a near-futuristic style. But we dress in Steampunk style regularly, and wanted to do something a bit different, earlier, with a more 18th century inspired look rather than Victorian – by the time we got married it was being called Rococo-punk. I was inspired by the Casanova TV series, Plunkett and Macleane, and a splash of Adam and the Ants!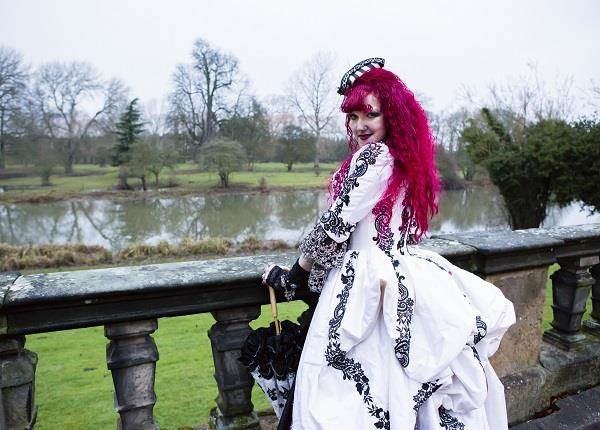 I already owned an 18th century-style corset with an embroidered front panel that I'd made years before. It was always the plan that I would make my own wedding dress - and as it turned out, pretty much everything else! – it's the only way I could imagine getting exactly what we wanted within a budget we could afford. I sat down with my best friend, costume and corset designer, Steampunk artist and author Jema Hewitt, aka Emilly Ladybird, and we discussed a lot of ideas early on. I'd also started making Leo an 18th century style frock-coat some time earlier, so this would give me a good reason to finish it! I really wanted it to be Leo's day too, and not just all about the bride, so we wanted his outfit to be equally fabulous.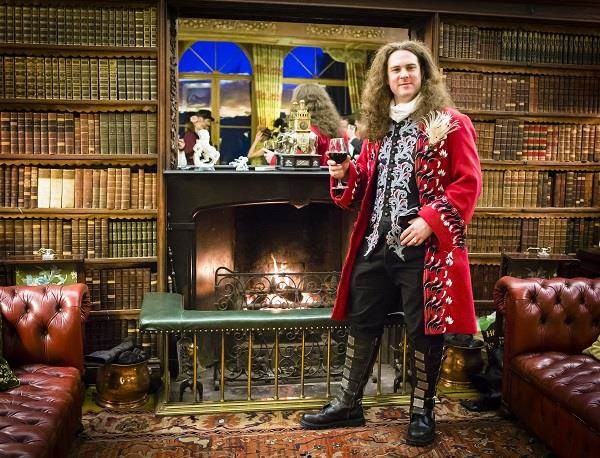 I did know I was taking on a lot, but I planned the timings out carefully and worked out what needed to be completed by what date, then stuck to it! Jema was a fantastic help - I made the outfits for myself and Leo, and the waistcoats for the groomsmen, Jema made the bridesmaids' corsets and jackets. I wanted the bridesmaids to look great, but I didn't want them to freeze – we had a February wedding. I wanted the outfits to be special but something they could wear again, so separate corsets, skirts and jackets were ideal – and the jackets could be taken off in the evening. The shapes of the jackets are all slightly different – because we were making them we gave them a choice, so everyone got a unique style they loved. Jema put on a special hat-making workshop in her studio, for all the bridesmaids and I, and we each made our own mini-tricornes to match our outfits. My lovely mum-in law helped us out by making full taffeta skirts for the bridesmaids.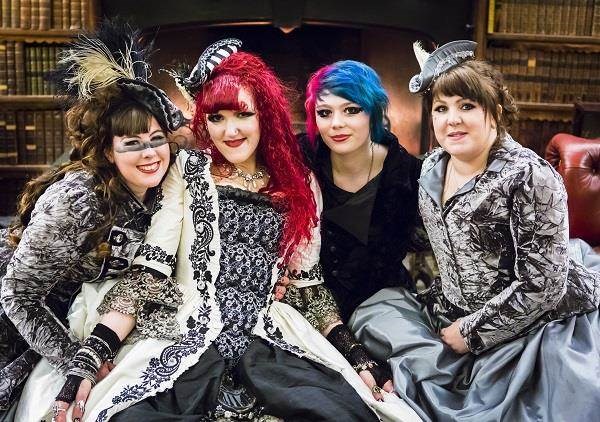 With my existing corset as a base, I knew I wanted to make an ivory embroidered overdress, over a black underskirt, so that it would be 'bridal but still me' – I do wear black a lot! Jema helped me to make the over- dress pattern, and when I struggled to find fabric I liked it was her idea to use hand embroidery and appliqued lace, to make my own pattern on the fabric. This meant I could put embroidered stripes where I wanted them on the pattern, and also save money on fabric. But it did mean a lot more time. I used vintage finds and personal touches wherever I could – the lace on my dress sleeves is around 100 years old, and quite fragile (my 'something old'). The pictures down the front of my petticoat are negative images of places that are special to us – The Lawn in Lincoln where we got engaged, and our wedding venues St. Mary's and Thrumpton Hall.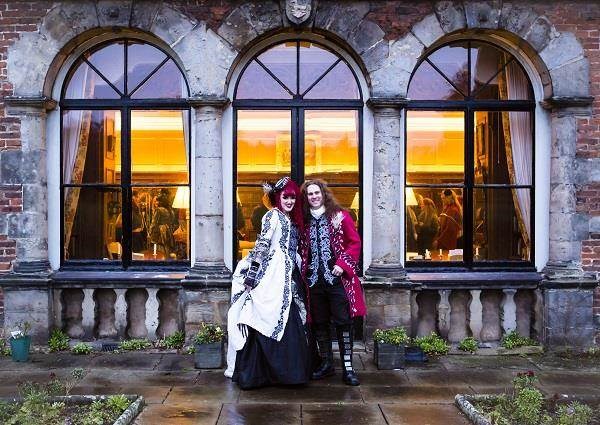 Leo and I made the save-the-date cards, invitations, and orders of service between us, production line style. As it would be February, almost nothing would be in bloom, so I made brooch bouquets, button-holes for the groomsmen and corsages for our mums. I used bleached peacock feathers (which I adore) collected brooches and vintage buttons from my stash, and borrowed a few more from my mum-in law, so my bouquet contained 'something borrowed' and 'something blue'. It sounds mad but I just started with a big pile of wire, brooches, buttons, feathers and artificial flowers, and played with them until they looked right them twisted the wires together and tidied it up! I did it over the Christmas period, whilst sitting in front of the TV – it was lovely!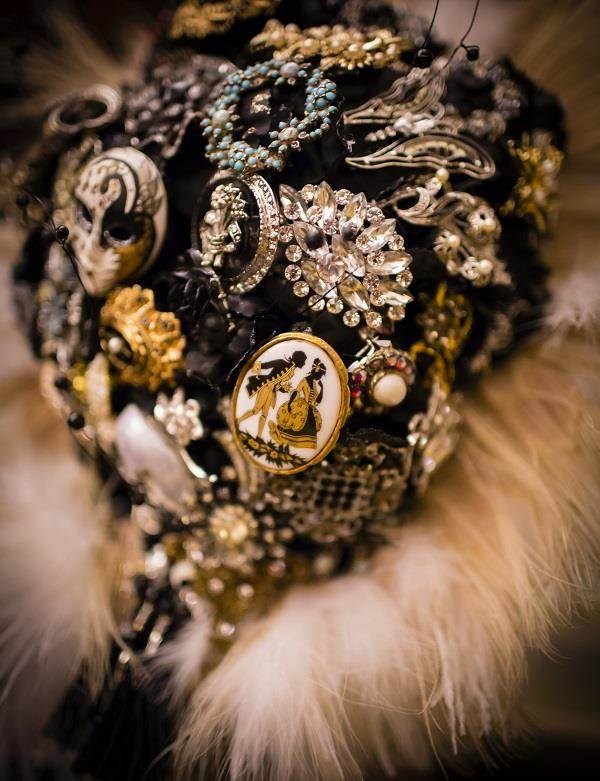 Jema and I also made the cake. It was a pretty epic undertaking, but I've made special occasion cakes before, and Jema has worked as decorator for an exclusive cake designer, as well as having a Steampunk baking book published. We sat down a couple of weeks before the wedding, designed the cake together, including sizes and quantities, then bought all the ingredients and made the whole thing in three long days. Jema was quilting icing on one layer in the kitchen while I was painting black glittery peacock feathers on another layer in the dining room! Each layer was a different flavour – lemon and white chocolate, dark choc and cherry, Earl Grey and orange, and lavender – we even did a small separate gluten- and nut-free cake for our friends with different dietary needs.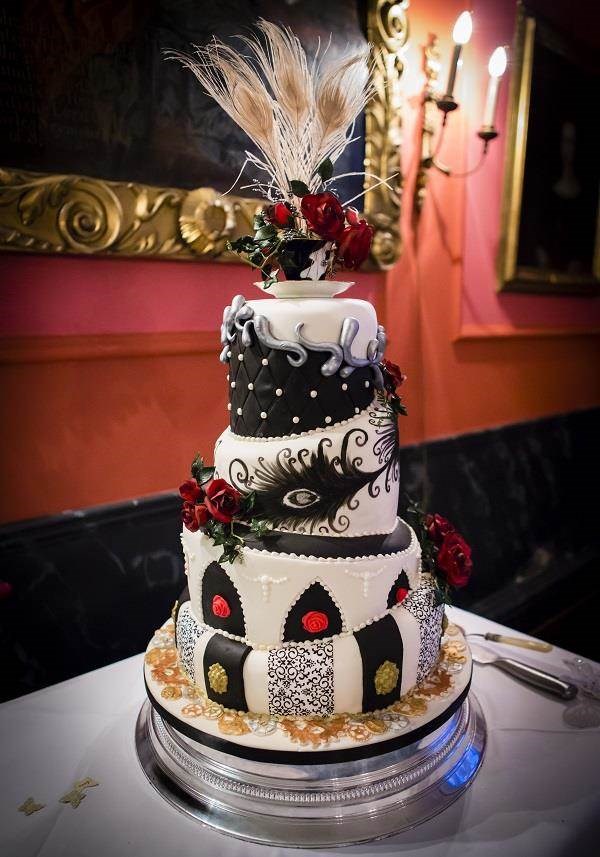 We used a local food-growing organisation called Ecoworks, for the catering – we're not vegetarian, but about a third of the guests were so it made sense to use a caterer who specialises. I'd encountered Ecoworks through work - their event catering is always amazing, and all their food is vegetarian or vegan, organic, locally grown and seasonal wherever possible, and includes gluten-free and nut-free options. We had an informal hot buffet, and though we did pay a surcharge to the venue, and hire plates in, we got amazing, ethical food, and lots of it, for the cost of the basic menu from the venue's own caterers.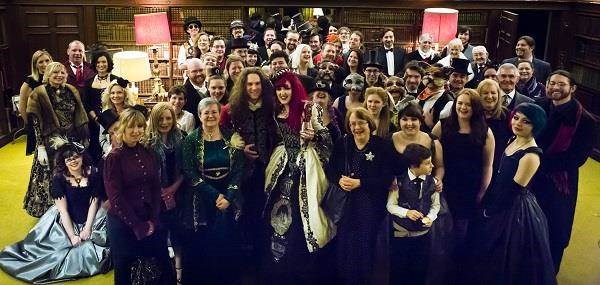 We're lucky that many of our friends are very talented artists. Our wedding rings were made by my friend Kay Reed, an amazingly talented silversmith whom I've known since we went to art college together in our teens. She did a great job, coming up with fantastic design solutions – I wanted a ring to match my engagement ring, which Kay had made previously, Leo wanted a traditional gold band, but I really felt they needed to look like a pair. Kay made a shaped ring to fit around my existing ring, and Leo's ring is a plain gold band, with an ornate silver 'cage' that fits over it. He can wear just the plain gold band every day, and add the elaborate silver part for special occasions!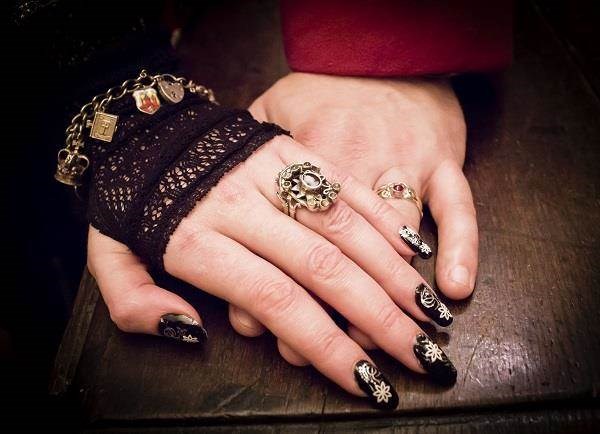 Our friend Martin took our amazing photos. We met Martin at the first Steampunk Asylum, and were really impressed with his photographs from the event – the lighting in the venues had been awful, but his event photos looked better than most photographers' studio photo-shoots! When Leo and I got engaged the following year, I absolutely knew we had to ask Martin if he would take our wedding photos. He doesn't normally do weddings, but we were very lucky and he said yes.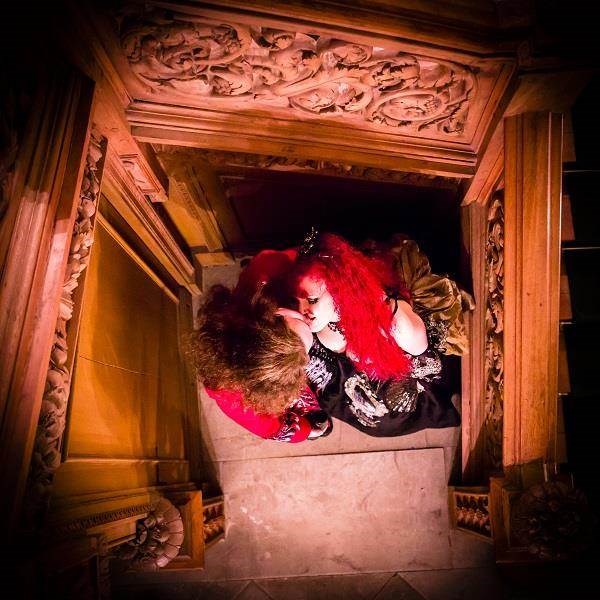 The one place we did compromise was transport. Much as we loved the idea of a horse-drawn carriage (or a zeppelin!), we had to accept that in February, the weather might do anything, so a car was a far more sensible option. We're not really car fans, but we visited a local firm Cloud Nine, and as well as being lovely, they introduced us to a gorgeous 1930s Armstrong Siddeley called 'Aghy', so that was that!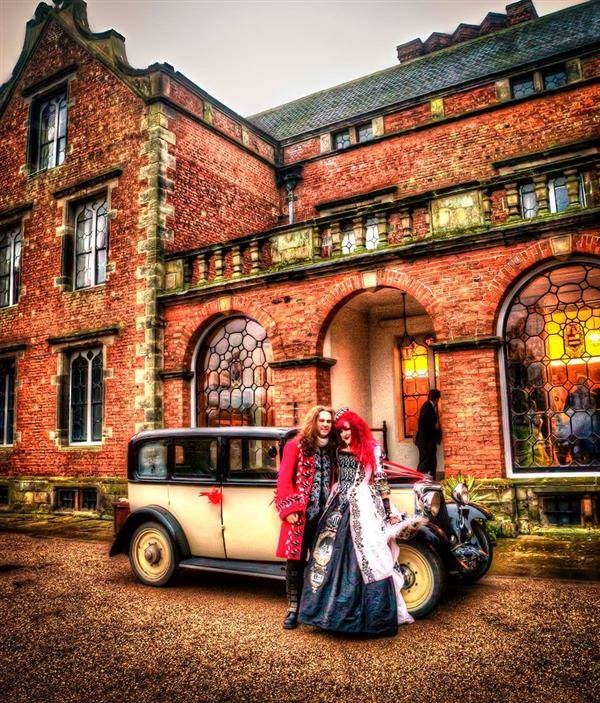 Neither of us is a particular fan of wedding DJs, and we didn't want formal dancing, so we asked a friend with a suitable sound system to help us out. We gave him a playlist, and just had a background of our favourite songs throughout the reception. The hardest part was coming up with a list of songs we like, that aren't ludicrously inappropriate for a wedding! Our friends loved our choices - throughout the evening they kept saying 'Oh, I just heard my favourite song!'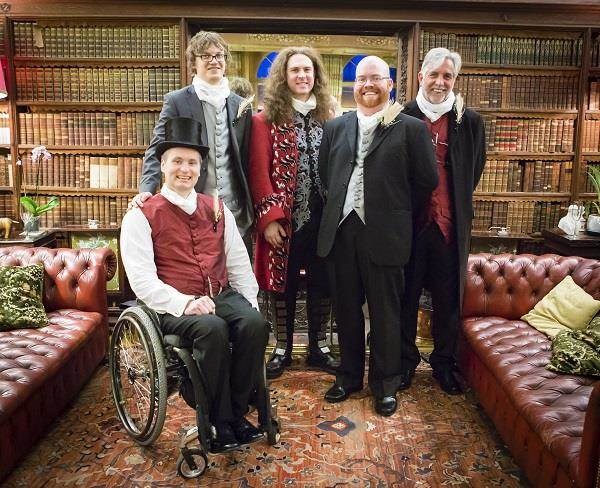 Because everyone there knew us really well, I don't think anyone expected it to be anything other than unique, so no-one was surprised by our theme. We wanted to make it inclusive and fun – we wanted all our friends whom we've met through roleplaying and Steampunk to feel free to dress up as much as they'd like, and we wanted our other friends and family to have the opportunity to dress up if they wanted, but we didn't want anyone to feel that they couldn't come if they didn't dress up. We said something like 'please feel free to wear Steampunk/historically inspired clothing if you would like to do so'.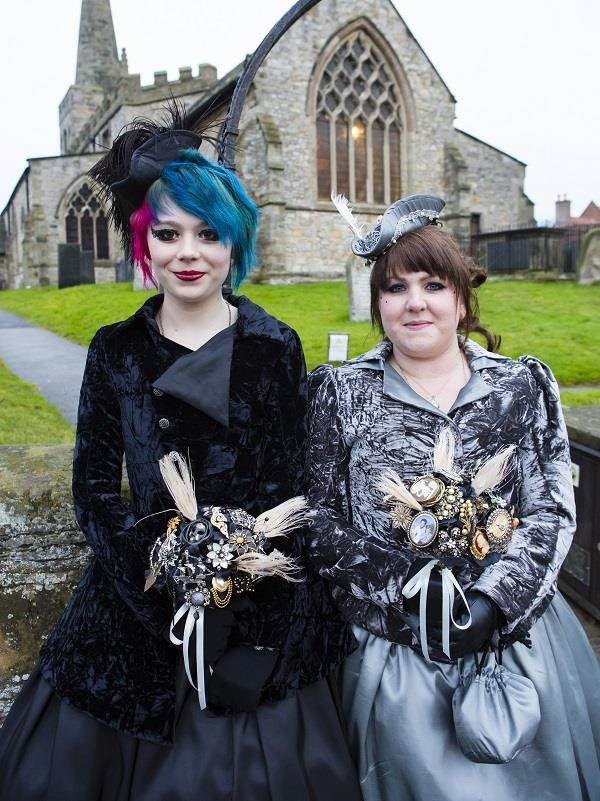 We had an amazing reaction – all of our Steampunk and roleplaying friends came beautifully attired, and friends and family who don't usually dress in this style became really excited about the chance to do so. Every time we saw our friends for months before the wedding, they were talking about what they were going to wear, the accessories they'd found, the things they'd made – it was brilliant to see people really embracing the idea. My extra mum loves the Regency era, and made a Regency velvet dress and winter coat for the occasion. It gave our guests another great talking point – people were going up to strangers to say 'I love your outfit, where's it from?' and 'Did you make this? It's amazing!' It made for a wonderful atmosphere. We couldn't have been happier with our wedding – it really was like being lord and lady of the manor for the day, and giving a fabulous party for our those we love!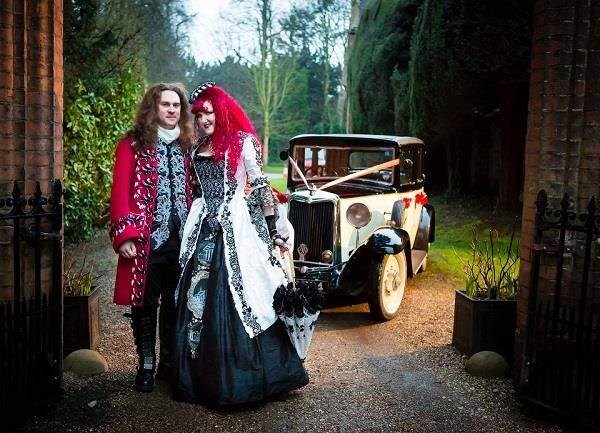 Lyssa also shared with us her top tips for planning a non-traditional wedding –
Remember that the wedding industry is a modern invention that exists to make money. What you will see promoted as 'traditional' is actually what's profitable for the industry. If you want a more original wedding, don't let the industry dictate how it should be – you decide!
Do some research about wedding traditions, then decide which you like and want to use. Most of the things people will tell you are wedding 'traditions' in this country date back less than 100 years, and some of them not even to our grandmothers. White wedding dresses became popular with Queen Victoria, but weren't the norm in the war years, wearing veils at weddings when they weren't in fashion for formal wear only started in the 1920s, brilliant cut diamond engagement rings are a late Victorian invention.
Tell people early that you'll be doing something non-traditional – they'll be surprised and delighted if they know to expect something different.
Do make sure you still look like you – if there's something 'signature' about your style, hang on to it!
If you're doing a lot yourselves, plan your time really carefully. You don't want to be any more stressed than necessary on the day. Ask your friends to help you where they can – give them plenty of time and notice.
Be inclusive – give people the opportunity to opt in or out – you'll be surprised how many will want to join in, especially if they think everyone else will!
Be yourselves, have an amazing time, and love every minute of your day!
Special mention to our church, St.Mary's, they were brilliant - our vicar was delighted to see everyone dressed up for the occasion. One of the ladies from church did flower arrangements round the columns for us at cost, and her husband did the music for the service for free.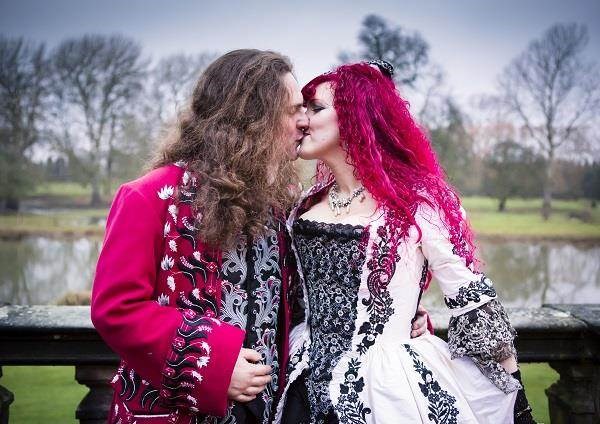 All photographs by SoulStealer Photography, visit the website here or check out the Facebook page.
Links:
Jema 'Emilly Ladybird' Hewitt – bridal-originals.co.uk and facebook.com/emillyladybird
Kay Reed – kayreed.co.uk
Ian Crichton aka Herr Doktor - facebook.com/pages/Herr-Döktors-Laboratory
Cloud Nine Classic Wedding Cars - cloudnineclassicweddings.co.uk
---
Thank you so much Lyssa and Leo for sharing the story of your amazing wedding with us, thanks also to Martin for allowing us to use your beautiful photos!