The wedding we're about to take a look at happened a while ago but we only recently saw the amazing photos and decided to ask the gorgeous bride if she'd like to tell us about her big day. Fortunately, she said "Yes"!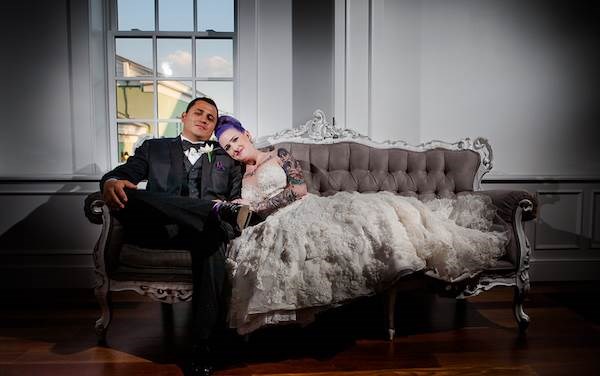 Can you please introduce yourself and tell us where and when you got married?
My name is Catherine Porras. My husband and I got married April 2014 in St. Augustine, Florida.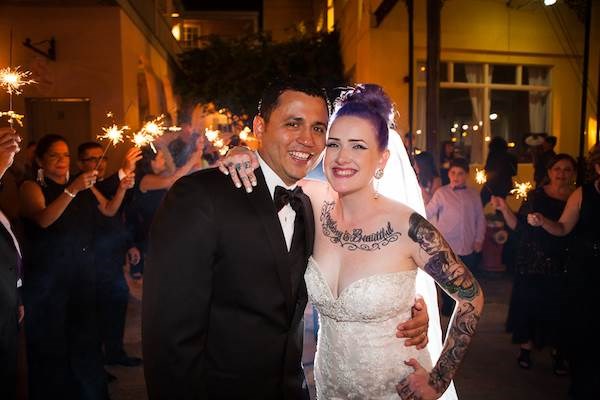 Firstly, you look fantastic in your wedding photos, how did you choose your stunning dress?
Thank you so much. The dress I ended up wearing was nothing I had imagined myself choosing. I had a completely different look pictured in my head.
My mom and sisters took me wedding dress shopping and insisted I tried on all kinds of dresses. I tried on everything from a sleek lace dress to the puffiest of princess style dresses. When I put the dress I ended up wearing for my wedding on, I knew it was the one. I never felt so beautiful. When I walked out of the dressing room my mom's eyes got teary. That was all the reassurance I needed.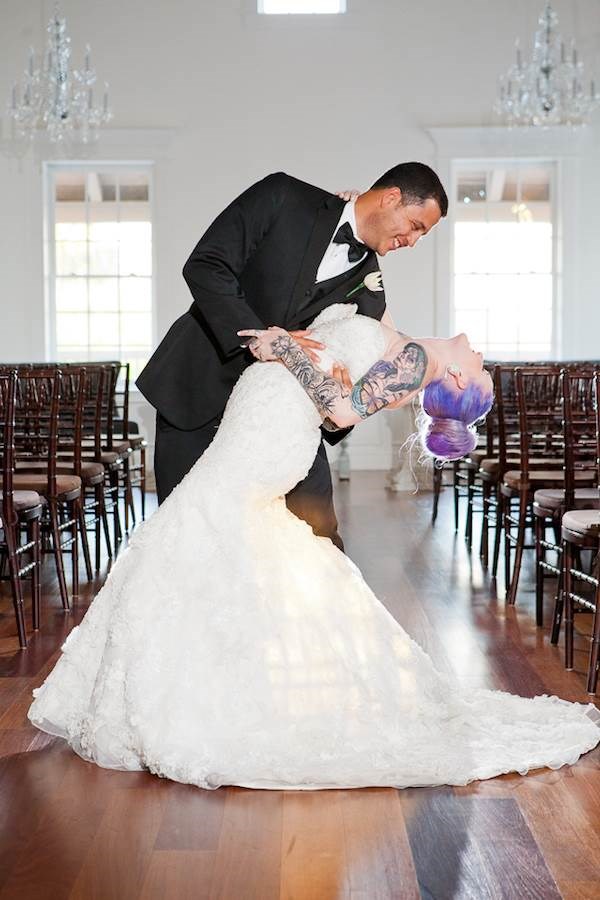 Do you usually have such colourful hair or was that all part of your look for the day? And did you do your own makeup?
Since I was 16 I've loved exploring different hair colors. I've had probably every color under the sun in my hair at some point. I loved the purple/lavender hair and decided to keep it for the wedding because it went with the color scheme so well. My hairstylist Jaime Robinson at Hair Maiden Salon in Orlando did such a wonderful job coloring my hair and styling it for my wedding.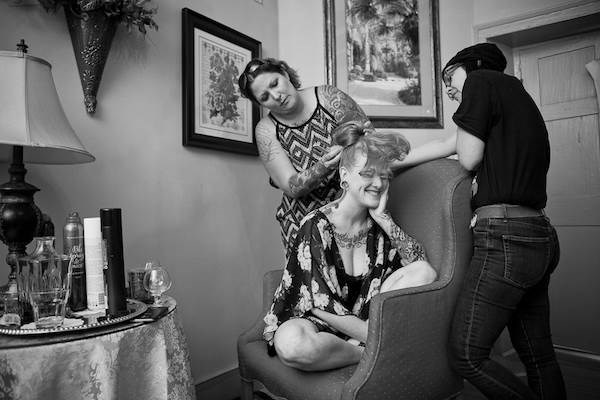 As far as my makeup goes, I decided to do it myself. I was a little nervous of having someone else do it and me not feel like myself. Luckily through all the nerves I was able to give myself those winged cat eyes I wear regularly.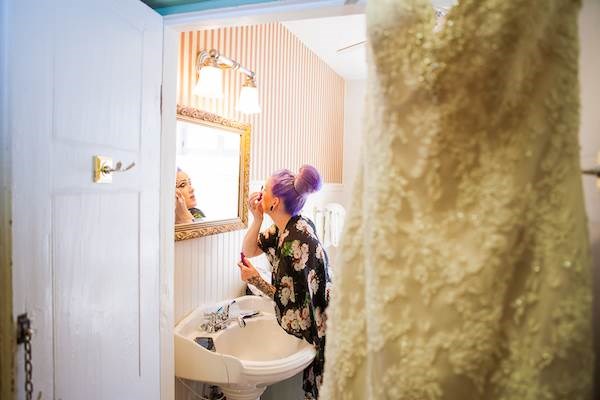 Your tattoos look beautiful, was it ever in doubt you would have your ink on display?
My tattoos actually never really came to mind when making my wedding decisions. They have become such a part of me that I wasn't even thinking of trying to display them nor hide them. I was simply looking to feel beautiful.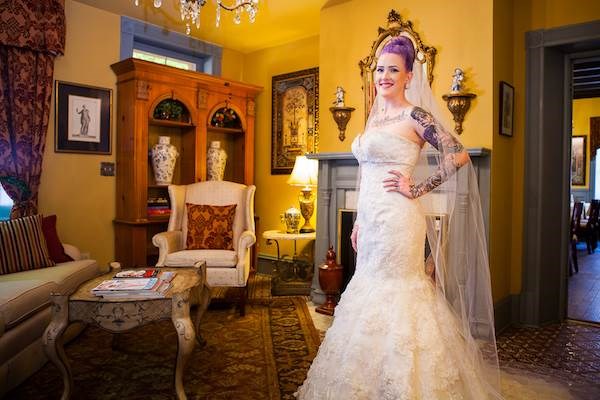 Can you talk us through your tattoos and what they mean to you?
I have so many that it's hard to choose which to talk about it. I'll start with my chest piece that reads "Everything is Beautiful". I got this when I was 18 and felt like life was getting really tough. I wanted it to be a reminder that regardless of whatever I was going through, I couldn't lose sight of all the beauty life has to offer. Till this day it is still my favorite tattoo.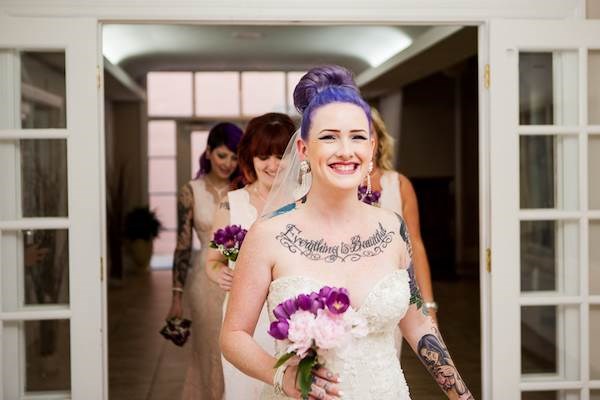 On my arm I have a woman who is wearing Day of the Dead makeup and holding a monarch butterfly. That tattoo is a memorial for a close friend's mother who passed away of ovarian cancer. She was such a beautiful soul and loved monarch butterflies. I got that as a way to celebrate her life instead of mourning her death.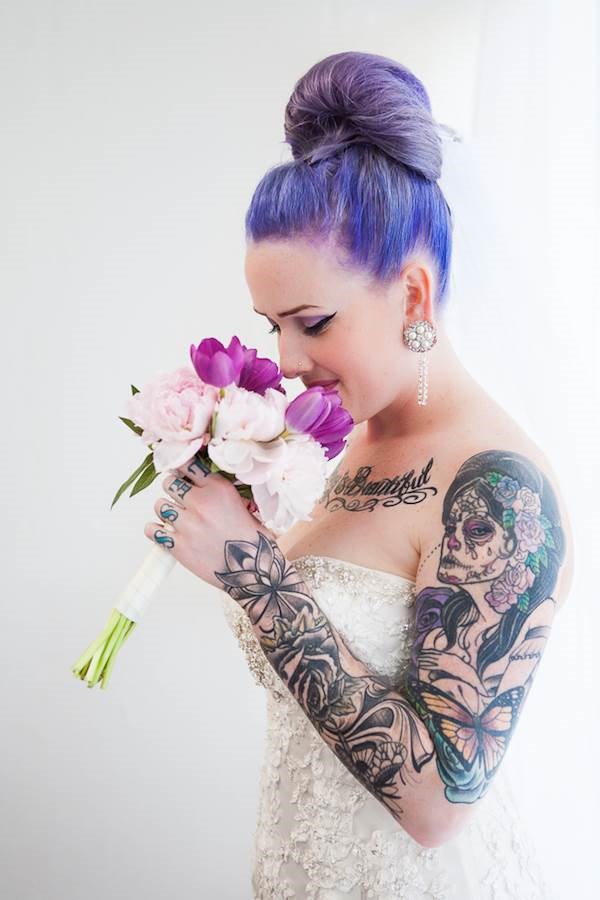 On my knuckles I have "Hopeless Romantic". I have been a hopeless romantic for as long as I can remember. When I fall in love I fall hard. Some people view that as a negative thing. I however feel like there are so many things in life that can be mediocre, but love shouldn't be one of those things. So I embrace that part of myself.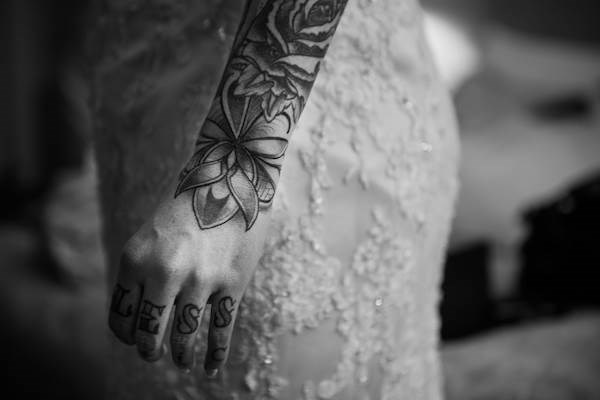 Sometimes family members and other wedding guests are not so happy seeing tattoos on brides, did you have any issues?
Not at all. My husband and I are both heavily tattooed and neither of our families have any negative feelings about it. We have an amazing group of people surrounding us who are not judgmental when it comes to something like tattoos. When my friends and family look at me I don't think they see a tattooed woman. They see me as a friend, a sister, a daughter.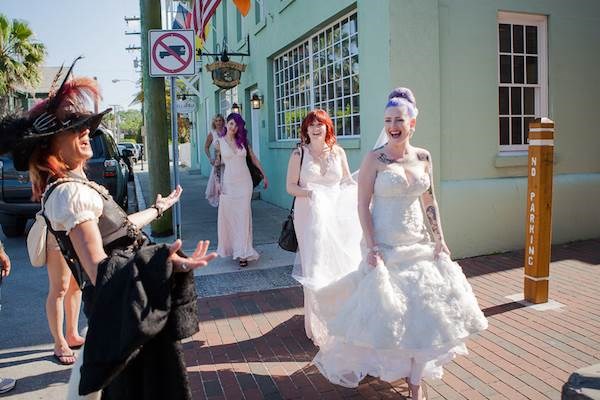 Your plug earrings are really pretty and look like they were made to be worn at a wedding, where did they come from?
I was so excited to find my wedding plugs! They are a size 7/8'', which sometimes can be a little harder to find. Luckily I came across Pretty Vagrant on Etsy. They make the most beautiful and fun plugs.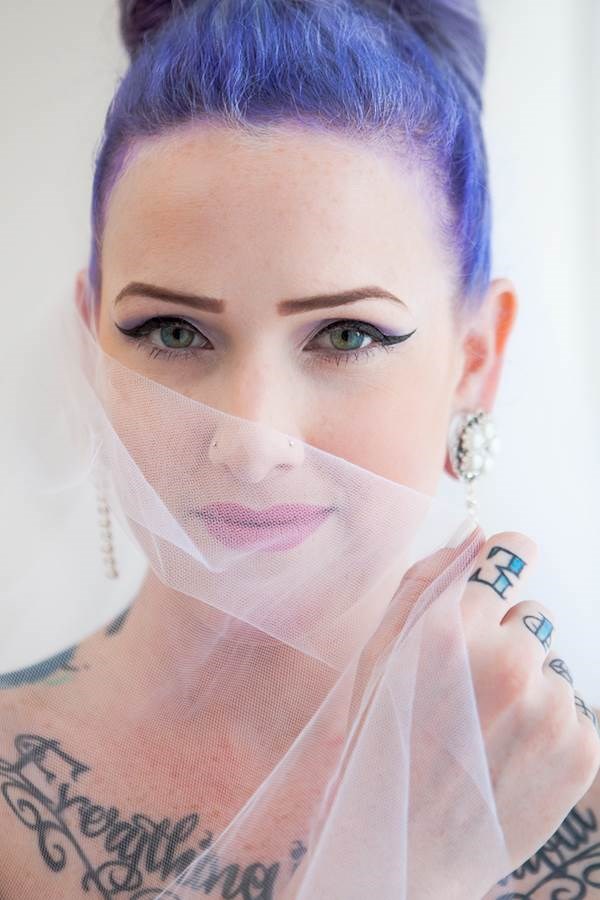 What was your favourite part of your wedding day?
My favorite part of the whole day was walking down the aisle and exchanging our vows. My father passed away years ago so my brother walked me down the aisle. Right before we started our walk he pulled out a bottle of Crown and we did a shot together. He said it was a family tradition.
My husband and I decided to write our own vows. I have to say, there is no better feeling then hearing the person you love tell you how much you mean to them.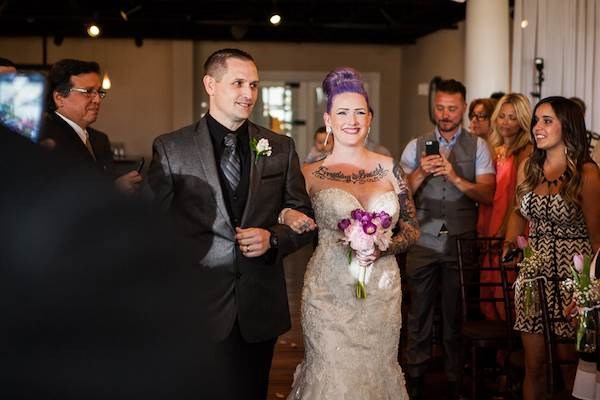 My sister was my maid of honor and had a cough that day. I heard a weird noise behind me during the ceremony and turned around to see my sister's bright red face trying to hold in one of those uncontrollable coughing fits while my brother in the front row couldn't stop giggling about it.
My husband said our first kiss as husband and wife tasted like whiskey. I couldn't have been more happy than I was in those moments.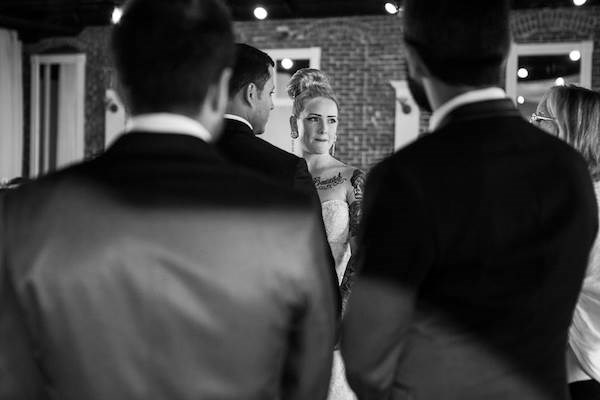 Your groom looks very handsome and is exuding James Bond style cool, what can you tell us about him and your day together?
My husband is hands down the most amazing man I've ever met. During the day he runs his own HVAC company and works so incredibly hard. At night he spends his time playing with his friends in an old school style punk/hardcore band for fun. I've never met someone so passionate and talented in so many different fields.
Our wedding was full of laughter, lots of champagne and cigars. We chose to spend the night before the wedding apart which made seeing him the day of even more exciting.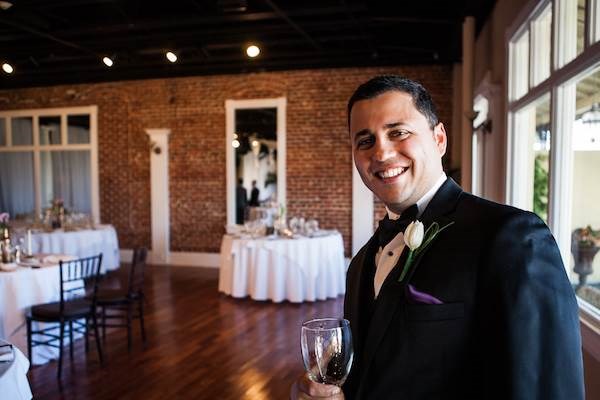 We love your photos! How did you choose your photographer? Were you happy with the results?
We were very lucky to have our photographer also be a close family friend. Toni Rage Rodriguez and his wife Kristen Rodriguez did such an incredible job. They had great picture ideas and made the whole process fun and easy. We absolutely loved how the pictures came out.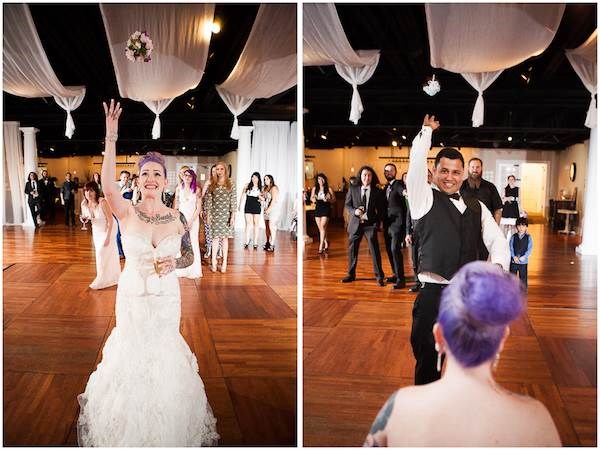 When we spoke to Toni he described your wedding as a "classy punk rock wedding", would you go along with that? Did you have a theme?
I'd say that is 100% accurate. Even though we have our punk rock/alternative edge we are also old school and traditional in some senses. I actually hand made a lot of my decorations with the help of my mom and sister. We wanted a simple yet elegant look and I think we were able to capture that.
I also surprised the groom with a carrot cake (his favorite) with a design from his favorite band, The Descendents.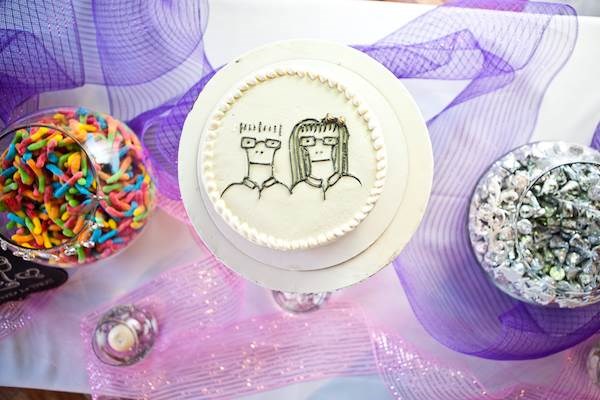 We'd love to know what song you chose for your first dance?
We really wanted to do our first dance to New Found Glory's cover of "I Don't Want to Miss a Thing" but the song was just too short. So we opted to have our first dance to the original version by Aerosmith.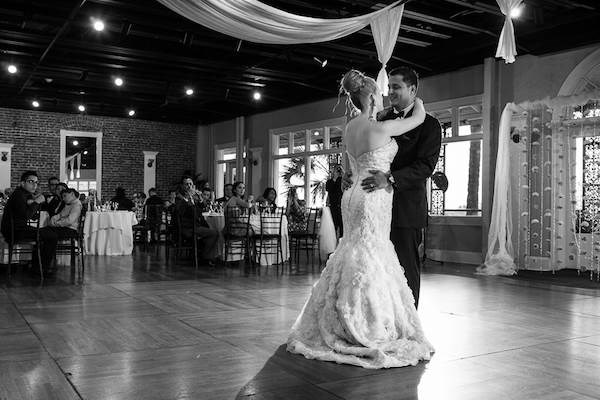 Looking back now, if you were planning your wedding again, is there anything you'd do differently?
The only thing I would have done differently is not drank quite as much champagne. Other than that I wouldn't change a single moment.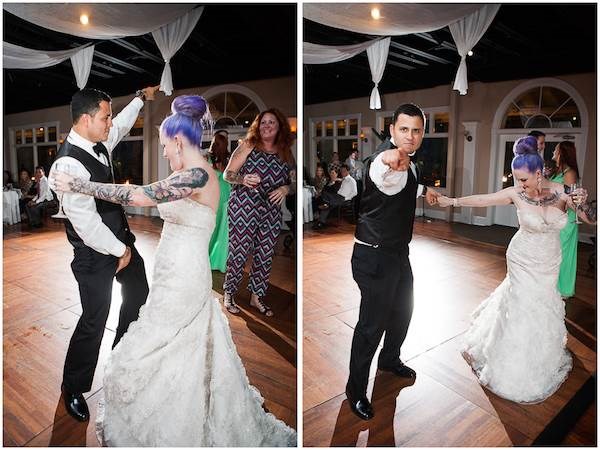 Thanks Catherine, it's been an absolute pleasure!
And thanks to Toni for use of the photos, see more at Toni Rodriguez Photography