Joelle & Jarred's Red & Black Gothic Steampunk Wedding
This page may contain affiliate links. If you buy something via these links, Misfit Wedding may earn a small commission at no extra cost to you. This helps keep our site free for you and our hand picked businesses. Read more here
Joelle and Jarred know how to get our attention: Steampunk, Gothic, a red and black theme..... all the good stuff! And just look at the dress...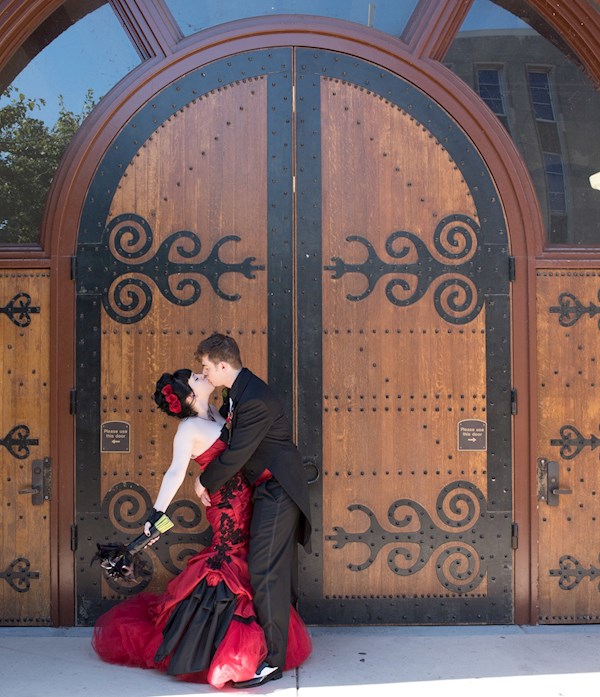 Can you please introduce yourselves?
Our names are Jarred Mecca and Joelle Thorne and we live in Madison, Wisconsin. We met at work and became friends first, bonding over our love and compassion for animals and nature. I was in the process of getting a divorce, and Jarred had just left a long term relationship as well. We didn't intend to be more than friends, but that friendship grew into a wonderful, weird, unconditional love. We were married on July 9th, 2016 in a beautiful gothic church called the Pres House. Our reception was next door at the historic University Club in downtown Madison.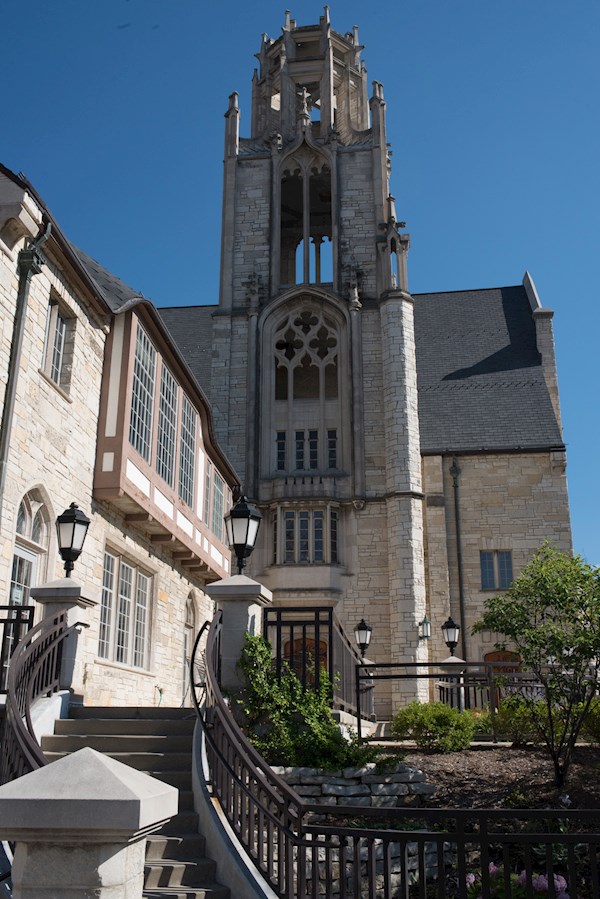 Can you tell us a bit about your interests? Especially those that may have snuck into your wedding day...
We both enjoy art and design. I like the dark and mysterious and Jarred is nerdy. I spent most of my time around decorations and accessories. Jarred is passionate about music and created our playlists and even picked out our lighting and sound equipment. We had a friend DJ for us and Jarred played a set at the reception. We selected a vegetarian/pescetarian menu which reflects our advocacy for the humane treatment of animals. I think our wedding was a reflection of both of us.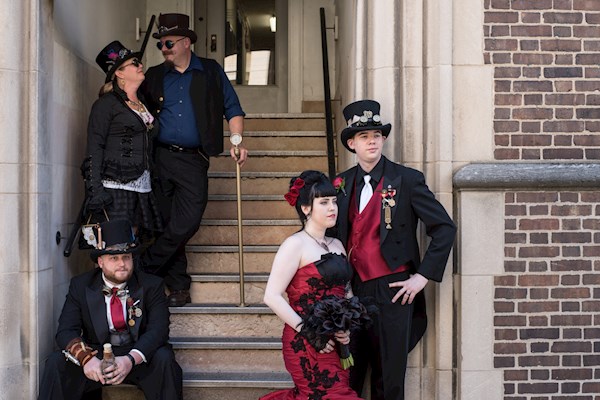 How/why did you decide on your wedding theme?
We immediately agreed on the theme and colors with very little discussion. I had always wanted a Gothic or Victorian wedding, with black flowers and a red dress. Jarred suggested a Steampunk wedding. We finalized our theme the day we got engaged.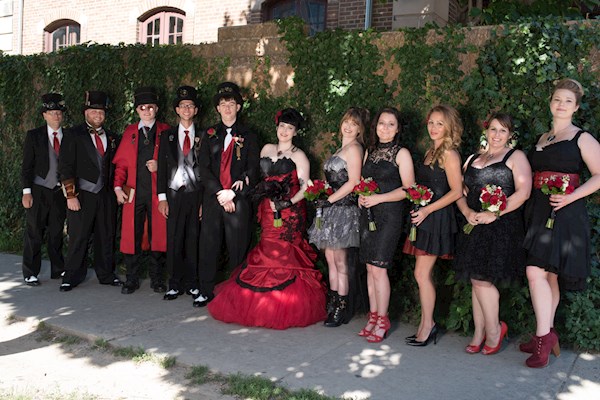 Black and red, Gothic and Steampunk are all rather unconventional, did you have traditional vows?
We knew from the beginning that nothing about our wedding would be conventional, which included the ceremony and vows. Our friend Adam performed the ceremony. He wrote a beautiful prelude, comparing love to the gears of a clock. I enjoy writing fiction and poetry in my free time. Our vows were in the form of a poem, which I wrote, and after each verse we answered with either "Nevermore" or "Forevermore".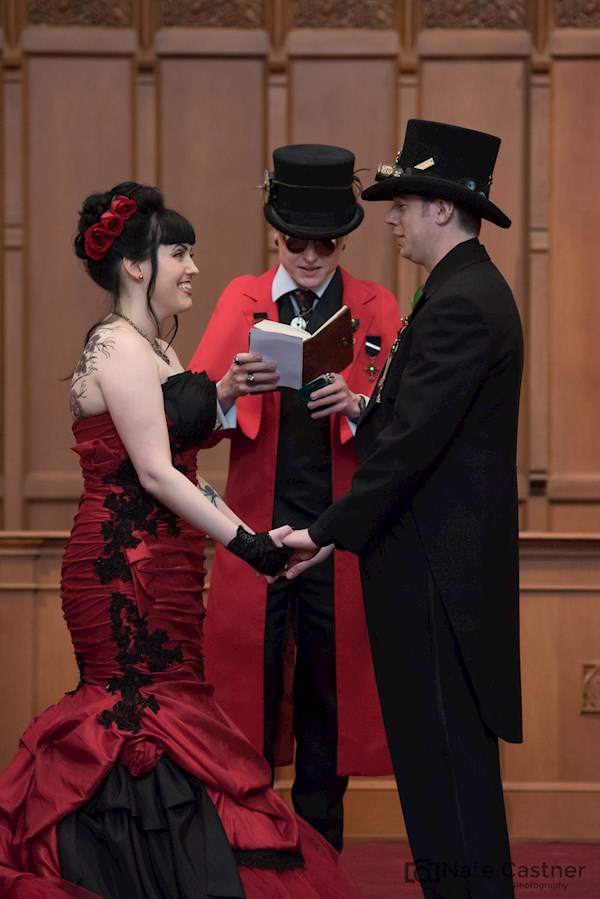 What can you tell us about the decor and props? Where did you get everything? Did you do much DIY?
Nearly everything was DIY. The centerpieces were all different and included painted gears, victorian candle holders, and butterflies and beetles that we made from painted hinges and handles. I made our wedding favors by using glass paint on clear light bulbs, creating miniature hot air balloons. We used antique keys of various sizes and types to attach to our table cards. Instead of a guestbook, we had our guests write messages on vintage style postcards, which we will read on our first anniversary.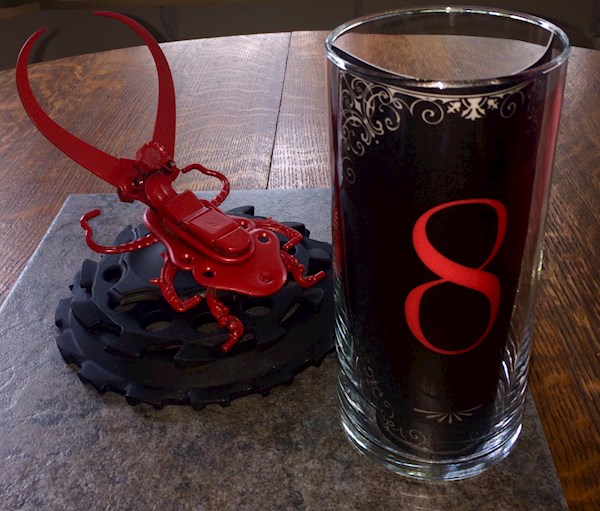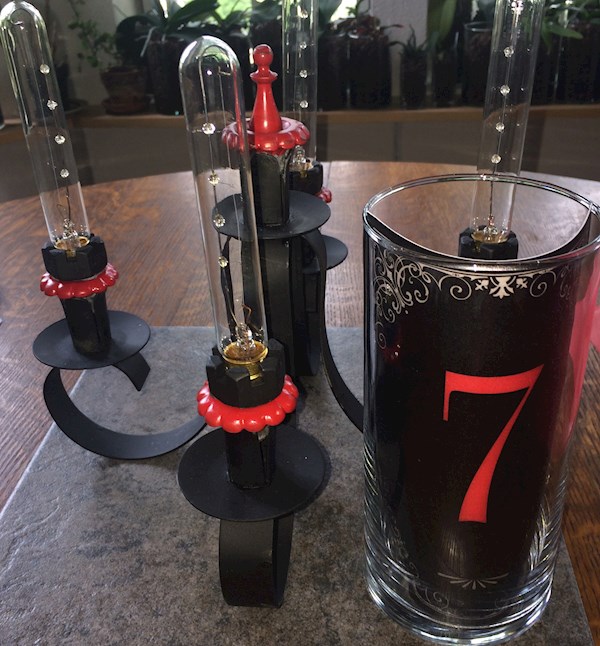 Can you talk us through your outfits?
I wanted each of my ladies to wear a dress that fit their personality. My sister wore a beautiful gray lace dress from Heavy Red with a black tulle bustle train. My bridesmaids wore different style dresses, mostly selected from Heavy Red and Hot Topic, as well as their own accessories.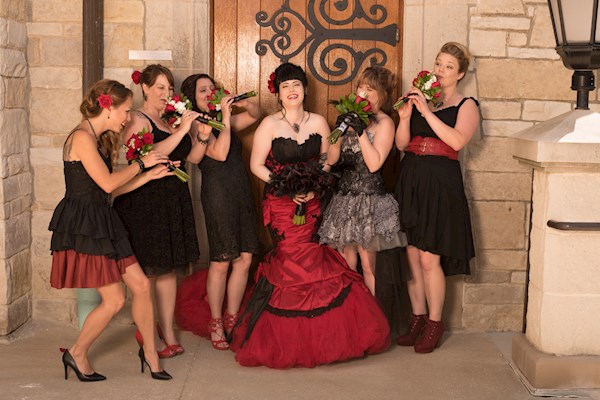 We rented the tuxes and then accessorized to make them more individual.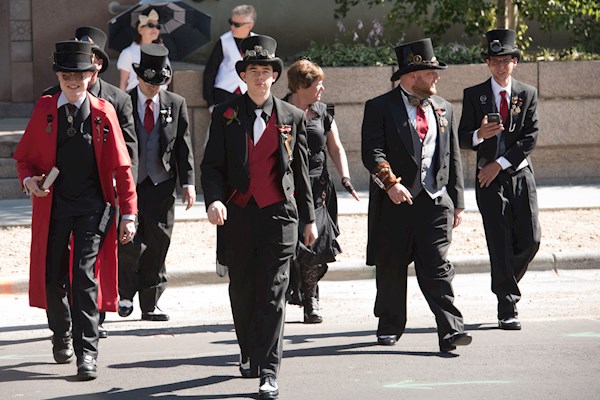 How did you choose your amazing wedding dress? Did it live up to expectations?
My dress is a designer inspiration and was custom made by Tova Marc.
I have always known I wanted a non traditional dress. I fell in love with a 'Red Queen' gown I saw online before Jarred and I even met, which was designed by Maria Karin for an Alice in Wonderland theme. After getting engaged I realized how difficult it would be to find a red dress, much less one that I loved. I was prepared to settle until I came across Wedding Dress Fantasy online. I emailed Tova Marc with a description and pictures and she created my vision!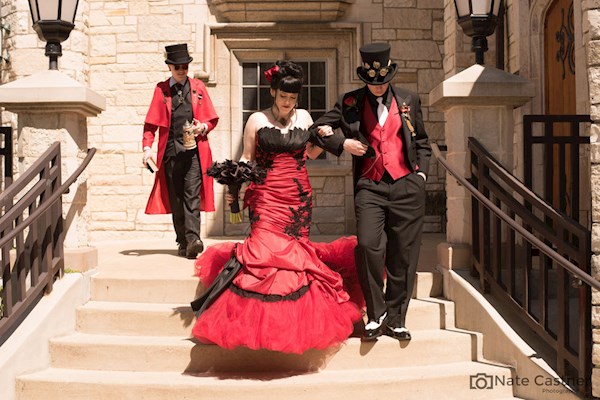 I was very nervous ordering a wedding dress online. Tova was so easy to work with, she sent me fabric samples and answered all of my questions. I was amazed at the quality. It far surpassed my expectations!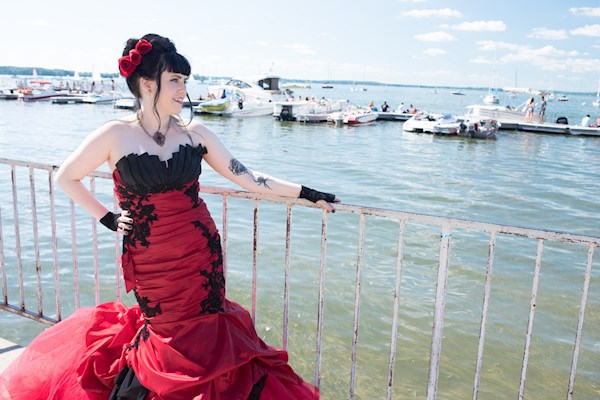 There are a lot of fascinating Steampunk accessories on display, where did you source those?
Most of our accessories were hand assembled from a combination of items we found at antique stores and online, such as feathers, piping, gauges, and goggles.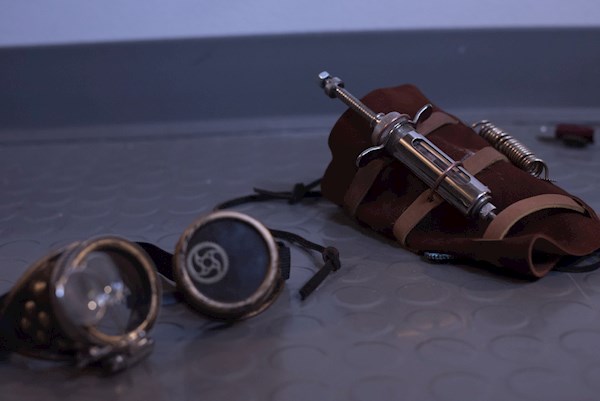 My bouquet was created by my mom, made of black calla lillies and humane ostrich feathers. My necklace was made from an antique pin found on Etsy and I made the bridesmaid's necklaces from antique skeleton keys purchased from a locksmith on Ebay.
The men wore two boutonnieres, one set made by my mother-in-law, with ribbons and medals found at antique stores. The second set of boutonnieres were made by our groomsman Mat, from medals he bought from the military. We ordered matching top hats and let the men personalize their hats.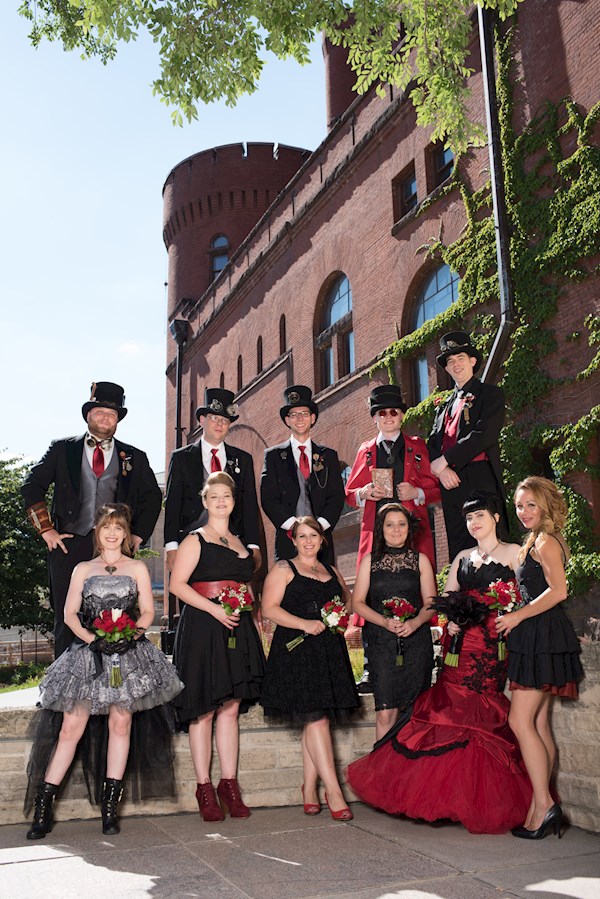 Was it difficult to plan your wedding? What was the most stressful part?
It wasn't easy, but it was incredibly rewarding! It's time and space consuming to create all of your own decorations, centerpieces, and wedding favors. There was a lot of trial and error and we are both perfectionists. Tasks that seem small can take days or weeks, such as stringing, wrapping, and boxing tiny hot air balloons.
Thankfully our immediate family and wedding party helped so much! The day before our wedding we were overwhelmed, standing amongst stacks of boxes and supplies. Everyone came together to help us load decorations and clean! There were moments when we felt like we wouldn't get it all done in time.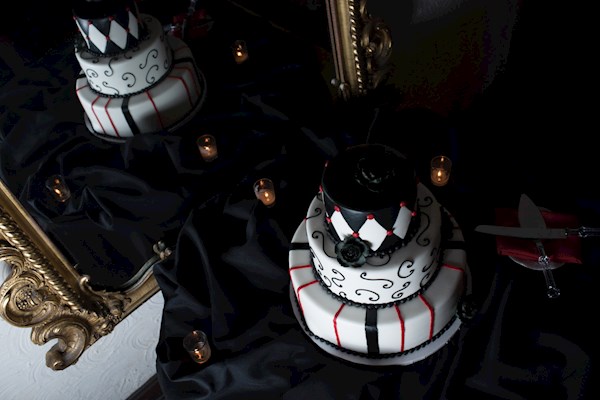 Did all of your guests embrace the theme?
No, but those who did went all out!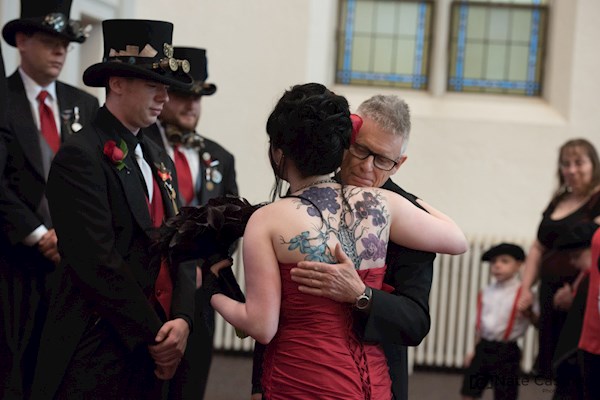 You have some fantastic photos, would you like to say anything about your photographers?
Nate and Anna (Castner Photography) were so much fun to work with and helped us feel relaxed for our photos. Your photographer can really set the tone for the day. They truly cared about learning our love story and capturing the essence of our wedding, working from dawn until dusk to capture moments we wouldn't have even seen without their photos. Nate and Anna have a beautiful love story themselves and their passion shines through in their work.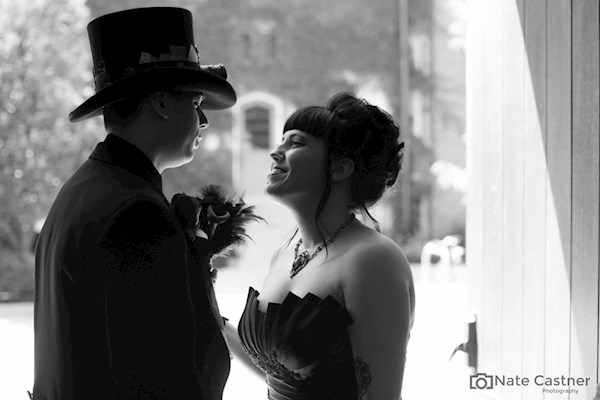 If you did it again, is there anything you would change?
No. Not everything went perfectly, but it was perfect to us.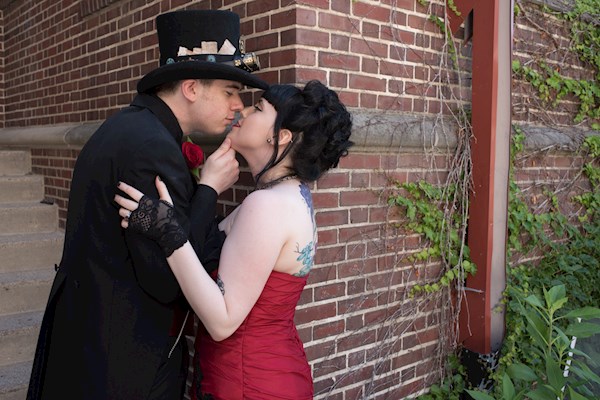 Do you have any advice for couples who are currently planning an alternative wedding?
DIY is more work, but you will save a lot of money and create a unique experience. Utilize antique, secondhand, and online shops through Etsy and Ebay for unusual finds.
Keep your venue simple but true to your theme, if you can. It adds so much stress to figure out extra details such as bringing in tablecloths, renting chairs, picking out lighting etc. Our venues already included all the basics and even placed our decorations for us!
Finally, not everyone will embrace your ideas. Don't be afraid to be yourselves and express your love for each other in your own weird and unique way!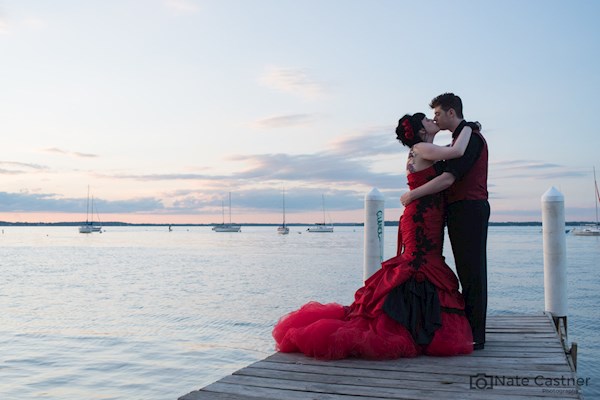 ---
Congratulations Joelle and Jarred, thanks for sharing your day!
Huge thanks to Nate & Anna at Castner Photography