Katie and Dan's Carnival Wedding
This page may contain affiliate links. If you buy something via these links, Misfit Wedding may earn a small commission at no extra cost to you. This helps keep our site free for you and our hand picked businesses. Read more here
Everybody loves a carnival atmosphere, especially Katie and Dan Capri, who got married at Falls River Square, Cuyahoga Falls, Ohio on September 5th this year.
This beautiful couple doesn't really need to tell you how much they enjoyed their day because it's pretty obvious from the photos. Seriously, they're two of the smiliest people we've ever seen! It must be love.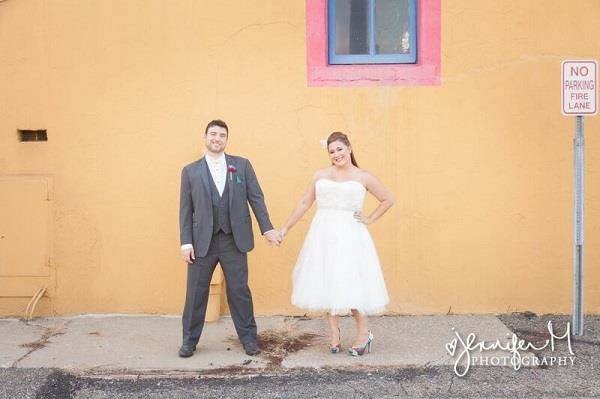 Here's Katie to tell us a how it all came about:
Dan and I met several years ago, and I knew then that he was one-of-a-kind. When we started dating we accepted the other for who they were, whimsical and spontaneous, exciting and fun. We wanted our wedding to reflect that.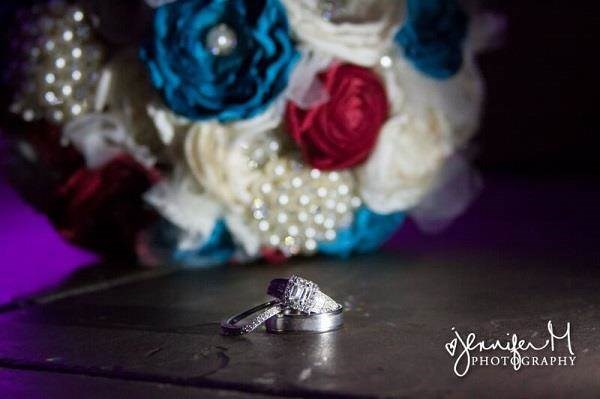 The traditional wedding just wasn't an option for us. In fact, we tried to plan a traditional wedding, "do navy and yellow", they said. "It's what's in this season", they said. They were wrong. Well, actually they were probably right, but it wasn't for us. "In season" is not my thing. We couldn't get into it. We had problems finding things that we absolutely loved. Everything was so blasé.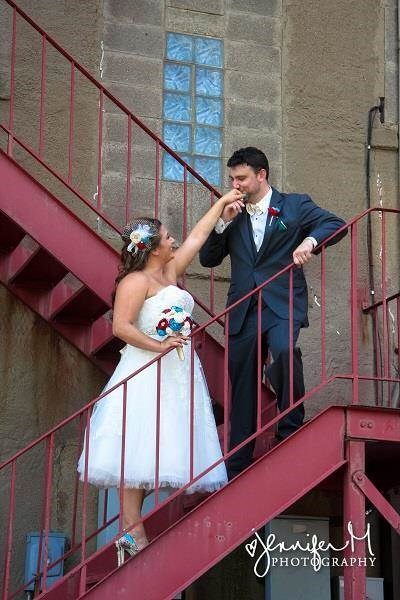 While looking for inspiration, I came across pictures from another carnival wedding and fell in love. Dan was out of town at the time, so I emailed him the pictures and asked for his thoughts. I was half joking, and half very serious, mostly testing the waters to see if my suggestion would be too outrageous for him. Much to my surprise, he was in to it. We immediately switched from our original plan, to a vintage carnival theme.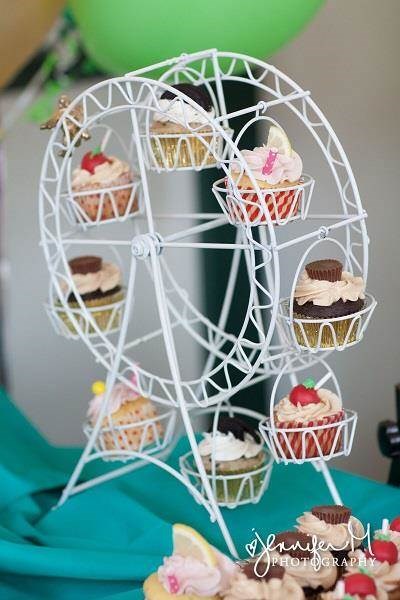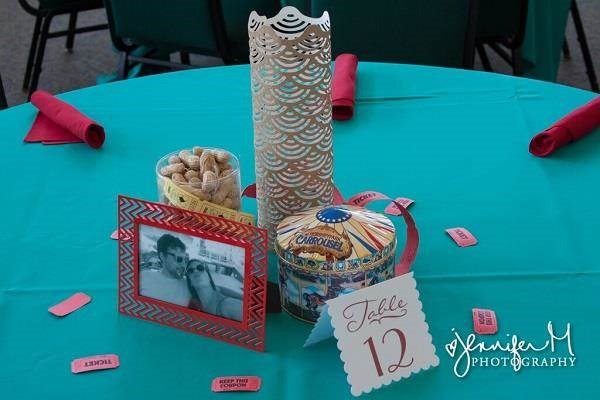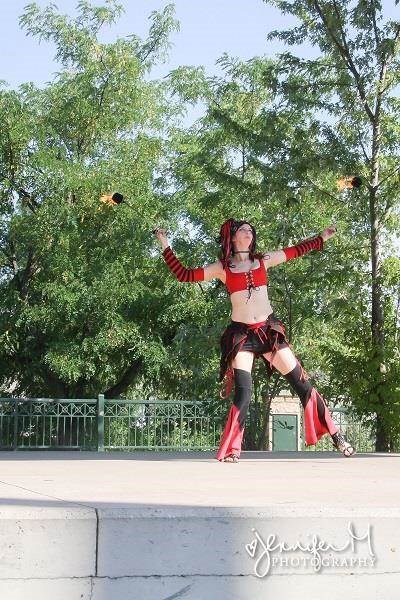 We picked out colors, set the date, and planning became easy, and less of a chore. I began searching pinterest, etsy, ebay and local buy/sell/trade groups, for vintage Barnum and Bailey decor. We slowly collected mismatched glass pieces for our centerpieces and vintage candy buffet, and decided on our little details.
I used Etsy for A LOT of our stuff, because I wanted it to be different. The pinwheels for the bridesmaids, and the boutineers for the groomsmen, the flower girl dresses, the sash for my dress, my bouquet and veil, and of course, my shoes, were all handmade by sellers on Etsy.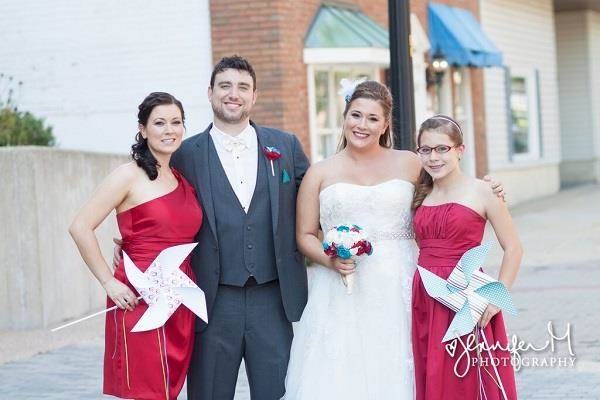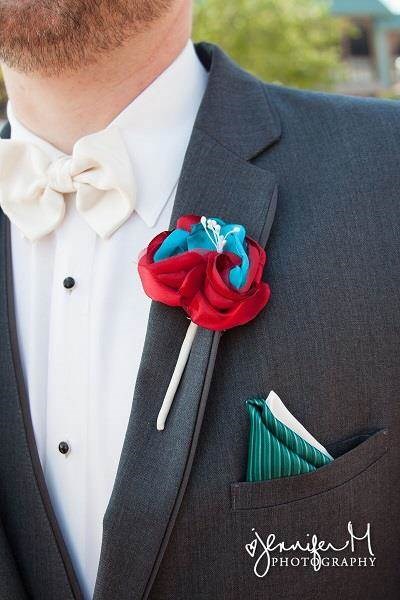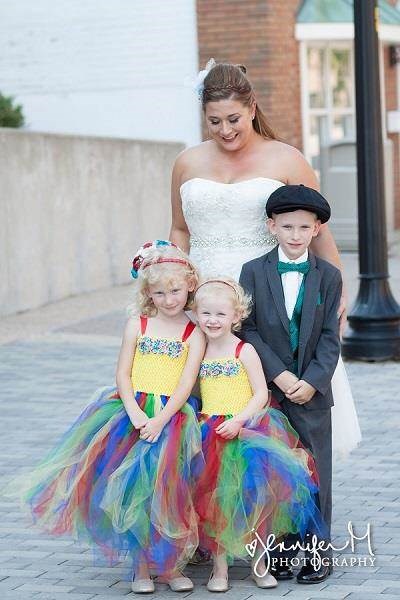 Flower girl dresses from Krystal's Adorable Accents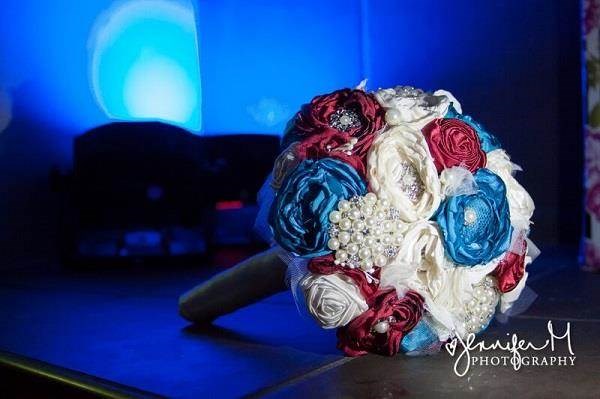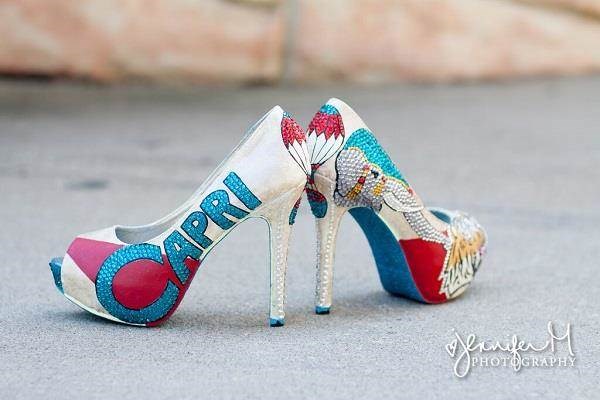 I handmade the table runner for our head table, and I spray painted some plastic zoo animals to place around the room and on the tables for our guests. It was work, it required a lot of trust, in ourselves, to be able to pull it together.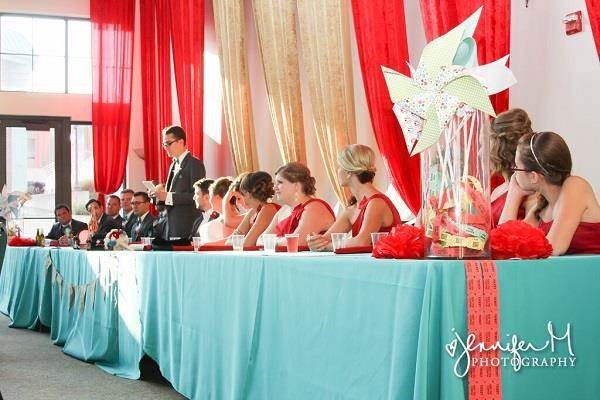 About half way to the wedding, I actually started getting nervous that I had just collected a bunch of miscellaneous stuff and nothing was going to go together. I pulled EVERYTHING out, started making hypothetical centerpieces and realized that it was all going to be okay. And it was.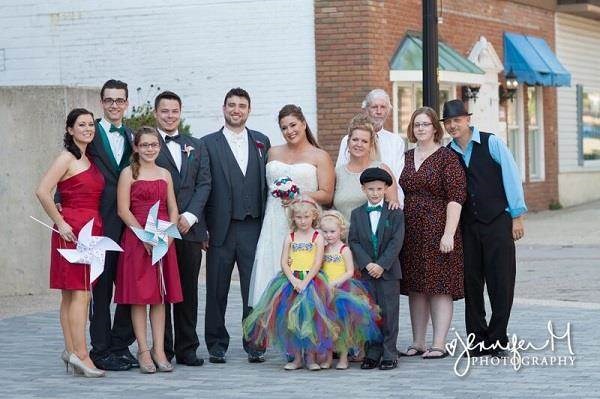 Our wedding day flew by, as most suggested it would. A good portion of it is a blur (Thank God for our photographer!), but a few things we do remember were the compliments. Our guests continuously told us how amazing everything was. An older gentleman, in his 70's, came up to us when he was leaving and said "Ive been to a lot of weddings in my time, and this was by far the best." Maybe he was just telling me that, as a guest, that's their job right? But he seemed sincere. As did everyone else.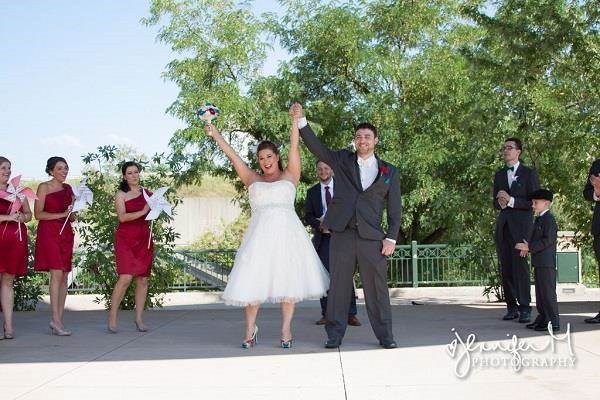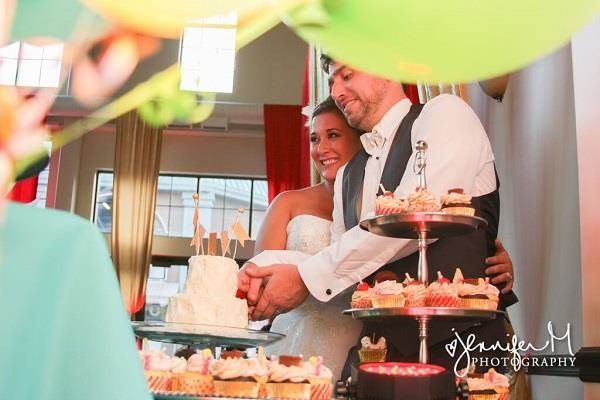 People loved the personal touches, the bright and bold color choices, the delicious food (catered by a local barbecue restaurant - Two Fat Guys Barbecue). When I first walked into our reception venue, I was taken aback. It was better than I could have imagined. It was so fun and different. Everything was a success. Our wedding planner, Damara from reInspired Bride, was just a "Day of" planner, but she was such an amazing help, setting up our decorations the day of the wedding!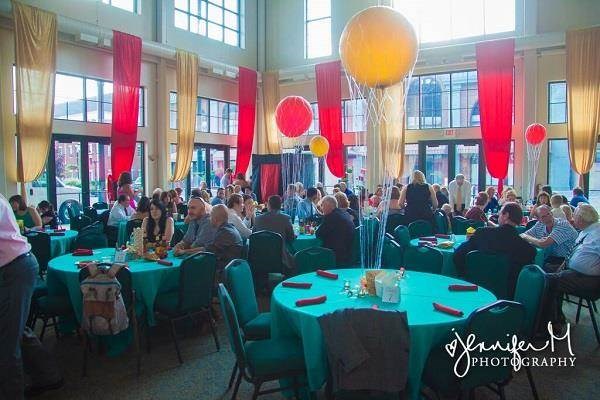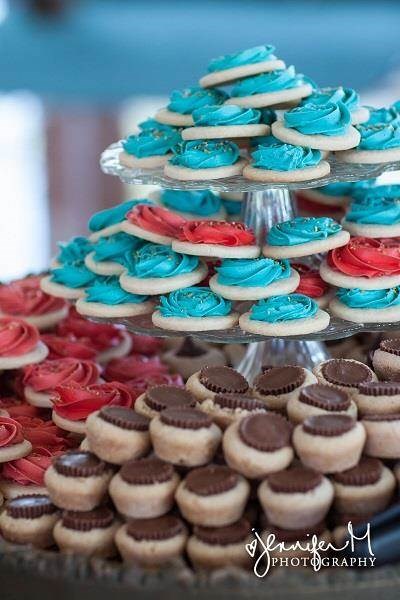 And at the end of the day, we were married to each other, which was really all that mattered.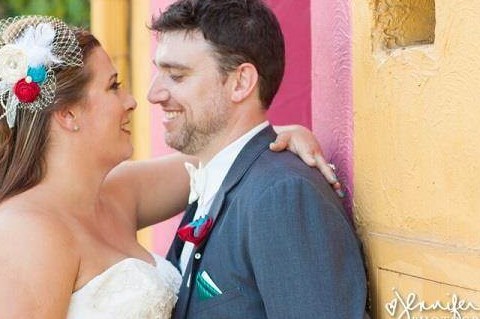 For anyone considering a themed wedding, if you've got patience and a little ambition, it's possible. We wanted the details to be about us, and we wanted our personalities to show through.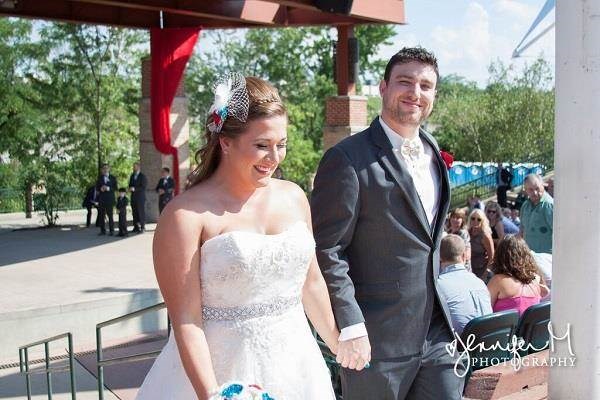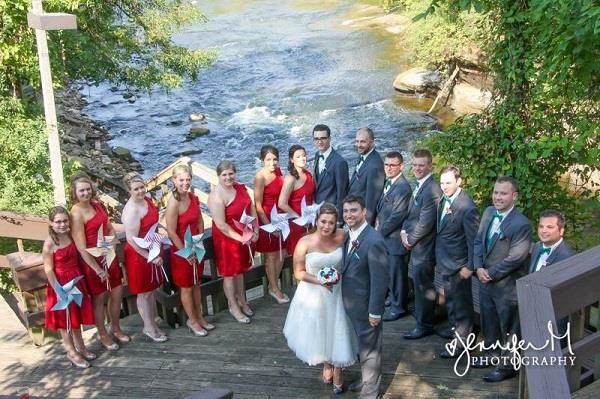 There was some push back, and confusion, from some people. Folks that didn't understand the need for a wedding "theme", but ultimately, it was our day, and it needed to be exactly how we wanted. Keeping that in mind was what kept me inspired throughout the process. Do what you want. Don't let anyone else's opinions get you down.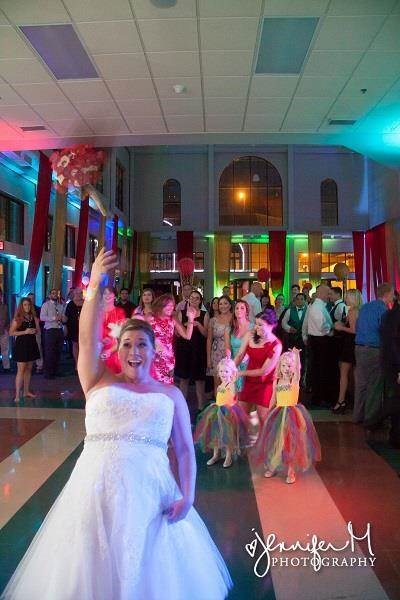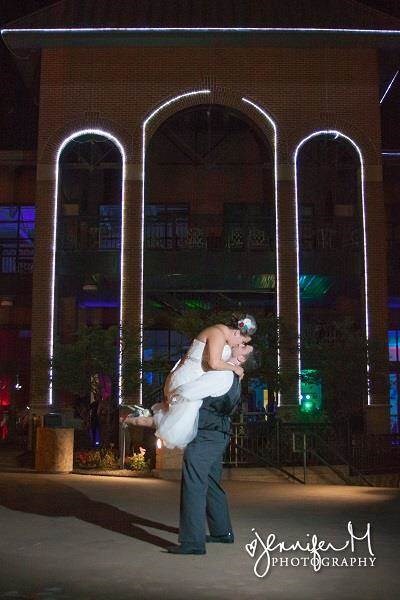 All photos by Jennifer M Photography
Wedding dress from David's Bridal
Congratulations Katie and Dan, your wedding looked like a lot of fun and it's wonderful to see such a happy couple :)