So you're getting married soon and you're stuck for ideas for the stag or hen do, getting your arses to a festival is our recommendation!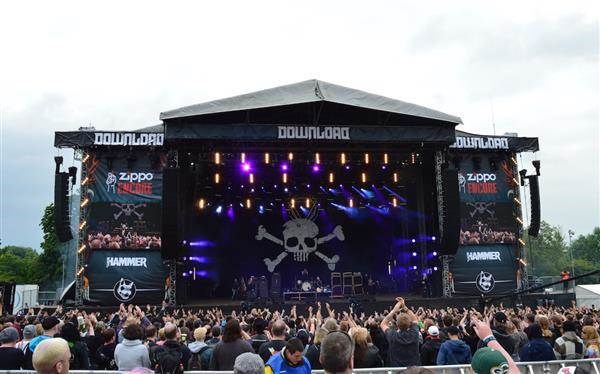 Backyard Babies on the 2nd stage.
A couple of weeks ago we went along to Download Festival to test the water for you (literally, it pissed down half the weekend). If you're planning an alternative wedding then the chances are you're also into alternative music and Download is the biggest and best festival in the UK for metalheads, rockers and misfits!
Yes, it rained and yes, it got muddy, but that didn't dampen our spirits! When you're rubbing shoulders with thousands of friendly people who are all there for a good time and the beer is flowing, it's very difficult not to have an enjoyable weekend.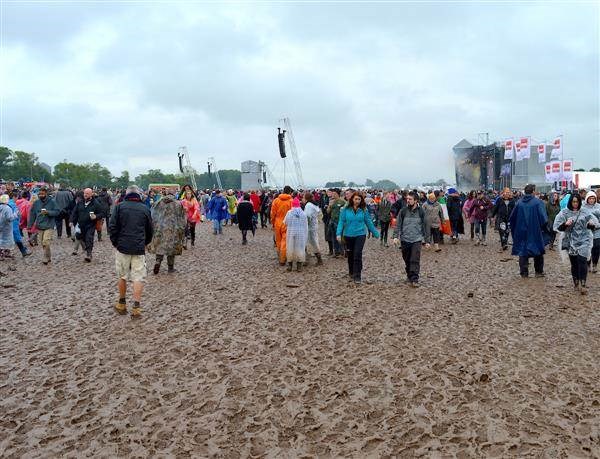 Whatever the weatherman says, bring wellies!
The main draw of course though is the amazing line-up of bands, this year saw Slipknot, Muse and KISS headline the main stage, with over 100 other bands playing on 4 stages over the weekend including Motley Crue, Slash, Fire Finger Death Punch, Marilyn Manson, Judas Priest, Lamb Of God, The Darkness, Andrew WK, Lacuna Coil, Enter Shikari, Billy Idol and Faith No More.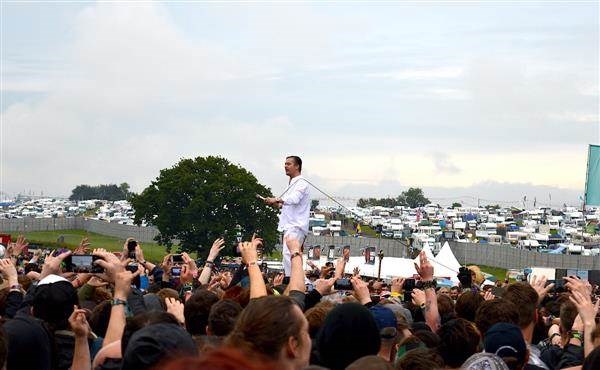 Faith No More's Mike Patton getting closer to his audience.
It's unlikely a whole stag party will consist of 100% rock/metal fans, but for those not into the scene being surrounded by your friends, having a drink and a laugh and soaking up the atmosphere pretty much guarantees a killer weekend. One member of a stag party with mixed musical tastes told us "The stag will always be remembered, Download will always be associated with our mates stag do. We were surprised by many bands, Slipknot mostly, we all sway that way a little but not hardcore. They have a few new fans now though!"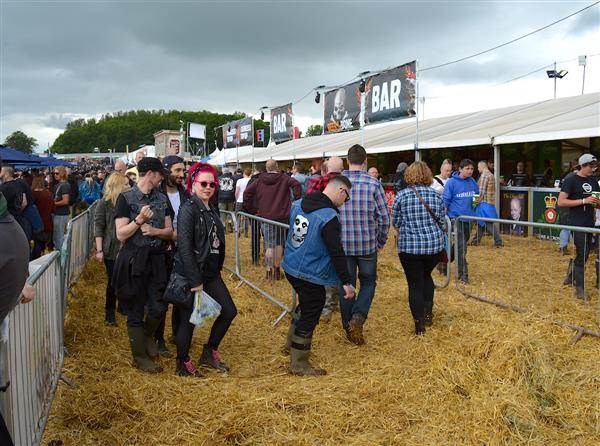 Get the beers in and let the good times roll!
A group of KISS fans told us it was all about "taking a break from real life and letting your hair down with your mates"....... whilst dressed as Minions! Somehow they seem to fit in perfectly in this festival atmosphere though, everyone's welcome at Download!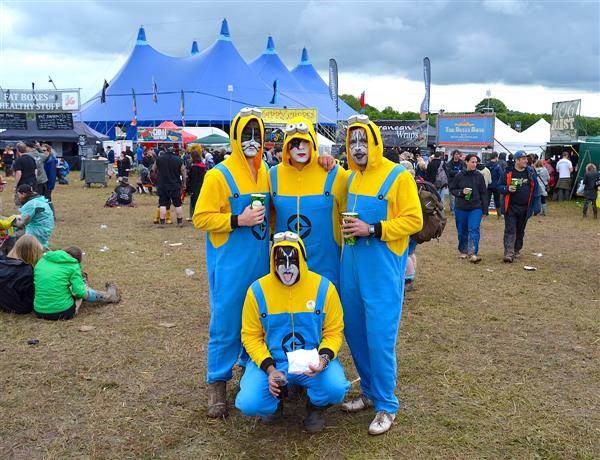 An excellent new cashless system was used for the first time at Download this year, it worked very well for us and others we spoke to, although some of the Tweets we saw suggest that others didn't have such a smooth ride. From what we saw it seemed to cut down queuing time and you could mostly breeze through to the bar, grab your drinks, flash your nifty dog tag wristband and away you go. So, all chip in and charge up the Stag or Hen's dog tag before you go and keep them in drinks all night without having to worry about taking lots of cash.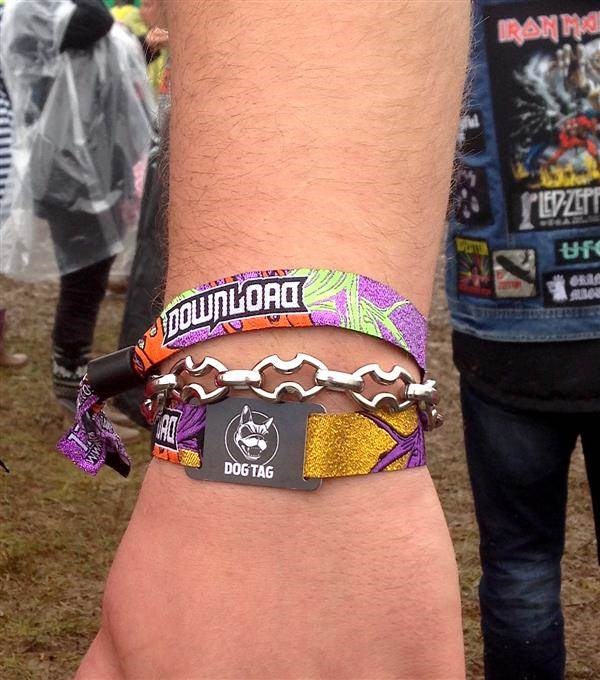 No need for cash, just zap the dog tag whenever you want to pay for anything.
Other things to keep you and your mates amused include various rides that'll send you high into the sky or whizzing round and round for as long as your stomach can take it. This year also saw the introduction of the inflatable Chapel Of Love, so you had the opportunity to get dressed up and have a practice run before your real wedding day arrives!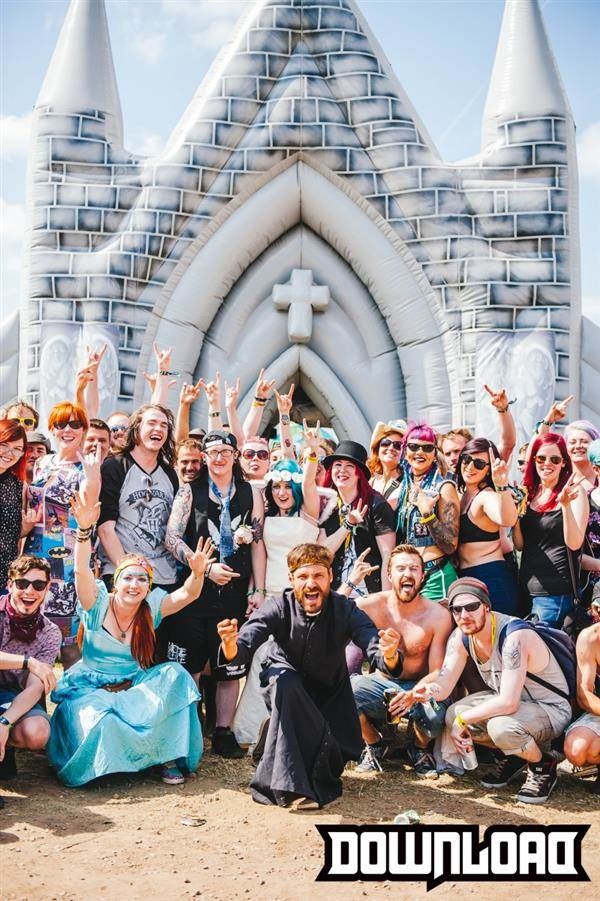 Photo copyright - Justine Trickett.
If that's all a bit lovey dovey for you on your final weekend of freedom then maybe you'd prefer to watch some wrestling...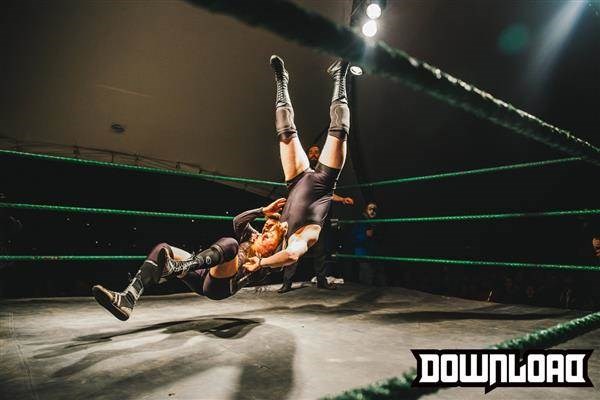 Photo copyright - Derek Bremner.
...or maybe get a tattoo? Yes, you can even get tattooed at Download!!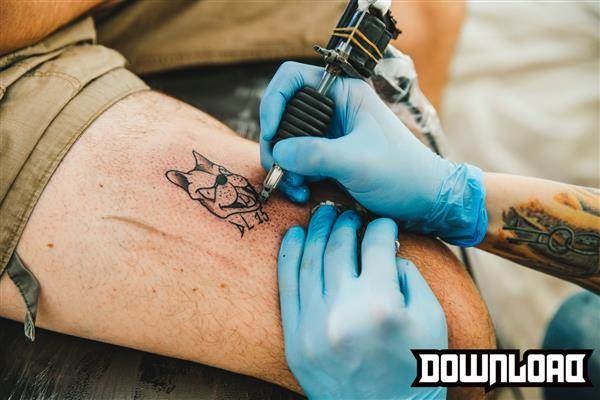 Photo copyright - Richard Johnson.
There's always plenty going on, so you've no chance of getting bored. And if you're not into the bands playing on the main stages or the heavens open and it starts hammering down with rain, then you can always head into one of the tents and see who's blasting out the tunes there!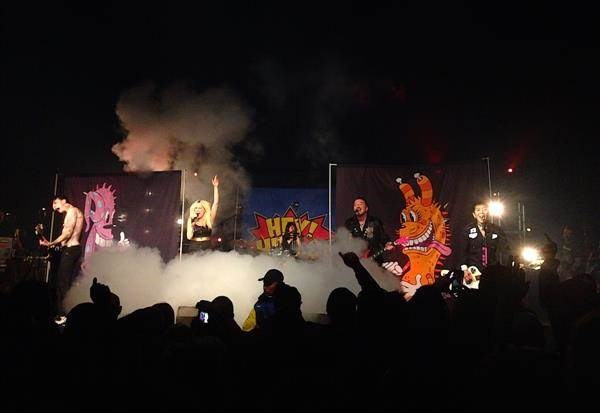 Hey! Hello! put on a fantastic show in one of the tents.
So if you want an unforgettable stag/hen do where you get to go on a camping trip with all your friends, see a load of awesome bands and other acts, indulge in lots of food and drink, pick up some new gear from the clothing stalls, get dressed up, get tattooed and top it all off with fireworks... get yourselves to a festival and forget about reality for a weekend!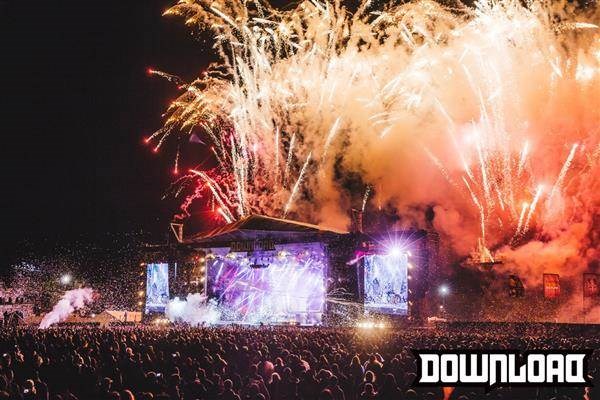 Photo copyright - Danny North.
Make sure to get your download tickets early!