This wedding featured a bit of a mash up of styles which came together to create a fun and unique day for the beautiful couple. We asked the bride to tell us about their wedding and she really went to town, there is so much info and inspiration in the following feature, including DIY and budgeting tips. Oh and check out the bridal shoes, they're perfect for misfits like us!!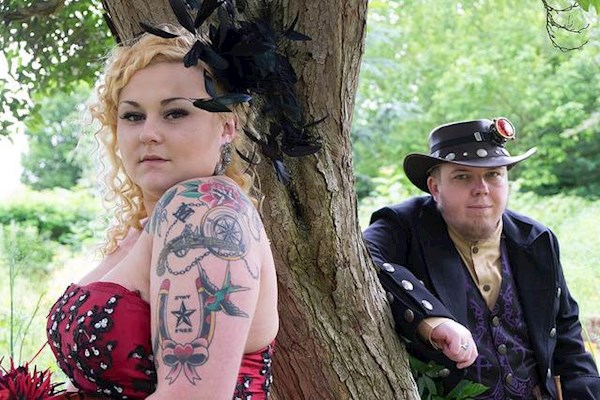 Who are we talking to?
My name is Abby and I'm originally from a tiny village called Stebbing in Essex. My husband, Mark is from Southend on Sea. We met online 6 years ago through a mutual love of heavy metal and gigging. We both work at South Essex College, he is in finance and I'm in admissions. We got married on 18th June 2016, the day before our 6 year anniversary at Rayleigh Windmill in Essex.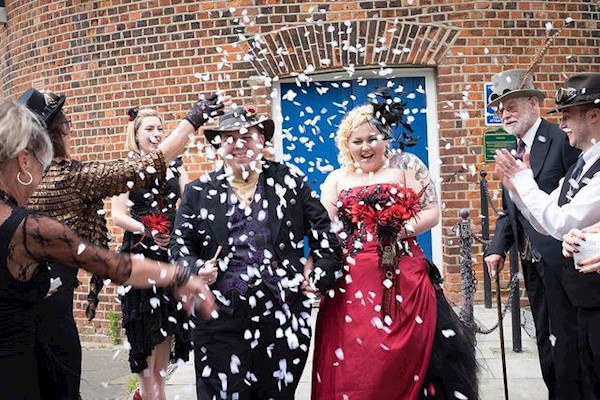 How did you decide upon your wedding venue?
Mark chose the venue. We had been at work and on our lunch break one Thursday he said "Oh, I hope you don't mind but we're going to get married next year in a Windmill." We had been engaged for three years at that point and I had almost forgotten about actually getting married! I asked him why he chose the windmill and he said "because it's weird, just like us."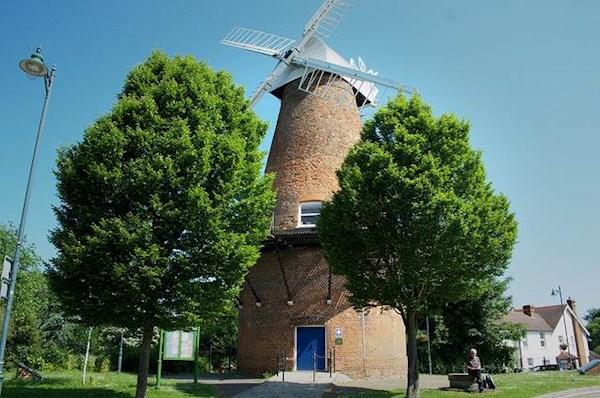 The staff and the windmill were amazing! The staff were incredibly helpful and understanding considering neither Mark or I had ever been to a wedding ceremony before so we had literally no idea what we were doing.The windmill itself is used as a museum but also is a registered wedding venue. It held us and 20 guests which we were both happy with.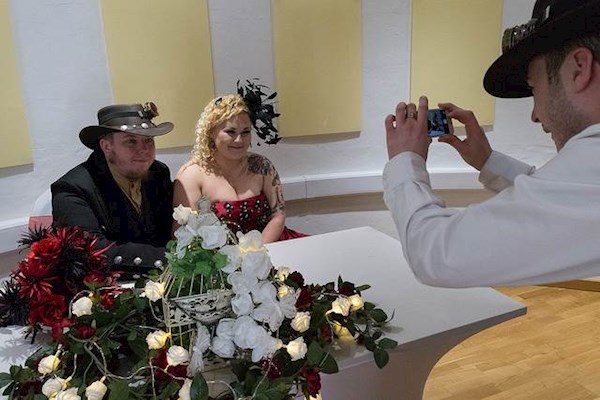 When my Dad gave me away it was rather snug so instead of him giving me a hug I got a pat on the head. We found out after the wedding that Mark's Grandad used to work at Rayleigh Mill and his other Grandad used to go to the Mill to admire the views - we both thought it quite odd that Mark was drawn to the Windmill without any previous knowledge of the building or its history.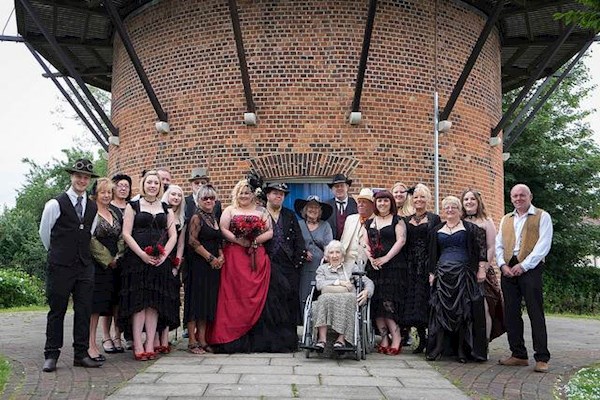 Did your wedding have a theme? What inspired your choices?
To begin with there was a bit of disagreement about what the theme should be or if there was going to be one at all. I had always been a fan of the traditional Gothic weddings with all black everything but Mark was leaning more towards a Wild West style. Together we found a compromise which appeased my Victoriana and mild-goth and Mark's Wild West. We referred to it on our invites as "The Union of Souls Steampunk Showdown".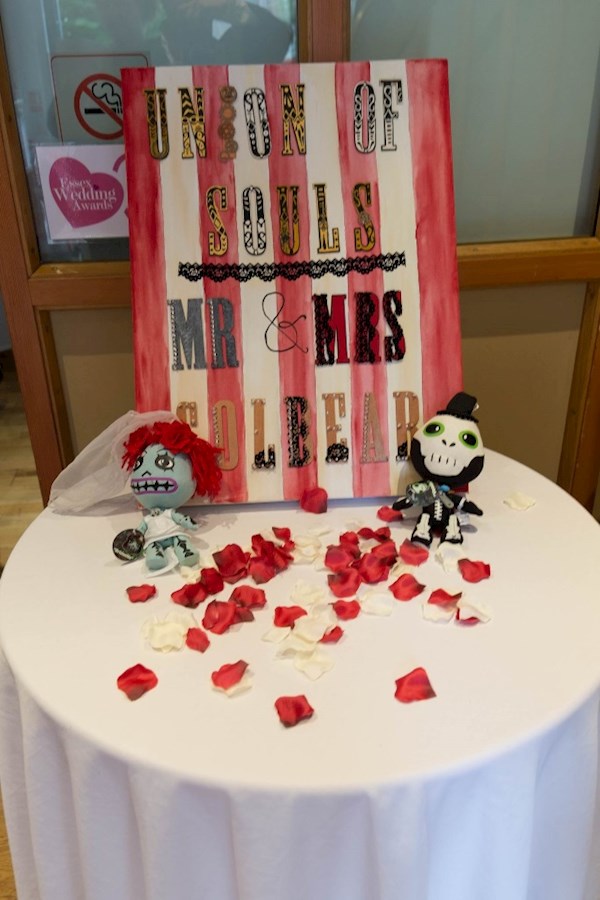 Can you tell us a bit about your outfits and where the clothing & accessories came from?
Both of our outfits were secret from each other, neither of us knew what the other one was going to be wearing until the day.
My dress came from eBay and I am proud that it only cost me £100, although I did have to spend another £50 having it altered after I lost 2 stone. I decided against a veil as my dress was red and black I thought a red or black veil would look a bit too hallowe'enish, so I bought a headpiece from Debenhams.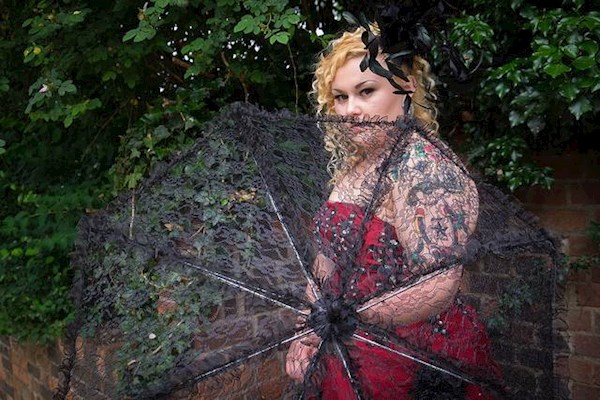 My parasol was something I had bought for a photoshoot I had done with our photographer 2 years before, again from eBay. In all honesty, the majority of accessories came from eBay or charity shops.
I did my nails myself. My friend from school who I have known for 20 years sent me a steampunk nail stamp from MoYou London. My earrings and shoes had been Christmas gifts from Mark, the earrings are Butler & Wilson, shoes are Iron Fist Misfits heels.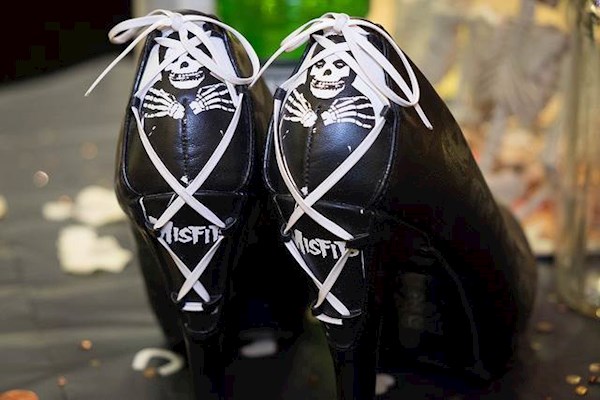 Mark bought his outfit from Pirate Dressing and Raven.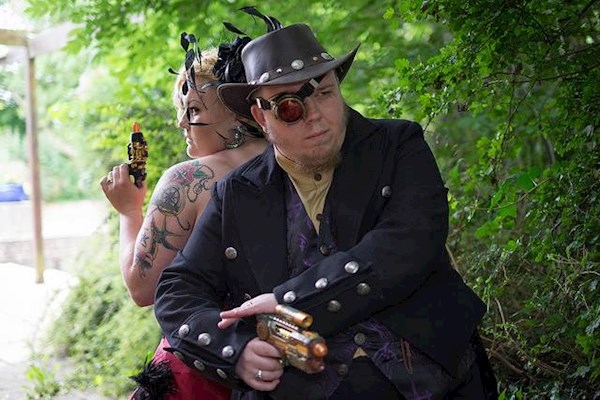 Our wedding rings are matching gold replicas of the one ring from Lord of The Rings.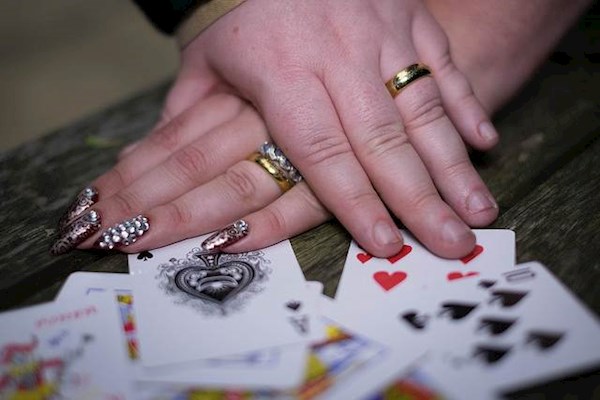 What inspired the decision to wear a red dress?
Quite simply red is my favourite colour. I had never liked the idea of a white wedding dress as I find they tend to look the same. I had seen the black wedding dresses which were pretty but they were so black you couldn't see any details. I spent hours trawling local wedding dress shops, charity shops and the internet and nothing really took my fancy apart from the red one. I loved the skirt of it more than anything with how it had the raw and wild edges of the black petticoats exposed but all half concealed in the smooth burgundy.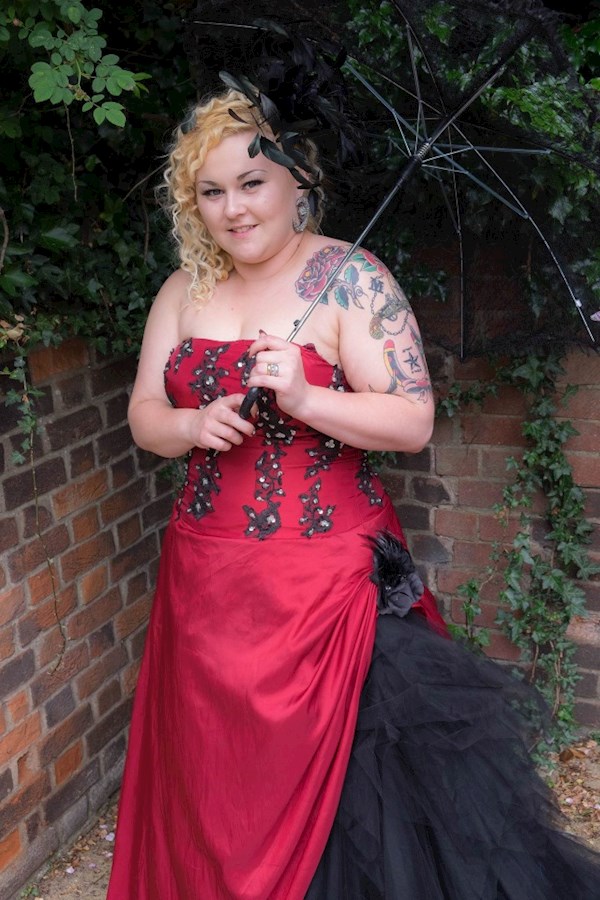 The bridesmaids look fantastic, were they happy with wearing black?
My bridesmaids consisted of my younger sister, Mark's younger sister and my cousin. They were all very open minded. I asked them to look into any dresses that they might like to see if they could all agree on one. Eventually, we all seemed to locate the same Spiral Clothing dress. All the girls are quite different in style so it was great to find something that they all liked. It fitted in well and their skirts matched my dress just enough. They all seemed rather grateful that I hadn't put them in anything too traditional.
The little hats they had were bought in Poundland and their shoes were Irregular Choice, which they all struggled with!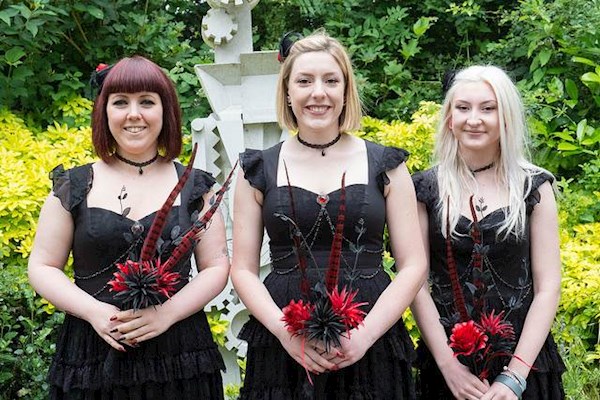 Who made the bouquets?
I made all the flowers myself with plastic flowers bought at The Range. I know nothing of flowers and get quite bad hayfever so the last thing I wanted was to be sneezing every 20 seconds resenting a bunch of flowers I paid an astronomical amount for.
I made the bridesmaids flowers first using an obscene amount of duct tape to hold all the stems together and wedged a few pretty black and red pheasant feathers in the top before spraying them with some Emporio Armarni Diamonds perfume.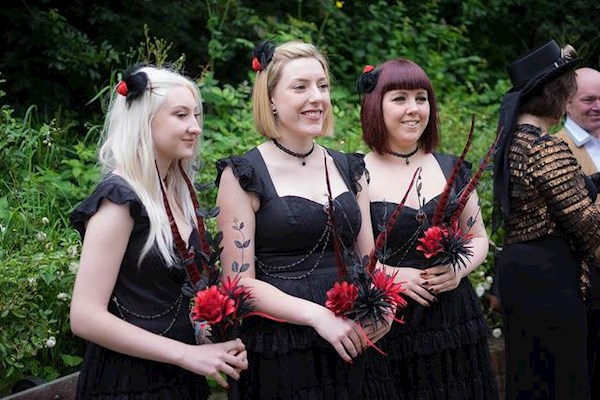 Mine were made in the same vein; a lot of tape, lace, old necklaces and glue. I wanted mine to look like just a bigger version than the bridesmaids flowers. In the bouquet I had my something old, something new, something borrowed and something blue.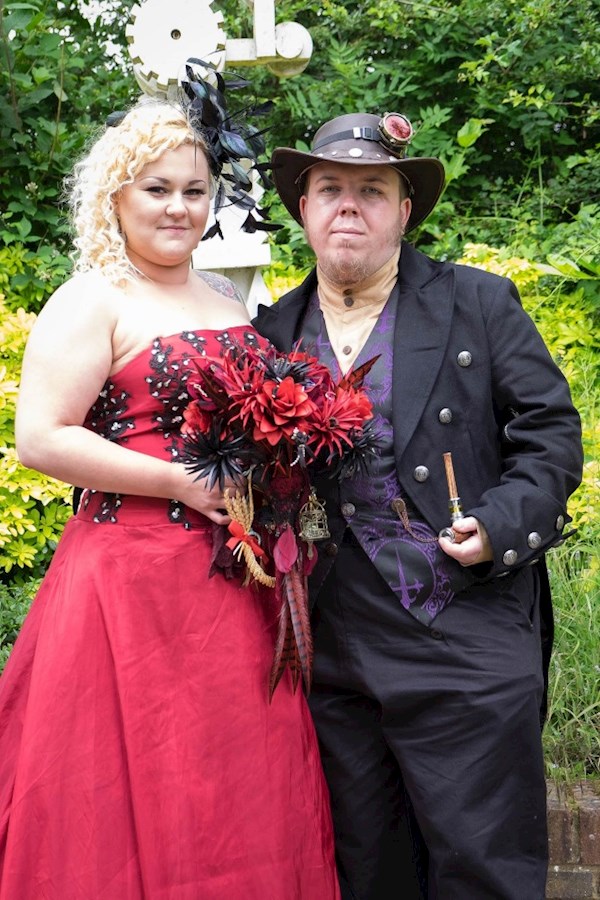 The something old was Mark's grandmother's gold fish necklace. The something new was the little birdcage on the front that had once been a bag charm. The something borrowed was the hand necklace with the gem in it from my Mum. The something blue was wedged deep in the foliage of the bouquet which was the lapel pin my great aunt wore to my Mum's wedding.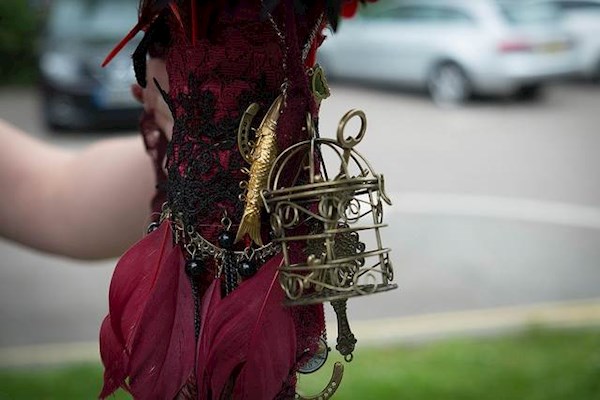 What about the decor and other touches?
Again, I made everything. I bulk ordered a lot of supplies, again from my favourite online auction site, and set up a workshop in our spare bedroom. I studied Art & Design at college so I was relatively confident in my abilities. With the canvas place names I set up a production line of beige paint, a hairdryer, calligraphy pens, hot glue and little charms.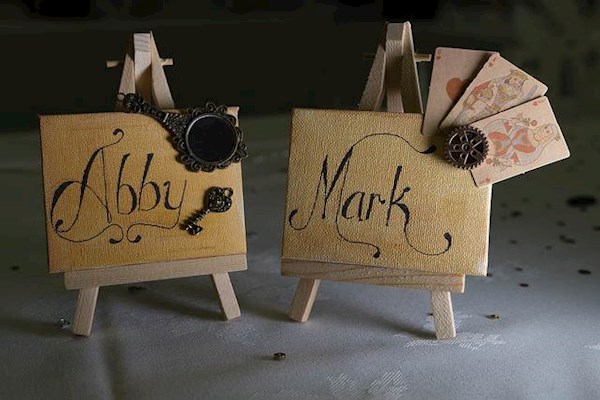 I spent a lot of nights sitting making the centre pieces. I wanted to make sure that they were all different and unique so that you would want to look at each one and see the little story I had tried to create. At one point, I found myself gluing individual eyelashes to a miniature skeleton at 1 o'clock in the morning.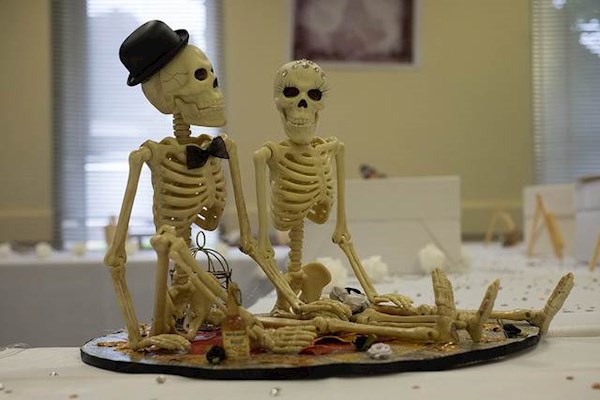 I tried to treat all the centre pieces like individual art installations. The crows together was inspired by The Crow movies and comic books. I ordered 2 faux crows, made a tiny top hat out of a toilet roll tube and an old pair of leggings; for the lady crow I made a flower garland out of little bits of ribbon wrapped around each other. The base was a cardboard cake base that I covered in red tissue paper and tried to get it to look a little like velvet. When put on the main table with a couple of empty wine bottles and jars re-labelled as formaldehyde coupled with some faux fox tails, it was the taxidermy table.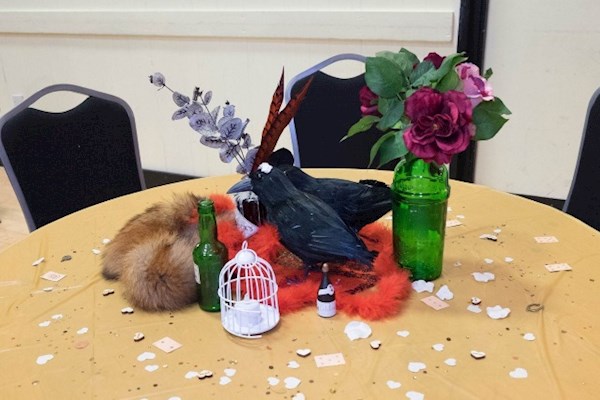 I bought a birdcage from Melody Maison that was used in the ceremony and filled with faux ivy and silk white roses surrounded with red rose vines which all came from The Range. The little chains of rose lights were acquired by Mark via Groupon.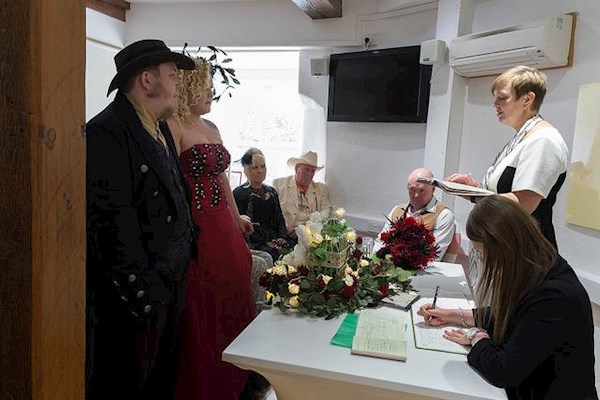 The other centre piece was a base of cardboard cake board, miniature playing cards and a skull that I had used, known as Yorick, has been from when I had been in a school production of Hamlet. The pocket watch in his eye socket was from my final piece at college and the butterfly on his goggles was from a birthday card I had been given. The bottle had a red candle melted in it and a battery powered candle in the top.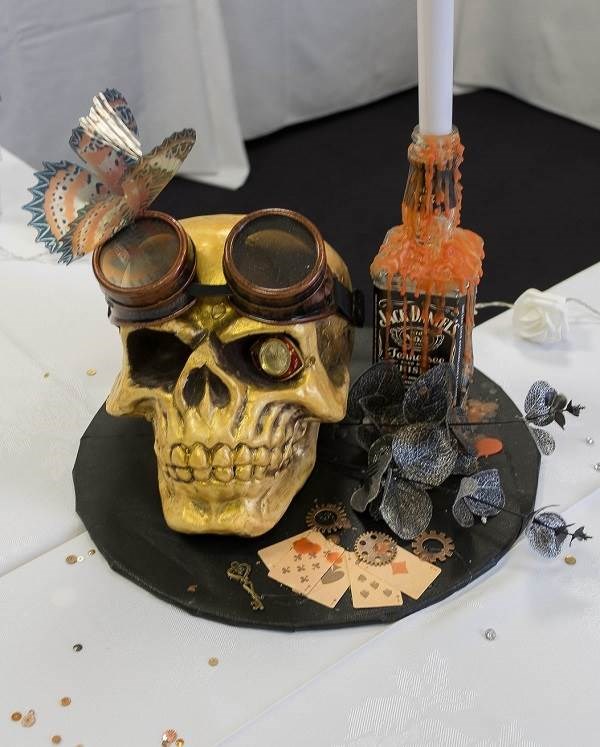 My favourite was the skeleton picnic centre piece. It consisted of another cardboard cake base covered in old newspaper and some plastic gold and red leaves. The two skeletons had come from Wilko's for Hallowe'en, the tiny top hat came from the top of a bottle of Broker's gin and his bow tie had been cut from a greetings card. The girl skeleton has got nail art crystals glued to look like a little tiara and false eyelashes. It was very difficult to arrange them as all the joints were articulated. There is a tiny plastic bottle next to them which was my late Grandad's keyring mimicking a small bottle of scotch. The bottle of champagne and wedding cake were little gifts bought by people which I then stuck on there as well on the day.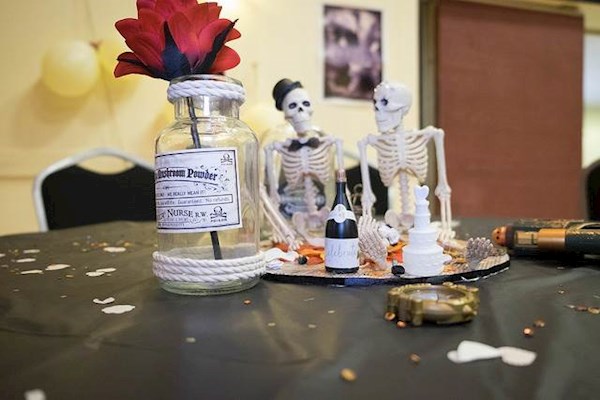 How did you get to the venue?
I arrived in my Dad's Landrover known only as "The Red Flame". He had promised me that I would arrive to my wedding from the back of The Red Flame since I was 5 years old.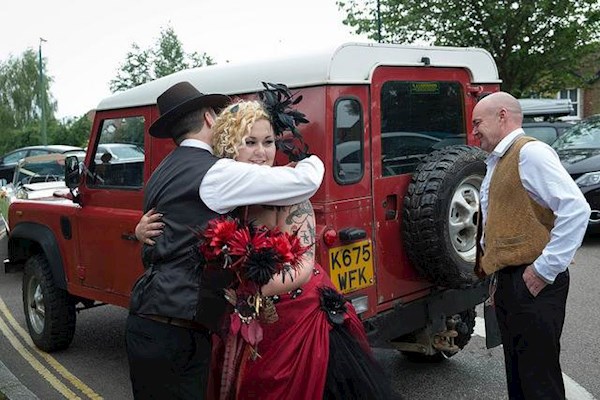 I sent my bridesmaids forward with one of 333444's glam cabs in Southend which was a big pink Chrysler 300. Mark's parents went all out for the White 1960 Cadillac DeVille Convertible hired from a family run company in Rayleigh called Cool Classic Cars.
Where did you get the cake and cake topper from?
Mark found the caketopper on Amazon. They weren't edible so they now adorn the top of our fridge.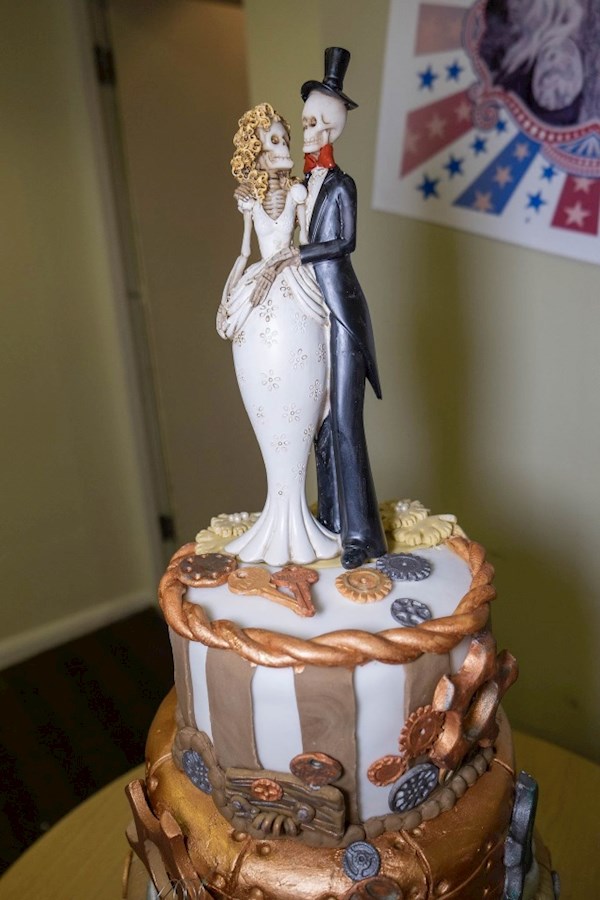 The cake itself was made by Mark's friend Sarah McNulty of Heavenly Cupcake.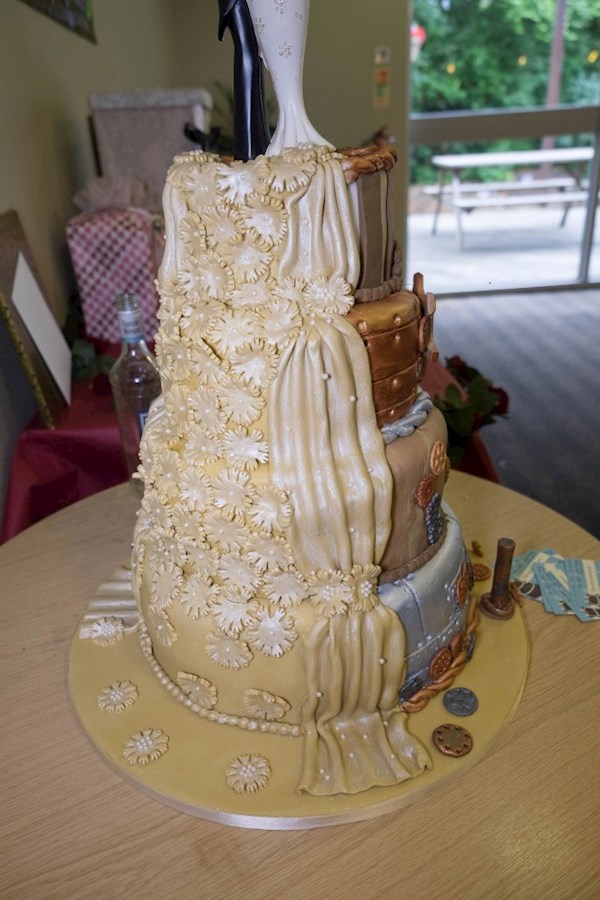 Did you make a conscious decision to have your tattoos on display? Did you choose your dress with that in mind?
I did. When the wedding was booked and we announced it I only had the roses on my collar bone and the horseshoe with swallows. I knew that I would look back at my pictures and be annoyed with the big gap so after much planning I went to my tattooist, Charlie Coppolo at Low Tide Tattoo, Southend who started my sleeve and we designed it all. Mark and I are now planning to have matching windmill tattoos.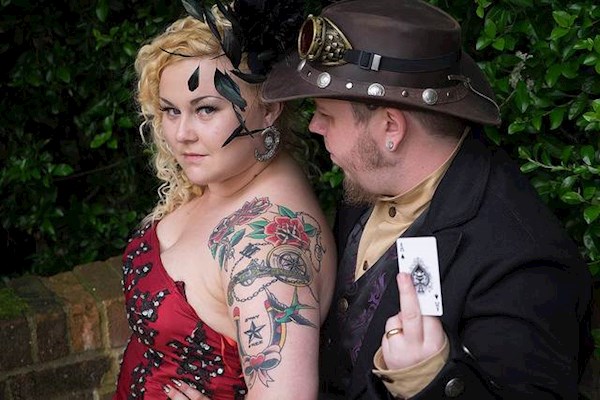 Were family and friends all into the less traditional aspects of your wedding? Eg the red dress, the skulls, tattoos etc.
I think everyone got it for the most part. There was definitely an abundance of top hats and goggles aplenty. Neither of my parents really knew what they should wear so I bought them both outfits for the occasion. I was most surprised by my grandparents. My Nan borrowed my big black sun hat and necklace and my sister's goggles teamed with an outfit she got from a charity shop. She was so unsure of what to wear whenever she went out shopping to try something on she would get my sister to take a picture of it and send it to me for my approval.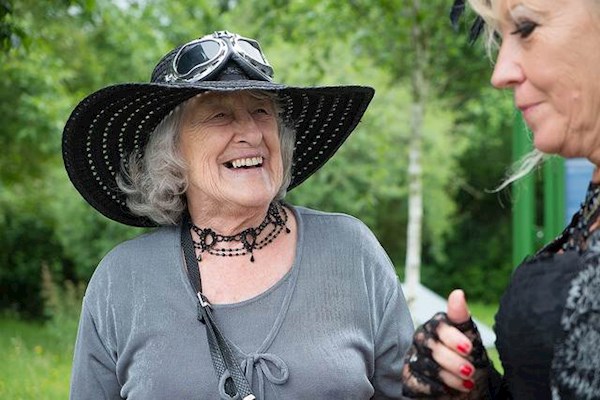 Mark's family and mine had not crossed paths too many times so when my Grandad arrived in his top hat with pheasant feathers, original 1910 welding goggles, paisley waistcoat with tail coat; Mark's family thought I had hired the mayor to announce us as husband and wife. But in reality it was just my Grandad who had been aching to wear his top hat again.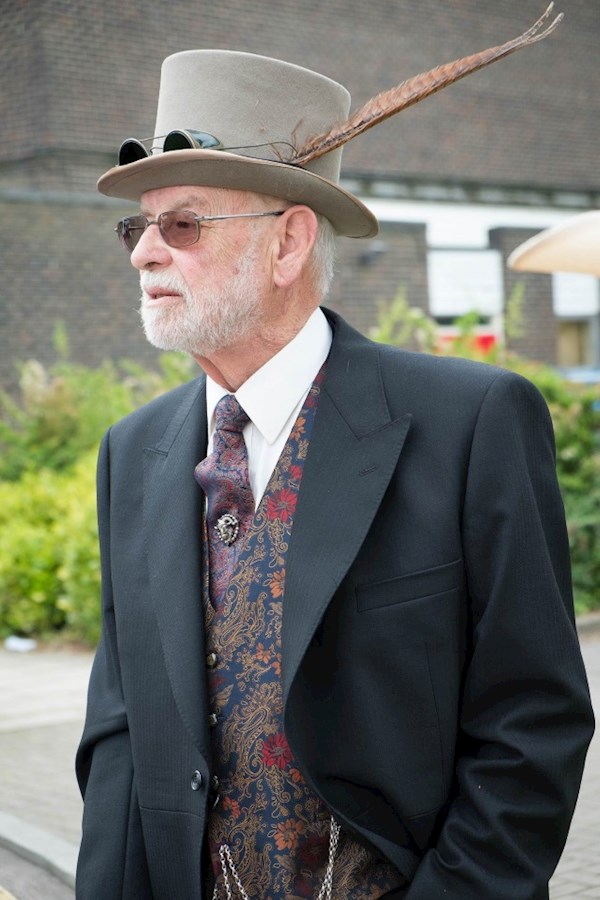 My mother-in-law, Hilary had been so organised and excited about getting her outfit together. Every time she ordered something I'd get invited round for a look.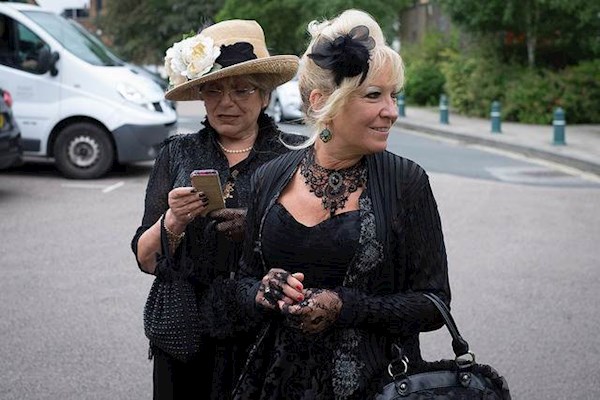 Gary, my father-in-law, had based his entire look around the white Stetson hat that he bought in a charity shop. Again, he kept his look secret from me. For the majority of the evening some referred to him only as Boss Hog. However he did have the best string tie I have ever seen, Snaggletooth the Motorhead mascot!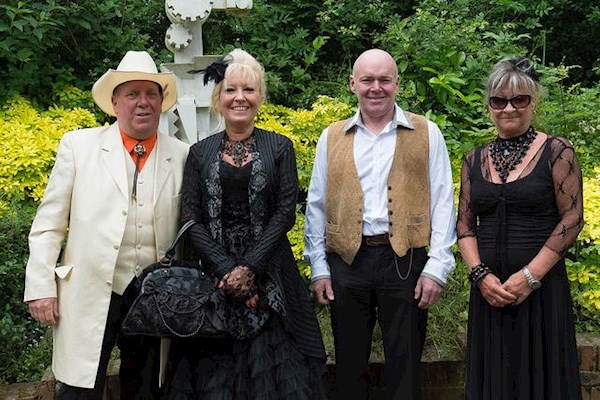 Would you like to say a few words about your wedding photographer?
We chose our photographer because he is a great friend of ours. We have known Steve Watts for a few years and he works in the college with us. I have always known he is a keen photographer and jumped at the chance a few years ago when he offered to do a photoshoot with me. From the moment we set the date of the wedding we knew there was only one photographer we wanted. He did have to pull double duty as photographer and groomsman.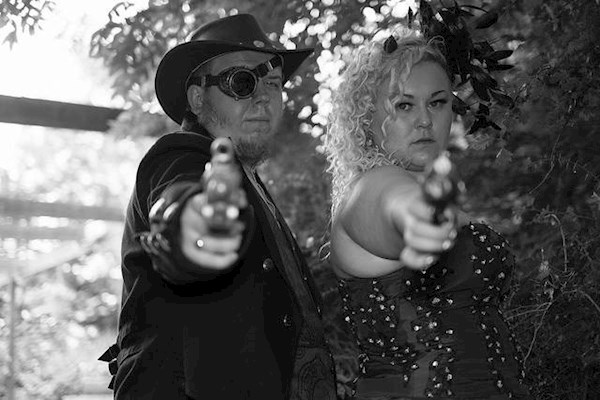 In the run up to the wedding I joined the gym and Steve joined with me to keep me motivated, between us we lost about 5 stone. On Friday's we would all meet up in the pub after work and talk about films and wedding planning. On a few occasions the three of us would go to Rayleigh Mill and Rayleigh Mount, which is just behind the Mill, and scope out some locations and angles that we wanted. Steve was so patient with the pair of us when we got the giggles or kept blinking; he was great at making you feel relaxed in front of the camera so you looked more organic.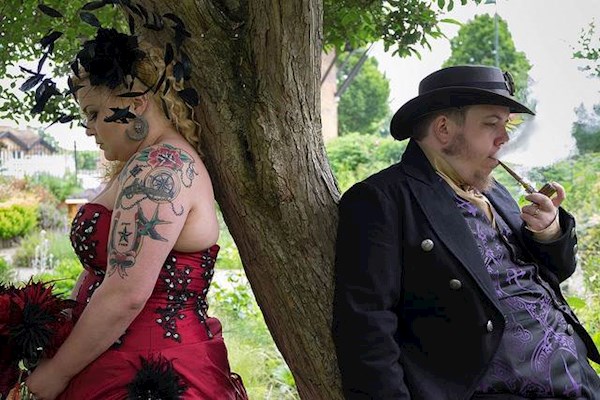 We said to Steve that we didn't want too many traditional style pictures with too much posing; we wanted pictures where people were laughing and unaware they were being photographed. He achieved this perfectly.
He was very quick at the turnaround of giving us access to the pictures too. He published one of the first pictures on Facebook a couple of hours after he had taken it! Steve was great in that he let us see every picture. When taking the photos he would pause and let us see the results to see if we wanted to try again or carry on. I honestly cannot thank him enough!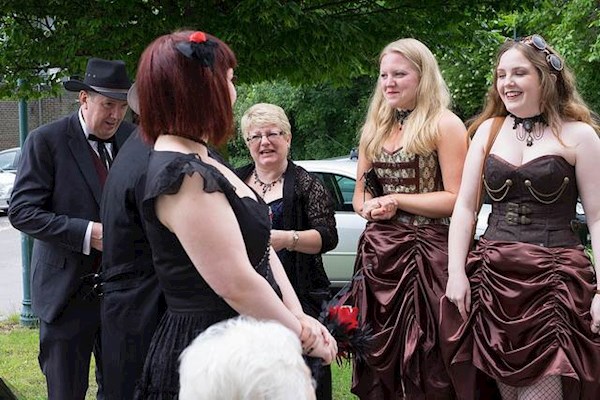 Did you find planning your wedding hard work?
Some elements of it were difficult. We had just under a year to plan it and a very tight budget. With such a niche theme it meant a lot of things had to be ordered online so there was a lot of time spent waiting for deliveries and then chasing them. I made all the decorations myself because a lot of steampunk and gothic items retail quite high online.
During our planning time, work was turbulent and I sadly lost my Grandmother but that did make us put everything in perspective; it was ok that vermillion lace and the crimson ribbons weren't quite the same shade of red. The important thing was that we could share our wedding with those who could be there.
Other difficulties I came across were the logistics. Since there was some geographical distance between the families it was hard trying to arrange everyone to be in the right place at the right time. As well when family members aren't particularly technology savvy it involved a lot of phone calls and repeating yourself instead of one big email you could send.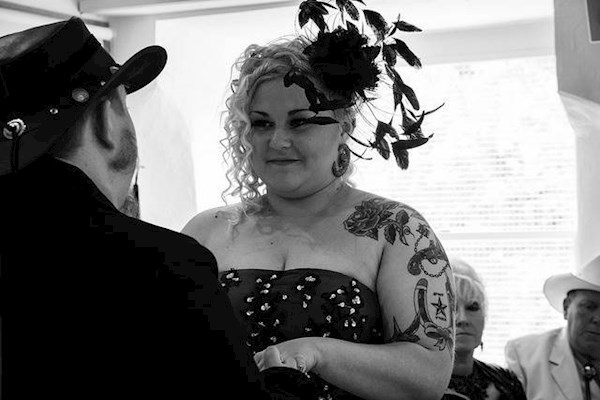 Do you have any advice for couples planning an unconventional wedding?
Do a lot of research! Read books, go off on weird tangents of ideas and explore them all even if you don't use them. There are a lot of Steampunk resources which have come to my attention after the wedding which I wish I had looked at before instead of going in guns blazing. Take advantage of knowledge your friends might have too.
Setting up a private Facebook group is good too, so guests can arrange transport together and post all the pictures after the wedding. I'd also say that you should bear your guests in mind when planning. When we wrote our invitations of Steampunk Showdown a lot of people thought they could dress up like Woody from Toy Story so we wrote a disclaimer on the invitation reminding people that it wasn't Comicon.
That and plan to marry someone you really love.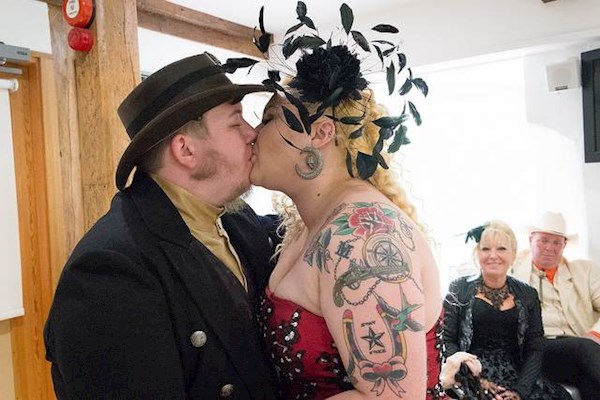 Thank you so much for sharing so many details about your planning and wedding day with us. Oh, and.... congratulations!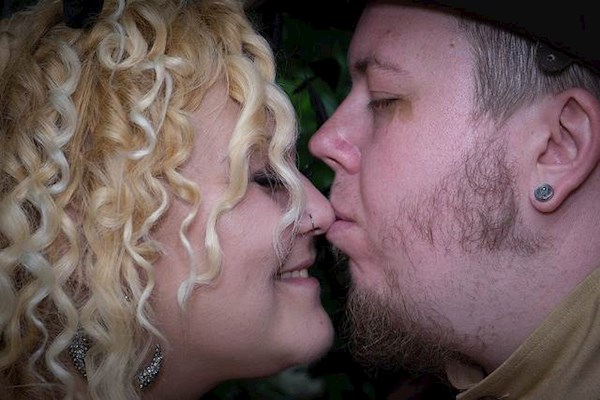 Thanks to Steve Watts for the photos, find more images from Abby and Mark's wedding on his Flickr page!