It's been a while but we're back with a bang and have something special to kickstart a run of alternative wedding bloggery that will leave your eyeballs grinning and squealing for more!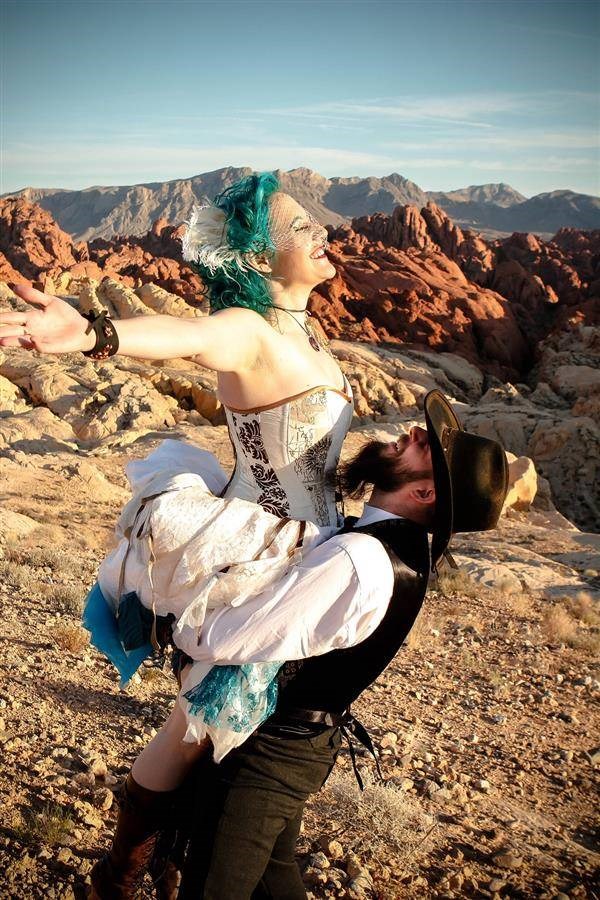 This amazing steampunk wedding dress design caught our eye some time ago, we're thrilled to have got our paws on some photos of one being worn by a beautiful blue-haired bride in the Nevada desert of all places!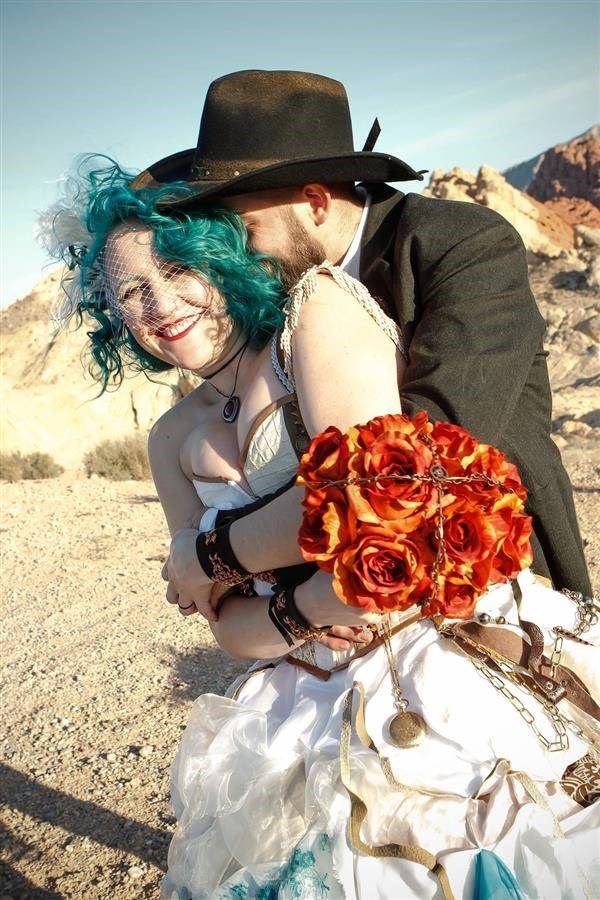 The dress was made by British couture designer Lyndsey Clark, who makes a range of awesome dresses, some of which you may have seen us sharing on our Facebook, Pinterest or Twitter pages.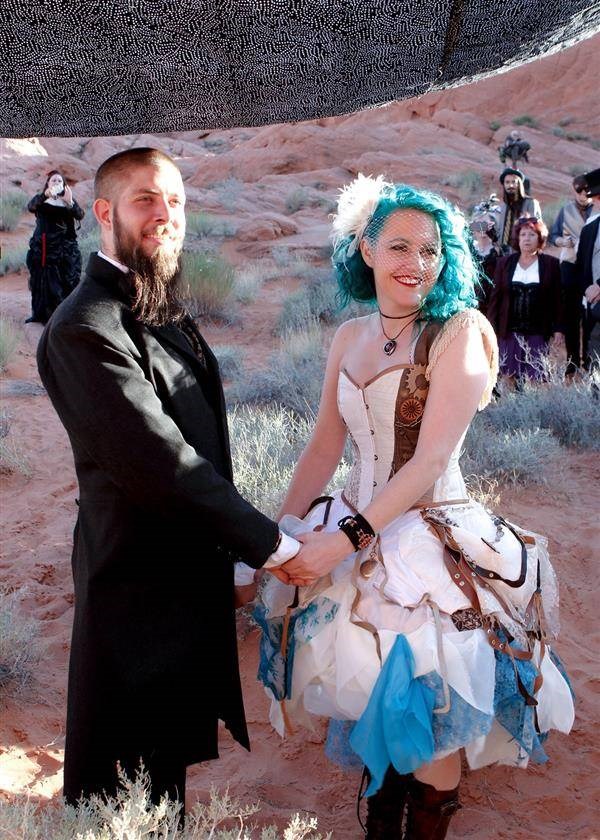 Lyndsey told us "This design is my most popular, I've sold about 80 versions (I use the term loosely, because the personalisations often significantly change the design) all over the world, and no two are the same. Each dress is unique, and has been made for its wearer, incorporating personal details; this one was custom designed to have accents that matched Nicole's hair colour."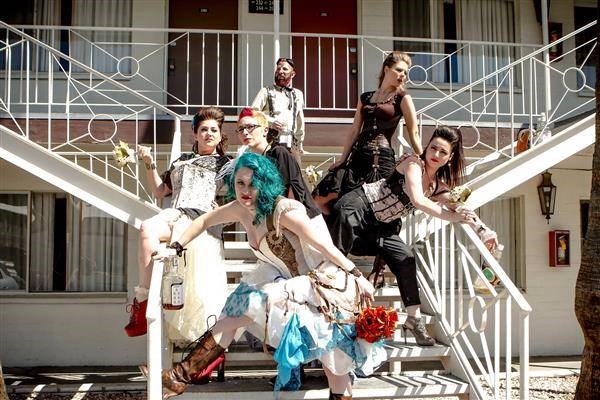 The stunning bride told us about the wedding "It was a steampunk theme, we hand made all of the invitations and asked people to dress up, only if they wanted to, and everyone did their own version of steampunk which was a lot of fun."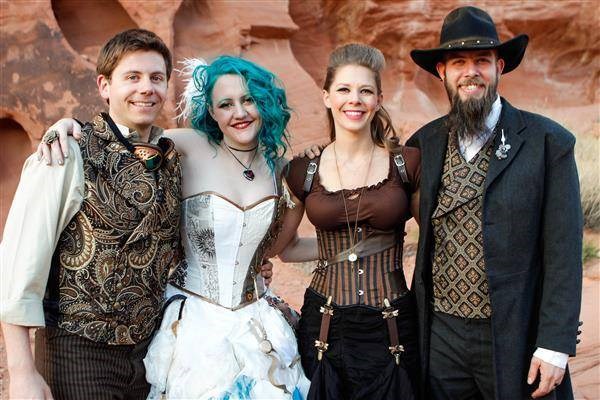 "I was living in Los Angeles, CA when I first contacted Lyndsey after seeing her dresses on Pinterest. I was raised in Las Vegas, NV and got married at the Valley of Fire which is just on the edge of the Vegas Valley. When my friends and I would ditch high school (which was often) we would always go to the nature of the desert."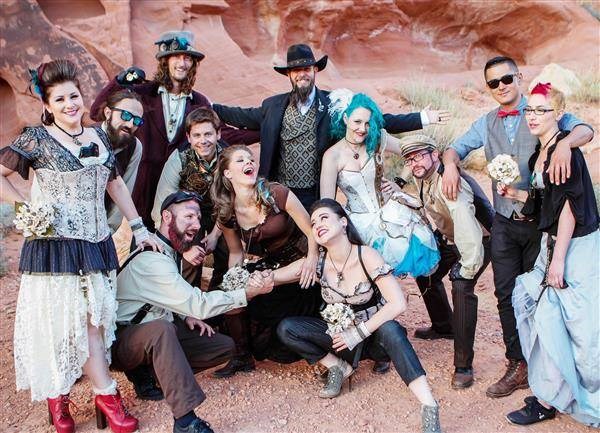 "Ron's mother and sister took me classic wedding dress shopping at first… it was clear something felt very off. I have always run from commitment. Ron and I were living together for 6 months before I would admit we were even dating. We got married on our 7 year anniversary. So it was important to me that I didn't feel confined by my dress, like a lot of traditional dresses I tried on made me feel. So the hem length being shorter made me feel like I could take off running at any moment. Which is exactly what Ron and I did as soon as we were announced as husband and wife."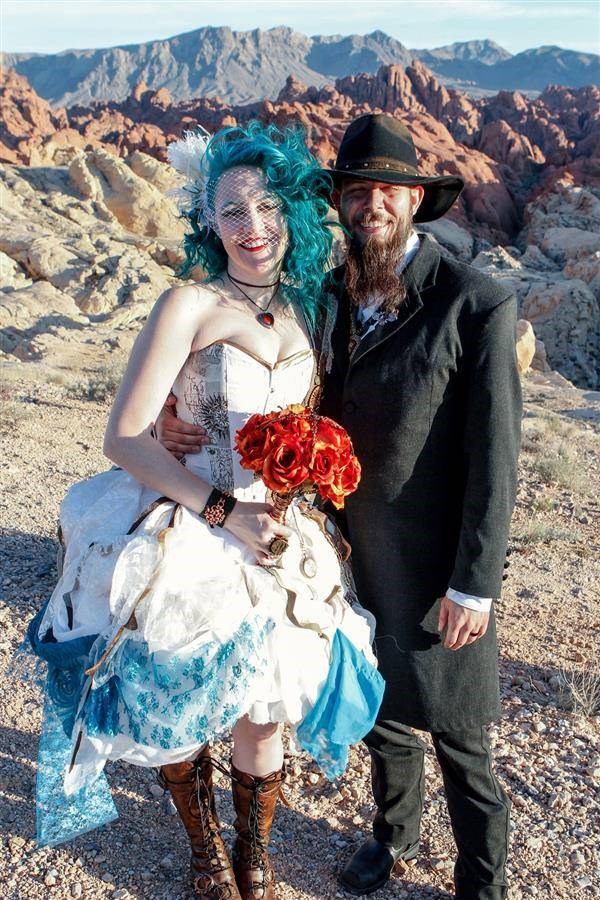 "I also have a terrible back with herniated discs and all, so for me a good corset is not only slimming and sexy but more importantly a beautiful back brace. On a day as busy as that I was afraid my back was going to give out until I tried on my dress. I was SO comfortable in it all day and all night. People would say how sexy it was and I'd say no you don't understand, it's so much more than sexy."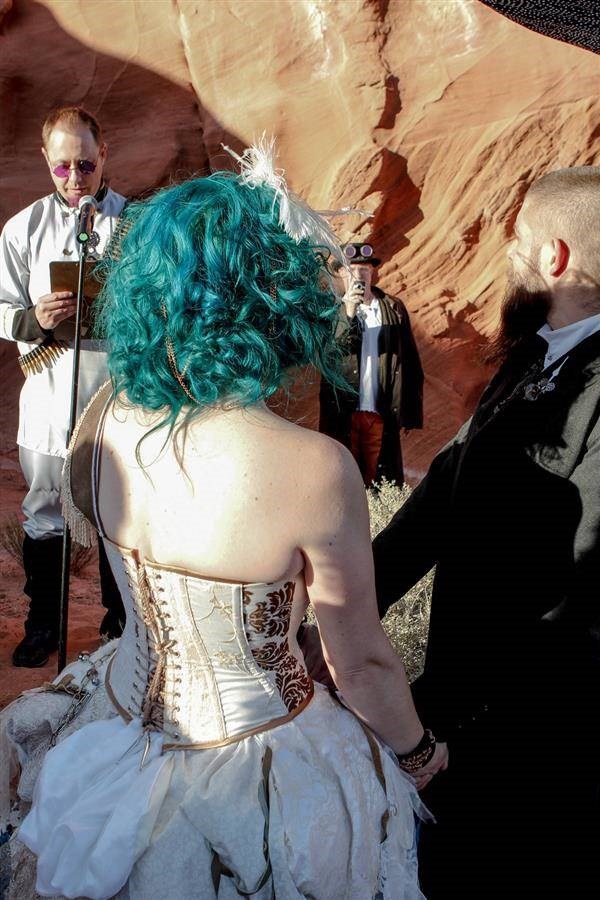 "Everyone before the wedding, during and after were all impressed that it was handmade in the UK. Lindsey sent me pictures of swatches that I got to pick from. She also asked for pictures of my hair so she could match parts of the dress so it would be cohesive as well as asking for 15+ measurements to make sure it would fit perfectly."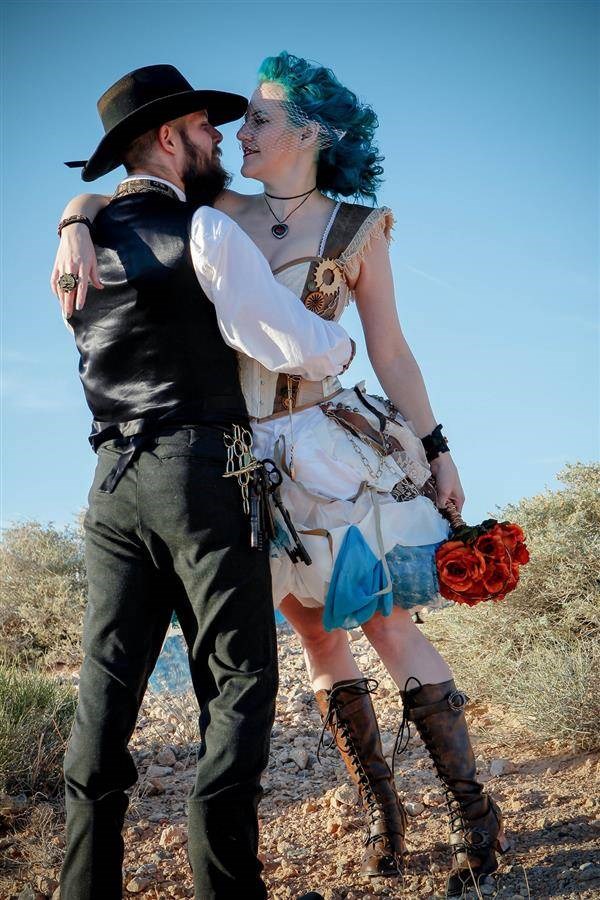 "My husband loved and still loves my dress. He said it was "perfect". He also knew what it was going to look like because he helped me pick it out. A traditional wedding was something we both had said for the past decade we would never do and when we started dating agreed we didn't want that. My dress shaped my entire wedding. The colors, the accessories, everything."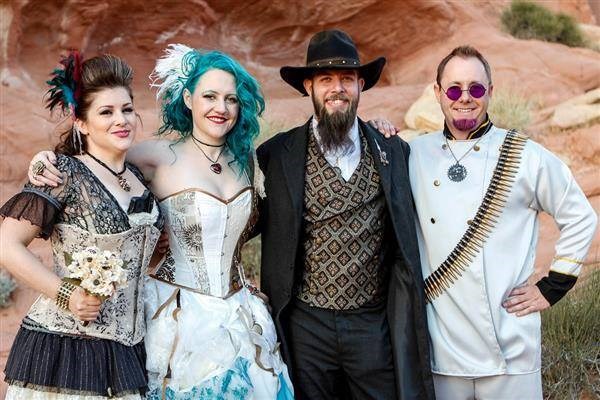 It looks like Nicole, Ron and all their wedding guests had a pretty awesome day and not only did they have the coolest clothes in Vegas, they probably had the coolest cake and caketopper too!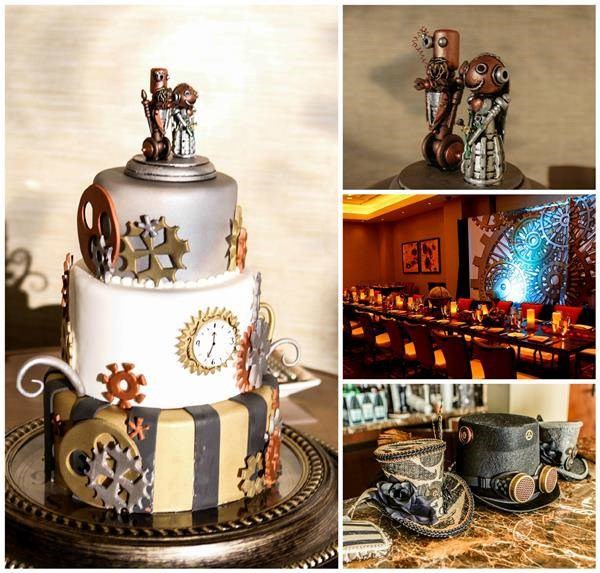 "Ron's mom, Karen, surprised us with the caketopper. That was one of the details we actually didn't care much about and weren't going to have. So glad she did. She got it off Etsy from Buildersstudio. It now lives on our wedding wall we made."
Seriously, how cute is Nicole and Ron's 'wedding wall'? What a beautiful idea!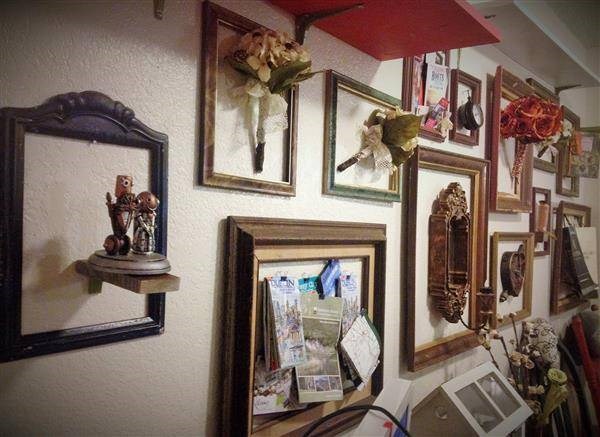 If you're a bride-to-be and you think you'd like a dress like Nicole's for your wedding, it's best to get organised sooner rather than later, Lyndsey advised "I usually require a minimum of 5 months for made to measure, for particularly elaborate designs I require a while longer.
It's usually best to get in touch 9 months - 1 year ahead of the date the dress is required."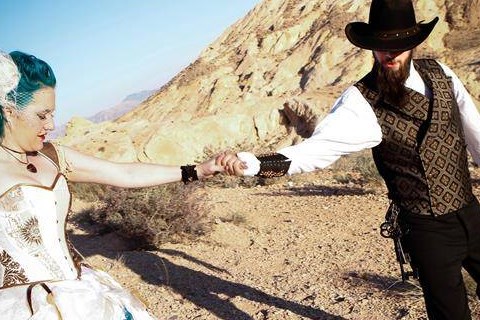 Thanks Nicole & Ron for sharing your fantastic wedding photos with Misfit Wedding, you gorgeous creatures!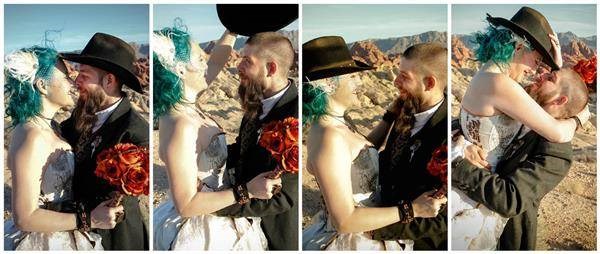 All photos by Hannah Hopper, who you can find here.
To find out more about Lyndsey Clark's alternative wedding dresses click here.
To buy the steampunk wedding dress design featured above click the image below.