Summer is drawing to a close and we are into our second month of building Misfit Wedding.
We have already received a great amount of feedback and support for what we are trying to achieve, which has made us feel all warm and fuzzy inside, but this is where the fun starts!
So, how have we got to here?
Initially we started with the idea of bringing together independent companies who create things with that( as the French would say) I don't know what. The 'X' factor (not the one with Simon effing Cowell). That little something special. We currently have 40 different companies ranging from wedding cars, to dresses, to stationery, to that all important lingerie for the night time and much more.
Then we started to build our social following on both Facebook and Twitter. These gave us a great platform to start engaging with people and promoting the amazing wedding items we are finding on a daily basis.
With the help of everyone re-tweeting and liking our content it has helped us grow our social presence greatly. We are humbled by the amount of support, cheers guys and gals!
We also have our second Misfit of the Month, Uptight Clothing. This is our regular section where we speak to one of our companies to find out a bit more and feature them on our site for a whole month. They get their own special feature page and a link on our home page. We have some great people lined up for the coming months!
The other exciting thing is that we have just launched our first competition. Massive thanks to Lorna Lovecraft Photography for this amazing prize! We hope to have more competitions over the coming months to help you create that dream (or nightmare?) Misfit Wedding.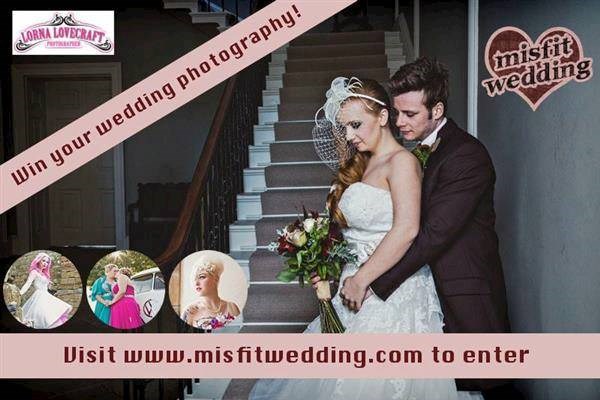 The next step for us is to start adding themes to give you inspiration for your different day. Whether your wedding will be gothic, TV or film inspired, fantasy, or any other eccentric, oddball non-conformist style, we intend to give our misfits a good overview of all the weird and wonderful that can be found in the giant haystack of creating your perfect Misfit Wedding!
This is going to be a lot of work, but we strongly believe in our vision to create the ultimate resource for making your wedding truly your own.
Back to the grindstone....
John
Misfit Wedding