Welcome to The Mad Wedding, with Liz and Josh
This page may contain affiliate links. If you buy something via these links, Misfit Wedding may earn a small commission at no extra cost to you. This helps keep our site free for you and our hand picked businesses. Read more here
We are about to serve up a very tasty morsel, seriously, you'll be salivating before you know it! This is a fun-filled, colourful, imaginative, happy, loving, quirky, kooky, spooky rollercoaster of a wedding! It's everything you want from a Halloween wedding and the outgoing souls that made it happen are here to tell us all about it...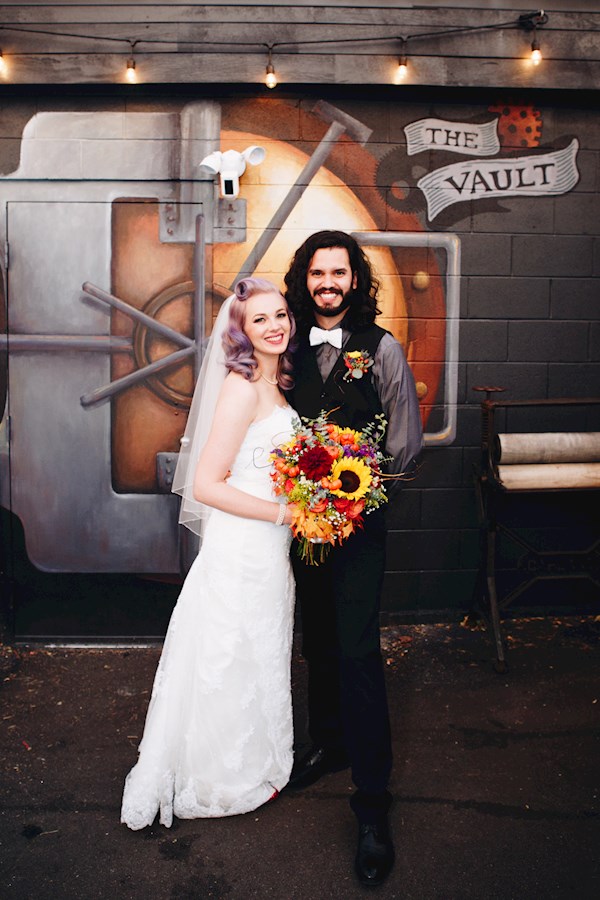 Can you please introduce yourselves?
We are Josh and Liz, middle school teachers who live in Colorado Springs, Colorado.
Our wedding took place on October 22, 2017 at the Loft Music Venue in Historic Old Colorado City. Although our wedding happened on the 22nd, we were officially "married" inside of the nonprofit haunted house (The Haunted Mines) where we volunteer as actors during the Halloween season to help raise money for local charities.
The Haunt is a huge part of our lives, our community, and our love story; it is where Josh proposed in front of hundreds of customers, and so it seemed appropriate to officially "seal the deal" there on Friday the 13th, about a week before the ceremony.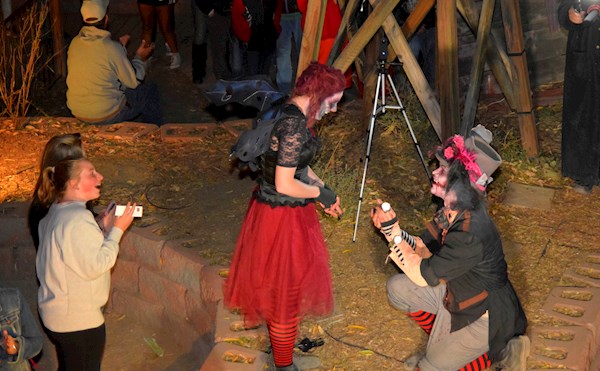 Can you tell us a bit about your interests?
As literature teachers and as actors, we definitely have a flair for the eccentric! We also believe that every day should be Halloween. These aspects of our lives were quite apparent on our wedding day, from surprise performances to movie-inspired readings during the ceremony, to all of the little spooky details that made our day our own.
There were pumpkins galore, and guests' escort cards were written on bat cut-outs hanging from a clothesline.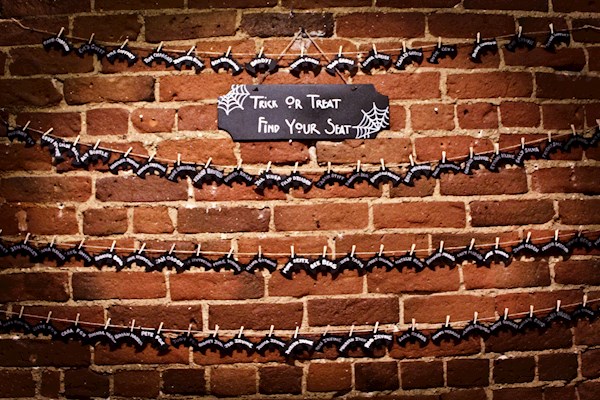 When Josh and I first started hanging out, we were each so excited to have found another person who matched our own individual love for dressing up and going to themed events, so we made sure that each centerpiece included a hand-decorated (...by me during many late nights of frustration--haha!) frame featuring a picture of the two of us in some of the many different costumes we have donned over the years, along with spider web lace, felt pumpkins, and silk sunflowers.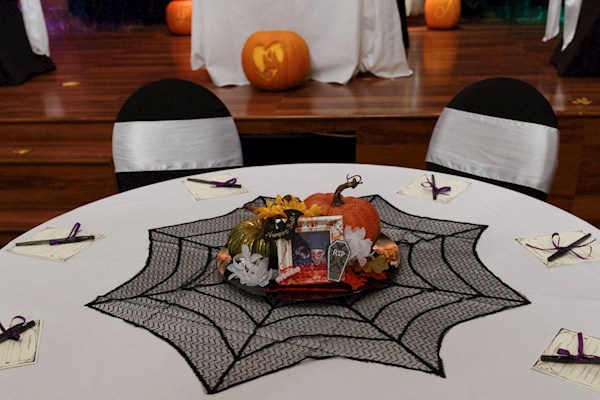 Please tell us all about your wedding theme and how/why you chose it…
We called it the "Mad Wedding", which is a subtle reference to the fact that Josh was The Mad Hatter the night he proposed. It also perfectly describes the curious amalgamation of Halloween, Nerdom, funky colors, and our own spin on old traditions that were characteristic of our big day.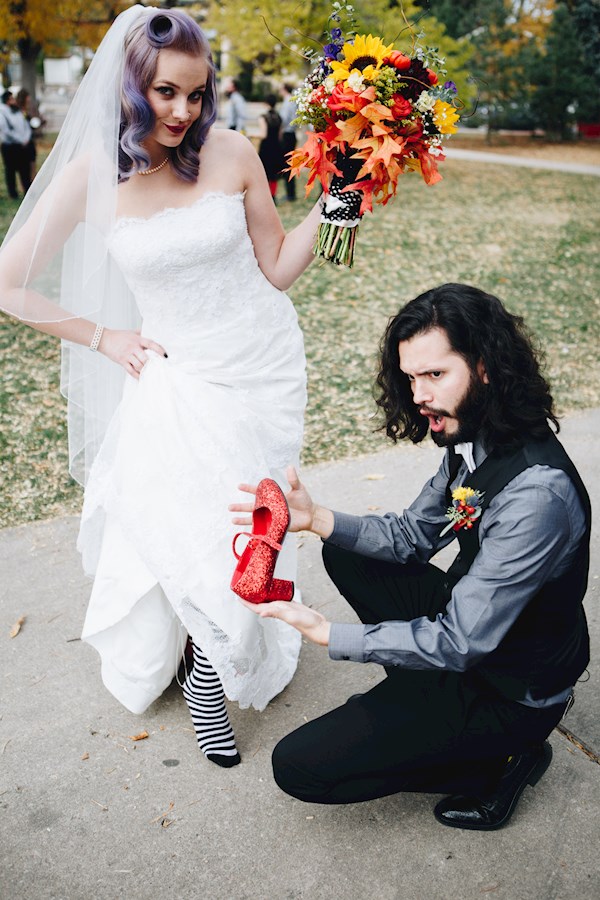 Can you talk us through your outfits?
The year Josh proposed, our haunt theme was "We're All Mad Here"-- a sinister spin on classic fairy tales. His character, an evil Mad Hatter, was sort of the organization's "mascot" that season. I was the Dark Fairy. The night we signed our marriage license, we were actually not at all concerned about what characters we were dressing up as-- we just knew we wanted to be covered in stage blood!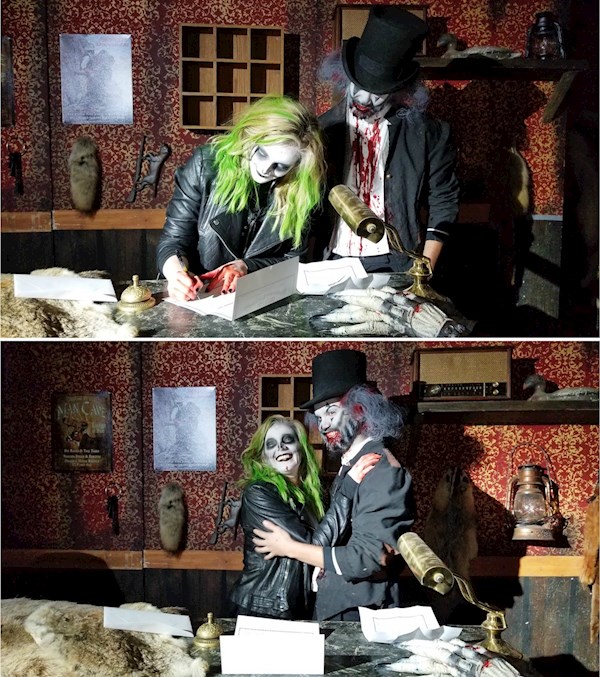 Our outfits for the wedding had special meaning, too. Under my dress, I wore black and white striped stockings and ruby red slippers-- a nod to our Halloween theme as well as one of my mom's favorite films, The Wizard of Oz!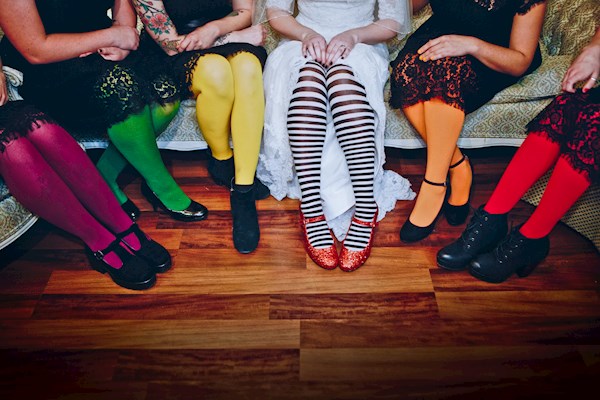 I also had the honor of wearing Josh's grandmother's pearls. She passed away when Josh was young, so it was wonderful to have her there in spirit.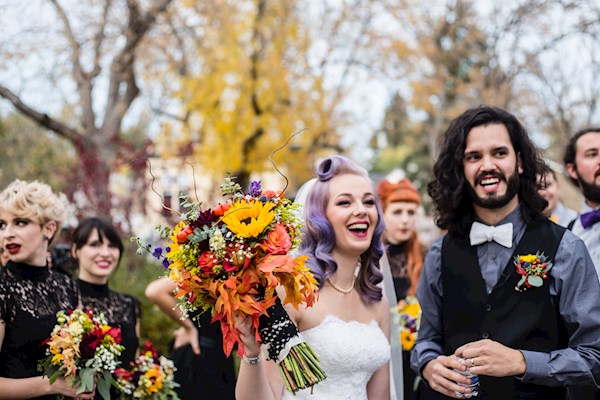 Josh's favorite part about his outfit was the blue thistle in his boutonniere because it reminded him of the "fear-inducing flower" from Batman Begins.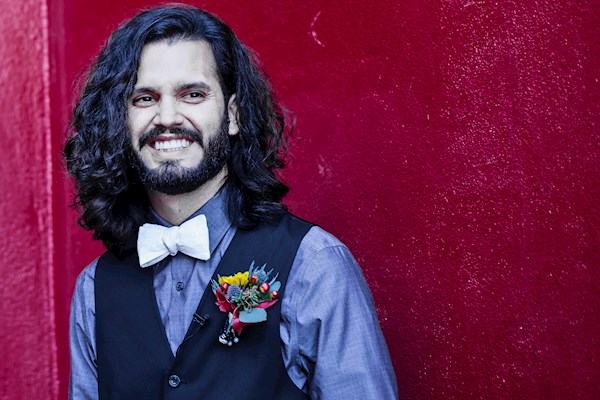 We had some fun outfits in our wedding party, too; our ring bearer was dressed as a little Dracula and our flower girls proudly flaunted fairy wings!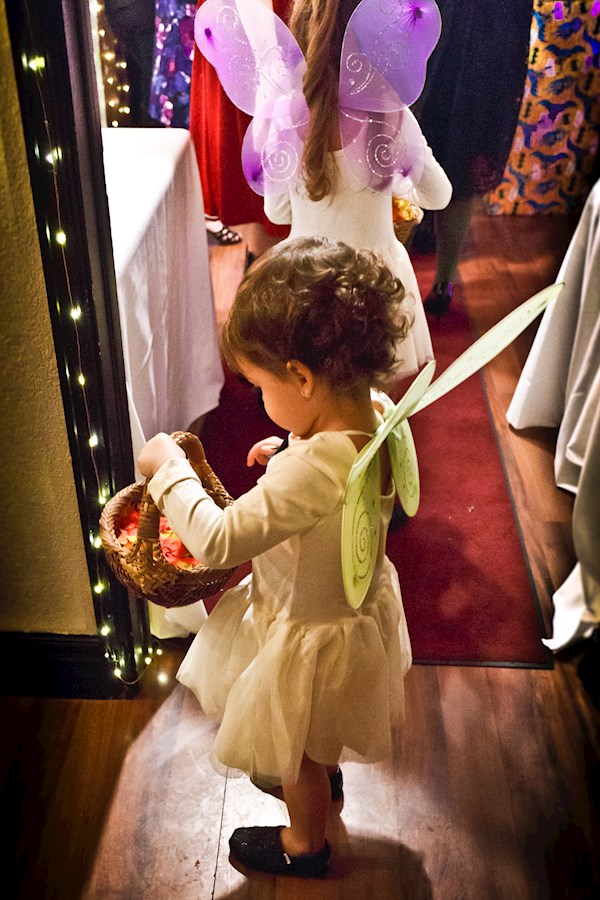 How did you choose your dress? Did it live up to expectations?
It's so funny to me that you can have an idea in your wedding fantasies for years, but then when you actually find yourself engaged, you change your mind on so many details! The dress was one of those things!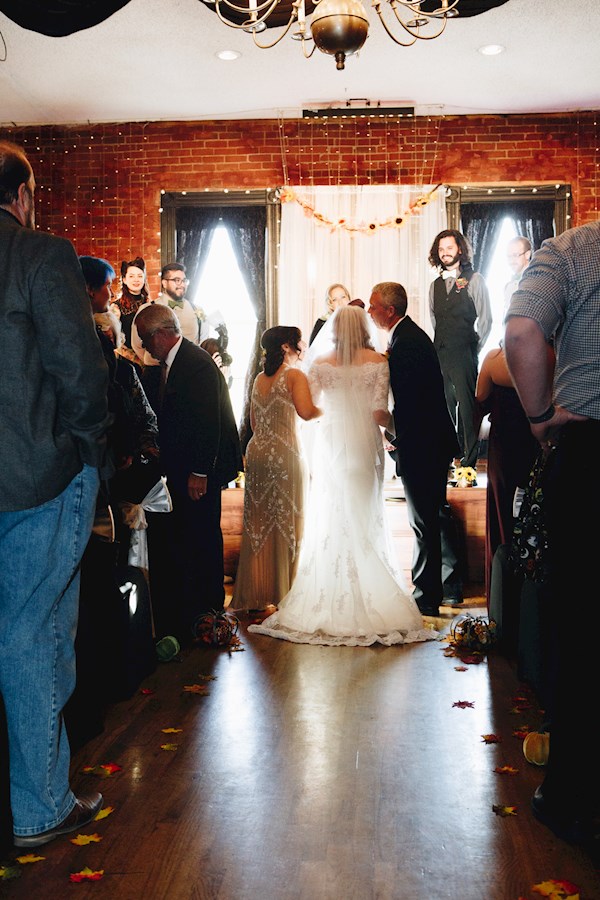 I had always envisioned wearing a more simple dress, nothing fancy, and I was out with my aunt and uncle, trying on dresses just for the heck of it, when I came across this beautiful, long, lacy (with lace that reminded me of spiderwebs!) gown. It came from a consignment shop, Springs Bridal and Ballroom, so it was a great price and had some history to it.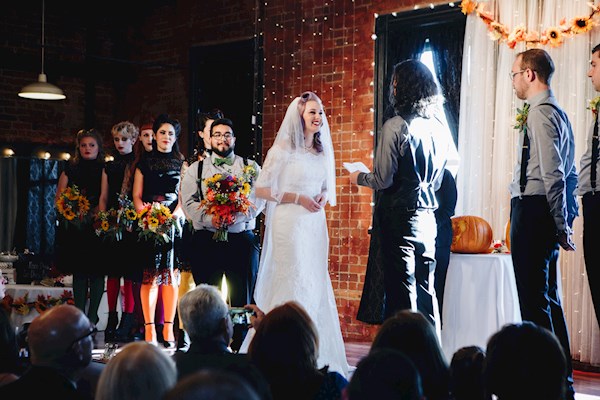 It also came with some sexy off-shoulder contraption (I later found out it's called a "bolero") that I could wear during the ceremony and then remove when it was time to party. It was cool to have a tiny "costume change" before entering our reception!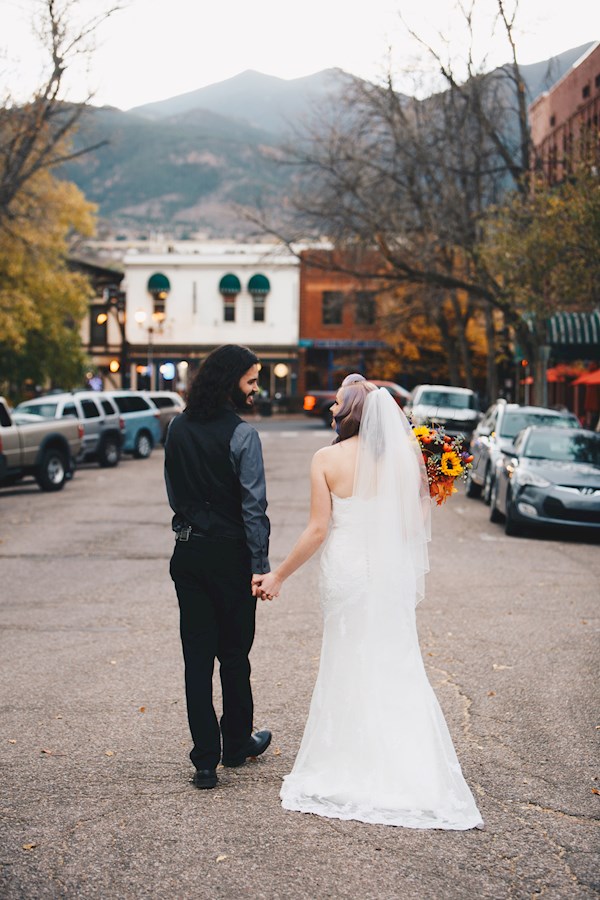 I definitely found myself wondering a few times if I had "said yes to the dress" too hastily, but then I remember how much fun it was to run around through piles of fallen leaves on the street in that big, pouffy thing, after the evening had finally ended, and I know it was the right choice!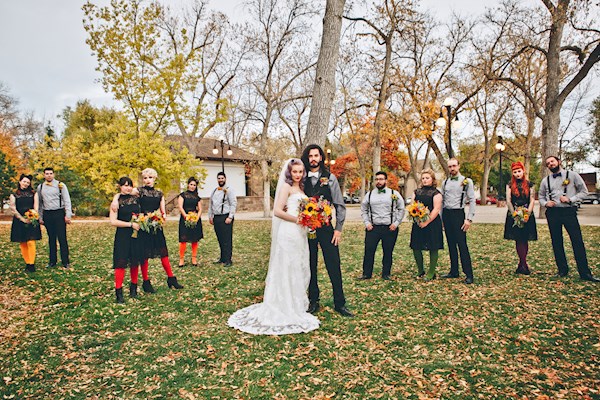 And your hair and makeup?
My hair and makeup was done by my incredible friend, Heather Jeffrey of Eden Salon in Downtown Colorado Springs.
We first met when Josh and I began volunteering at the Haunted Mines, where she was in charge of teasing and creating kooky styles for the actors' hair. When I found out she was a hairdresser beyond the haunt, I decided to try out her services, and I have not let anyone even TOUCH my hair since. She's basically a hair and makeup goddess, so it was a no-brainer when it came to booking her for the wedding. In fact, I think she even told me a few minutes after Josh proposed, "You know I'm doing your hair and makeup, right?!"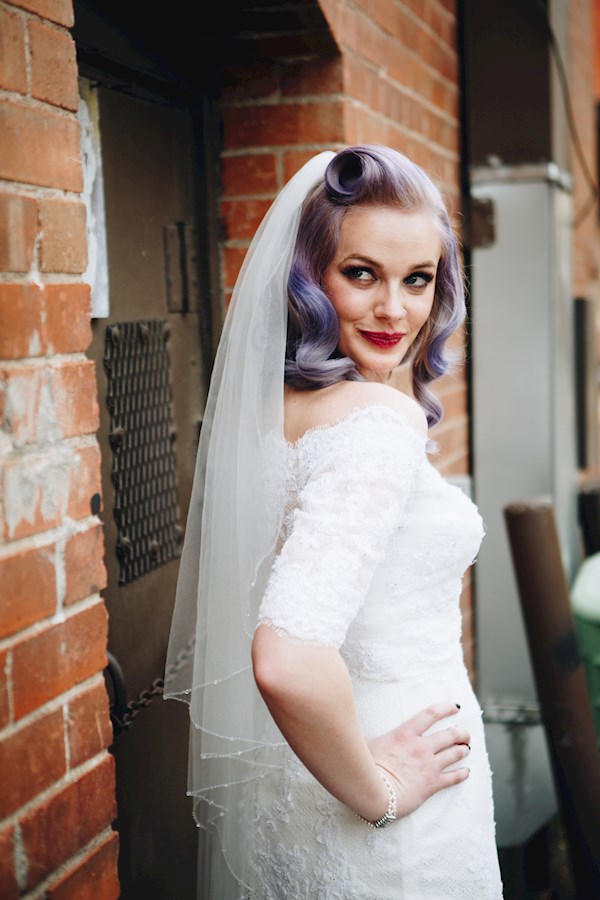 I should also mention my awesomely alternative aunt, Siera, who took on the busy task of styling all of the bridesmaids' hair!
We knew we wanted a retro look, especially with the dresses we ended up choosing. It was definitely a challenge with so many different hair types among the bridesmaids, but Heather and Siera made it work marvelously!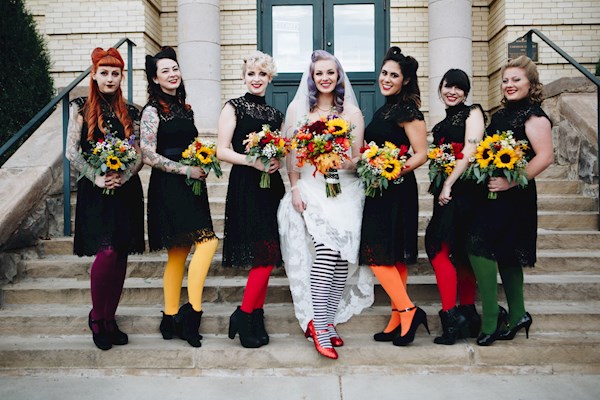 There are a lot of colourful accessories on display, where did you source those?
I knew I wanted the bridesmaids in black-- the perfect color for a spooky wedding! But I also wanted to incorporate funky fall colors, so I came up with the idea of each bridesperson matching his/her escort on the groom's side!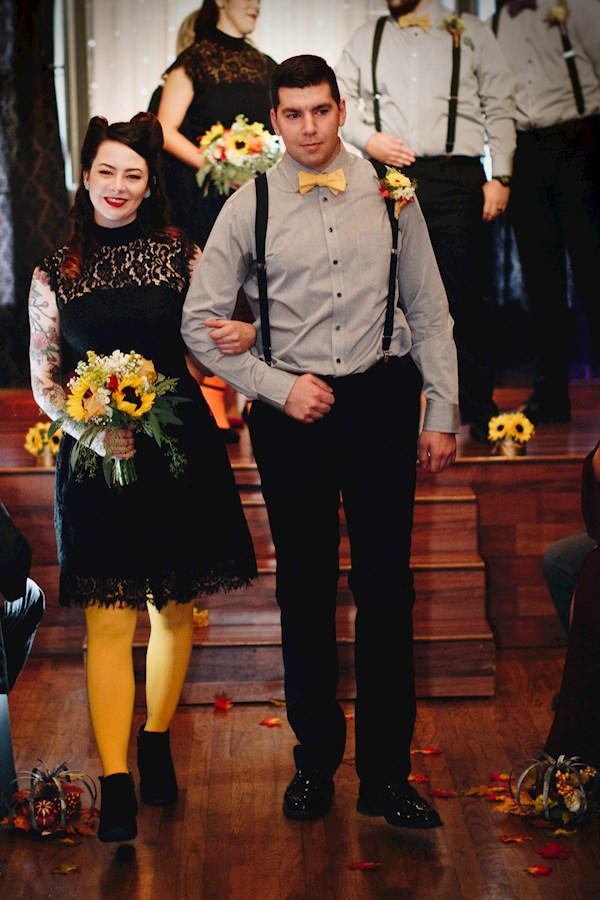 My man of honor and Josh's best man, along with my my niece (who served as my Junior Bridesmaid) were assigned olive green. Another pair had gold, then another orange, then purple, and then red.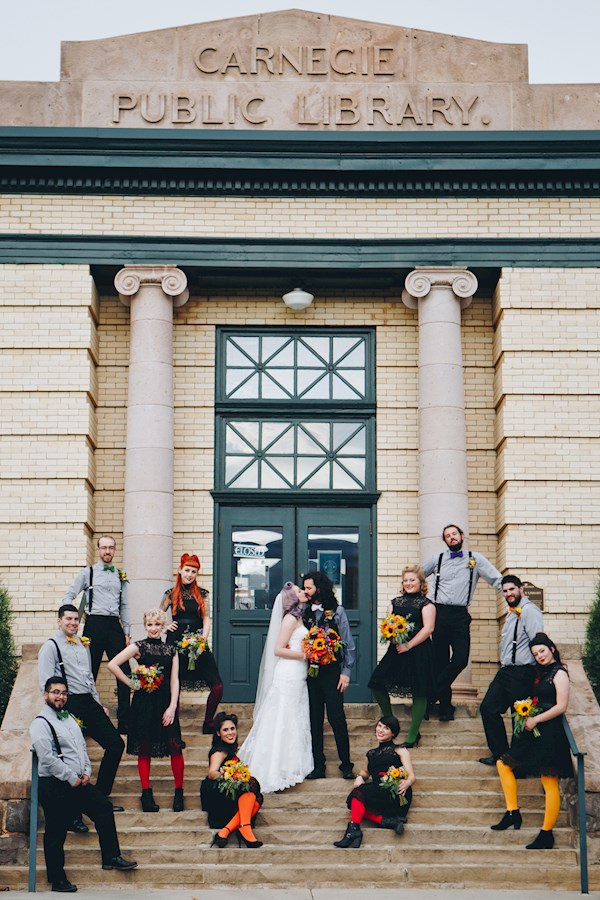 My aunt was kind enough to use her sewing skills to whip up bow ties for the gents (because bow ties are cool!) and the ladies wore tights from We Love Colors that matched the bow ties.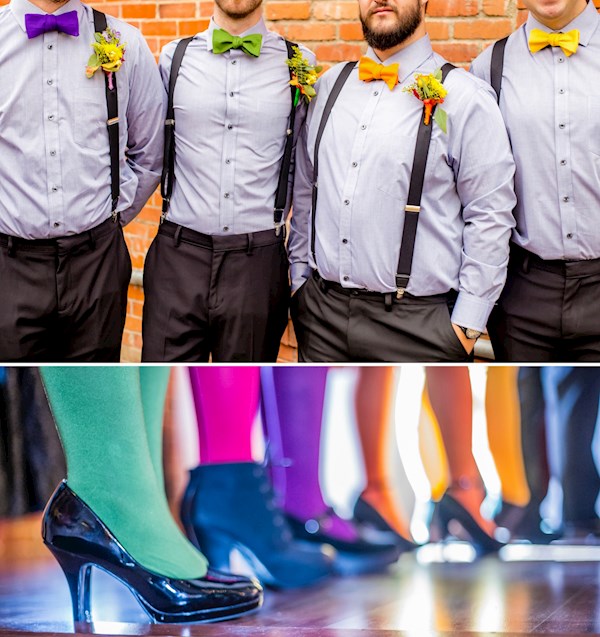 I was enjoying all the color-coordination, so I figured, why stop with just the wedding attire? I decided that each member of the wedding party would be assigned their color for the entire weekend, from bachelorette accessories (witch's hats I decorated with craft supplies from Amazon) to their gifts (nail polish and bath bombs in "their" color!). It made my OCD heart quite happy!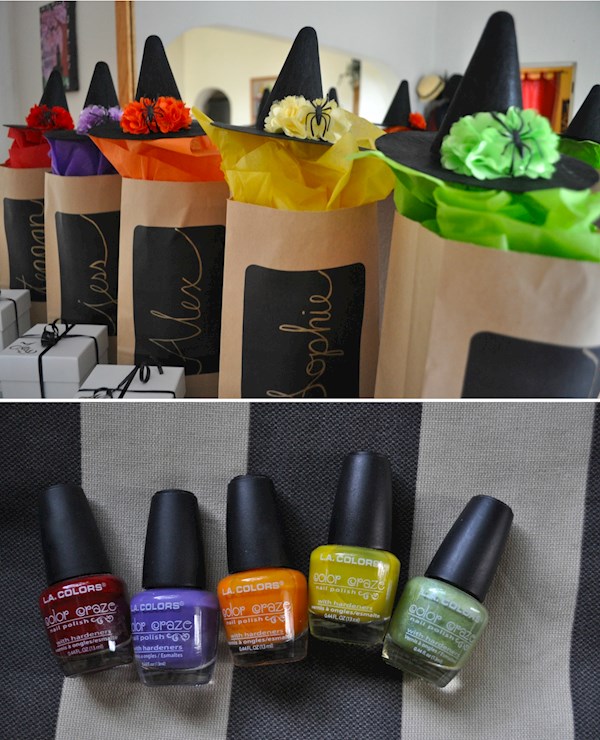 Was the ceremony itself traditional?
Our ceremony was definitely nontraditional!
We were excited to use our teacher skills to write the whole thing ourselves, combining a bit o' Doctor Who, a bit o' Princess Bride, and some spooky touches, too. For us, the ceremony, which was officiated by one of our Haunt directors, Angel, was also a time to thank our communities, whether family by blood or by choice, for the roles they had played in our love story.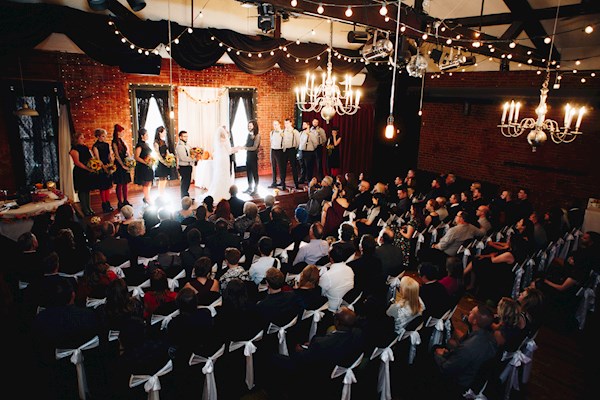 In lieu of a Unity Candle, we had a Unity Jack-O-Lantern, which Josh carved the morning of the wedding!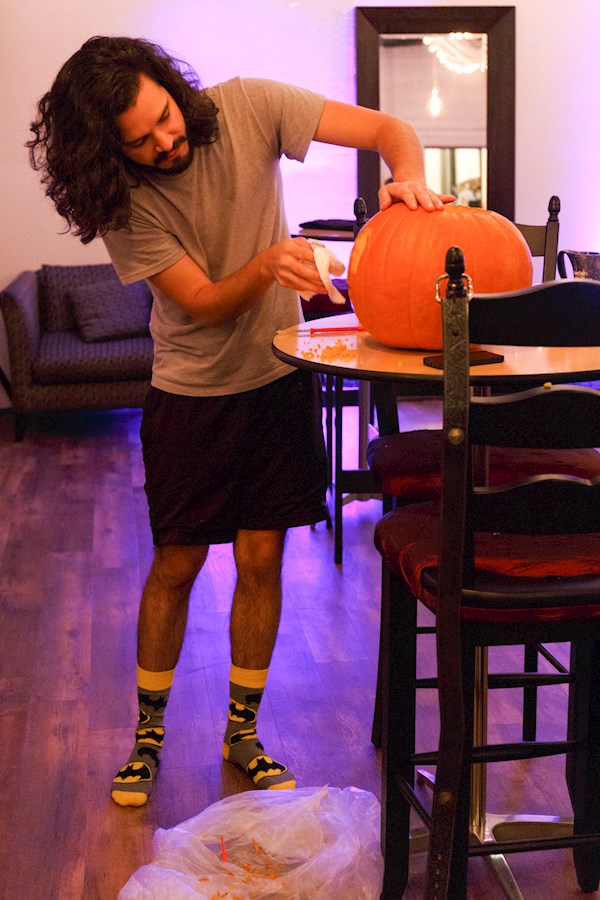 As Angel explained:
"Love is as old as the earth itself. It is ancient, it is elemental. Much like love, fire is also elemental, a symbol of life and hope. To illustrate the unity of their lives in love, Liz and Josh will now each take the flame from their jack-o-lantern and bring them together as one. While their individual light continues to shine, now there is a third, shared light, which does not detract from each of their own flames, but rather, adds to them. And just as a jack-o-lantern is meant to protect us from darkness on Samhain, this jack-o-lantern will protect Liz and Josh from any darkness that may come, and be forever a reminder of the passionate love that burns between them."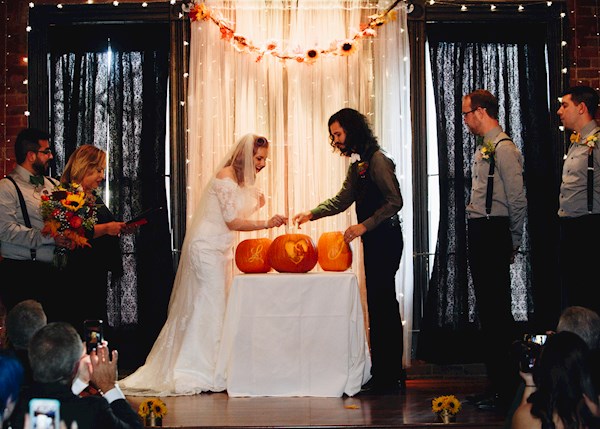 Our ritual didn't go without a hitch—the flame wouldn't take! We finally decided just moving our own tea lights to the Unity Lantern was still a decent symbol of our love and—we figured—resourcefulness. The ceremony ended with "Don't You (Forget About Me)" by Simple Minds as we threw our fists into the air, John Bender-style.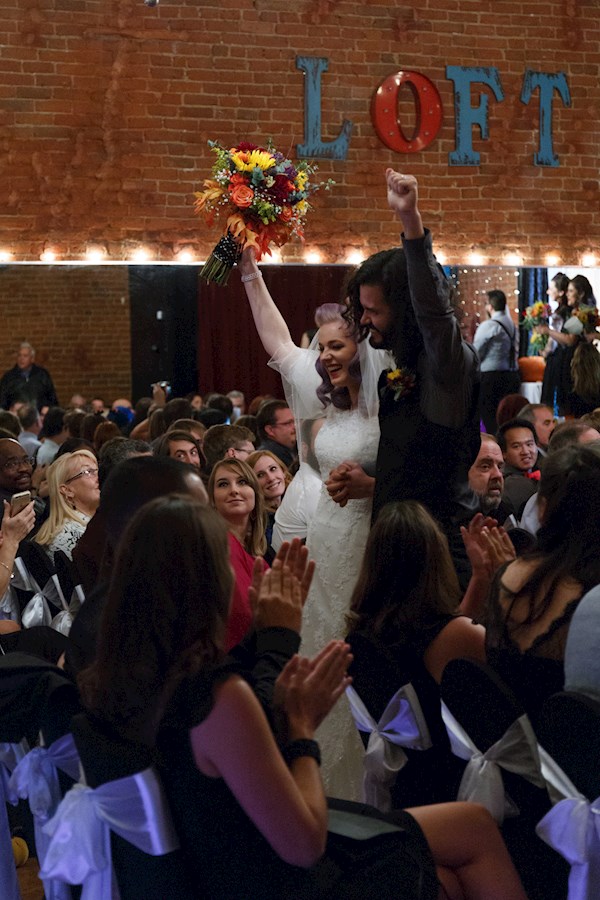 The cake table looks pretty impressive, what inspired your choices there?
A few weeks after getting engaged, we were sent a skeleton bride and groom figurine by my grandparents, who had spotted it at the Emporium in Tijuana, Mexico and immediately thought of us. As soon as we saw the beautiful piece, we knew it had to be our cake topper.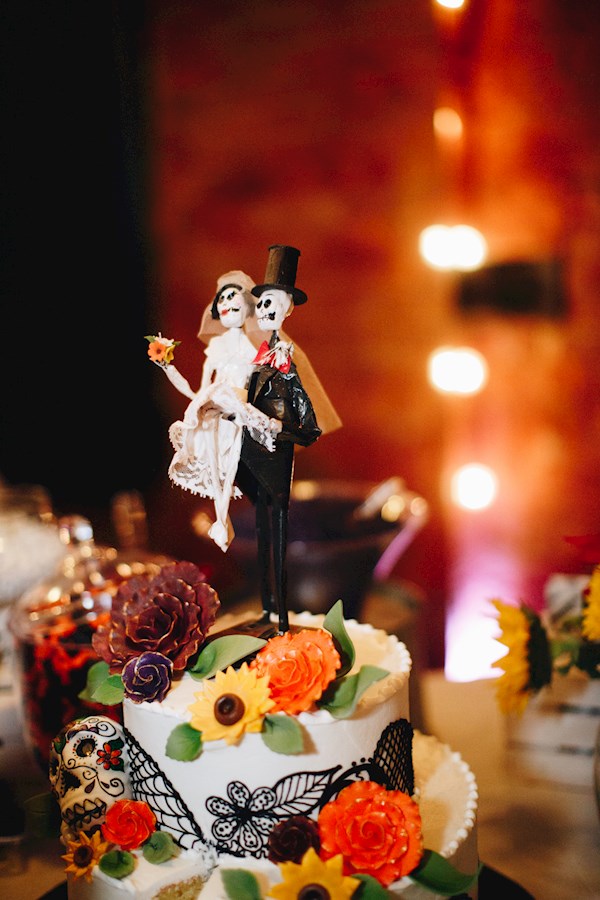 Josh is hispanic and very proud of his New Mexican upbringing, so we decided a Dia de Los Muertos cake would be perfect and work well with our theme!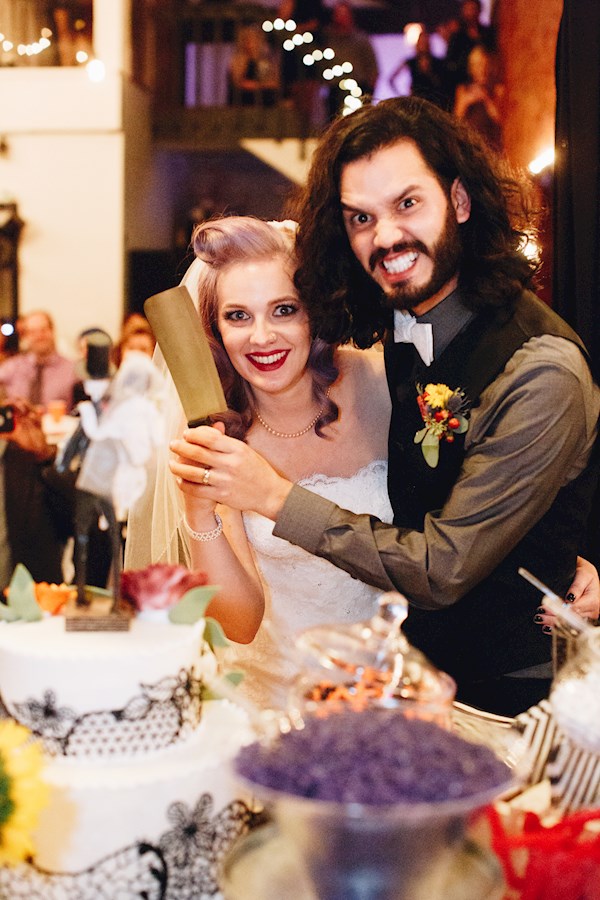 I had also seen some beautiful cakes with spiderweb-like lace design on Pinterest. We took all of these ideas to a local baker and cake decorator who had started her own business, Mia's Custom Cakes, and she created a final design that was perfectly beautiful, delicious, and quirky! Those sugar skulls were EDIBLE, by the way! Amazing! The candy buffet was an additional nod to Halloween. We made sure to include a variety of textures and colors; we even set out spider rings and plastic fangs!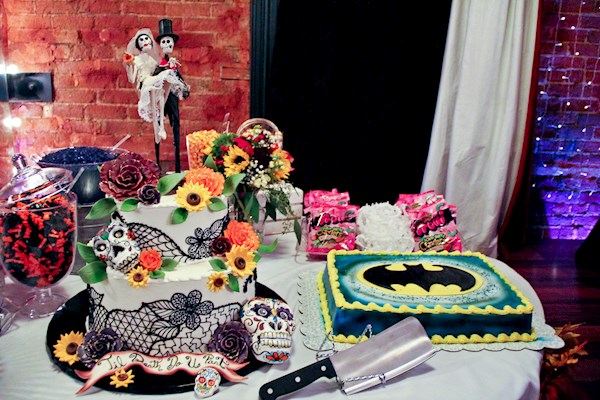 The coffin-shaped ring box is another great touch...
We saw the coffin box at a Tattoo and Art Expo in town and knew it was the perfect vessel to hold our rings. A local artist added a bat design on the front and our names on the inside. The fabric, lace, and pearl detailing inside was all done by me with help from a very hot glue gun at the cost of only a TINY bit of burnt skin on my fingers. Haha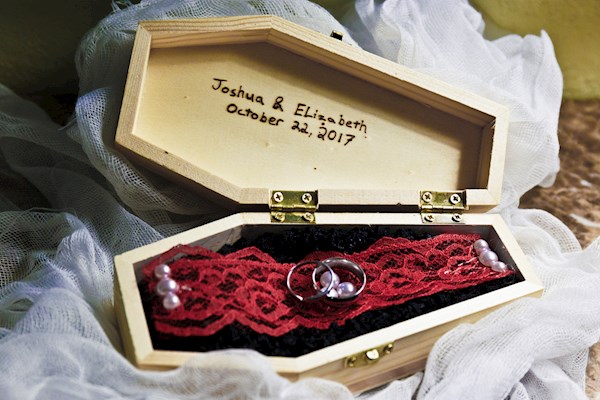 Was it difficult to plan your wedding? What was the most stressful part?
Being a bride with an anxiety disorder can be quite unpleasant. Yet, as Josh reminds me, having anxiety is kind of like my "superpower"—it is often the force that drives me, that extra sense, that attention to detail. Still, when those kooky chemicals in your brain convince you that you are a burden, it can seem impossible to ask for help when it is needed. There were moments, especially when narrowing down the guest list or when our first choice for food was already booked, when I was completely overwhelmed. Still, Josh was an incredible comfort and helped immensely.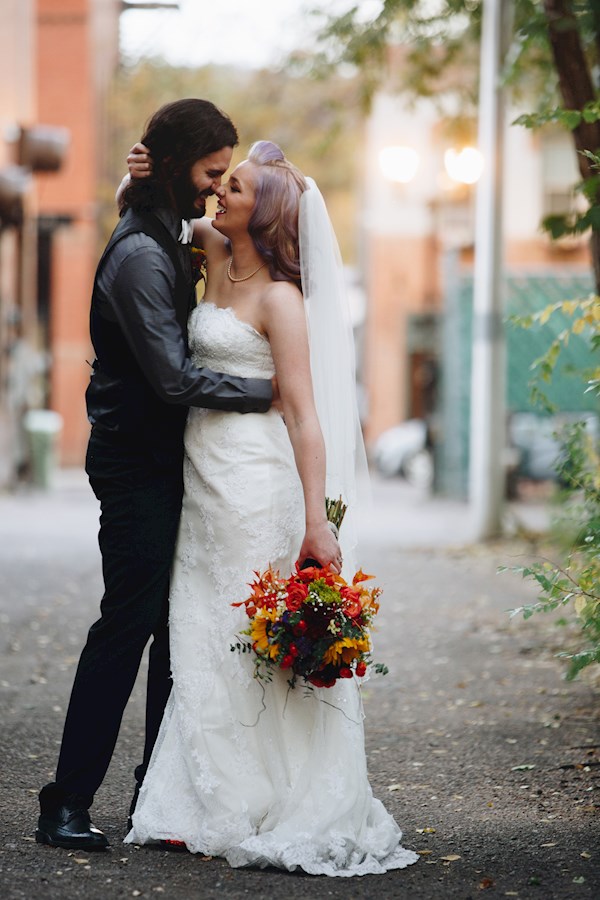 Overall, our wedding taught me how to be vulnerable and communicate my needs honestly to my partner and to others.
Josh and I were so amazed by the love and help we received from so many: our friends and family who style hair, our favorite local goth DJ who gladly agreed to spin for us, our other Haunt director, Stacy, who coordinated all the moving parts on the big day. It seemed like everyone we knew was willing to offer a hand or service to make our dream wedding a stress-free reality.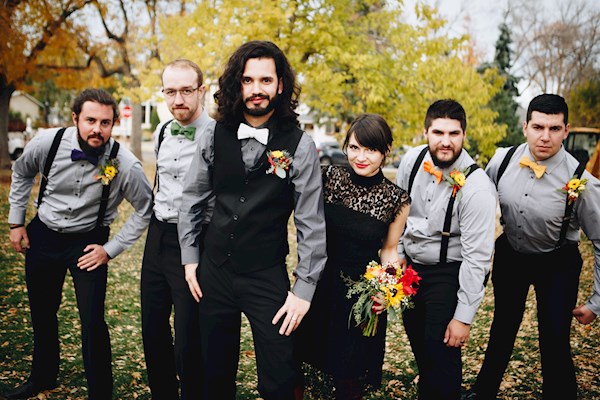 In order for me embrace every minute of this big day and the amazing person I was marrying, it was important for me in those final hours to finally release some control. I had to recognize my own limitations as a human being and not try to do it all; rather, I learned to take a breath, trust in the goodness of others, remember to be kind (even when I was on the verge of tears), and let those positive vibes surround me!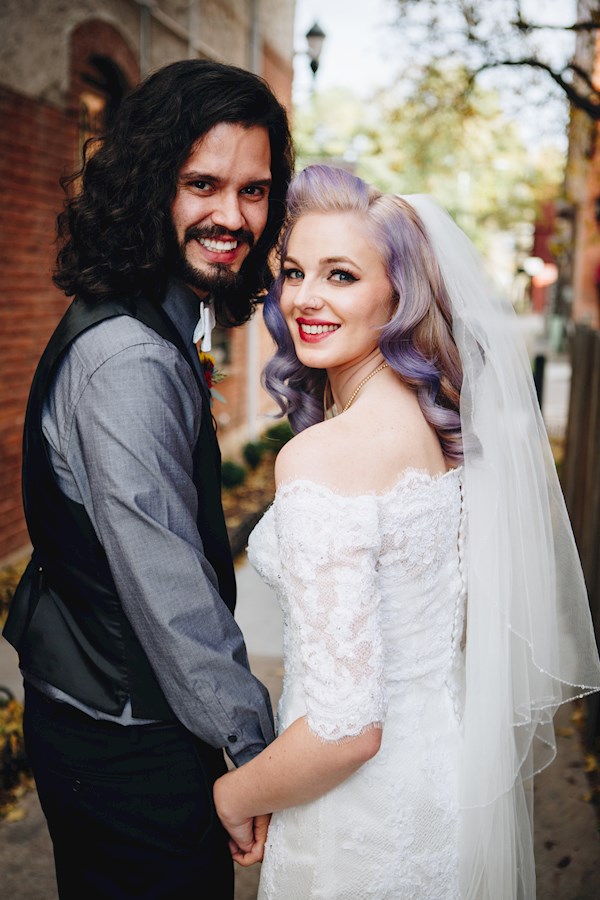 Did all of your guests embrace the theme?
There were definitely some guests who went all-out and others who kept their Halloween touches more subtle.
I think some of our favorites included my dad and grandpa, who both wore ties with patterns featuring bats and spiders, and my grandma, who had on an elaborate spider necklace! Josh's parents also joined in on the fun by surprising the groomsmen with Batman socks. Any guests who may not have been 100% prepared for the theme were certainly in the Halloween mood as soon as DJ Batboy started blasting "The Time Warp"!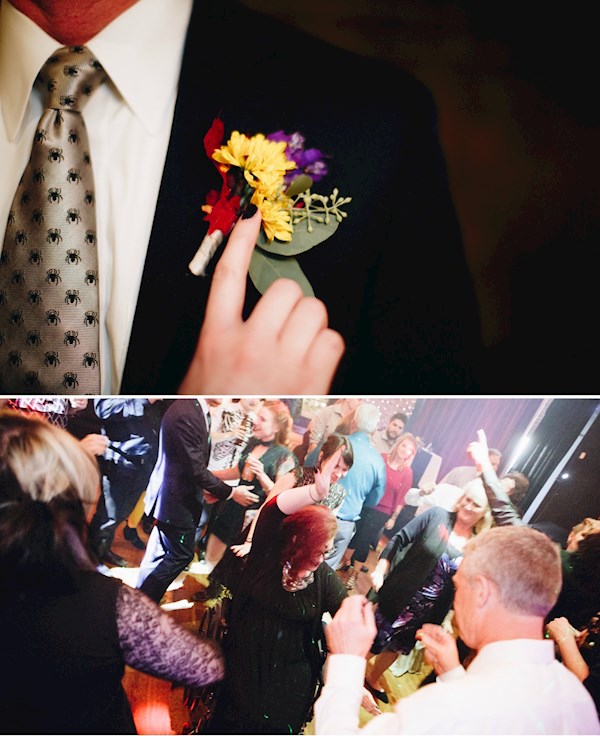 What song did you pick for your 'first dance'?
For as long as we have been together (and we honestly can't even remember how it started!), Josh and I have have maintained a hilarious obsession with "The Safety Dance" by Men Without Hats. In the early stages of wedding planning, we kept the joke going and laughed at how fun it would be to have that as our first dance, but soon the joke turned into reality when we found a slower version (a cover by Sleeping at Last) that we could use!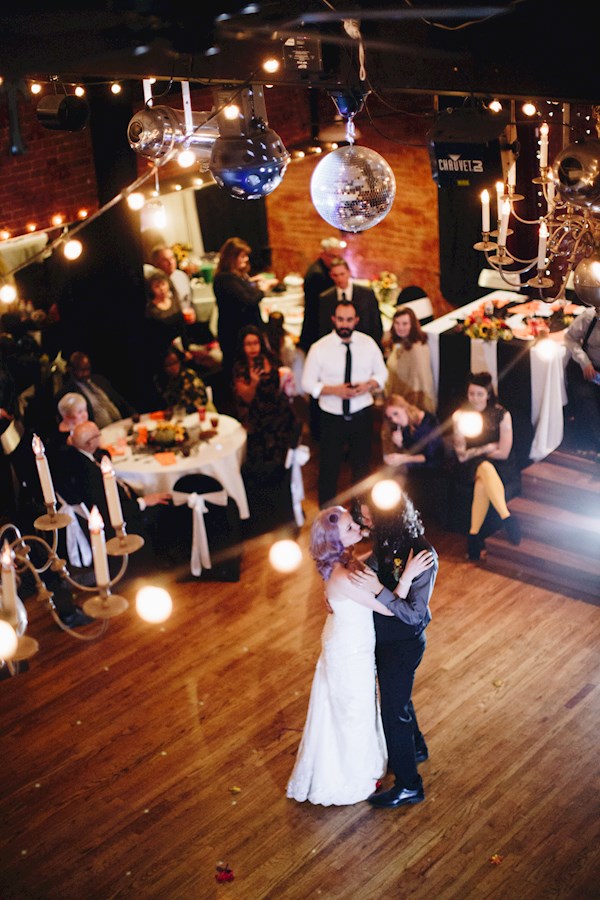 Of course, at the end of the night, we were able to get every single guest who was still there to join us on the dance floor for the original version, everyone forming an "S" with their arms and enjoying the heck out of it!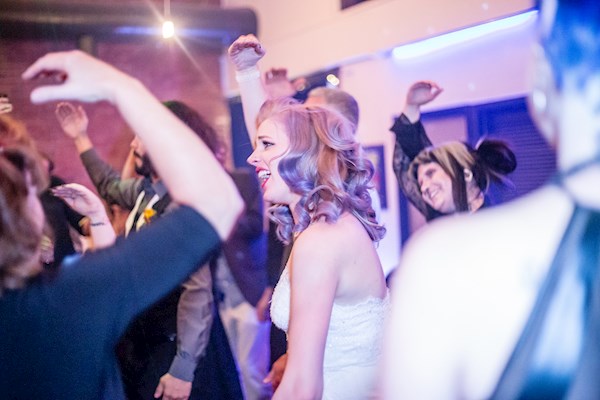 You have some fantastic photos, would you like to say anything about your photographer(s)?
Our main photographer, Uriah Werner, is also the owner of the venue, so I knew he'd know the best angles and awareness of lighting!
Josh and I were both incredibly thankful for our friend, Heather, and our sister-in-law, Celina, who, even though they were both guests and could have just spent the evening partying, took the time to capture some detail and getting-ready shots to help document the day, as well!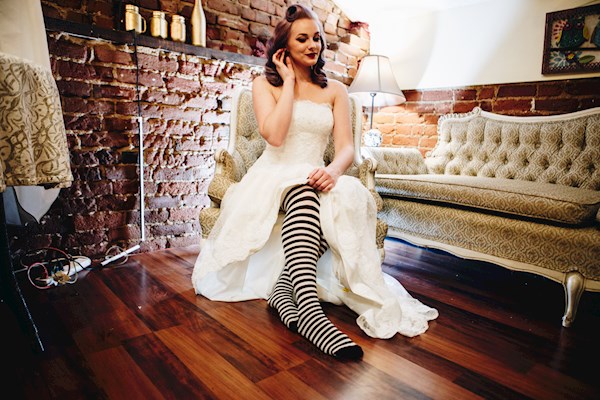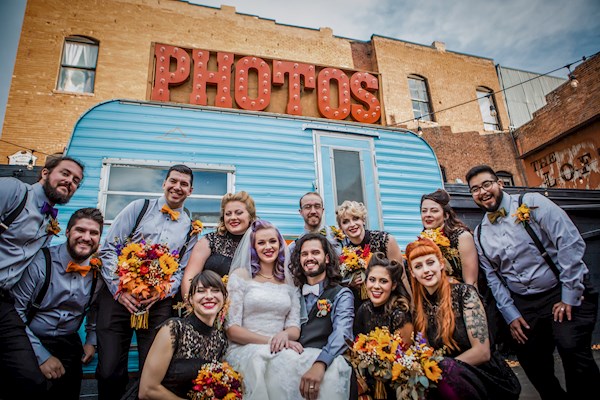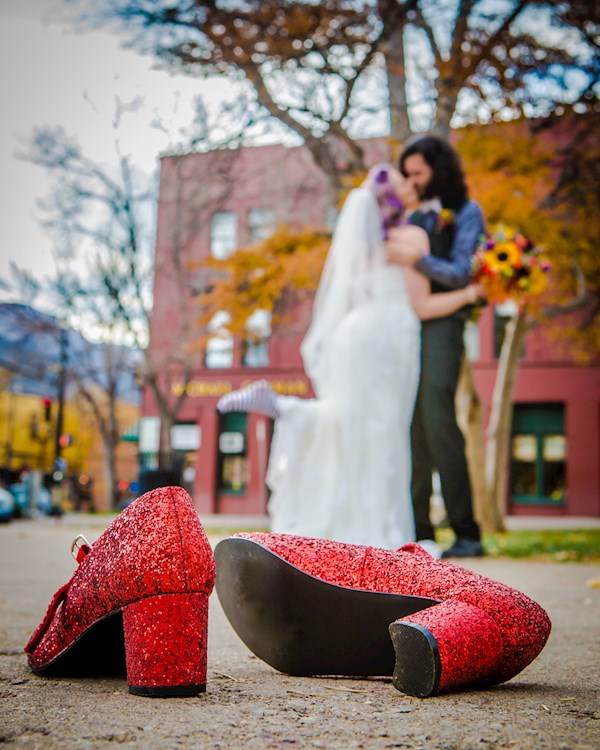 If you did it again, is there anything you would change?
I would take more time to actually enjoy each step of the planning process rather than try to rush through it!
But, overall, there isn't much else I would want different. I guess I wish I could just go back and slow things down-- it's true when they say your wedding day goes by in a flash! Embrace every single moment.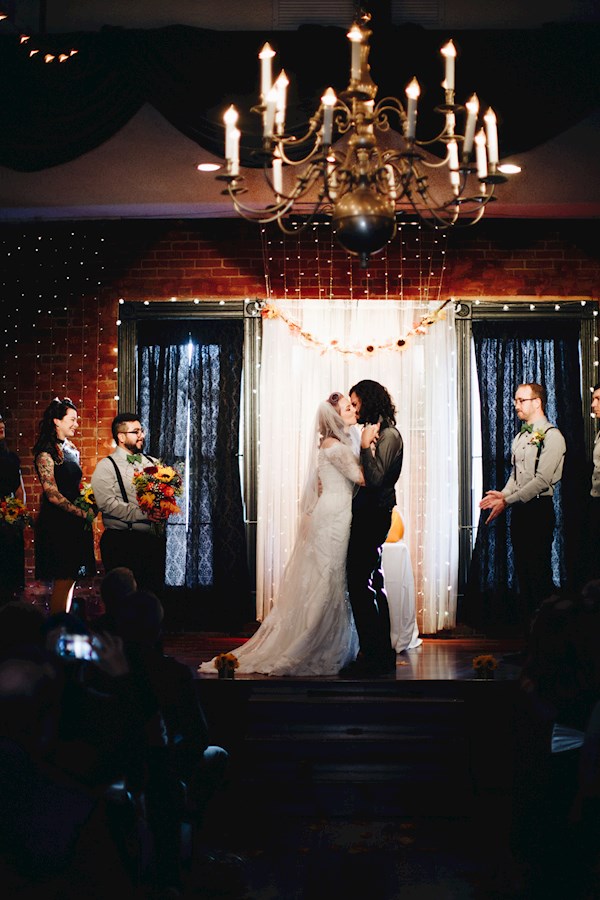 What was your favourite part of your day?
My favorite part of the day was seeing the looks on our guests' faces when all of us in the wedding party surprised everyone with a reenactment of the "Day-O (Banana Boat Song)" scene from Beetlejuice! Josh's favorite part was The Safety Dance at the end of the night! It was the perfect way to end the festivities.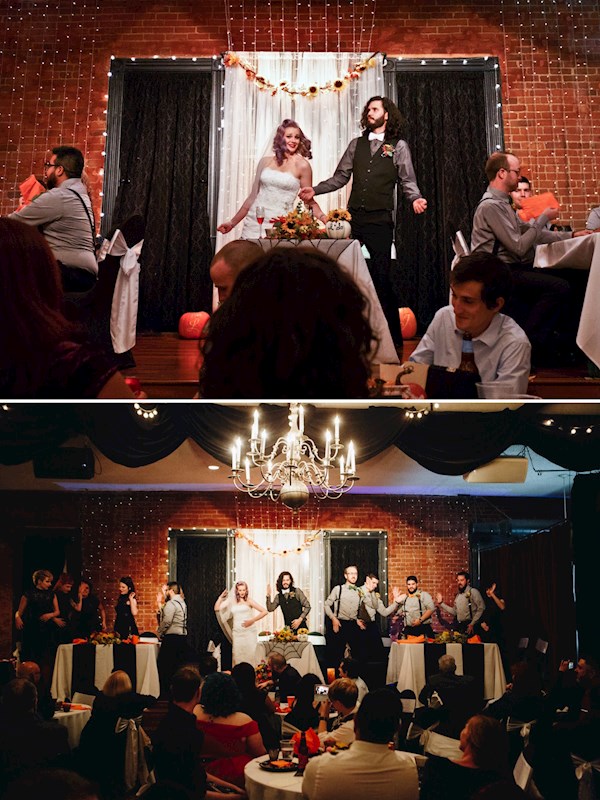 Do you have any advice for couples who are currently planning an 'alternative' wedding?
Don't be afraid to DO WHAT YOU WANT TO DO! Your wedding day should reflect who you and your partner are and what you love.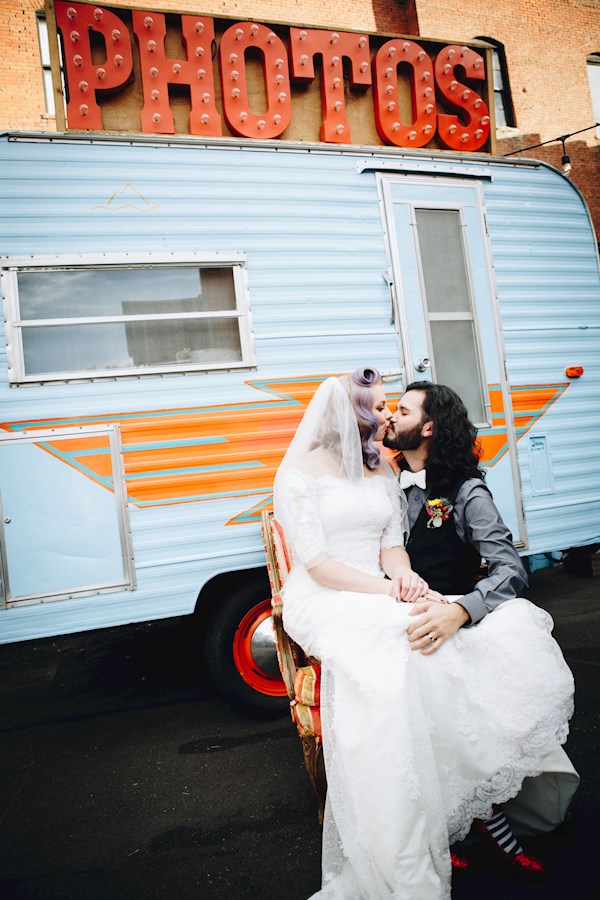 I remember my florist's helpful advice when I asked timidly if I could maybe have some mini pumpkins in my bouquet: "OF COURSE YOU CAN; IT IS YOUR DAY!!!"
That being said, don't forget to be kind! Remember that not everyone will understand, not everyone will get into it, and that's okay, as long as they respect your wishes and don't try to insert themselves into your planning.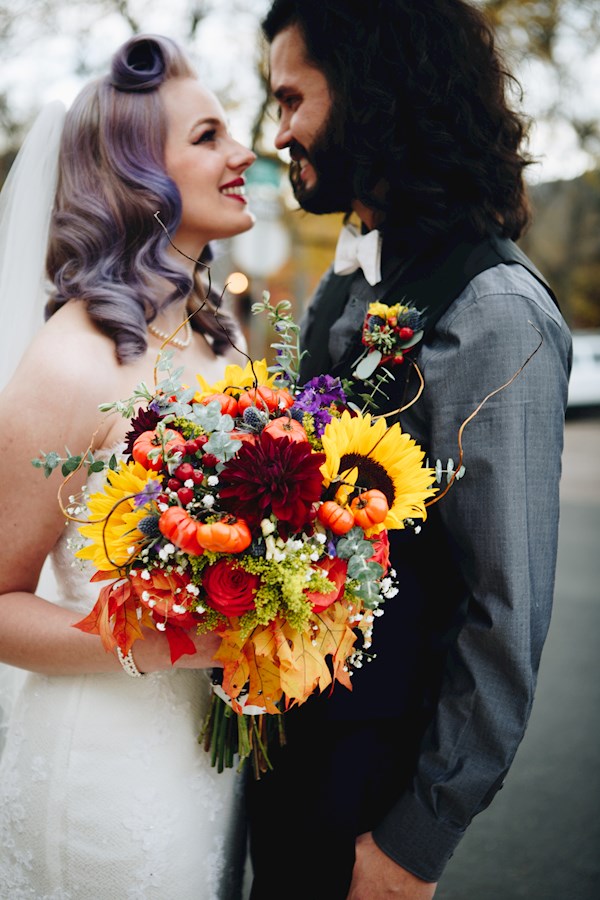 You WILL get someone or other questioning and maybe even judging your choices, but feel confident in your decisions! And, if you want to add a little spunk when someone says they don't like something you are doing, remind them with a smile that it's a good thing, then, that it's not THEIR wedding day!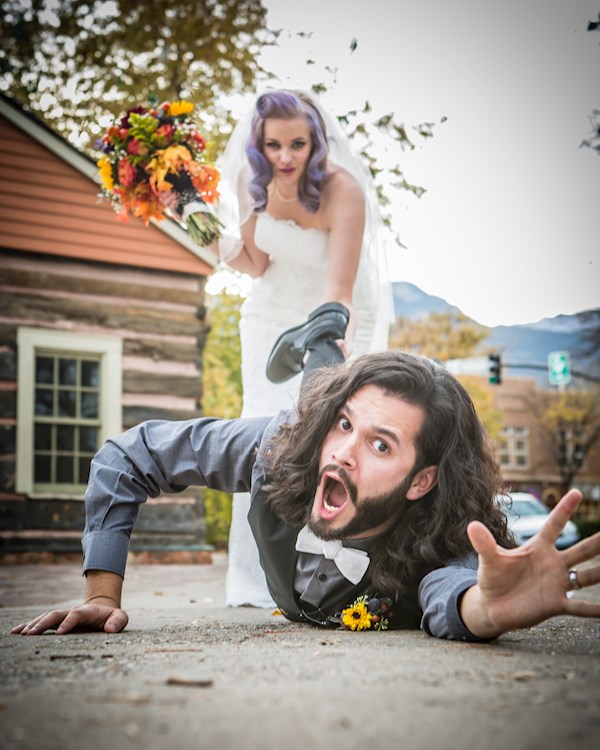 ---
We're lost for words........ your wedding looks pretty damn perfect!
You clearly had the BEST time, that's evident from the photos alone, but thank you so much for taking the time to talk us through your 'Mad Wedding', it's been utterly inspiring!
Let's have one more photo for the road, CONGRATULATIONS you beautiful people!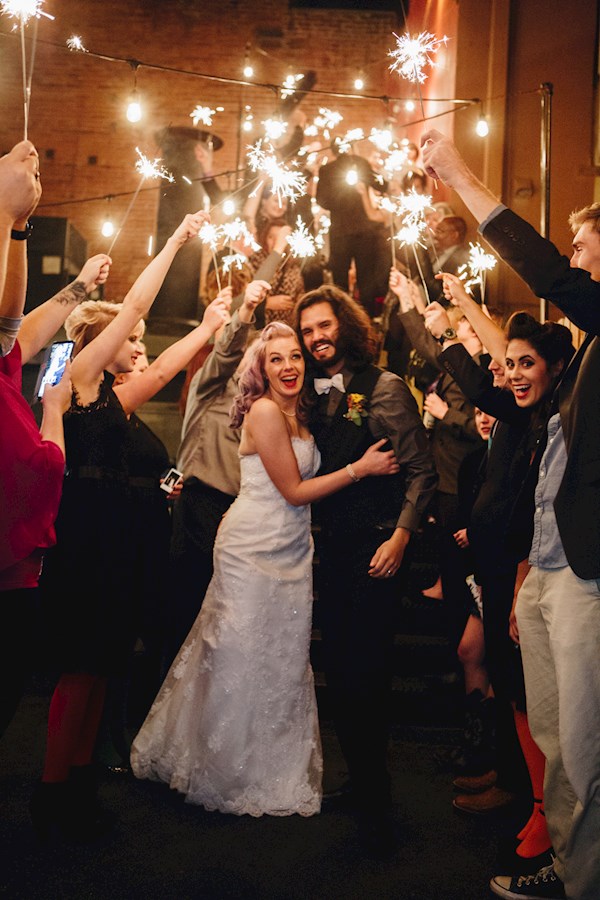 ---
Main Photographer: Uriah Werner - The Shutter Chef Photography
Assitant Photographer: Maddie Wachtler
3rd Photographer: Heather Walker - Focal Photography
4th Photographer: Celina Gutierrez - BeautyPhotography94
Proposal photographer: Robin Schneider - Art by BAMF

Florist: Dawn's Creations
Bridesmaids' hair: Siera Berg-Tieche
Candy buffet: Candy Warehouse
You should find links to all other vendors within the body of the article.