Whitby Wedding Bridal Blog
This page may contain affiliate links. If you buy something via these links, Misfit Wedding may earn a small commission at no extra cost to you. This helps keep our site free for you and our hand picked businesses. Read more here
We heard a rumour that Whitby (which is surely the goth capital of the UK!) will be hosting a wedding this weekend, a wedding which we want to know more about! As luck would have it, the bride-to-be had time to tell us a bit about what's happening...
My name is Julia and my partner's name is Gary. We both come from the little market town of Retford in Nottinghamshire. I first met Gary through my older sister when I was 21 years old (some 25 years ago!!!) My older sister had a large motorbike and she would let me ride pillion with her, and this is how Gary and I met. A definite look of Phil Lynott and a little twist of Adam Ant......I fell head over heels the first time I saw him. Gary already had a girlfriend and got married, I also ended up married myself and it was some 8 years later before our paths crossed again, but both of us now divorced. We gave each other a chance and here we are 25 years later telling our story.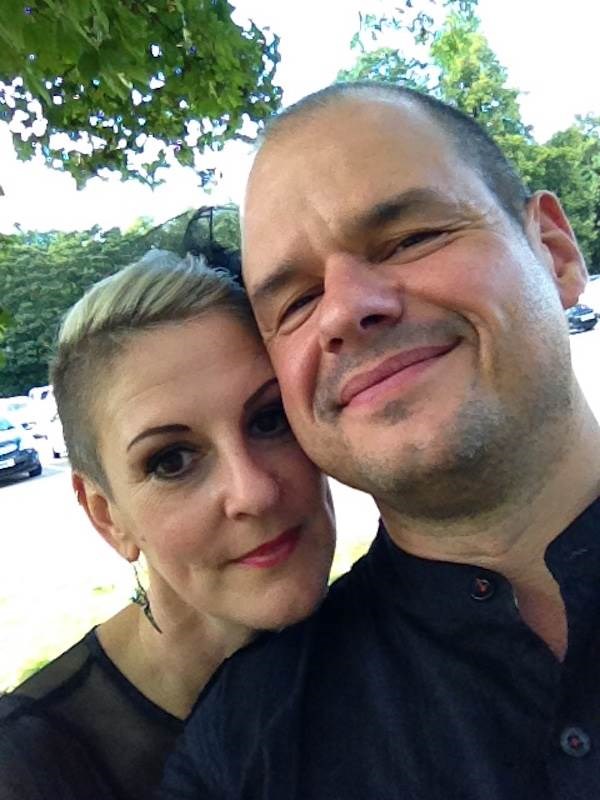 We decided in 2002 to make a commitment to each other in front of our family and friends. Neither of us wanted to do the whole church thing so we decided on a Humanist ceremony and (after painful divorces) chose NOT to legalise it at the registry office. I changed my surname by Deed Poll and to everyone who knew us we were 'husband and wife' Fast forward 14 years, still very happy together and we now have a soon-to-be-teenage daughter Molly. Circumstances change as you roll through life and after mulling things over we decided we needed to make our relationship official and legally binding!.........so........here we go again!!!!
So now we have decided to do this we need to decide where?? Will people think we are completely crazy? Will they even want to come? After all, we have done this before!!
Actually deciding where was easy, it would be Whitby. We were lucky enough to buy a tiny cottage there in 2010 and spend just as much time there as we do at home. In fact it genuinely is our second home. We have a fabulous circle of friends there so it was a natural choice for us and the registry office is booked for October 8th 2016.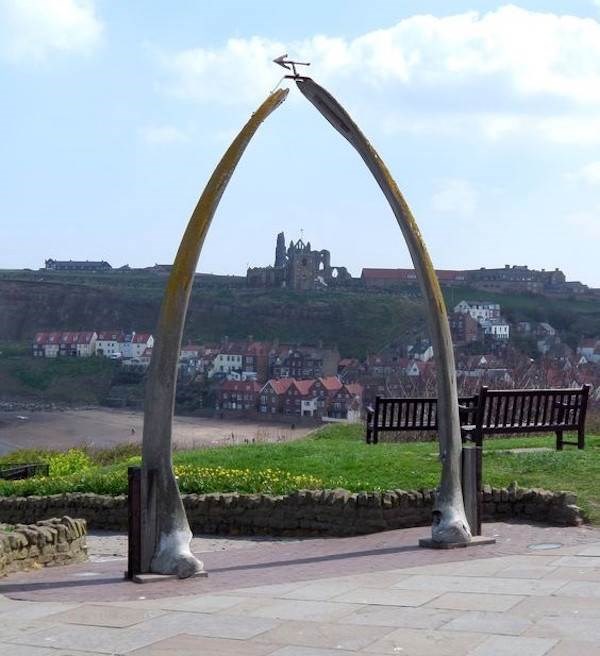 Being lovers of the Rock/Goth and Alt scene there was no question that the wedding would take this theme, with music from VNV Nation, Audioslave, New Model Army and The Cult to help us along. We then made quite a radical decision in some people's eyes.......we haven't invited any family members at all!! Only friends, from both home and Whitby. Basically this is going to be one BIG party. After finally legally tying the knot we will head over Whitby's swing bridge to the Dolphin Pub for a buffet of Costa Rican and Mexican food prepared for us by our wonderful friend Randall Romero. Then we plan to take the party up to the top bar of RAW nightclub hopefully till the small hours!!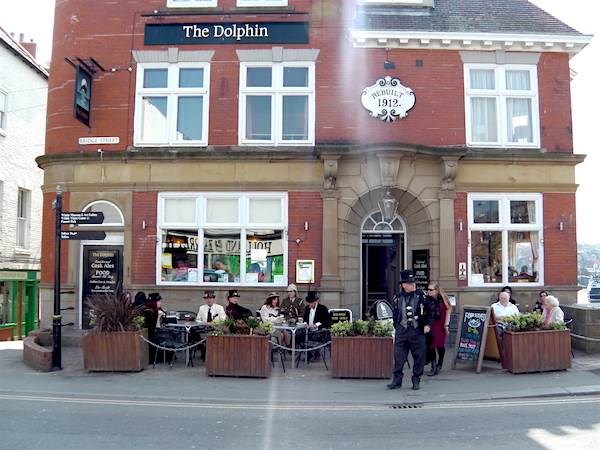 Our outfits were always going to be different and I knew the look I wanted but finding it wasn't easy. This is where Lux Tenebrae comes in. Along with our Whitby friends Mister Charles The Leathersmith and Grin, Grimace and Squeak my outfit has become a work of art.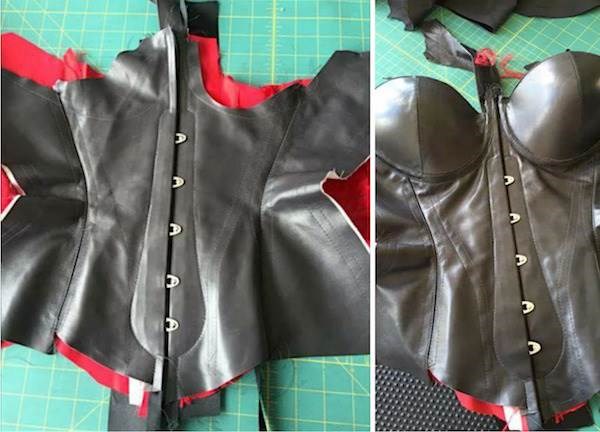 My dress is a two piece corset and fishtail skirt made for me by Lux Tenebrae out of Graphite grey leather with red satin lining and red ribbon lacing down the back. It will also be customised by another Whitby friend Jay Charles who is an amazing leathersmith. He is hand making Red leather roses which will be stitched down the corset front. He is also making my bouquet out of 20 leather roses and leaves....which will smell of rose (not leather). There will be the buttonholes and two wrist corsages too....all red leather roses.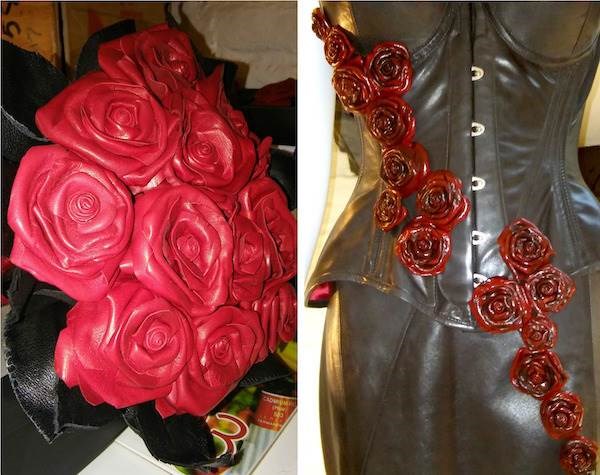 Hand crafted roses from Mister Charles The Leathersmith
I have had a head piece made out of graphite and silver wire with crystal beads and (again) tiny red leather roses. This has been made to sit around the alternative hairstyle I have.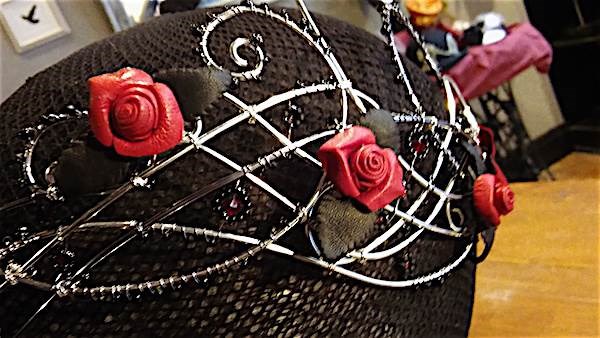 Gary's outfit took some thought but he is finally happy with his look and there will be quite a few surprised faces when they see him.
Gary's wedding ring was made by Datkinson Jewellery. A size "Z" hammered silver ring with a split back incase my engineering husband ever gets it caught. This way it will open and pull off rather than removing his finger!!!!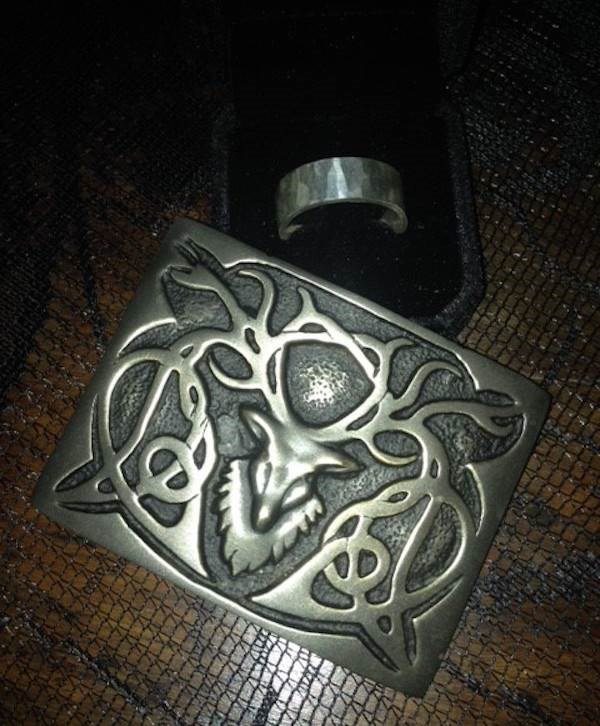 As for wedding shoes! I have a pair but I'm quite hoping a fairy goth mother may be waiting to wave her wand over them and create something gorgeous. I'm still slightly panicked over lack of jewellery but I have a cunning plan!!!!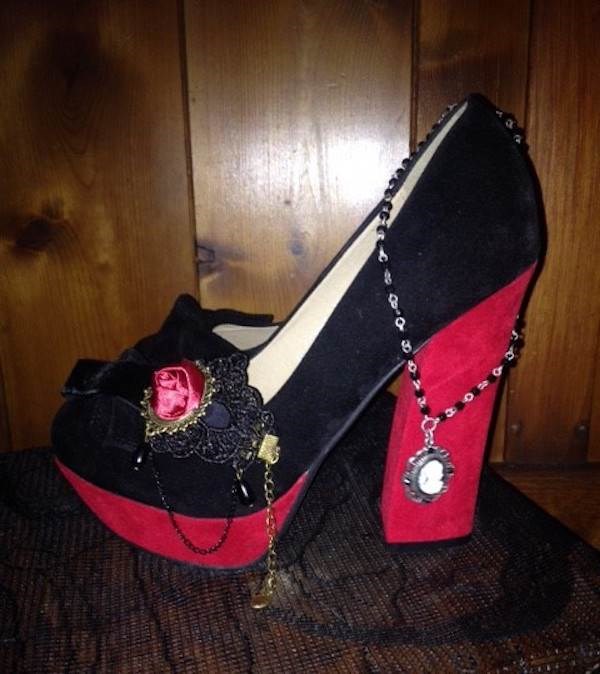 As for decor, I have been sewing metres and metres of black lace bunting and have friends begging, stealing and borrowing every black candlestick or candelabra in the vicinity!!!!! My friends have also taken control of the wedding cake. As a cake decorator myself I have absolutely refused to make ours, and so have left this in their hands......I am sure it will be absolutely perfect!!
Our friends Whitby Wedding Cars have very kindly given us one of their beautiful vehicles for the day. I haven't a clue which one but we are so grateful.
We have asked our friend Albert if he would capture the day for us with his swanky camera. Just one or two posed shots but for the main we really want candid, natural images.
From deciding in January to finally tie the knot to now has gone in the blink of an eye and trying to organise something when you actually live 100+ miles from the venue isn't exactly straight forward but our friends have been amazing. They have pretty much taken the reins and taken the pressure off of us. There isn't that much left to do now. Wristbands for evening party......allready printed, hairstyling.....friend doing. All that's left is for us to get to Whitby.........and get married!!!!!!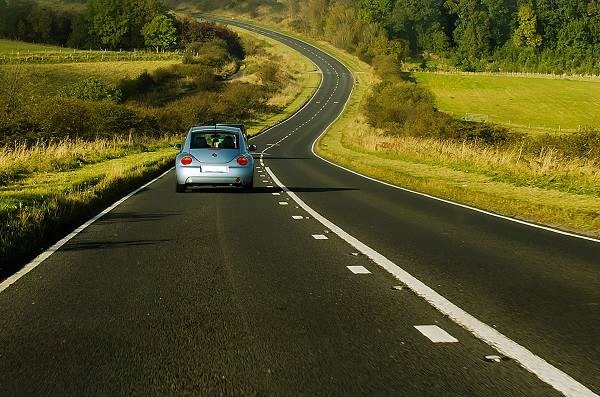 We hope Julia and Gary have an awesome day and we'll catch up with them again after they're married. After that little taster, we're looking forward to seeing lots of photos!
Here's the beautiful song Julia will be walking down the aisle to: