Alludio
Contemporary jewellery by Claudia Schmidek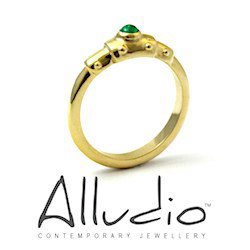 Alludio
Contemporary jewellery by Claudia Schmidek
This page may contain affiliate links. If you buy something via these links, Misfit Wedding may earn a small commission at no extra cost to you. This helps keep our site free for you and our hand picked businesses. Read more here
About Alludio
---
The name 'Alludio' comes from the Latin word for playful. It's easy to see why Claudia Schmidek chose that name as you browse through her unique designs.
Designed and made in London using recycled and ethically sourced materials, Alludio jewellery often has vintage or Steampunk themes presented in a stylish and contemporary way. We're talking Atomic Era Earrings, Riveted Metal Cufflinks or a Freshwater Pearl Ring, the latter being part of the fascinating Bond Together Collection.
With influences ranging from prehistoric cave art to the fantasy worlds of Jules Verne!