About Coffin Gems
---
What can we say about this range of jewellery? Just LOOK at it, so dark, so gorgeous... a little coffin on your finger is a great reminder that it's good to be alive!
Crafted in the USA using Sterling Silver and genuine gemstones such as Sapphire, Topaz, Onyx, Garnet and Amethyst, Coffin Gems create some of the most unusual yet utterly beautiful jewellery you'll ever have the pleasure of wearing. Dark souls and goths, these are for you!
Feast your eyes on the coffin shaped necklaces, earrings and rings. Not just for the ladies either, there are also options for men, like the vampiric 'Fang Coffin Ring'.
What wedding ring could scream "Till Death do us part" more than one of these!
More from Coffin Gems...
This page may contain affiliate links. If you buy something via these links, Misfit Wedding may earn a small commission at no extra cost to you. This helps keep our site free for you and our hand picked businesses. Read more here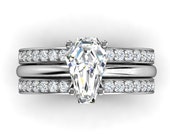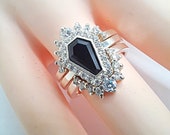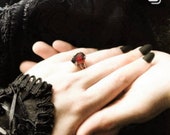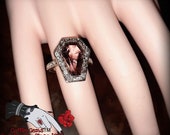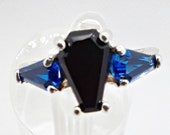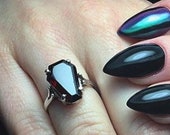 ---