Craftella DeVil
Luxury wedding ring boxes - The DeVil is in the detail!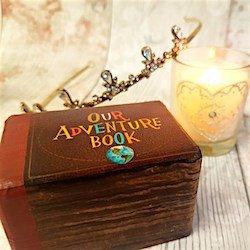 Craftella DeVil
Categories : Decorations Gifts Rings
Luxury wedding ring boxes - The DeVil is in the detail!
This page may contain affiliate links. If you buy something via these links, Misfit Wedding may earn a small commission at no extra cost to you. This helps keep our site free for you and our hand picked businesses. Read more here
About Craftella DeVil
---
Wanting to add a hint of geek or perhaps a pinch of alternative style to your wedding? Does the Ellie to your Carl love adventure? Then look no further... Craftella DeVil are creating luxury wedding ring boxes for now until forever!
Previous themes have included winter landscapes, superheroes, fairytales, gothic designs & the super popular 'Adventure Book' ringbox!
These ring boxes are made from the finest materials and sealed with a high quality wax to give a long lasting finish, and they comfortably hold two rings.
Ring boxes are custom made for you. Design your own wedding ring box or personalise a listed a design. Craftella DeVil work with you to create the most perfect ring box - after all, The DeVil is in the detail!
Here's to love & laughter & happily ever after!
Follow on Instagram to keep up to date with the latest makes and see previous designs.
More from Craftella DeVil...
---