DeMer Jewelry
Elegant. Daring. Unapologetic.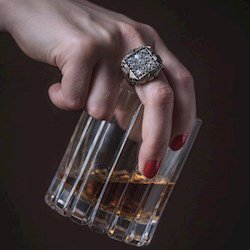 DeMer Jewelry
Elegant. Daring. Unapologetic.
This page may contain affiliate links. If you buy something via these links, Misfit Wedding may earn a small commission at no extra cost to you. This helps keep our site free for you and our hand picked businesses. Read more here
About DeMer Jewelry
---
This is jewellery for rockstars! Seriously, DeMer produce some next-level wearable works of art and it must be a real thrill to acquire one of their spectacular rings, especially if it's unexpected.... as part of a marriage proposal for, for example ;)
DeMer's roots go back to 1999 and they've been evolving ever since, famed for their daring designs - see their skull engagement rings or the fascinating new Brogue range - but they seem to be pretty much at the top of their game in all areas! Producing exceedingly high quality jewellery whilst keeping their impact on the environment to a minimum and only using ethically sourced fair-trade gems and metals.
The bold, larger than life designs are created with longevity in mind, they're built to last! So your jewellery will out live you. #sorrynotsorry
More from DeMer Jewelry...
---