Earth Art Gem & Jewelry
One of a kind jewelry for a one of a kind you.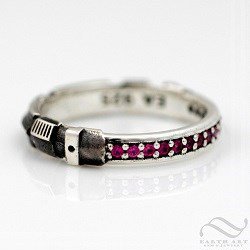 Earth Art Gem & Jewelry
One of a kind jewelry for a one of a kind you.
This page may contain affiliate links. If you buy something via these links, Misfit Wedding may earn a small commission at no extra cost to you. This helps keep our site free for you and our hand picked businesses. Read more here
About Earth Art Gem & Jewelry
---
Austin Moore has been making jewellery for the better part of a decade so it's safe to say that he'll be sticking around for years to come. Which is a breath of fresh air amid the array of buy and sell style "jewellery" shops that are cropping up all over the internet. And with over 1200 5-star reviews in his Etsy shop alone, you can rest assured he is an upstanding and reputable guy.
But the real reason to give his shop a visit: His unique geeky and steampunk jewellery! Austin has carved out a niche for himself crafting designs inspired by various fandoms, from Assassin's Creed, to Harry Potter, to Star Trek to the Legend of Zelda and many more. And what's more; if you don't see something that you like, Austin says he will custom make it for you! And you probably won't have to pay high end jewellery store prices either.
As a one man shop, Austin maintains tight control over all aspects of his work, including answering emails, making the rings and pendants, packaging them up and even taking out the garbage each night. So you won't get the run around if there is a problem and you always know who you're dealing with on the other end. Speaking of issues: As a full service and accomplished jeweller, your jewellery comes with the support that it needs as Austin is able to perform most repairs, and ring re-sizing in house. A service that most online jewellery makers do not offer.
So, if you're in search of a wedding or engagement ring that is odd, different, or just plain out of this world, take a look at Earth Art Gem and Jewelry by Austin Moore. Even if you don't find what you need, you'll probably enjoy the eye candy that he has to offer....
More from Earth Art Gem & Jewelry...
---