Firewhite
Handcrafted eco-friendly Silver and Gold jewellery.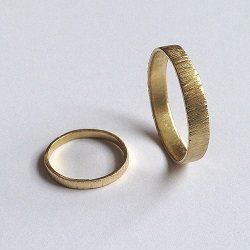 Firewhite
Handcrafted eco-friendly Silver and Gold jewellery.
This page may contain affiliate links. If you buy something via these links, Misfit Wedding may earn a small commission at no extra cost to you. This helps keep our site free for you and our hand picked businesses. Read more here
About Firewhite
---
Candice from Firewhite told us:
"A wedding ring should express your personality so you don't have to settle for mass produced shop bought bands. I design unique handcrafted wedding rings which emphasise the intrinsic beauty of metals. I keep things simple and use traditional techniques to create organic shapes and textures for a natural rustic style. I can also work with you to make your ring exactly how you want it. It is a huge honour to make such important little symbols of love!"
Some customer feedback: "We love our wedding bands! Great seller communication. Passion for making jewellery shines through the finished products! Lovely rings that we will cherish forever. Highly recommend"
Misfit of the Month
---
Read our feature on Firewhite here.